Our Excellent Bay Of Fires and Kettering, Tasmania Painting Workshop Retreat
Well it has been a while, but our looooong awaited Bay Of Fires, Tasmania Workshop has finally come around, locking in yet another set of wonderful, precious memories to the permanent file for us all!
It felt so strange, peering out of the airport lounge window onto the site of planes rolling in and out. After all this time spent at home amongst the crippling Covid waves weve all endured, something that was once so familiar to me in the past sat like such a distant memory, so terribly unfamiliar and strange for me! Happily, my morning trip to the airport remained well peppered with a still familiar sensations of times, place, and 'the excitement of the adventure ahead'. Retracing old ground, crossing the waterways from home, hitting 'the big smoke' of the city to the start of this new experience was already wonderful.
As I waited to depart, I was filled only with excitement, looking forward to crossing the Tasman once more and getting amongst the week of magic I KNOW lay ahead for us all! A perfect escape, spectacular places, stolen moments, paradise… a great unwind. Id like to share the highlights with you here as I reflect on what has been a beautiful week away in Tasmania covering two seperate events. The first, a 5 day watercolour painting art retreat set on the utterly stunning coastline of Tasmania, the Bay Of Fires… so appropriately named. The second, south to Hobart then on to soak up a further 3 day workshop in the serenity of Kettering
Bay of fires – 5 day watercolour painting retreat

Landing in Launceston, we made our way through a cascade of unfolding, beautiful landscape to the east coast and our destination, the Bay Of Fires. Here, brilliant orange lichens smother the rocky coastline, lighting the landscape up with brilliant colour, set against the crystal clear, lagoon like waters of the ocean. Its simply magical. Taking the opportunity to explore Natural History Illustration in a way that reflects our unique surroundings, I set our sights on seaside subjects for a change. Our focal subjects included various seashells, seahorses, hermit crabs, mussel shells, cockle shells and general seaside treasures, all illustrated in watercolour. The focus was colour, texture and timing, so plenty to learn in this collection!
After time spent doing some wonderful field work, we felt renewed, inspired and a lot more familiar with our subjects. Collecting a swag of beautiful shells with an abundance of variation to explore, we settled into our simply stunning ocean view studio space, surrounded by light and colour from every side, the soothing sounds of the sea seeping into our fibres all the while. A selection of delicious food to pick over, changing spreads of Tasmanian smoked salmon, local cheeses, fresh salads and various treats kept us well fed and satisfied both inside and out as well.

Our final night saw us enjoying a glass of farewell bubbles from the Bay Of Fires lookout down at The Gardens, a final sunset settling over the scarlet rocks to wrap up our time here so simply and fittingly. We rose with the sun the next morning, enjoyed a beautiful breakfast together and set out towards home via Derby to enjoy an invigorating Floating Hot Sauna session. Back to Launceston we said our goodbyes and departed onwards for Hobart and the start of our next event.

Kettering, tasmania 3 day painting workshop
Our second event was a 3 day workshop held in the tiny marina town of Kettering, just a short drive out of Hobart. A peaceful little cove nestled into the coastline, this beautiful location was perfect for our next stop exploring small bird painting and a little botanical illustration too. Our subjects were a pardalote and kangaroo paw. Having never seen one in my life (a source of great frustration for me), I decided to go ahead with this as my focus for the group, but I absolutely could not believe my eyes when our subject appeared in the tree behind right our painting venue on the first day… what synchronicity! It was meant to be

A challenging subject indeed, i threw my students straight into the deep end because I know how well they can swim… and the did! Every one of my students persevered, their patience, focus and enthusiasm allowed me to drill fairly deeply into the painting techniques, tips and tricks of my own processes, bringing wonderful results and a solid swag of foundation knowledge to take away with them too. The perseverance alone, one of the greatest lessons we can learn. Each student was such a pleasure to work with and we enjoyed our 3 days thoroughly, watching the changing light and environment, wallabies coming and going as they please, the stillness of the marina, bayside walks, outrageously beautiful sunrises and sunsets, ridiculously good food and coffee at the local food haunts, learning, painting and so importantly… brilliant new friendships Ive seen grow and last over and over… my own too! Its good to be alive isnt it 🌞
Thank you SO much to every one of you who came along for this Tassie trip, it was just beautiful to work with you all and to get to know each of you better. Thank you too to Gillian and Steve @Artable for making it all happen once more, and for bringing us all together for such a wonderful experience 🙏🏻
Would you like to join us? Well we have great news…
My first day back home and I have already received so many messages along the lines of 'im so sad i missed this!' or 'can I come to the next retreat or workshop'. The great news is after more than 2 years saying 'no' we have nothing available, this is no longer the case! YES, YOU CAN join us for the next one. In fact it is already planned and is booking up fast! We have 2 events later in the year based in Devonport, Tasmania. The first is a 5 day botanical painting retreat, the second is a 3 day botanical painting workshop. We will be creating botanical illustrations, inspired from one of the stunning local rhododendron (among other things) gardens in the area. The gardens should be in their absolute peak, so I am very excited about this one indeed. So now is the time to grab a spot if you would like to come along. Reach out to Gillian at Artable Studios for more information on whats available there and pop your name down to come adventuring and painting with us next time.
You can always keep up to date with my watercolour botanical and natural history illustration masterclass events news by checking in on my workshop blog post. I create one each year with all the info and links you need, and this is updated as things unfold through the year.
Dont forget, if you cant make it to one of the face to face events, I have 5 online realistic watercolour and botanical courses available to you too. Affordable, easy to access, easy to use, these are a great way to learn as an alternative. Check out the CLASSROOM tab of my website for whats available or follow this link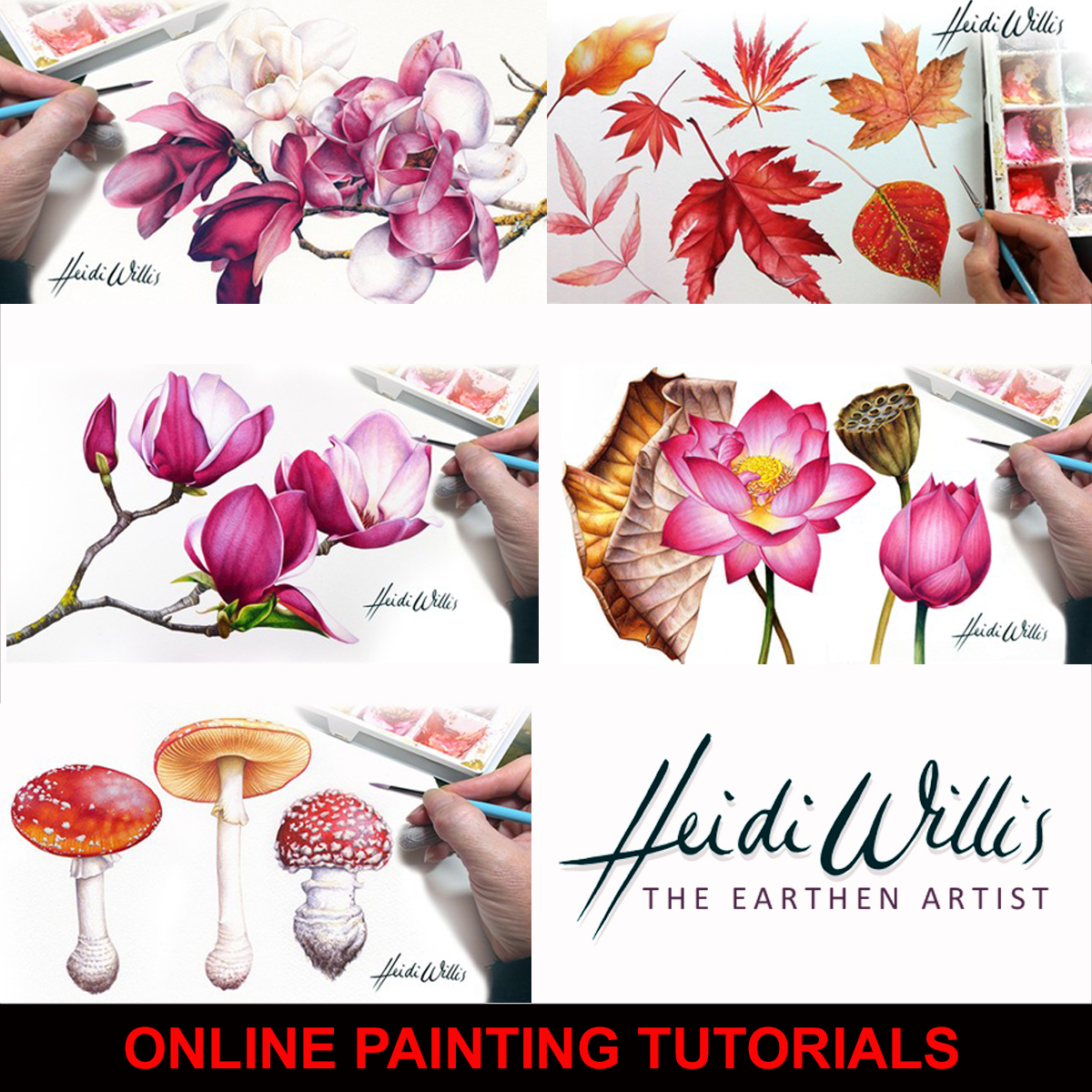 ***********************************************
Ill see you in the wash!