Male Variegated Fairywren and Flannel Flowers – Watercolour – 15x15cms – SOLD

After spending time in the Flannel Flower wonderland of Sydney's Northern Beaches last week, I am consumed. How could I not be? Flannel Flower drenched sandstone headlands tumbling out to the vast expanse of the ocean beyond my feet, trails lined in the pure white of the flowers, echidnas at my feet, skies full of bird song. I cant overlook this experience, the magic and beauty of it, and so it has become my focus for the next work, or possibly works in my 15x15cm small birds series of watercolour painting studies. I am so keen to get into this one!
With the inspiration of this incredible place, visions of the prolific flannel flowers lilting gently in the spring breeze, watching the colours change with the setting sun, golden light catching the flannels furry snow white petals, swaying upon such a fabulous, whimsical tangle of stems, I returned home with a hundred photos capturing these moments for me to recall both in heart and hand now.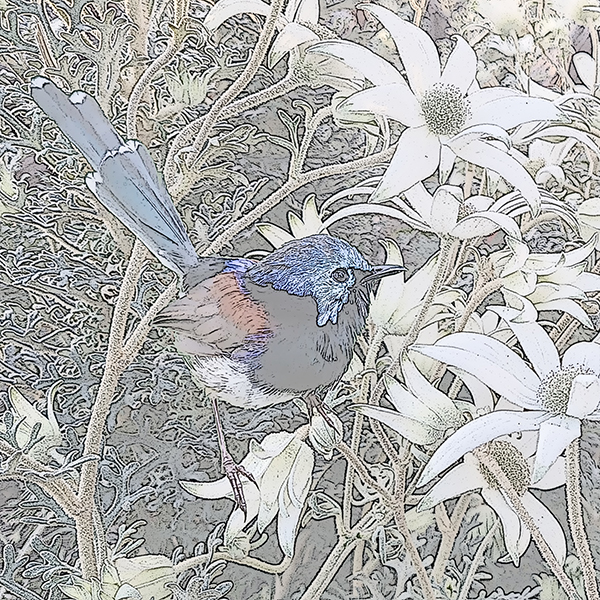 Having watched the tiny wrens bouncing about amongst this paradise, always an arms reach away, I decided this was the obvious bird to include in the mix. I mean of course they are, and how they could be every single painting! They are just a delight.
I have several beautiful wren images I wanted to capture so I returned home to look more closely at my swag of photos, so kindly gifted to me by my wonderful photography friends, settling on a Variegated Fairywren shot from Pete Evans Photography I adore his work and I am excited to be able to work with one of his images for inspiration on the bird once again.
It sounds easy, plonking elements together to be a fantastic artwork layout… but it is certainly not always easy. Many hours, days… even longer can go into composition and design for a painting and even for these small works, it takes some time to create. I had so many options, so much inspiration, it was difficult to decide on exactly which composition Id work with too, and how I wish I could paint them all.
But as Ive said before, having options as your biggest problem in life is a successful life indeed and so I narrowed it down to a handful of layouts Id like to create before choosing just one as my focus… and here we are with the rough Ive created, just to show you the direction of things here. Now Ill start drawing, refining even more before starting the painting process itself.
How wonderful it is to be back to my own painting work again. How wonderful it is to be here sharing it all with you guys once more too, I have had the best time on the last huge project but I have missed being here sharing it all along the way very much. I believe this is my 41st piece in this small bird painting series, the 4th in this burst with all sold to this point. Perhaps this one is the one for you! In any case, I hope youll enjoy following along with the process of bringing 'Variegated Fairywren and Flannel Flowers' to life with me here. Remember to jump on to my Facebook Page or Instagram account for regular updates, insights, short clips and images of every painting I work on coming together.
lets get started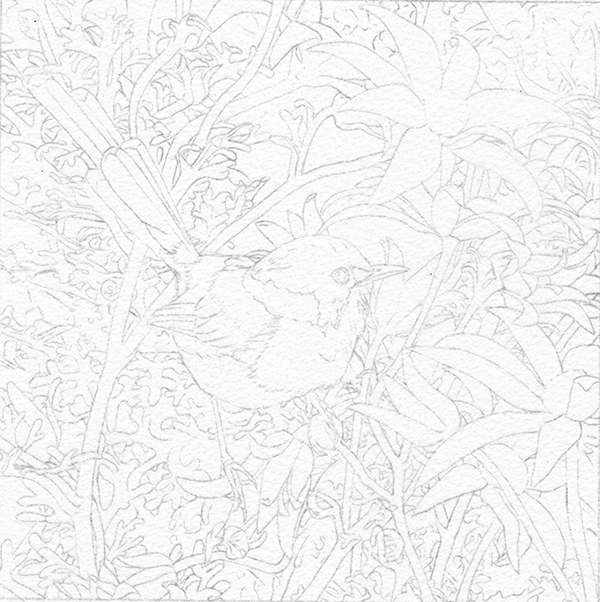 Although still complex, the drawing is refined to a clear drawing as my starting point which will then be just as intricately coloured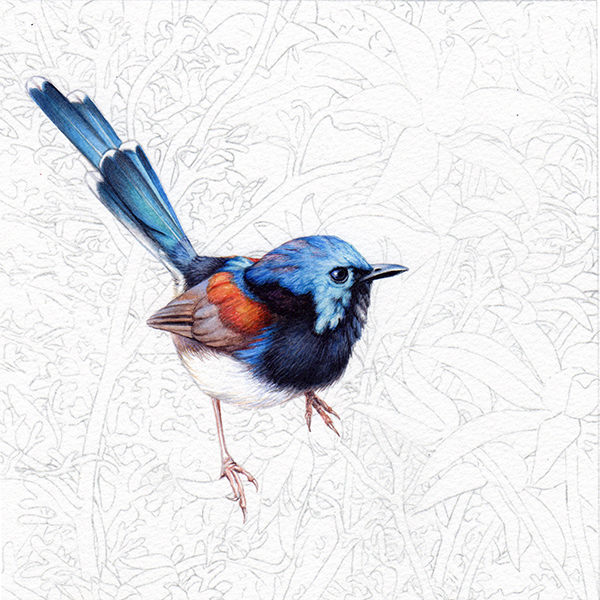 Jumping in to the painting stage, I start with the wren… for no other reason than I adore him and couldnt wait to start playing away with all his tiny details, colours and textures. So here we have it, the completed Variegated Wren illustration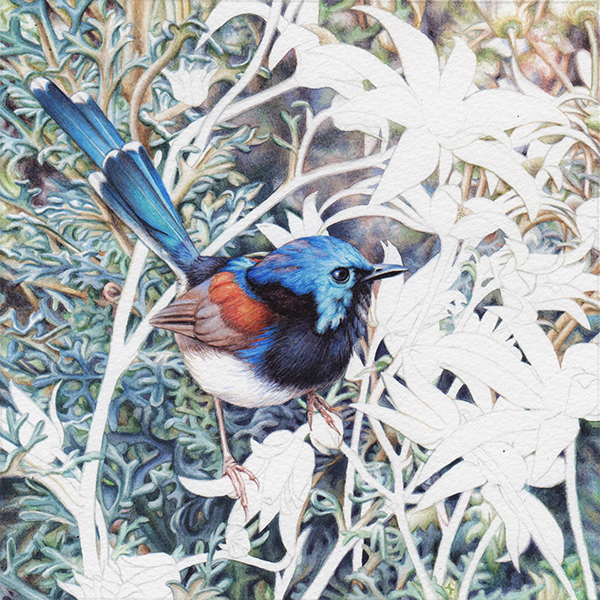 Here we fiiiinallllyyyy have the background in, a process that took far more time than I had anticipated. Of course thats not unusual but boy this is a challenging surrounds. The whole point of these miniatures initially, was to get a bit more simple in my content, but of course thats just not my thing! Look at that delicious tangle… I love it! And so despite the time, Ive come to the end of the blue greens and leaves which reveal the white flannel flowers that remain… my next step to complete the painting before sending it off to its new beautiful home.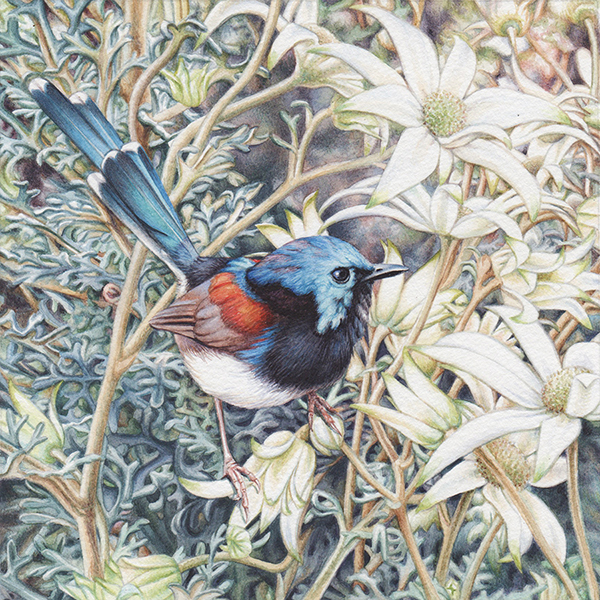 The finished Wren and Flannel Flowers painting is ready for its new home. Phew… what a complex surprise this one was! So beautiful, so delicate, so gentle… I know this painting has come from my heart and will be enjoyed for generations to come. In taking the time, my time spent becomes all the more precious. Thank you so much for following along with this one 🙏🏻
*******************************************************************
Variegated Fairywren and Flannel Flowers is now SOLD. Let me know if you have any enquiry on this series 🙏🏻
*******************************************************************