'Splendid Wren and Blue Sun Orchid' – Watercolour – Approx 20x15cms – SOLD 
'Splendid Wren and Blue Sun Orchid' is a watercolour bird study with two gorgeous subjects exploring blue… i know you love a good colour change! Blue is such a wonderful, complex palette to play with and the combination of the turquoise blues of this Splendid Wren (a non breeding male i believe) and delicate mauve blues of the Sun Orchid certainly offers a wide variety of variables to master. Both subjects are so divine and I am so excited to play with this new piece.
'Splendid Wren and Blue Sun Orchid' is inspired by my friend Peter Caddy's beautiful images, captured and combined to create this piece. I am continuing on my recent path of compositionally simpler, exquisite small bird and flora studies on white backgrounds as the classic natural history style of illustration is one i absolutely adore.
Beyond loving the combination of subjects in this painting, I also love the vertical composition of the subjects and the way they interplay along the vertical with such an awesome, all critical diagonal emerging with the fall of the top flowers and the beautiful lines of the wrens tail feathers. Both the balance of colour and line really feel aligned to me in this study and so with the layout refined, I have completed the pencil drawing and Im ready to begin the painting process.
Its a relatively simpler painting to much of my work, but at this tiny size and with such exquisite detail, these subjects require more precision than ever! Every line counts so here i have a very precise drawing that i will honour in every way throughout the creation of the painting… now where are my blues!!! 😀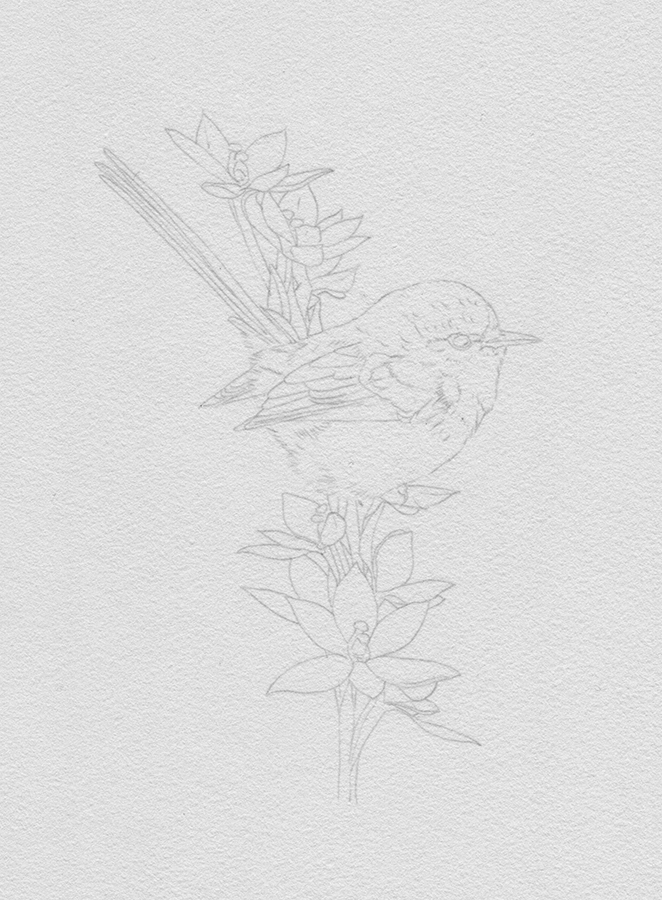 Splendid Wren and Blue Sun Orchid is drawn up in graphite and is now ready to be painted
How sweet is the Splendid Wren hey? This little guy is in his non breeding colours, so delicate and earthy with his wild punctuations of showy turquoise and blue feathering on his wing and tail. Its quite remarkable really. I love the balance of this bird, so angular yet so round and perfectly fluffy, his peaceful gaze and expression, just so beautiful in every way. Tricky as always to paint, I have enjoyed every tiny painstaking brushstroke watching him emerge from my page as I work to complete him, an artwork in himself alone. Next step is his stunning purple blue surrounds of the Blue Sun Orchid in flower, a merging of such wonder.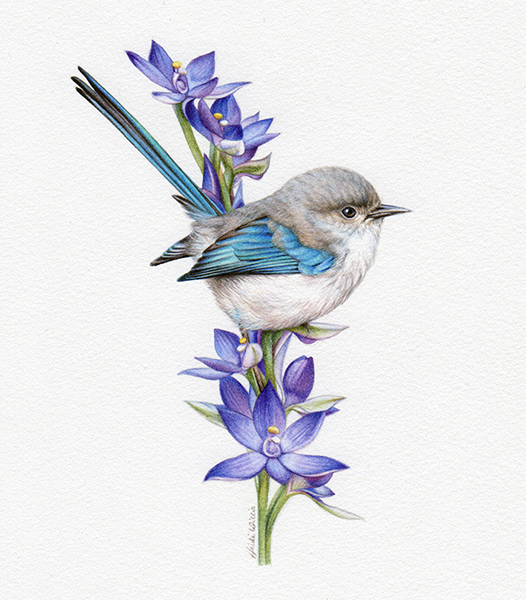 The final painting, 'Splendid Wren and Blue Sun Orchid' is now SOLD. Please let me know if you have any enquiry on other originals, or if you'd like to discuss a commission just right for you
****************************
Thank you for following along. Be sure to join me on my Instagram or Facebook feed to watch this piece and others unfold by the day too
****************************