Online Watercolor Painting Tutorials

Online Watercolor Painting Tutorials. For those following, THANK YOU! And its time to update you on the developments of my Online Realistic Watercolor and Botanical Painting Tutorials news… You know, these are exciting times!
Its fair to say 'Ive been working around the clock' to bring you my Online Realistic Watercolor and Botanical Painting Tutorials – Studio Basics would be an understatement. I can work 14, 16, even 18 hours at times every day of the week when I am in a painting coma, but the energy around bringing this opportunity to you has pushed me to new heights every day to see it happen, and I couldn't be more excited to see it coming together! Ive resisted the demands to bring my online tutorials to you for many years, my schedule is crazy, my focus has been on my own painting, my time is already so limited, the time just hasn't been right. The truth is definitely all those things, but its far more than that for me too. It is seeing reflections of my own efforts and determination come to fruition, it is helping others grow as a result, and thats not a small thing by any means.
In fact its a very personal thing. I remember not so long ago, a very different time. A remarkable woman, a complete stranger in fact, had asked me 'I wonder… what is it that you miss most about your 'old' life… back when you used to paint?' She had become almost invisible in the corner of the busy room that night, quietly, contentedly observing as the world milled on by in such a hurry, but I remember her steadiness even now. She had lived long and she wore vast amounts of knowledge on her face. I thought about this question for some time, because it was hard, and because I didn't believe it mattered any more, and I finally replied, 'I miss being inspired… Even more, I miss inspiring others'. She smiled at me so gently and knowingly, in a way that let me know I could not just let those words pass my lips without action and be at peace with my life and she reached for my hand with a gently squeeze. At the time that was overwhelming. I guess it was one of those profound, simple, organic and transient, yet so powerful 'life moments' that comes our way at times that changes things forever. Its the sort of thing that is powerful enough to generate momentum where there was none, and after 5 years passing without wetting a brush (yes it happens to us all) I knew that those days needed to change.
It not a small thing to turn your life around, but it became my focus, first to reclaim what was lost in my own life… then to find a way to extend it to others. Easy? No hahaaa! My determination was so focussed after that, that I had almost forgot my own intention. Then one morning I received an email. Its words simply said 'every day, you inspire me'… Such remarkable words really. Written so simply, the unintentional gravity of those words to my life settled on me so firmly that it felt hard to breathe. What a compliment it was to me. As I quietly went about putting my own back together with as much commitment as I could find, the messages continued to find me with one recurring comment 'you inspire me', and I realised that I had not only found my own momentum, but in my determined push forwards, I was already bringing it to others in some way and thats the true essence of this venture in a nut shell. I don't expect those people who took the time to send me those messages could understand the personal relevance, gratitude and healing I felt from hearing those words, but it was my food too. Success has many measures, and to me this was simply a monumental success. Its easy once you have momentum again to forget your focus, but I want to remember my own words in this new space now 'Be inspired. Inspire others' Give a little. Its simple hey 🙂
I know I know, its only painting, right? Well yes that is very true, but its about so much more than that too… Its about pursuing your life, your dreams, your vision no matter what. Its about working hard, doing your best, being brave, determination and enrichment! Its about giving yourself to something worthwhile, creating and contributing something of substance to your world and to others… Its about being alive, momentum, and feeding others with that same energy. So to many this may be 'just about painting' but to me its about being the best you can be, its about overcoming, its the belief that great things start from the seeds of positivity, giving and effort, the belief that only good can come of such efforts. Just as that stranger had extended a moment of herself and her life to inspire me to be more, and to offer more, I hope that the time has come where I can now pay it forward and continue to inspire others to be and offer more too. Creating, appreciating, joy… What could be better human food!
Ahhh the small huge things in life hey? Isn't it wonderful…? But enough about whats brought me to this moment; on a more practical level Online Realistic Watercolor and Botanical Painting Tutorials – Studio Basics is SO CLOSE to being completed now I can actually smell it. After so many sleepless weeks latched at the jugular on this project, I am waiting for the final step of tying up the last loose ends and waiting for the 'course approval' to come through before making it publicly available. I am so looking forward to the launch of this tutorial. I have no doubt that it will help many of you get started and/or improve your own watercolour and botanical painting journey with your best foot forward. In the very least, I hope that this helps to demystify, excite and inspire you all on your own painting paths now. Its all about enjoying, so lets get amongst it!
I expect Ill have some more great news on these Online Watercolour Painting Tutorials for you shortly. I can't wait to get started ~ Heidi
_____________________________________________________________________________________________________________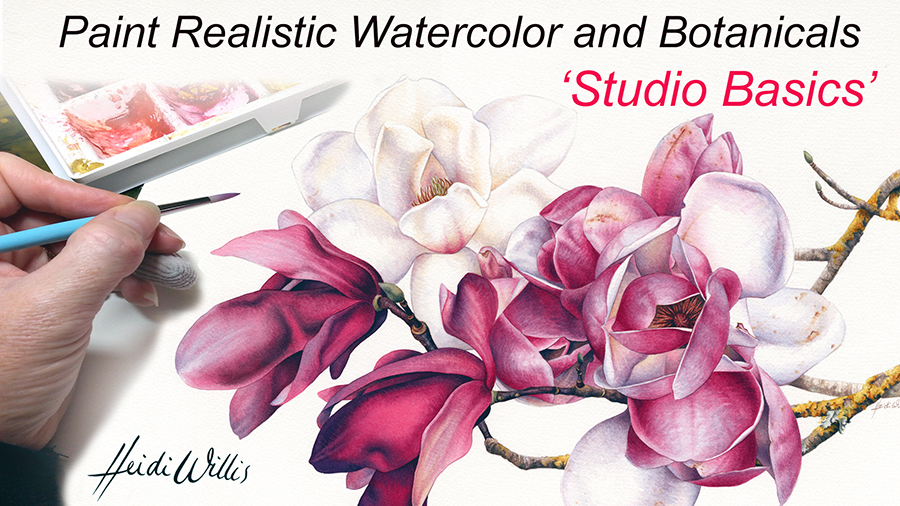 Less personal, more practical Excerpt from previous post ~ 'With my botanical watercolour masterclasses in high demand, my workshops booked out over a year in advance and 'HOW TO' questions pouring in consistently, it has become something so pressing that I can no longer ignore it. As a result, I have decided to take some time out from my studio (SADFACE!!) to try and answer some of your questions in a suitable learning format. I have been working extremely hard to bring you the first of my online tutorials 'Paint Realistic Watercolor and Botanicals – Studio Basics' Im hoping that it will provide many of you with the answers, direction and assistance you've been seeking on your own watercolour ways AND fire you up even further to learn this exceptionally beautiful skill!
Botanical Illustration is a challenging, wonderful genre of painting, but it is such a beautiful art form and an enriching interest. Without question, it is one so worth your attention and efforts. I know many of you would like to try your hand at botanical art but haven't known quite where to start, and many of you who are already painting, are pushing forward to find new developmental heights in your own work. We become frustrated and disheartened when we lack suitable direction and advice on where and how to get started, or on how to develop beyond this start. We need to feel confidence that the advice you are getting is from an experienced artist and tutor, and from someone with a proven track record for success.  We want to feel confidence that your time and resources have been invested in the right place, but that can be quite hard to find sometimes.
From now on, I want to dedicate a little of my time and knowledge towards helping on your painting adventures too. I want to help you get the best out of your painting journey, to simplify this process into something thoroughly digestible for you, and to inspire you to greater painting heights! The first online painting tutorial 'Paint Realistic Watercolor and Botanicals – Studio Basics' is just that. Of course we ALL want to be able to jump right in an paint away happily, but we really must start at the start… at least for a few short moments to get us away on the right foot. Trust me, if anyone can cut to the chase and get right into it its me, so once we understand the basics of setting ourselves up correctly with all the right materials, we can get right into the painting process and have some real fun.
Many of you have been asking me to produce online painting tutorials and Ive felt quite proud of the fact so many of you have asked me to start with the basics… The REAL basics, and it is so important to start here. In fact, so many issues and frustrations can be avoided by addressing the basics. In this course I discuss everything from helpful thoughts, tips and insights to forming and harnessing ideas, converting an idea into a physical form, gathering reference, studio set up, the best materials to invest in, process considerations, an overview of basic watercolour painting techniques, creating textures and smart work practices. It is a thorough physical, mental and emotional summary of the work we do as Botanical and Natural History Artists and a perfect introductory to this art form. The purpose of this initial course is to give you a sound insights on the water-colour medium and functional studio set up in general. However this information will also provide you with firm foundations to move into my 'hands on' 'step by step' tutorials that will follow, and it will indeed serve you well for any water-colour painting that you may do.
This is a wonderful, simple, affordable opportunity to get some fantastic guidance for your painting in the privacy of your own home, in your own time, with no sign up fees or memberships to be concerned about. If this sounds like 'its just what Ive been waiting for', I am thrilled to tell you that your lucky day has almost arrived! I am just DAYS away now from launching the Studio Basics tutorial and I can't wait to get into the subsequent lessons on painting realistic botanical and natural history subjects with you.
Most of all we want to ENJOY the beautiful painting process and to see your painting blossom. So if you've ever had painting questions, not been too sure where to start, what to buy, how to go about it then come and join me in these wonderful online tutorials ~ and let me show you how!'