Watercolor Botanical Painting Online Tutorials ~ Announcement!!
With my botanical watercolour masterclasses in high demand, my workshops booked out over a year in advance and 'HOW TO' questions pouring in consistently, it has become something so pressing that I can no longer ignore it. As a result, I have decided to take some time out from my studio (SADFACE!!) to try and answer some of your questions in a suitable learning format. I have been working extremely hard to bring you the first of my online tutorials 'Paint Realistic Watercolor and Botanicals – Studio Basics' Im hoping that it will provide many of you with the answers, direction and assistance you've been seeking on your own watercolour ways AND fire you up even further to learn this exceptionally beautiful skill!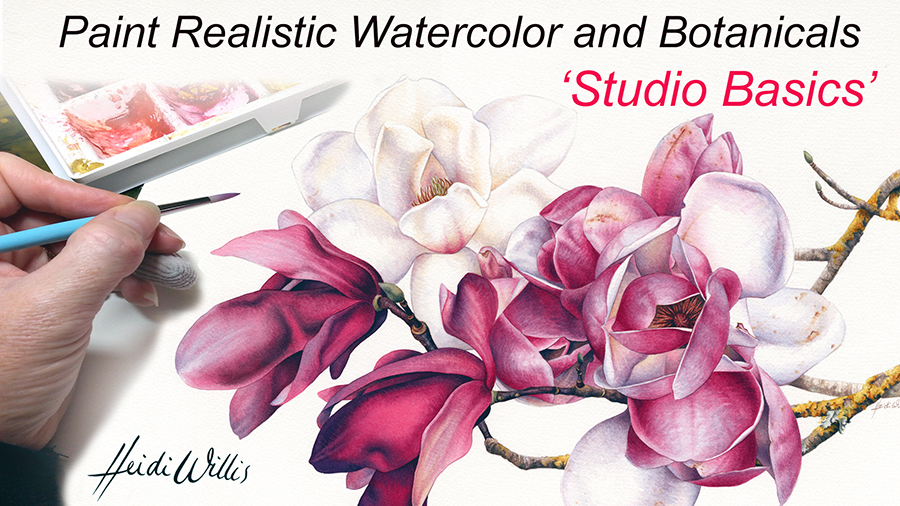 Botanical Illustration is a challenging, wonderful genre of painting, but it is such a beautiful art form and an enriching interest. Without question, it is one so worth your attention and efforts. I know many of you would like to try your hand at botanical art but haven't known quite where to start, and many of you who are already painting, are pushing forward to find new developmental heights in your own work. We become frustrated and disheartened when we lack suitable direction and advice on where and how to get started, or on how to develop beyond this start. We need to feel confidence that the advice you are getting is from an experienced artist and tutor, and from someone with a proven track record for success.  We want to feel confidence that your time and resources have been invested in the right place, but that can be quite hard to find sometimes.
From now on, I want to dedicate a little of my time and knowledge towards helping on your botanical painting adventures too. I want to help you get the best out of your painting journey, to simplify this process into something thoroughly digestible for you, and to inspire you to greater painting heights! These are the things that have brought me to this very exciting announcement today. I think its going to be just the missing link for so many of you!
The first online botanical painting tutorial 'Paint Realistic Watercolor and Botanicals – Studio Basics' is just that. Of course we ALL want to be able to jump right in an paint away happily, but we really must start at the start… at least for a few short moments to get us away on the right foot. Trust me, if anyone can cut to the chase and get right into it its me, so once we understand the basics of setting ourselves up correctly with all the right materials, we can get right into the painting process and have some real fun.
Many of you have been asking me to produce online painting tutorials and Ive felt quite proud of the fact so many of you have asked me to start with the basics… 'The REAL basics' and it is so important to start here! In fact, so many issues and frustrations can be avoided by addressing the basics. In this course I discuss everything from helpful thoughts, tips and insights to forming and harnessing ideas, converting an idea into a physical form, gathering reference, studio set up, the best materials to invest in, process considerations, an overview of basic watercolour painting techniques, creating textures and smart work practices. It is a thorough physical, mental and emotional summary of the work we do as Botanical and Natural History Artists and a perfect introductory to this art form. The purpose of this initial course is to give you a sound insights on the watercolour medium and functional studio set up in general. However this information will also provide you with firm foundations to move into my 'hands on' 'step by step' tutorials that will follow, and it will indeed serve you well for any water-colour painting that you may do.
This is a wonderful, simple, affordable opportunity to get some fantastic guidance for your painting in the privacy of your own home, in your own time, with no sign up fees or memberships to be concerned about. If this sounds like 'its just what Ive been waiting for', I am thrilled to tell you that your lucky day has almost arrived! I am just weeks away now from launching the Studio Basics tutorial and I can't wait to get into the subsequent lessons on painting realistic botanical art and natural history subjects with you.
Most of all we want to ENJOY the beautiful painting process and to see your painting blossom. So if you've ever loved botanical art or had painting questions around this style of painting, if you're not too sure where to start, what to buy, how to go about it then come and join me in these wonderful online tutorials ~ and let me show you how!