Botanical Painting Workshop Tasmania 2021

botanical painting workshop launceston, tasmania for 2021!
It has been a while! A while since we could travel, gather together, see our loved ones, dream of things further afield… and so many things for us all. 2020 had its challenges and here in 2021 life continues on in a greatly restricted way, bringing little opportunity to grasp those snippets of the past. Still, it has also brought enormous opportunity to feed and grow many creative pursuits, to awaken those dormant dreams and a new hunger for seizing the moment. And we did!
With a small window of opportunity to travel opening up to us, we grabbed the chance to squeeze in a magical botanical painting workshop / retreat close to home in beautiful Launceston, Tasmania. What a wonderful week it was too. With such serene accommodation, gorgeous grounds filled withy orchards, lavender and grand sweeping lawns, a cozy stone studio space full of atmosphere resting on the fringe of Launceston, we easily slipped away into a world of beauty, stillness and learning for the week. One could easily have imagined we were in France, miles away from home. What a treat in such times!
The ever amazing Gillian from Artable Studio wasted no time in ensuring our week ran smoothly, our food was beautiful and our hearts and souls were nurtured. Gathering fresh produce from the surrounding farms and gardens she whipped up fresh apple crumble with clotted cream, hot smoked salmon spreads, delicious soups with crusty breads, and so importantly, ensured the coffee van visited us every morning. She's a reliable bird that Gillian, always knowing just what we want!
our field trip to wychwood gardens

Our week kicked off perfectly with a visit to Wychwood Gardens, a truly magical oasis of life and beauty that we lapped up. Drifting through the gardens under the perfect attention and vast knowledge of its owners, we learned so much, gathered so much inspiration for our paintings and had a generally fantastic time in the beautiful surroundings. Lunch greeted us, shortly after the rain did too, and in perfect timing we returned home well equipped from our field trip, ready to place our focus in the studio.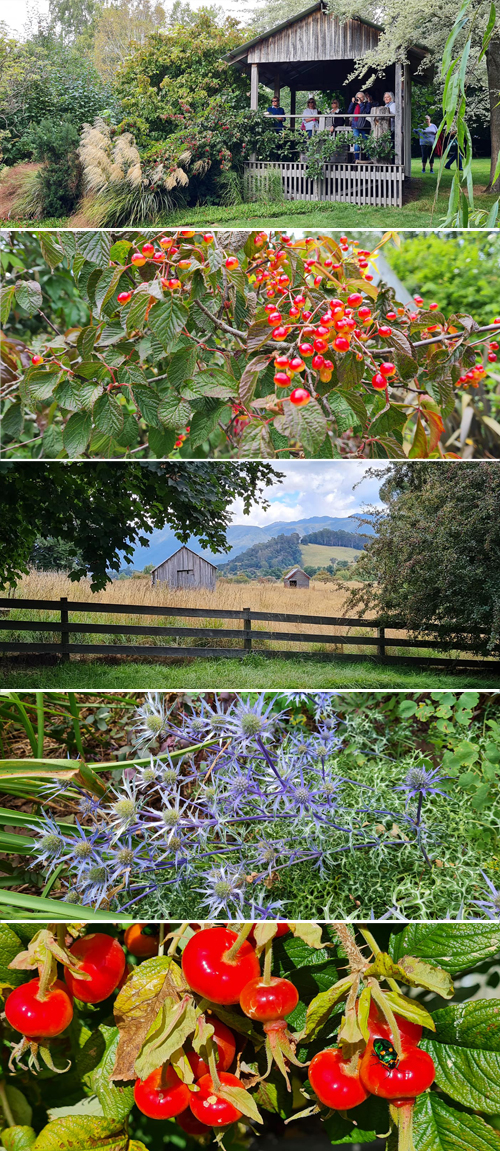 Back to the studio we go
With a thousand things we could have painted for this botanical painting workshop, we settled into the studio, starting with some simple tonal graphite drawing from life to ease our way into the right headspace, winding down from the lives we brought with us here to a calm place. We looked at reference gathering, practical work processes and materials, soon losing ourselves in the calming practice of pencil sketching to complete our day. As evening fell we rested, chatted, enjoyed the gardens and regrouped for a lovely dinner together for a close.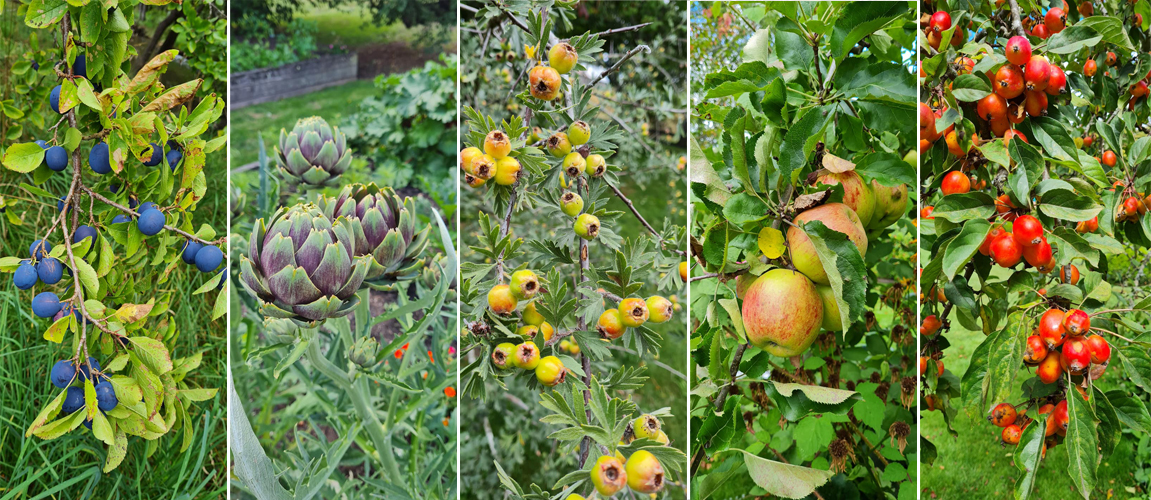 Some of our gathered inspiration from Wychwood Gardens, glorious soul food!
Painting Time
Taking all we had observed, gathered and absorbed from the field, we got into the painting stage the next morning, starting with a tonal, textural exploration of pears. There is SO MUCH to learn with this subject and my students stepped boldly in to the challenge. Learning about washes, glazes, dry brushing and the watercolour medium in general, we worked our way through the process to achieve truly excellent growth, learning and results.

Next on the drawing board was the artichoke, such a beautiful but challenging botanical painting subject to tackle, but we did it so well too! With this subject we learned new approaches, strategies and processes to achieve some wonderful results. It may be complex work but we enjoyed the change of palette, techniques and challenge that came with this new subject.

With such a beautiful group of students to work with my week was a joy. Helping others learn, grow and develop my love into their loves too is a wonderful thing. Watching people grow, overcome and accomplish so much is my reward, and this week was full of that. Old friendships renewed, new friendships birthed is so much of what Gillian and I strive for, and weve seen this many times now… There is so much more than painting in these retreats!

A final feeding and farewell to our latest group

Thank you for a wonderful week everyone!
What a blessing it was to spend time together, to explore again and to have this painting time to enjoy! I know throughout this event, messages from all around the world poured in missing the human contact, freedom and opportunity to enjoy the week weve had and I feel so blessed. To those who couldnt be with us this week, keep investing yourselves in the satisfaction and stillness of your creative pursuits, feed your hearts and souls with the blessings that are surrounding you now in this new space and keep dreaming, for we will be here on the flip side to do it all again… with a whole new appreciation for sure!
For anyone wanting to join us on a botanical painting retreat like this one, we have planned another visit to Cradle Mountain in late September, early October. This event will house us amongst true wilderness at the Cradle Mountain Lodge with a day field trip to the spectacular bulb farm at Table Cape… what contrast and beauty it will be! With only one or two events on my plate a year in the current conditions, they will book out almost immediately. Update – Our new Cradle Mountain event is open for bookings now but only a few places remain on announcing this so dont delay, let Gillian know if youd like to come along and we will do what we can to make it happen.
For those who cant join us were sending love your way! Perhaps for you my online painting tutorials will be just the remedy. Visit my CLASSROOM for more on these online painting tutorials and see if one takes your fancy.