Azure Kingfisher and Waterlilies Illustration in Watercolour – 10x14in – Watercolour – SOLD
'Kingfisher and Waterlilies' is a classic styled Natural History / Natural Science illustration, rendered in watercolour and the current challenge on my studio desk. Lately Ive really been enjoying this style of illustration and I have plans for several new subjects and paintings set to hit my drawing board in the coming weeks/months in this same mood.
The last painting 'Kingfisher and Lotus' shown on the left (now sold) was the first illustration in this new collection. It features a meticulously rendered Kingfisher perched upon a fading lotus flower, a maturing seed capsule emerging below it one step further in the cycle of life. This painting has gone off to its new owners, a wonderful housewarming gift, set to celebrate and mark the beginning of a new chapter in their lives no doubt. What a beautiful sentiment and gift! Im sure it will bring many years of enjoyment to the lucky couple! So with the last painting off to its happy new life, I am adding another kingfisher study to the mix. How could I not? What a spectacle of nature and wonder they are. I am quite sure even an artists imagination could not outdo this magical creation!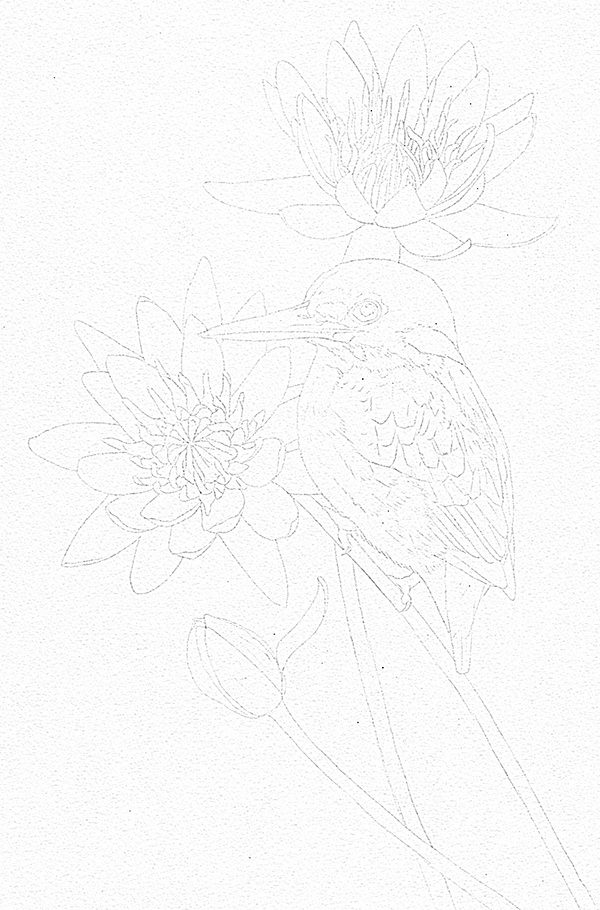 The layout for my Azure Kingfisher illustration is complete, finally. Youd think these things are easy, but composition remains such a challenge. Sometimes a keen eye and fortune lands you in the right place and balance immediately, other times it takes work to create a design you love and make it work just the way your minds eye sees it. Its always a banter it seems! It took a little time and patience to get just the balance and story I wanted this time, but thats all part of the process. We dont give design and composition much thought when we look at a finished work, but boy, can it take time and boy, does it matter! If your composition doesnt work, no amount of painting skill will save it, I think
In this piece I wanted to capture the simple elegance, grace and stillness of my subjects. Diagonal stems of the waterlilies create a nice form and flow to the painting, telling a really lovely story of the kingfisher, gently perched upon them as the world is deeply observed.  The waterlilies are so delicate, in perfect contrast to the intensity of the kingfishers powerful blues. On the clean white background, i think this is set to be a really spectacular painting. I cant wait to jump in and play with this palette, to see that beautiful bird come to life before me and stare right back at me. Its a lot of fun to see emerge from your hand.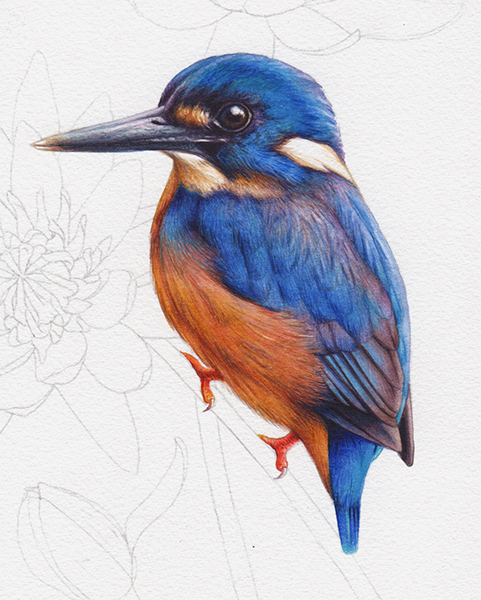 Diving into my blues… yes… ALL OF THEM, the story of my Azure Kingfisher has slowly come to life, little stroke by little stroke with my tiny brushes. His big, beautiful, all knowing all seeing dark eye makes to think you can almost see what he is thinking and I love that. Its such a part of setting the mood and atmosphere, and certainly the eye is always telling about the quality of ones work dont you think? Delicate feathers ruffle and wrap his body in the most glorious show of colours, so soft, so intense all at once and there he is, resting upon the page so full of life. What a lovely challenge he has been to paint. With the kingfisher painted its time to turn my attention to the beautiful waterlily flowers and sweet little bud.
The original reference for this kingfisher comes with thanks to my friend and photographer Bill O'niel 🙏🏻 The botanical elements are my own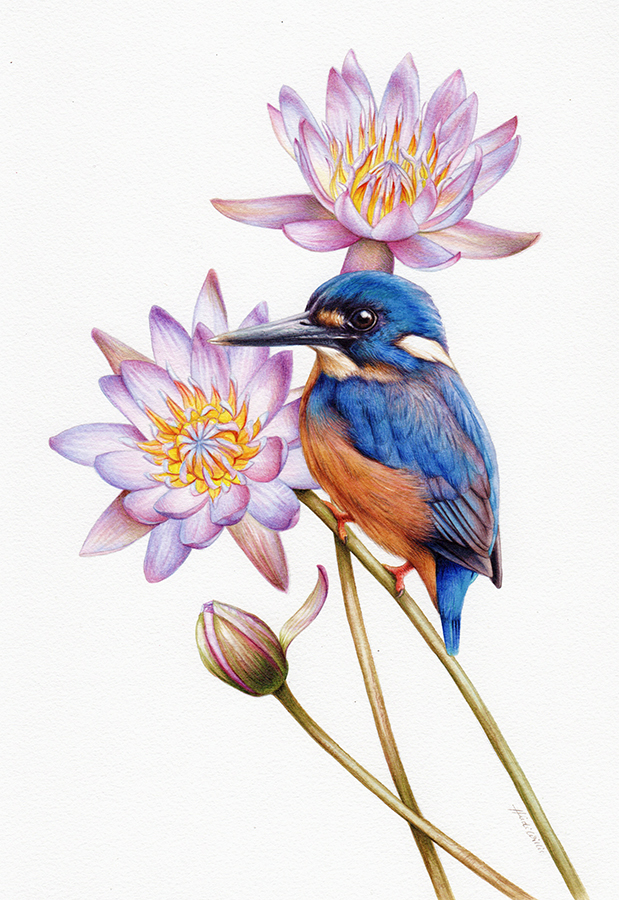 Attention shifts to the beautiful botanical illustration element of this study, two waterlily flowers and a single elegant bud just about to open, and we come to the completed 'Azure Kingfisher and Waterlilies' painting. I love the composition of this piece, it is clean, graceful and elegant just as I intended and the kingfisher perched on the long stems is so graceful. The colours are glorious, everything soft and bold all at once which i absolutely love to explore. Ahhh nature, it really does know how to do it right! Thanks for following along with me for this kingfisher painting, I have loved creating it and sharing it with you as I go 🙏🏻
***************************************************************************