Bird Painting ~ 5 x 3 foot ~ Progress on the Black Cockatoo Commission ~ Watercolour ~ SOLD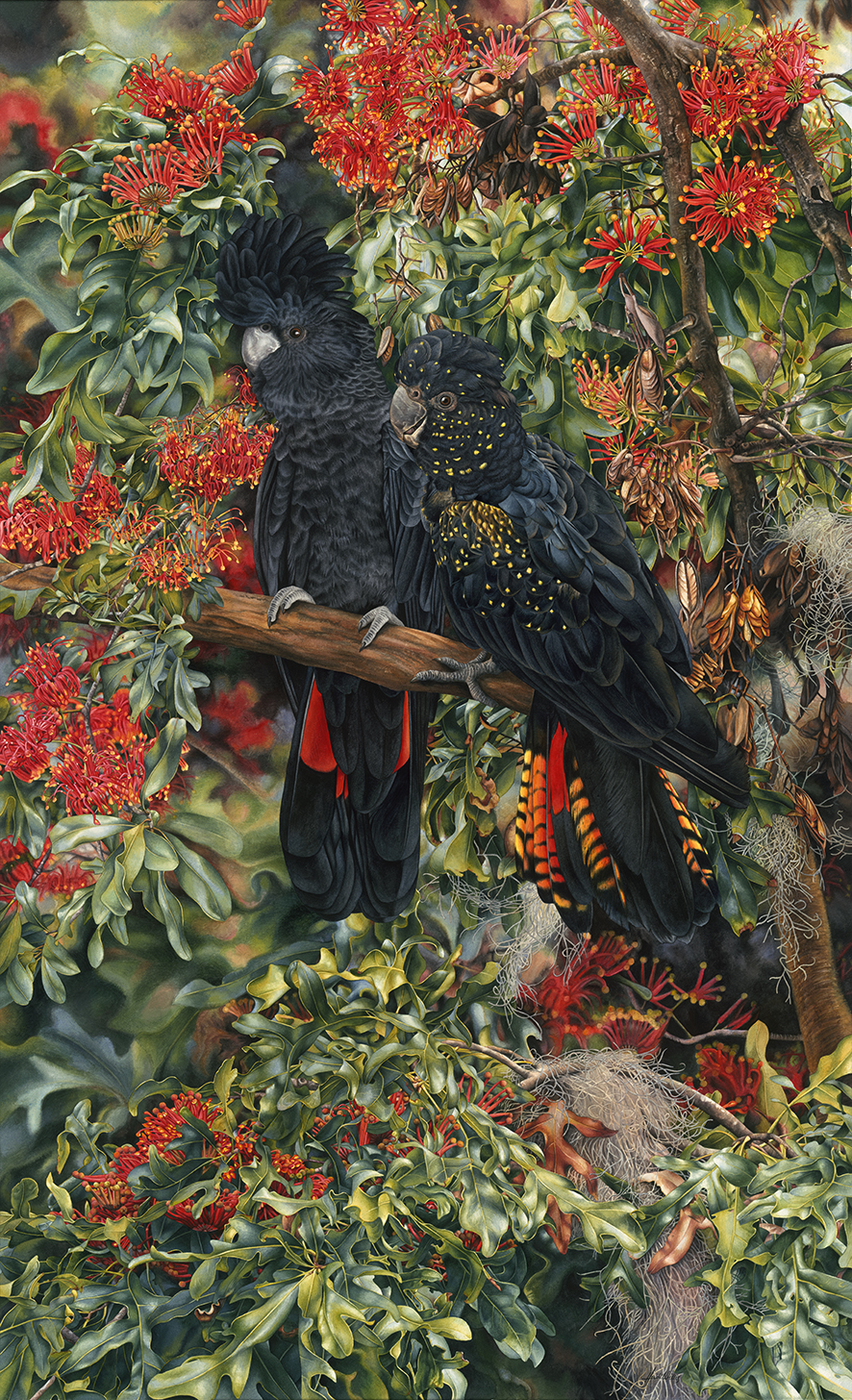 This year has seen almost my entire focus and time to this point going into this large watercolour commission of Red-Tailed Black Cockatoos and Stenocarpus bird painting, two of my favourite subjects! The client here was quite clear about what he was looking for which always helps, and he had just the space for it, a large, bold entry wall in a lovely bush setting. Initially a smaller work was purchased but once it was hung on the wall, I understand that it looked somewhat like a postage stamp on an envelope in the generous space, and so this larger version of the piece was commissioned. At a whopping 1.5x1m or 5×3 foot in size, you can imagine that this presented quite a challenge on its own, but working in watercolour and with intricate work like mine, this was certainly an epic undertaking that would required enormous focus, commitment and effort to produce. As always I was up for the challenge and excited to have an opportunity to work on a large scale bird painting like this at last. I was keen to explore new challenges and to create something really exceptional… and so I began to tackle this incredibly demanding brief and undertaking.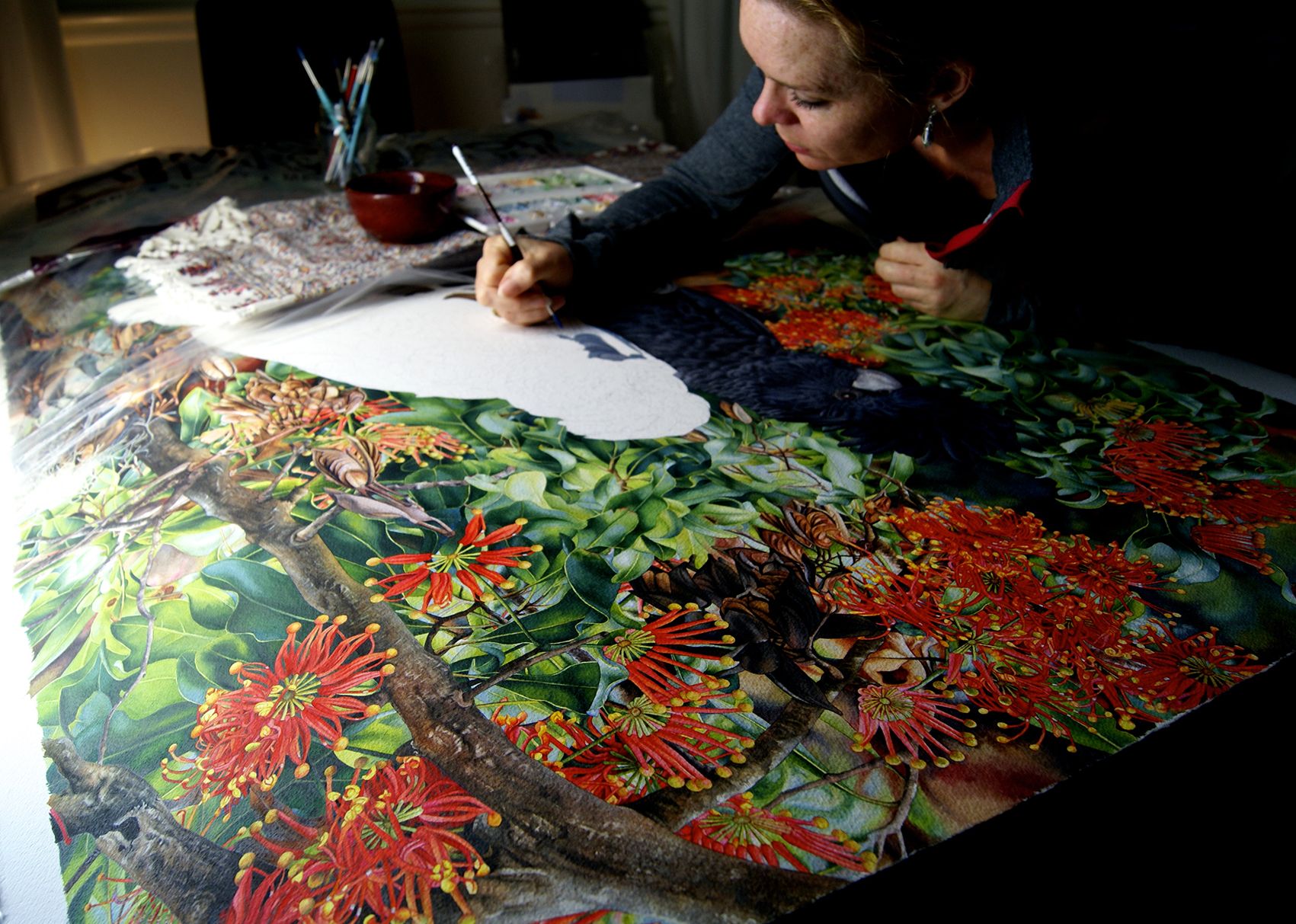 The research and sourcing of reference for this piece was significantly time consuming and adventurous on its own. In the process I had a Nelson the Black Cockatoo fall in absolute lust with me before holding me hostage for 2 hours. I was able to make my escape, but it was not without injury! I left with bruises and a bleeding upper arm on one side, and a hole in my very bruised and swollen ear from Nelson's beak of mass destruction… ow how love hurts! Breeders from all over the country came to my assistance with such generosity, imagery, knowledge and enthusiasm… it was a wonderful thing. I gathered the last of my reference from a local breeder who allowed me to spend time with his cockatoos, and i collected some amazing reference from these birds, not to mention it was a wonderful day
The Stenocarpus was a challenge! As it wasn't in flower in the Spring here, beautiful Wendy and William T Cooper came to my aid, researching all the known locations of this tree in flower in their area in the north of QLD to help me out on this challenge. I searched high and low, far and wide, only to find that it was a very early season for flowering at home this year and before i knew it, I was surrounded by stenocarpus in flower which was wonderful! I surveyed them all, even stopping in the rain to climb one in my mini skirt and 3 inch heels with a camera around my neck at one stage… because i am an opportunist. I may not always be appropriate, but i never miss a chance for collecting great reference, or to climb a tree. Finally i decided that the best stenocarpus from all my travels was in fact the one in my own back yard… but what an adventure it was!
Armed with ample reference at last, I started to put my layouts together, working with everything I had collected over the months, and this process  is quite a demanding one on its own. Finally I had a detailed layout together, approval from the client, and i was away. I began this bird painting back in march and Ive taken just one day off since then. In fact I have barely stopped except to sleep, eat and go to my yoga classes to keep my body in shape for this marathon.
Now, after an estimated 1500-2000 hours of tireless work I am reaching the last days of this painting before seeing its completion at last… and I have to say that I have enjoyed this piece immensely, but I am so looking forward to signing my name on it, and to seeing it hanging in its new home at last. Creating this piece has been such a challenge, but what a wonderful amazing journey it has been!
Thank you EVERYONE for following me on this piece, for your company, input, encouragement, enthusiasm, knowledge, comments, likes and shares of my work .Youve made this such an uplifting and joyful experience. I hope you'll join me on the next!
To watch this piece evolve, flick through the full album