Jacaranda Painting – A Major Work in Watercolour – 60x80cms – SOLD

I am excited.
Well, I always say you should be 80% confident with a subject selection and 20% unnerved about the challenge in some way to keep you growing as an artist, and I stand by that theory here at the beginning of my new major work undertaking, a large Jacaranda painting in watercolour. Theres no doubt that this is an especially challenging subject and in such a significant size, it will take some months of steady work to bring to life. The 20% terrified? Well that no longer lies in my ability to perform but in the toll i know it will take on my body to complete it… doesnt that sound juuuuuuust like me though!?

Yes, the physical, mental and emotional fortitude needed for this very special jacaranda painting will be very real, but well worth the effort too. Of this I have every confidence. This original jacaranda painting was inspired by the last spectacular jacaranda flowering season which swept through NSW like a reliably heady dream, sparking endless purple dreams in the hearts and minds of my wonderful clients. When they came to me to discuss the outrageous beauty of the jacaranda in all its depths and details, I needed no convincing. My heart and mind a long term resident of such beauty, my life has simply followed, and what a joy that space is.
We all remember those days when the jacaranda is in flower, its exceptional beauty spilling its colour so abundant into the landscape that the very air we breath appears mauve and sweet to the lungs, spirit and soul. Recollections of earth showered mauve like satin beneath our feet as the flowers scatter to the ground like carpet. It is a deeply sentimental thought, the jacaranda, for so many of us I know. Certainly it is to me. From the start, I loved the conversation, the clients, the subject, the challenge, the brief, the vision, the objectives. The primary objective simply to capture the incredible beauty of the jacaranda tree in full bloom, flowers cascading on laden boughs in all its glory… Really, they had me at 'jacaranda'.
Blissfully, I was the artist chosen for the project and I was confidently handed a lose brief to interpret and develop in 'any way I felt fitting'. It is not a small thought in my mind, it is a grand one in every way and the painting must reflect the nature, intricacy, beauty and emotions of this remarkable tree as it deserves. Naturally, my clients agree. Aside from the inevitable 20% which lies ahead in this challenge, its a dream come true for me to work on such a vision with, and with such visionaries again of course.
Its an exciting painting and project and I am very much looking forward to bringing this major work to life in the coming months. Beyond my hands, this jacaranda painting is set for a far larger journey which will continue to unfold in time from today, in many exciting ways. With my schedule now cleared for this very special project, I am ready to begin on my purple dreaming challenge. I look forward to sharing it with you all as it emerges, white paper transforming into a limitless story of jacaranda beauty.
I am very grateful as always to my friend and wonderful photographer Phillip Start of Philshar Photography for helping me out with the beautiful wren references for this painting. 'Its open permission for YOU to use any of my images Heidi, anything on here or our Philshar page i would feel honoured… Love your work' Gratitude to you once again Phillip, thank you. I look forward to bringing these little sweeties to life in this painting too!
On the left we have a little bit of 'playing with my colours', even introducing a couple of new tubes to play with as well… its so rare that happens but yum! You can also see the beginning of the drawing process, a looooong process it is indeed. This is an especially intricate subject, especially capturing it in early bud, exposing every tiny stalk and evolving flower of the jacaranda in season. With many days work going on behind the scenes on this already, it is pleasing to finally step into the physical painting.
I work in blocks of about 3 hours at a time with small breaks between to keep the toll on my hands to a minimum where I can. Really theres no avoiding it, but Im traveling well, coming to be intimately familiar with this piece with every mark made. Each is a measured, considered, precise step forwards.
Below we have a very rough layout of the overall piece, just to give you an idea of the general direction starting out. Amongst the cascade of jacaranda flowers I am going to include two super sweet blue wrens into the composition. These are quite secondary to the jacaranda feature but they bring a critical element of interest, atmosphere and emotion to the story.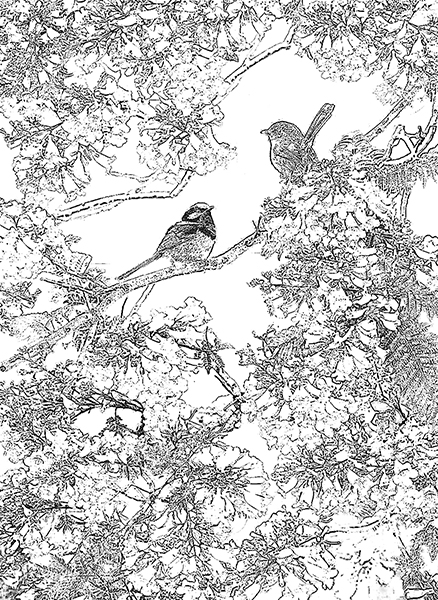 For now, its drawing time. Ill see you back here in a few days time… let the work begin!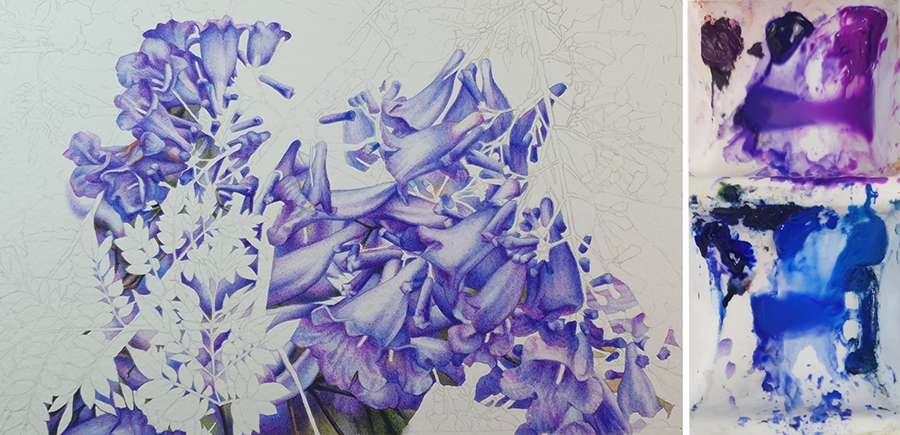 Gosh, days and nights spent steadily working and just a small (but steady) amount of progress to show for it… Its another crazy challenge for sure! Still, I am happy with my colours and the balance of everything as I get even more acquainted with my subject and familiarise myself with the palette nicely now too. Even if youve done it before, it takes time to slot into the creative 'recipe' and flow of a new piece… And so, as is the case with all my work and certainly these major works, Ill be here for quite some time to come yet!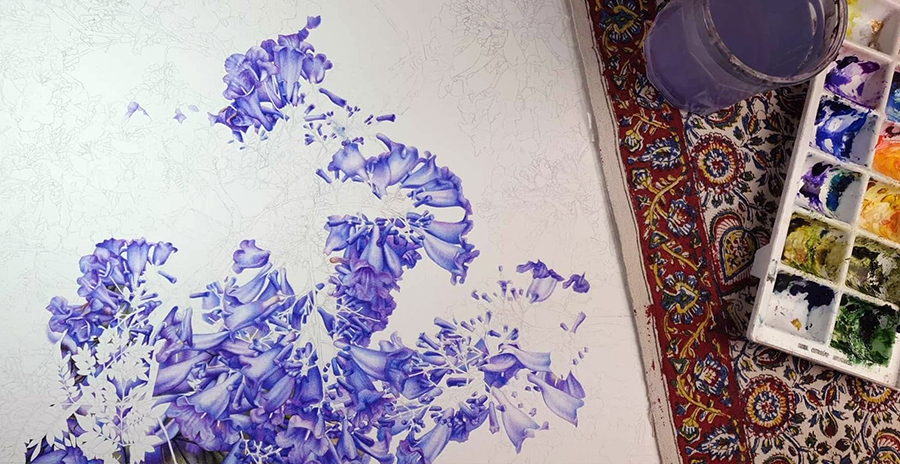 And slowly she grows… Its coming on beautifully, shifting delicately amongst my purple haze palette. As we all battle the current world coronavirus crisis, me locked away in my studio as usual, i bring a little more progress for you to enjoy.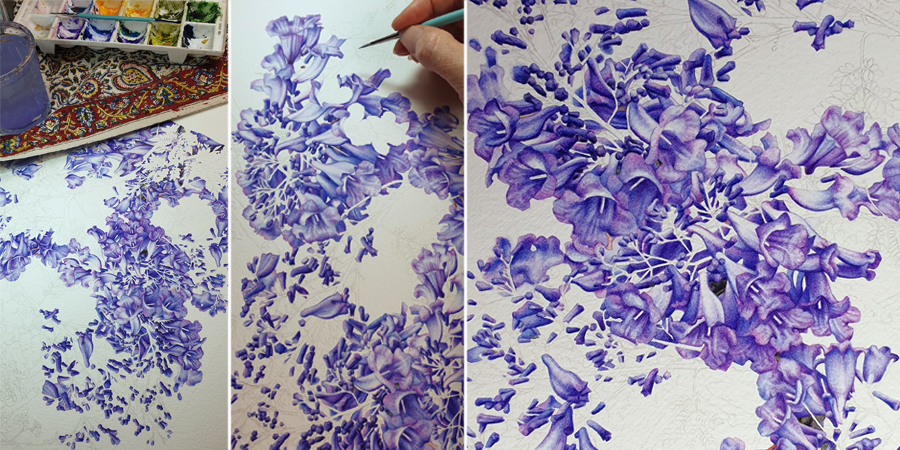 Its so hard to capture the right colour in this post but I snapped a few quick studio shots with my phone as I worked today to share the progress with in any case. My backside is sore, my back is sore, my hands are sore from the long days and nights spent bringing this epic painting to life. Im enjoying seeing it grow though, all be it a snails pace, each day my efforts reward me well and soon it will be another story out into the world to bring so many new rewards in its story.  I feel that by the time this piece is finished in some months time, the world will be in great need of some beauty, joy and nourishment, so it seems that my time here spent in solitude in the current state of things around us, is being as well used as it can be. I shall return with new updates on this soon… Sending love to you all x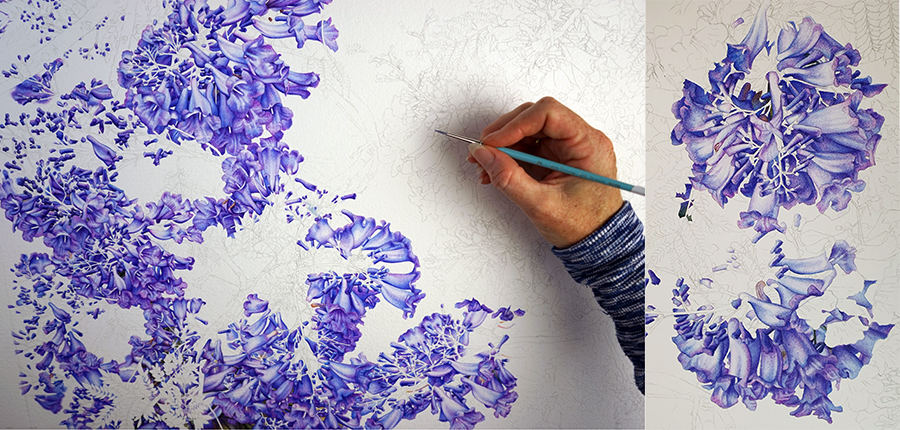 Moving on to a new section of my jacaranda painting, I shuffle my set up around and resettle into the new groove on the opposite side of the painting. Being so large, it takes some time to adjust, oddly. Its the same subject but a shift or interruption of your groove, so as you turn the painting, you must also adjust your brain to the new light source direction and rhythm of the section in general. Its quite a severance of flow in fact. At this stage you must also be more mindful of how the paintings balance is going overall too, ensuring that there is a connection, harmony and consistency in the language of all elements.
Interestingly at this point, you also start to see a marked improvement in the slickness and confidence of the the new work as it comes full circle and meets the original starting point. Subtle adjustments and refinements are made to tie it all in seamlessly, colour recipes are checked for consistency, creating diversity within the sameness becomes critical as the bigger picture begins to emerge. More of the same yet delightfully unique, I love the two new clusters of jacaranda flowers. Its hard to see here in a way that serves any justice, but in real life, its so luxurious and beautiful you could almost smell them… Another little update for you all.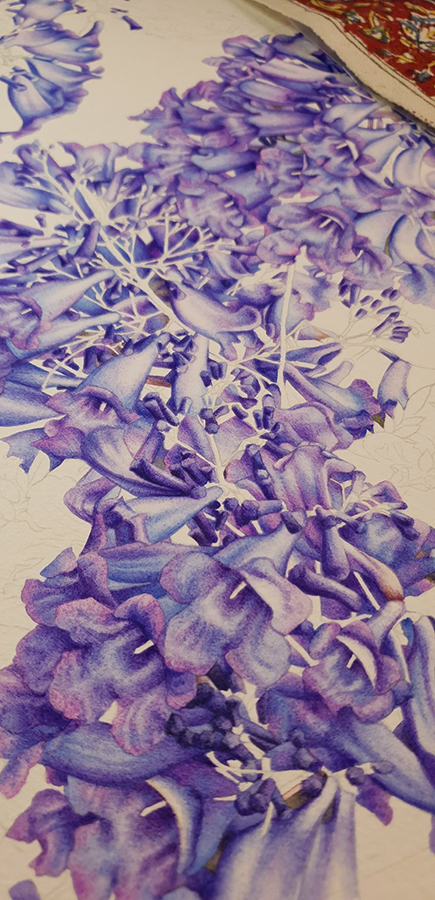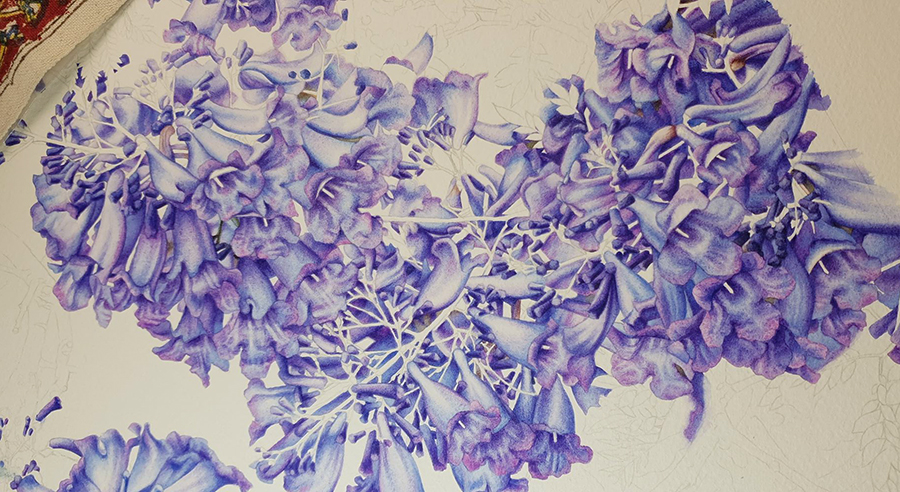 Moving to the next section, i have spent days and nights tackling the clusters of flowers on the bottom right side. It is a delicious tangle of purples, a complex palette of colour, texture and tone to navigate, paying endless attention to every detail as I go. I feel like it has a freshness, a richness and a luxuriousness about it now as I wanted to achieve of course, but seeing one cluster connecting to the next as it grows feels very satisfying. This area was definitely difficult! But the purple is complete and its time to tackle the next session of drawing as I move into the top half of this jacaranda painting.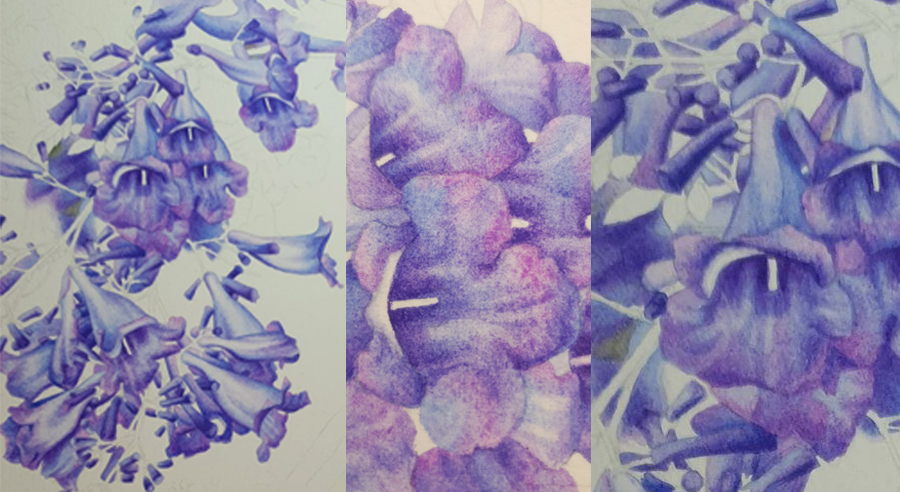 Drifting back to the top left section, the jacaranda painting continues, every day bringing more beautiful familiarity and connection with my subject… It's more of the same for now, and will be for a while yet… something we are all very familiar with these day! Thank goodness for creative pursuits in such challenging times. Jacaranda, my current stillness. Today is grey wet morning in lockdowns, a perfect time for the studio. I shall be back with more on this soon. Stay safe everyone x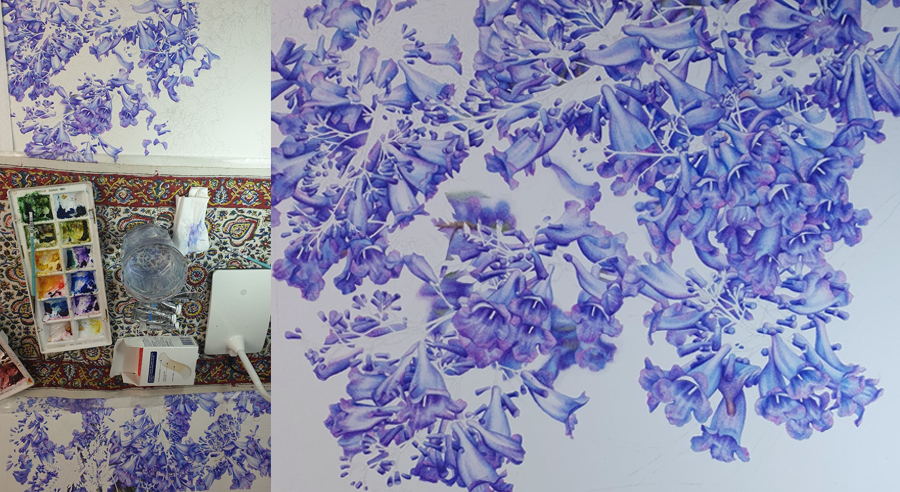 On the left you can see the entire piece with all my working equipment laid out through the middle of the canvas as I go. On the right you can see a snapshot of the top left area of the painting, slowly, slowly filling up with a purple haze of jacaranda flowers. At this stage they will look beautiful in colour and atmosphere, but they will appear to be somewhat lost or nondescript in their meaning, lost amongst the sameness of the flowering abundance. Soon though this will change.
The new element of the stems will bring new meaning, structure and cohesiveness to the current generic mauve mass. This is a stage that requires great mental and emotional discipline as we continue in a holding pattern of repetition for days and weeks on end, never allowing your mind, thoughts, energy, attention or focus to sway. Complacency of heart and mind becomes the language of your painting, so you must approach the work with fresh, open and attentive hearts and minds every sitting, no matter the length of the haul. Remembering its beauty makes it an easier feat. Today I continue working into the top right corner, a new section and the final stretch of  the mauve flower elements. So close yet still so far away to completion…
*************************************************************
PROJECT IN PROGRESS – WATCH THIS SPACE!
*************************************************************