Botanical Watercolour Painting Classes – Victoria 2020
Returning home from two weeks tutoring interstate, I am filled with so many wonderful new memories from 2020's Victorian events. Its no surprise, I am always welcomed so warmly in Melbourne, it keeps me coming back each year despite the long haul from home and the precious time away from my studio. This year was no different, smiling faces, open hearts and minds, ready and eager to jump in to some new learning met me enthusiastically, a one way street through a great week! These are the things that helps me extend myself fully as a teacher, to really allow my students to grow as much as possible. It is fair to say in teaching, the growth and learning is a two way street and with these events I feel so given in return too.
Geelong was first up, stepping in to a room full of good vibes and grins, familiar faces settling in my spirits more and more each year as they return. Its a great great group and I look forward to revisiting each year! The 10 hour drive and two coffees behind me, the warm embraces give way to a steady pace in the class amidst the happy murmurs and chatterboxing of familiar friends too. Its wonderful on so many levels, this group.
Botanical Watercolour Painting Classes – Victoria 2020
Natural History and Botanical painting is our focus of course, but I always approach my masterclasses with a strong focus on realistic watercolour painting in general. To me this is the real key, as good technique in a medium can be applied to any scenario and subject, allowing my students the most scope to grow possible. This years challenges included a yellow and pink rose, a gorgeous bold pink lotus flower bud and a day on insect illustration exploring dry brushing a little more too, each bringing their own challenges to the table to explore.
Artworx was my first host, opening their wonderful studio space to us for the week, a mix of warehouse, industrial and creative qualities set amongst the rustic charm of Geelong. Personally I love the open air and natural light this space brings, with its wonderful organic flow in and out of the laneways, cafes and art supply shops. It grows on me each year, Dylan taking care of me like an attentive mother hen each year, so beautifully! Lunch is always a memorable affair here too with options and beautiful food reliably on offer. Its a nice touch, especially as I generally forget to eat when Im working at the best of times.
For 5 days we explores my own painting materials, processes and practices learning how to grow and improve, ask important questions, explore a variety of watercolour painting topics, looked at correcting when things go astray and generally refining our watercolour painting skills. With the first event a wrap I took a short pause to enjoy a glimpse of the Dandenongs, and the Blue Lotus Gardens with one of my students, now good friend, which was a treasure trove of magical discoveries amidst the great expanse of lotus ponds in bloom. Despite the unreasonable heat and Lees broken foot (unbeknown to us!) to me, its heaven… Melbourne gardens in general are always a treat to be amongst and this was no exception.

Next, I made my way over to Elsternwick to work with the Calligraphy Society of Victoria, another group i LOVE to work with. They are such talented, dedicated, motivated, inspiring and fun people without exception in my experience, and I have looked forward to working with them again all year. This special request event explored Waratah illustration in depth, a challenging subject every one of my students rose to so very well. I love throwing my students in the deep end because I know they will swim just fine. I was thrilled to see their perseverance and positivity return the favour to them in abundance, overcoming every hump along the way to a remarkable success in head and heart spaces, as well as the work they produced throughout the week. You remind us all that attitude is everything… Credit to you all!


Waratah Botanical Watercolour Painting Classes – Victoria 2020 – A very real challenge conquered!
The week was punctuated very fittingly with icy cold bottles of my newly released Heidi Willis / Jacobs Creek Le Petit Rosé along the way, the perfect remedy after a long day of learning, remarkably good food and a gorgeous host that bent over backwards to make my week in Melbourne the pleasure it was. A copy of 'Postscript' magazine adorning my Waratah image on the cover with more of my work inside the pages was left out for my arrival, such a sweet touch I had no idea about at all, a nice read and surprise indeed.

Botanical Watercolour Painting Classes – Victoria 2020, so many beautiful touches and memories to smile about
Painting in 'the house of God' for a change went very happily, sharing conversation, knowledge, laughs and moments along the way. 'You know, my husband calls you The 5 Steps Lady?' one student told me… 'He says its just 5 easy steps and BOOM, theres a masterpiece' she laughed, telling me the story vs the struggles with delight. Others declared 'Do you know how many of us take you to bed with us every night…?!' followed by more laughter. Of course they mean they take my online painting tutorials and the laptop to bed to learn at night, but its something I had never fully considered the ongoing occurrence of until that moment.
In the morning, I received this note folded into quarters, inside an illustration said husband had made for me of him working through my 5 easy steps to success. Such a laugh, and to think someone I dont know would take the time to make this for me just made my day. I think youll enjoy it too…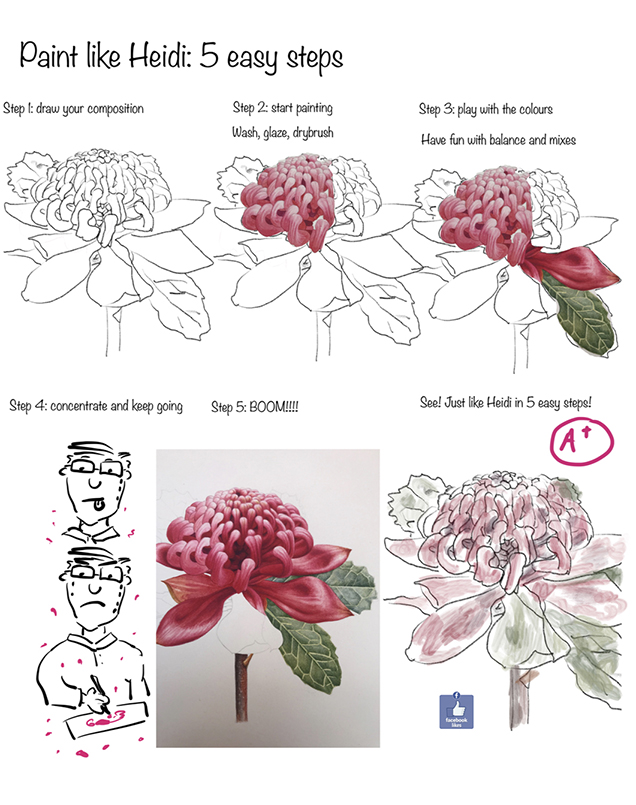 I love the A+, the 'like' icon, the angst riddled expressions on the caricature (which apparently looks just like him), and the general attention to detail and talent shown in this presentation. Although we never met, i have a special place in my heart for the man and I love this gift. Its set to be laminated and hung in my studio shortly… thank you!

Botanical Watercolour Painting Classes – Victoria 2020 – Tools of the trade with a little touch of magic in the mix!
The wonderful thing about working with calligraphers is that they are also so incredibly knowledgeable and skilled at their craft too. They are like me, very pro knowledge sharing and are full of tips, tricks and information on so many things creative so it is always an exciting exchange full of magic and growth. Just look at this expanse of iridescent and metallic colours they work with, and this remarkable drafting tools set of an age gone by. How I LUST after this set… Just. Lust. It is incredible. So, we played together and explored many new, fun and fascinating aspects of our crafts combining, enriching every one of us along the way throughout the week. It truely was a wonderful time with you all.
Wrapping up a wonderful week of Botanical Watercolour Painting Classes here in Victoria, I stepped out into the in blinding heat and hit the freeway home immediately, heading straight back to Sydney in time for the fabulous Jacobs Creek Le Petit Rosé launch on the harbour. Driving through the night in temps of 46 degrees, slipping only to 44 after dark was an exhausting stretch on every level, but I made it to the launch adding new wonderful moments to a swag of current ones that already filled me up so much. What a month it has been, a whirlwind of wonderful things and an incredible start to the new year already.
Thank you to every one of you who contributed to the Melbourne events in some way, my beautiful students, my amazing host Patricia, to those who helped me get through the thick of my hectic schedule, who fed me, nurtured me along the way to making it all happen like it did. I appreciate you! You make me want to come back again in 2021… and so I am. With 3 events newly opened but booked out already or booking fast, please let us know if youd like to join me next January for these Victorian events.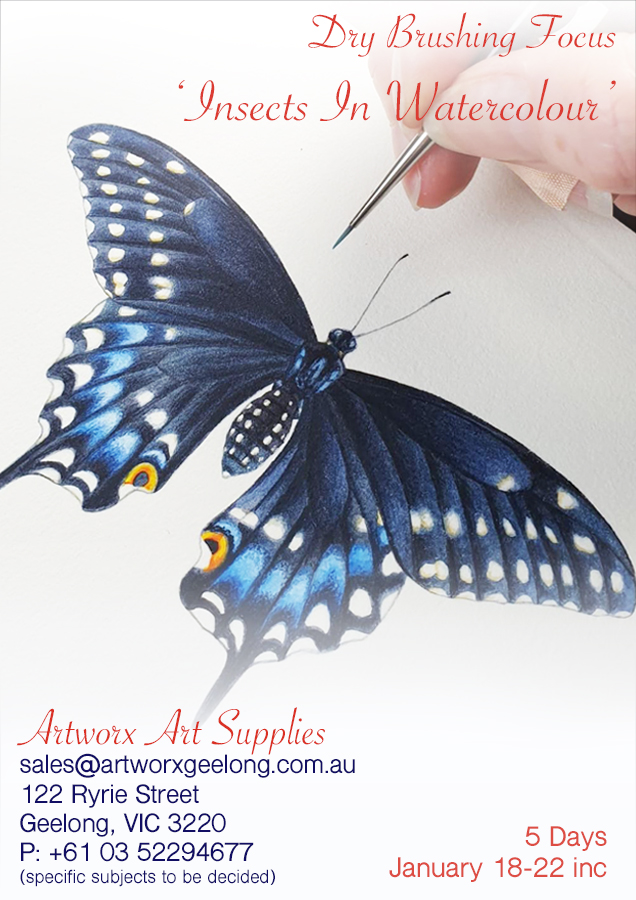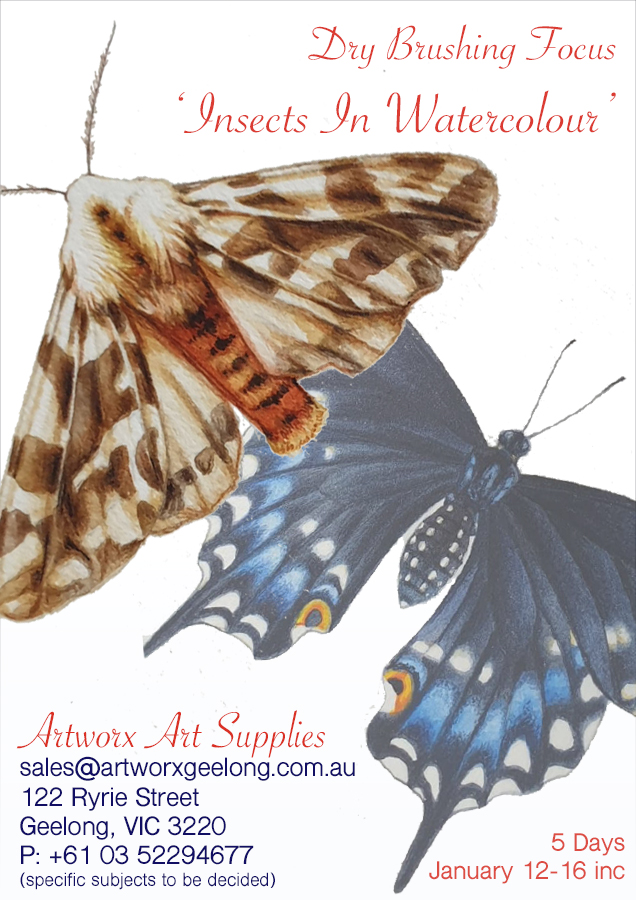 I have 2 x 5 day events at Artworx in Geelong With week 1 in Geelong already booked out with existing students, I am holding a second event by popular demand. I also have another 5 days pencilled in with the Calligraphy Society in Elsternwick, stretching over weeks 2, 3 and 4 of January 2021. Each event will focus on one small natural history illustration a day with a strong focus on insect illustration… exciting! You can check my other events in my Botanical Watercolour Painting Classes blog post for 2020  too. I hope you can join us along the way!