2019 In Summary… Farewell Already?!?!?!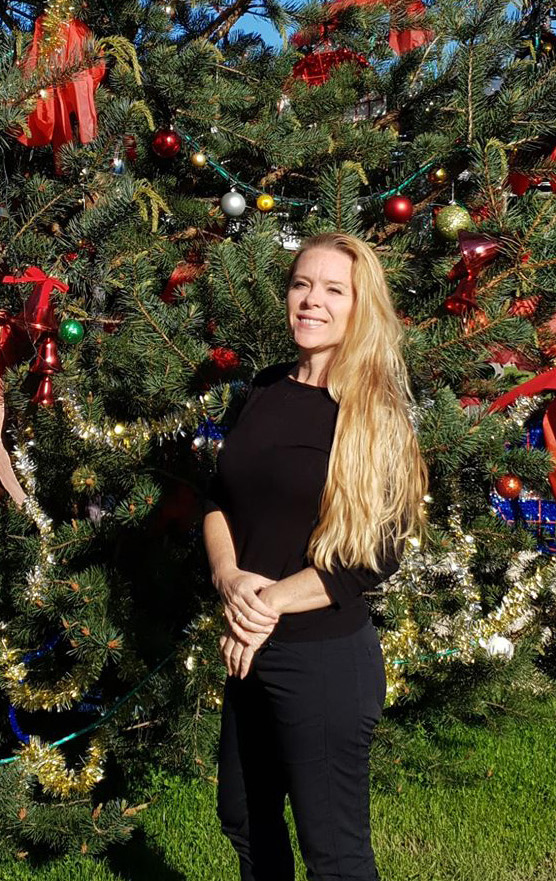 Merry Christmas Everyone
2019 In Summary, what a great year!
I cant even believe it, another year at its close already, and all too damn soon as usual… but what an excellent year it has been! So many thrills, wonderful experiences, memories and moments to celebrate from a jam packed year fills me with gratitude for the year passed, and enthusiasm for the coming year too. Returning home from my Everest and India travels so sick (dysentery, chicken pox, a little frost bite on my fingers and some pulmonary edema from the altitude) certainly grounded me for longer than I can remember in the past and has taken me some time to rebalance, but I wasted no opportunity to enjoy being home and productive at all, and it has been equally as wonderful though so different to last year!
A blink of an eye in one hand, the start of 2019 also seems such a long time ago to look back on, its a strange thing to think this time last year I was immersed in the huuuuge undertaking of the Sydney Parks Signage Project for the Australian Government. Creating almost 50 intricate wildlife illustrations, all are set to be used for the City of Sydney Park signage and informations boards across 6 different Sydney parks locations including the Glebe Foreshore, Jones Street Pocket Park, Kimberley Grove, Orphan School Creek, Victoria Park and Sydney Park… such a wonderful project to be a part of.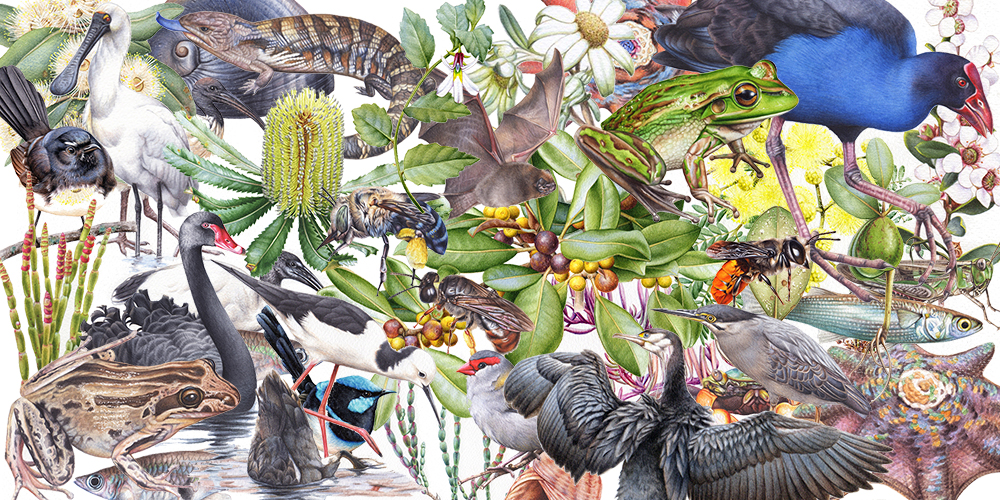 A composite of all natural history illustrations for the Sydney Parks Project… a lot of work but all very wonderful!
The Sydney Parks Signage Project ran for a huge portion of my year and was a significant part of 2019s workload. The project is in the final stages now and we expect to see the full colour metal signs incorporated into the parks in the coming months. Of course these things take many hands, creative teams and minds to bring to fruition but I am really looking forward to seeing the end result.
Of course there are always more than one thing happening in my studio at any time so its always a bit of a wonderful juggle here in this space. Whilst I only work on one painting at any time, there are many projects and pieces unfolding at any time, all requiring my full attention and effort to bring to life… each receiving just that. I absolutely love working with my commercial clients, bringing peoples visions and passions alive in some way with them is so multi layered, challenging, satisfying and totally thrilling.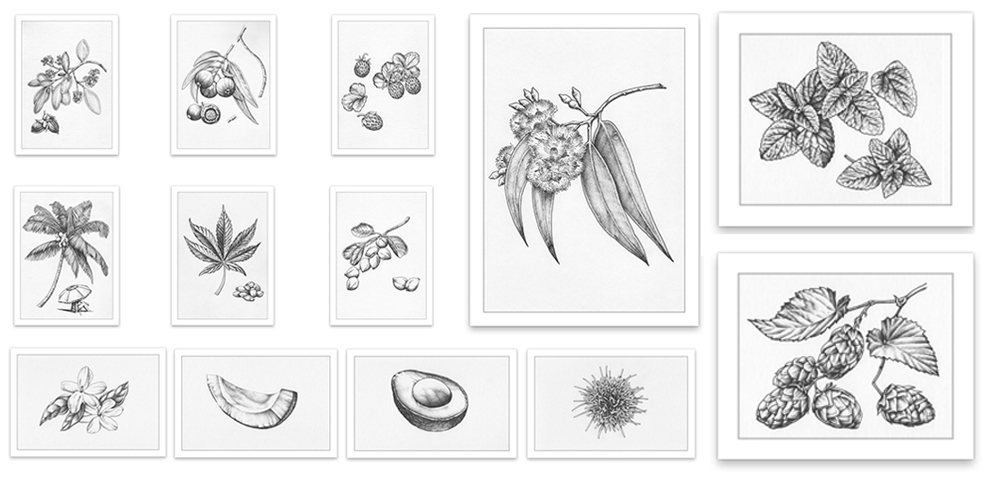 Another ongoing project Ive been busy working with over the year is for a fantastic global company producing a series of ink botanical illustrations for their packaging. Again, these products havent hit the shelves yet but they will soon enough, and on a global scale too. Its another wonderful thing to have been a part of and Im certainly looking forward to seeing the finished results on this for my client, and for all those involved.
There have been a number of other amazing projects Ive worked on over the year as well, all of which are yet to be announced in the coming months as those products hit the shelves too. Illustrations of great diversity around the core of my work have been produced for The Grounds Of Alexandria, Archie Rose, Jacobs Creek and Ashdene to mention a few, all celebration worthy of course! Ill certainly be posting more on these as they unfold.
Between these amazing commercial explorations I also managed to return to my White Room collection of major works, producing my third major watercolour painting 'Lear's Macaw and Tabebuia' out of my South American travels. Each a labour of love, this is an important series to me to continue so it was wonderful to see the next evolve to completion and join the series. The 'Hyacinth Macaw and Lecythis' also appeared in a new Australian Artist Magazine feature article which was a real honour in my year as always.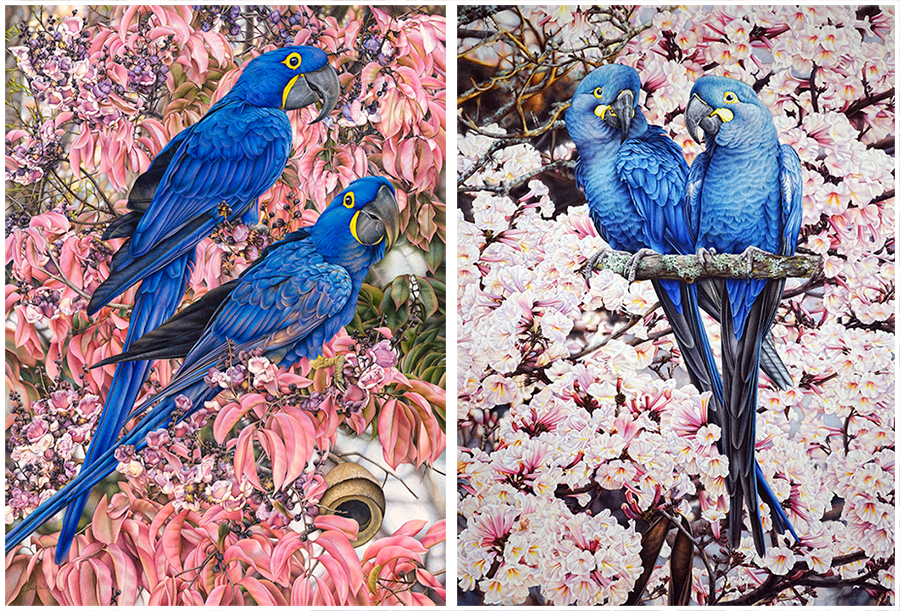 My two macaw studies, Hyacinth and Lear's Macaw in watercolour, the 3rd and 4th in the White Room Collection
Private commissions joined the commercial commissions throughout the year which is always a wonderful thing to enjoy, for me and for my clients. Beyond these I also produced a number of miniature paintings both with backgrounds and without, just for a little change. These always prove popular with almost every piece finding their forever homes, some well before completion, or even commencement… thank you! I know those people are thoroughly enjoying their paintings as we speak, a lovely thought and feeling thats for sure.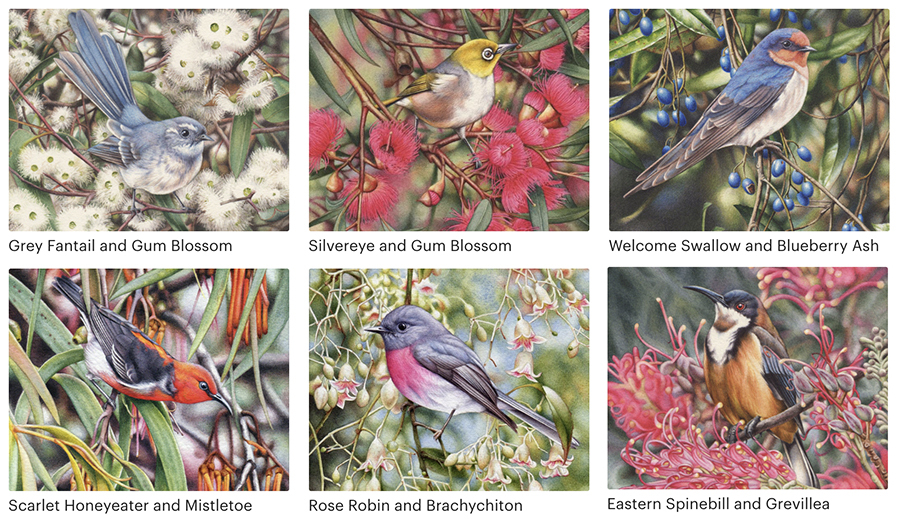 Some of my new miniature works – now available in print
As most of you know, one of the greatest highlights of the year was being selected as a finalist in 2019s 'Birds In Art' exhibition in the USA, a huge honour indeed. I traveled to Wisconsin for the event, appearing in the newspaper and television with my entry 'The Great Romance', spending time with amazing artists Ive known for years, as well as meeting so many new faces too. It was such a memorable experience on so many levels its hard to believe. The Leigh Yawkey Woodson Museum is outstanding, run by a well oiled machine of completely remarkable people who really know how to put on a show! I couldnt have been made more welcome or my work celebrated more than it has been in this, my first 'Birds In Art' experience.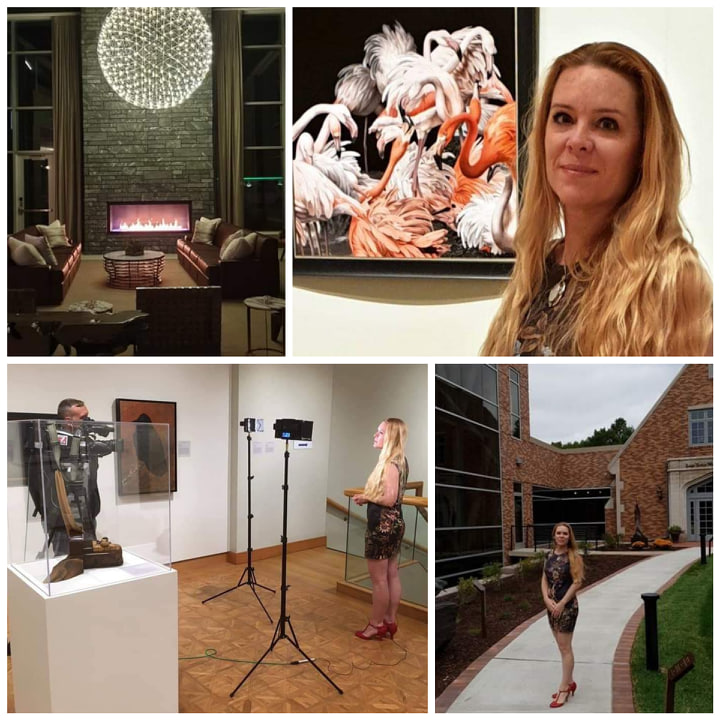 'The Great Romance' is now sold, returning home to an Australian collection by Christmas which is so excellent. It will be a hard one to say goodbye to but it is a painting with far more story to tell than in my hands alone. 2019 has seen me exploring acrylics as well as watercolour more and more so… and with great success every time. Watercolour will always have my heart, but I am thoroughly enjoying the pursuit of my core work into new territories, and it seems you all are too! Thank you everyone for coming on this journey with me, sharing it all has been so rewarding and fun in so many ways.
Another big focus of mine is teaching, and this year has seen a significant portion of my time going into knowledge sharing, which i am a strong believer in. With my teaching/workshop events selling out months ahead as a rule, I put two additional events on over November to open up more positions for those wanting some face to face learning. It has been a busy year in the classroom with loads of new memories and connections being formed, turning out some really wonderful results along the way too. Ive seen students make huge leaps forward in confidence, direction and outcome again this year, and we sure have had a lot of fun doing it too. The teaching highlight was undoubtedly exploring peonies in New Zealand just 2 weeks ago. What a perfect wrap up to an amazing year that was! Thank you to Gillian at Artable for… everything.

Travel is such a huge part of my work, and it grows every year as my painting goals, teaching events and horizons expand. Field work is so critical to the work that I do and so it is an element of adventure and exploration that comes with the territory. Certainly my health has taken a beating as my adventures take me into wilder, more remote and intrepid locations on such a regular basis. I regret none, but i did stay near home for the majority of this year with the USA and NZ my overseas highlights, trekking the Overland Trail in Tassie closer to home for me was incredible for me too… but I have plenty planned again for 2020 so lets see what the new year brings us shall we! 😀
Returning from New Zealand just last night, I have had such a whirlwind time exploring the west coast of the south island these past weeks following my peonies workshop, battling perpetual rain, landslides, being trapped in Fox Glacier for 4 days with the roads and bridges swept away on all sides, eventually being evacuated out of the area to cancelled flights home. The volcano erupting claimed the life of our dear friends nephew far too young, a terrible thing after we lost her just a month ago too. The loss of our good friends John Turton and Patrick Carroll a huge recent loss to us all, reminds us that life is short and so very precious. Looking back I think Ive spent my time this year well, certainly happily, focussed on the people, places and practices that I love… Do it wholly, wildly and with all you have I say!
Merry Christmas, Happy New Year, my love and enormous gratitude to you all ~ Heidi