Watercolour Natural Science Illustrations Commission
The latest project to come into my studio is a new commission for 7 x Natural History Illustrations in watercolour. These seven studies include two honey bees, a large chunk of fresh honeycomb, 2 bottlebrush illustrations and 2 Water Gum botanicals to complete the series. I cant disclose the client just yet, but its another wonderful project to be a part of. I look forward to getting into the hand on business, and to sharing it with you all along the way.
Its so great having a blog of my own. It means I can really get into the background workings of these projects with you in a little more depth. Of course theres faaaar more to this creative business than just the creative business! With the brief in hand, we step into the first stage of the project… refining our concept from words, scribbles, ideas and visions to templates, layouts and finally some drawings to submit back to the client for approval. This is the stage where I work long days and many nights off the brushes. Its the very involved stage that we dont see or think much about behind the end product, but its significant.
So to start off, we can see a rudimentary, original idea for the bee subject and desired pose that Im given from my client. This is then evolved and developed into a sketch and finally, a little colour added just to help visualise the illustrations more accurately in their final placement. These drawings are then checked for placement, the interaction with other elements and overall composition. Changes are made if needed before we move into the finished art phase… Beautiful end products arent created on magic and whim, there is a bucket load of thought and effort that happens behind the scenes to bring them to life.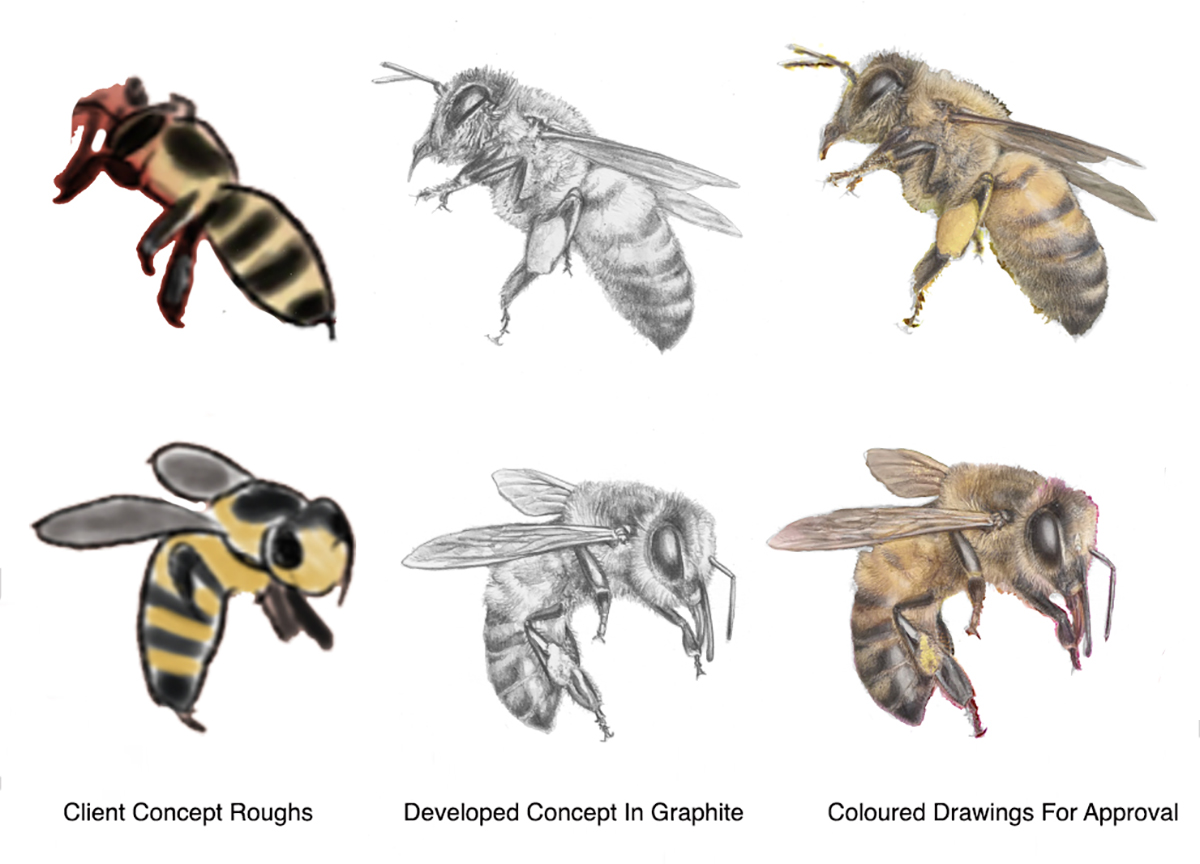 With the first 2 elements ready to go off for approval, I have 5 more subjects to do the same with. To go with the bees we also have a chunk of fresh honeycomb honey… not the easiest subject I can think of, but fun to explore all the same. There is nothing that will teach you the precision and perfection of a bees craft like trying to mimic it thats for sure, what an absolute marvel and wonder of a creation honeycomb is. Here we have the drawing which is challenging enough on its own even in a simple sketch. The painting of the same? Well, Ill pop that challenge out of my mind for now at least.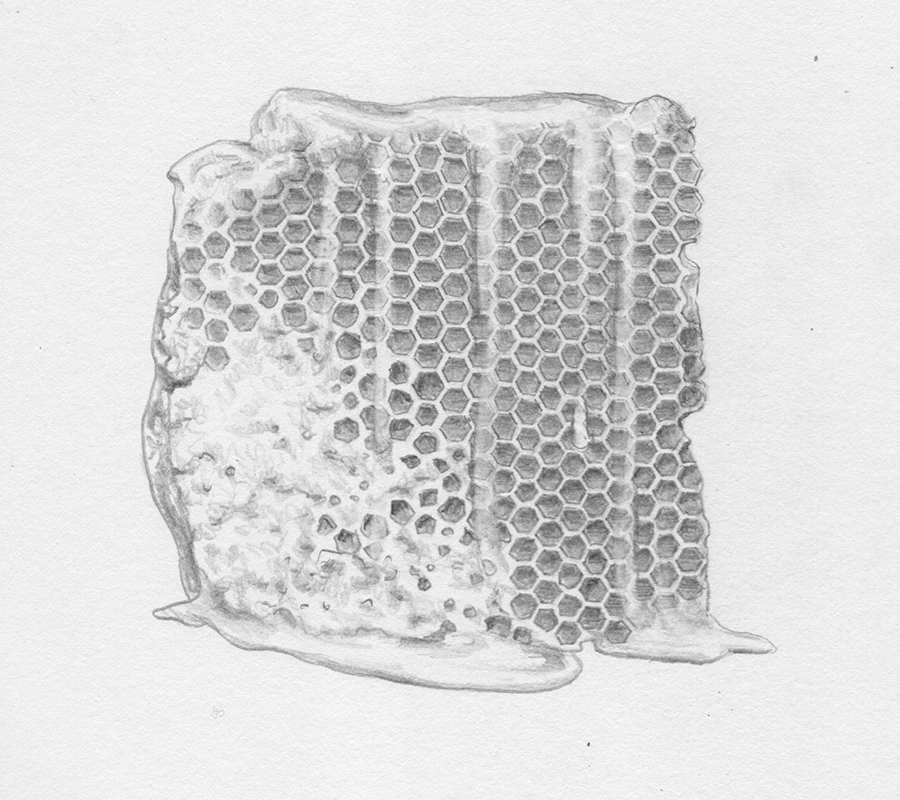 Accompanying the honey and honey bees are 4 botanical illustrations, the first being 2 fairly simple Watergum, or Tristaniopsis laurina studies. Its a subject too often overlooked as an illustration subject if you ask me. Despite our street being lined with watergums, I cant say Ive paid too much attention to this understated flowering tree specifically however once you study it closely, its beauty is quickly apparent. I love its structure, bold lines, rich blue greens and most of all, its gorgeous yellow flowers. I can see why my client has chosen to work with this for its visual beauty and speaking for myself, these otherwise overlooked subjects are such a rich part of working amongst other peoples loves and visions. Its full of such wonderful discovery. In any case, here are the 2 lightly coloured pencil drawings in their development stage.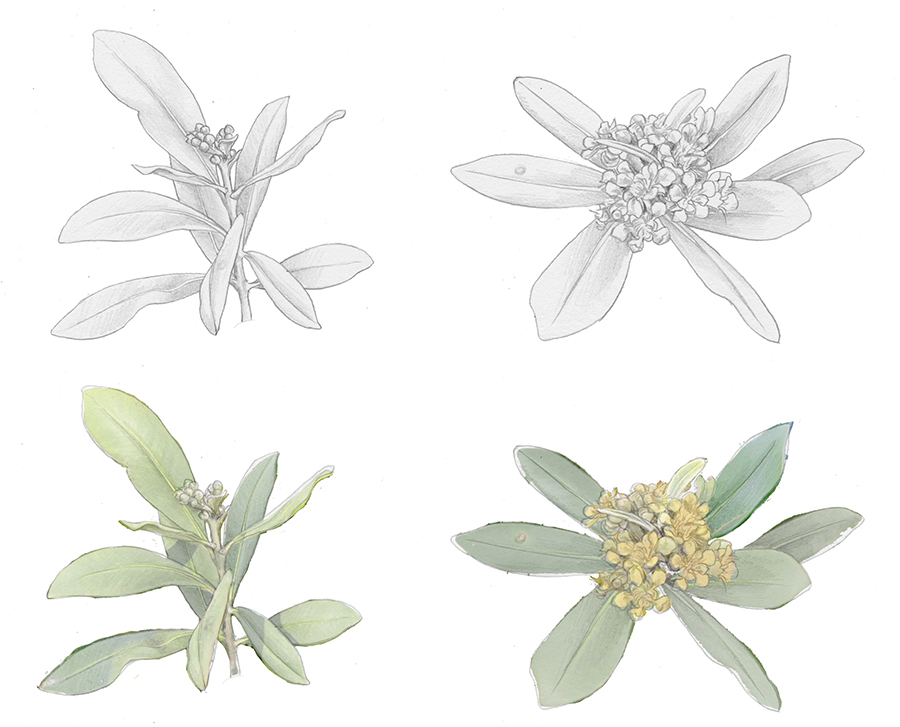 That covers the first 5 concept sketches leaving just 2 Bottlebrush, or callistemon studies to go. Its such a lovely selection of elements, the bright red of the bottlebrush adding a bright splash of colour to the mix…. and here we have the concept development sketches of the bottlebrush from the client thumbnail to a more refined rough pencil sketch and the lightly coloured thumbnail, closing this stage of the project ready for any changes and final artwork creation in the next.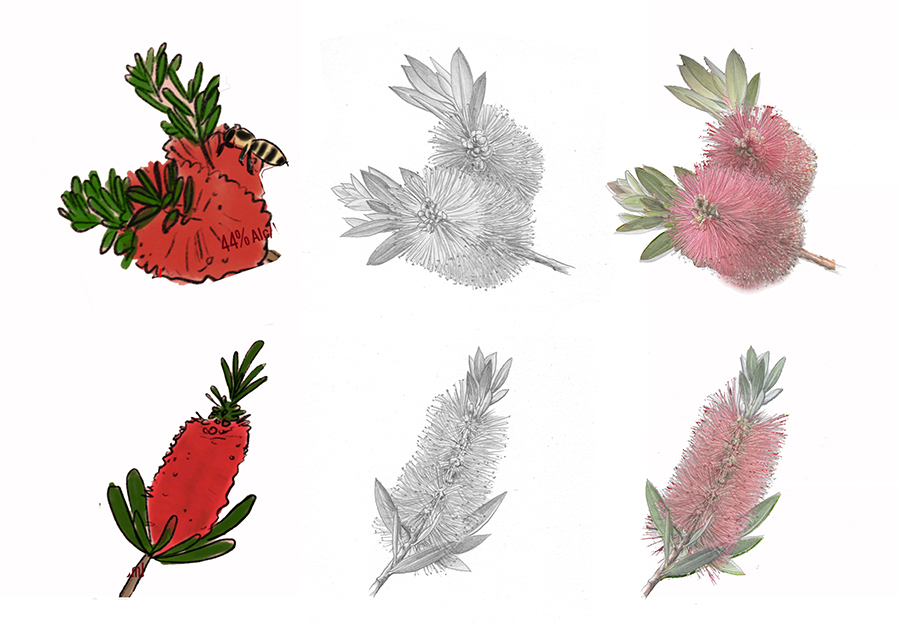 *************************************************
stepping into the painting stage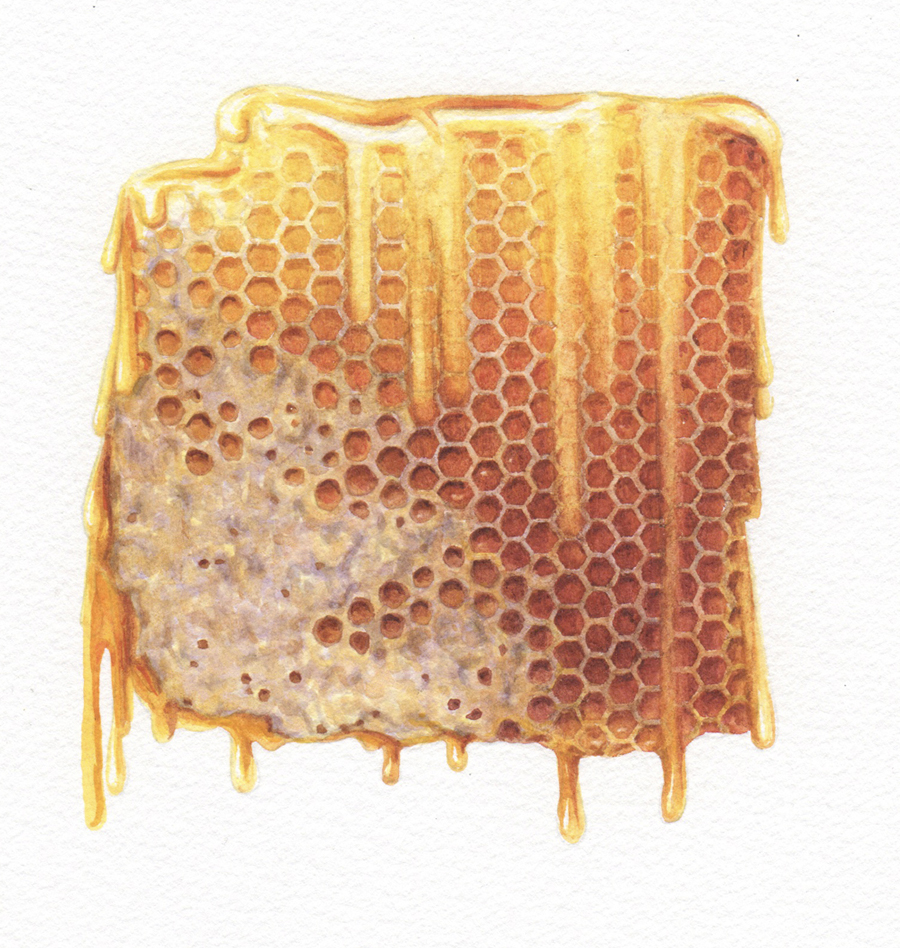 With the first approvals being decided, its time to get the brushes wet and start illustrating the first bee, the first bottlebrush and the extremely tricky honeycomb study. As we were just discussing, you really come to appreciate the skill of honeybees the very second you start trying to replicate their precision and skill creating their honeycomb. My goodness, it is perfection.
Nature is ever remarkable and this is definitely a challenge to capture her magic, but its also a fun one to tackle… and what amazing colours to play with too. So first up we have the honeycomb illustration and although 90% of this painting will be covered in its ultimate application position, I approach the subject with the same attention and care top to bottom. The palette was so delicious on this one, yellow and orange mixes to create that honey gold colour, dribbles of yellow gold honey flowing over the surface of the honeycomb, a lovely element of this series.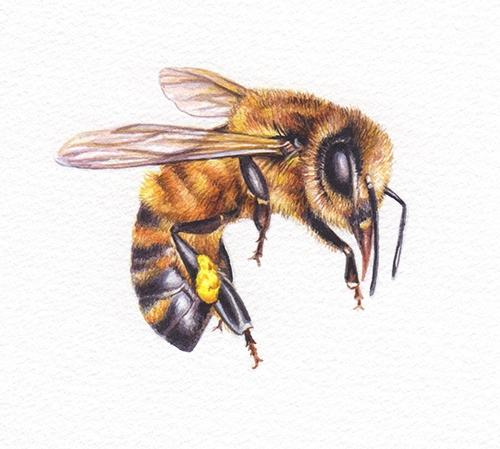 The second study is a honeybee, the first of 2 suggested in this series. I love illustrating bees of course, so I upsized the illustration to make it far more refined for my client. This painting too, is highly textural though a total polar opposite to the smooth flowing honey. In contrast this is soft and furry, capturing the fuzziness and beauty of this honey bee subject.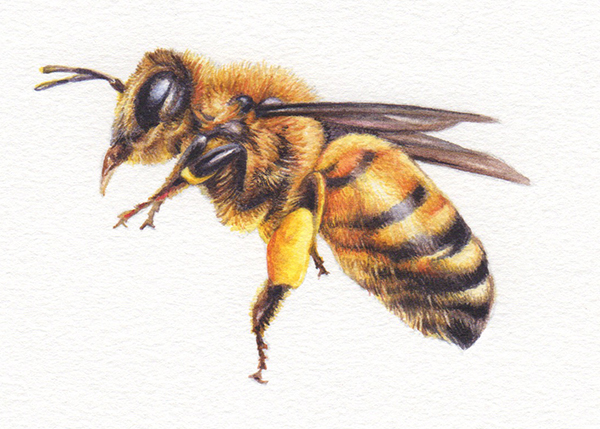 Here we have a second bee illustration, ready to add to the collection.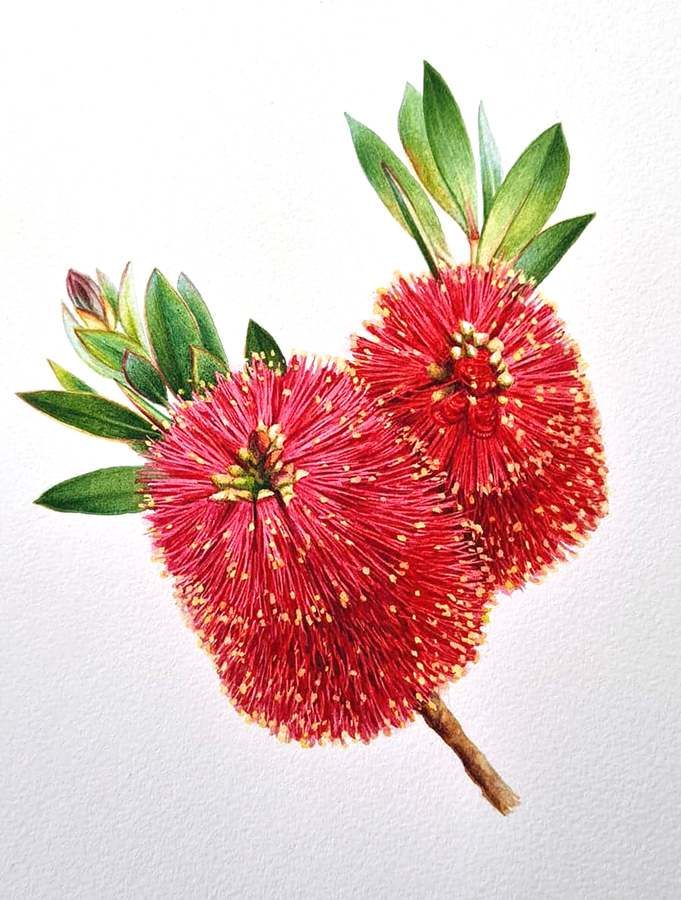 Next up we have the first of the bottlebrush illustrations, rich pinks and reds, a million tiny stamens telling its story. New painting challenges abound with this subject and its one that simply cant be rushed. Slowly it evolves, beautiful and vibrant, ready for the next stage of this project… and with that under wraps for now, its time to return to work on my miniature series until I get the ok for the remaining 4 illustrations in this series.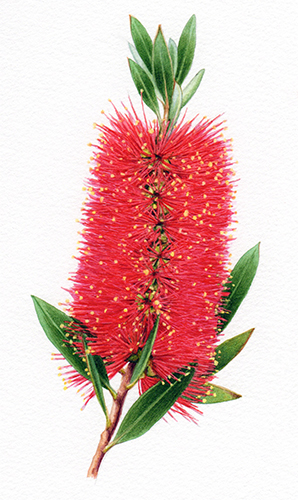 Now it is time for the second bottlebrush illustration, a single flower and a handful of complimentary green leaves. Its a simple composition of a very difficult subject, ready for its final product placement.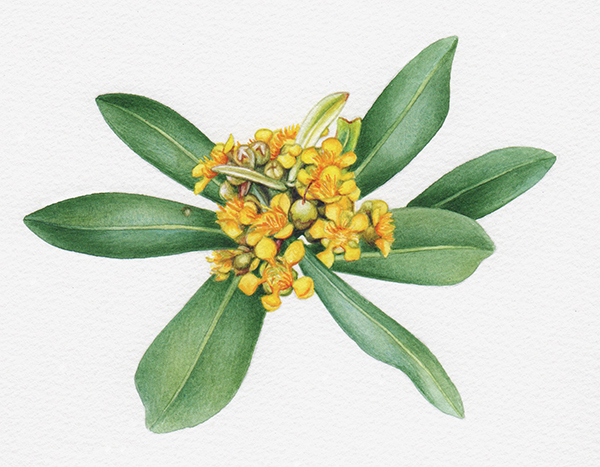 And now we have the final two botanical illustrations, the watergum the subject. The first includes a cluster of the bright yellow watergum flowers surrounded by a spray of foliage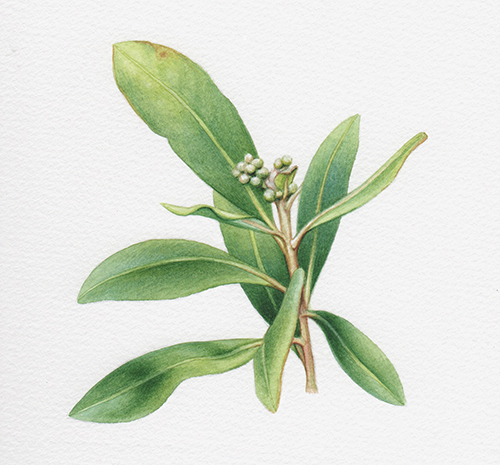 The second is a simple leaf tip of the same watergum subject to complete this series. I look forward to updating you on the finished product but as all good things… it will take some time! Ill be back with more on this as soon as I can. Thanks for following