Watercolour Cocktail Illustration Series – The Grounds Of Alexandria
Im always chipping away on illustrations for The Grounds Of Alexandria as the constantly grow and create… I love them and everything about them. They are amazing to work with and have an unparalleled vision, attention to detail and enthusiasm for all they do. Of course we work so well together and I love every part of working with them as their illustrator. I havent posted any new botanically inspired cocktail illustration works Ive created for a while as it is always just a steady coming and going of briefs exchanged for paintings, between all things… It is time I shared a few of the more recent pieces with you again however, so lets take a look at what has passed over my studio in recent times for this amazing client.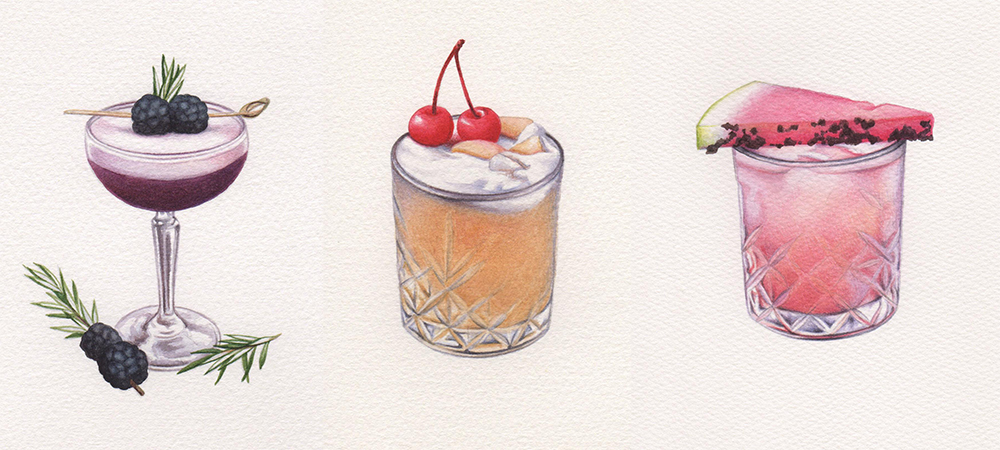 Here we have 3 new cocktail illustration pieces featuring berries, cherries and melon. They are fairly simple in their content but each is a wonderful challenging opportunity to create delicious colours and aesthetics with cut crystal features, just for that extra challenge… Mouthwatering, every one of them i know! I especially love the watermelon one, those colours are so beautiful on their own.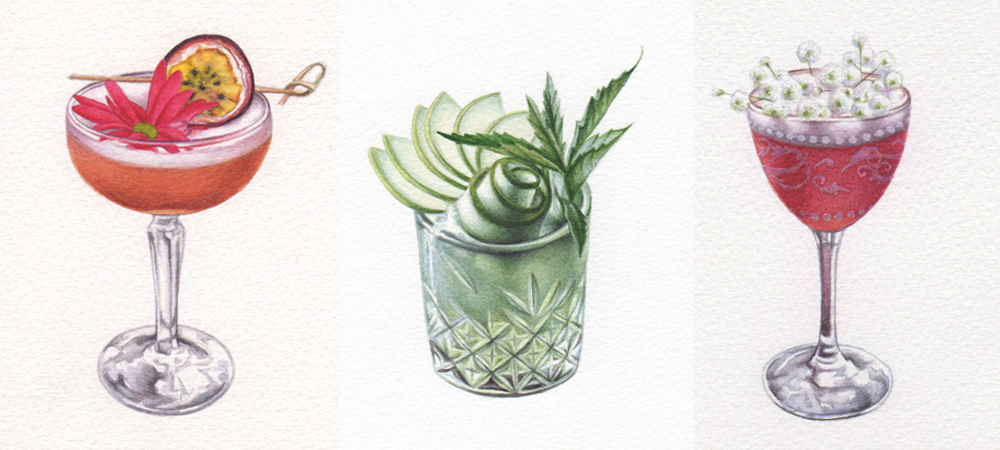 Next we have three more cocktail illustration examples, this time featuring babies breath sprigs, passionfruit, chrysanthemum flower, cucumber, apple and mint features accompanying each of these drinks.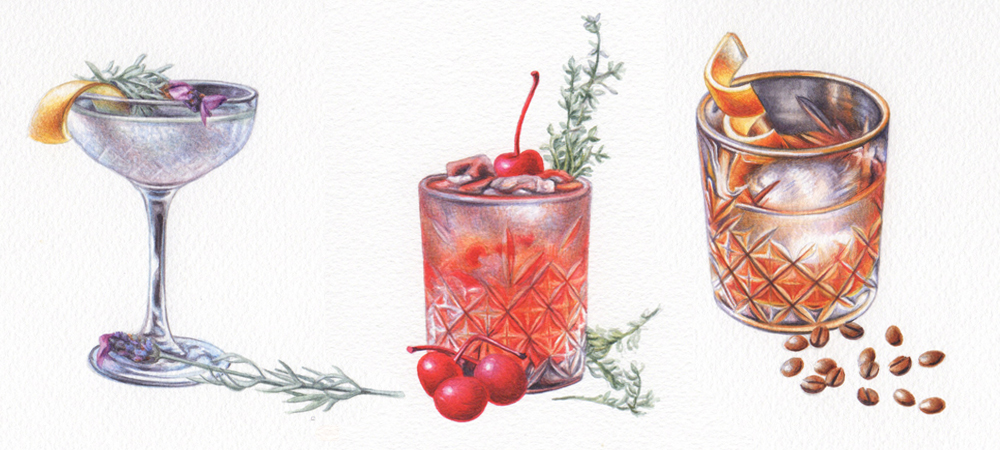 The final three cocktails are so beautiful, featuring again, an array of gorgeous colours through cut crystal glass wear, botanical elements to punctuate each unique drink. They are works of art in themselves and as an illustrator I absolutely love exploring the miniature journey and story of each new challenge.

Cocktail illustration is one part of the work I create for The Grounds, but I also have the cakes and food series Ive made for them too. Here we have three new works, intricate illustrations of their ridiculously amazing food offerings as well. Each are such creative, magical creations in themselves, every plate is again, nothing short of a work of art. Every brief is a thrill just to see what magic theyve dreamed up next! What a pleasure it is to illustrate each of these gorgeous spreads. The three tier plate illustration in the middle gives you a better idea of the tiny size these illustrations are… I just find them to be so delightful.
Measuring just 7-9 cms each in size, these illustrations come with plenty of technical challenge in this aspect of the painting alone. For me these small pieces offer an excellent opportunity to really explore the minute details and and I find myself falling deeply into each and every tiny detail. I love to take the time to get them just right! As an illustrator it makes no sense to agonise over such things as I do I know, but its all about what you value and how you measure things as I say so often. For me it is always a measure of quality no matter the circumstances and these are exquisite pieces to lose yourself in, and this is the approach and assurance each of my clients comes to me resting assured upon. I like to keep it that way 🙂
So theres a little update on some of the work Ive done for my clients behind the scenes. The Grounds have a remarkable venue with a mind boggling, sensory overload venue that is such an experience to visit. Each of these illustrations will be used in the presentation of their food and drinks menus, playing my small roll in their vision. I hope you enjoy looking over each of them. After several years working for The Grounds Of Alexandria and The Grounds Of The City, I certainly have quite a collection of mini artworks in my collection now I must say. In fact they make a wonderfully fun series and are really quite beautiful as artworks in themselves. Perhaps someday Ill have to have a small showing of the entire body of illustrations… wouldnt that be great! There will be more to come in this collection, I have no doubt.