Watercolour Bird Painting – Welcome Swallow and Blueberry Ash – 15x15cms – Artwork is now SOLD
Welcome Swallow and Blueberry Ash is set to join my current miniature bird painting collection in watercolour, the 7th in this collection. Each painting in this series measures 15x15cms in size and explores a range of beautiful small birds and some of my favourite plants generally found in my own environment. So far my subjects have included Blue Wrens, jacaranda,  spring blossom, Silvereye, eucalyptus and Eastern Spinebill amongst the grevillea. All of these artworks are sold with only the Eastern Spinebill remaining at this time, and this new Welcome Swallow piece… Its a highly popular series for subject, size and price that is in reach for almost everyone, so just let me know if you are interested in these artworks before they go! (please note this painting is now sold, thank you)

The blueberry ash (Elaeocarpus reticulatus) is a commonly found native tree in my local area which is absolutely spectacular in every season as it shifts from its cascades of feathery flowers to brilliant blue berries, inspiring its name of Blueberry Ash. The Welcome Swallow comes with thanks to Peter Humphries, one of my very favourite bird photographers. His images capture many of our amazing birds and beyond and he is always behind me as I endeavour to extend his loves into my own work even further. For this I am always so very grateful!
Welcome Swallow and Blueberry Ash sees a swing away from my recent pink works to a gorgeous palette of fresh greens and rich blue found in the gorgeous blueberry ash fruits, and in the wonderful head and shoulder feathers of the Welcome Swallow. I felt that these subjects made a bold yet delicate, ideal combination for a painting. I love exploring the relationships of colour in nature so much.
This week I will be traveling interstate for the wonderful Tyalgum Painting Retreat in Far North QLD and I have another very exciting project coming through my studio at the minute (soon to be announced) also, but I continue will working on this painting as I am able to over the coming weeks so stay tuned for progress and updates… Busy times indeed, but Ill be back!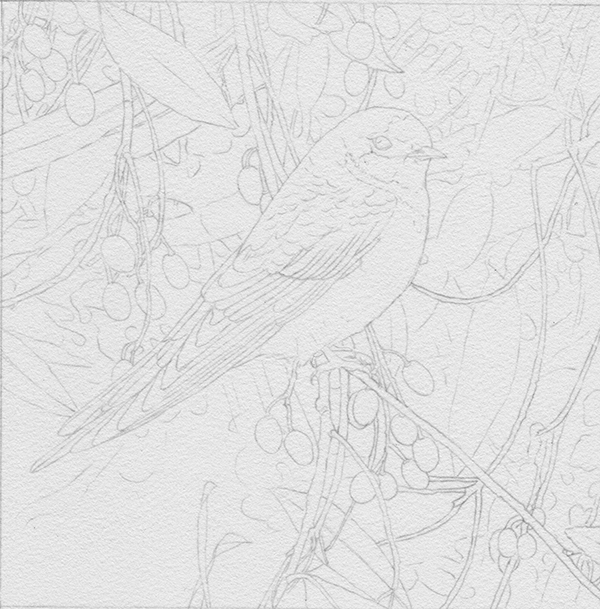 And so with the layout developed, refined and drawn up in graphite, i am ready to start bringing this sweet little bird painting to life. I love the colour relationship, the delicate movement and gentle atmosphere of this composition. Dont forget that you can learn more about my work processes in my online realistic watercolour painting tutorials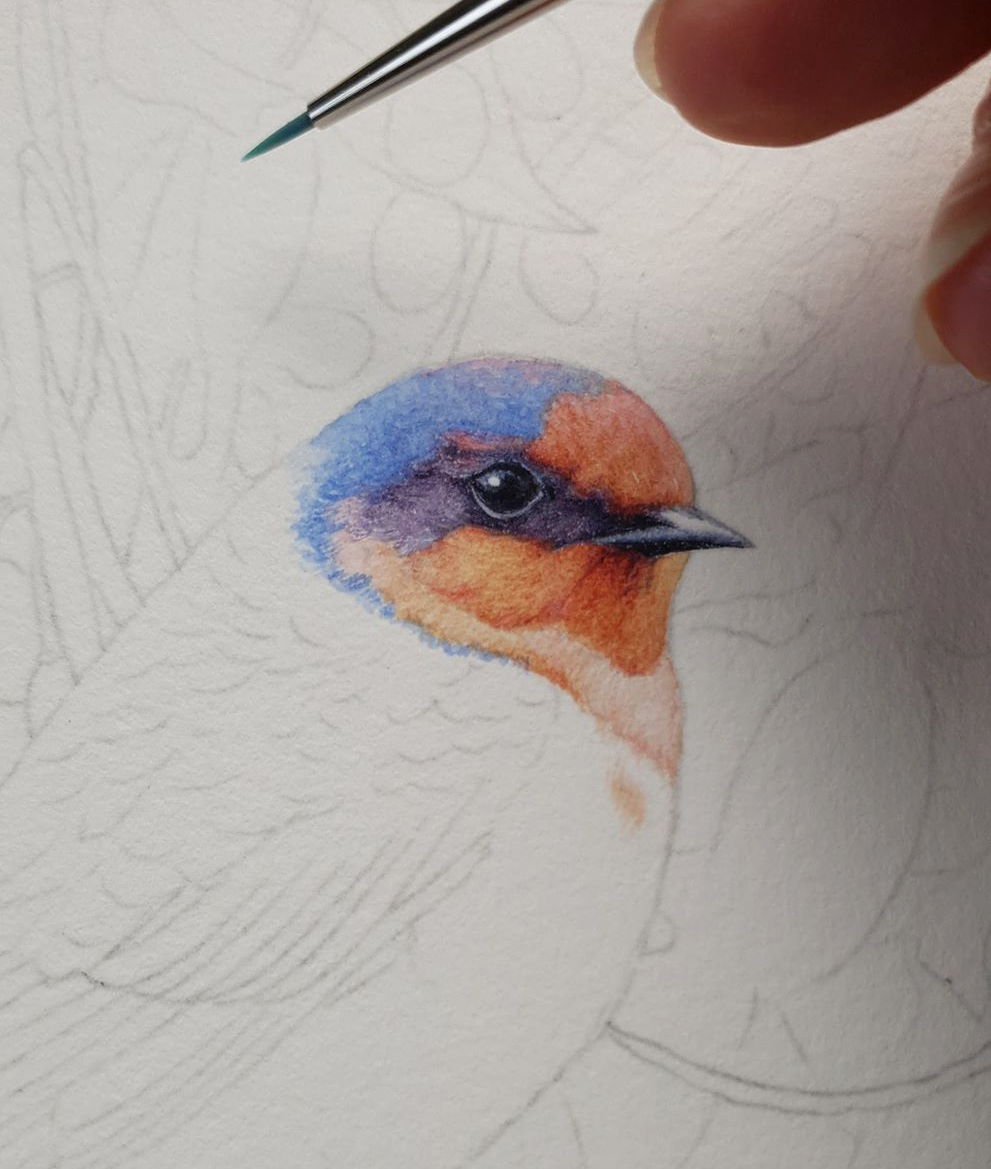 The detailing of the Swallow begins, what gorgeous colours!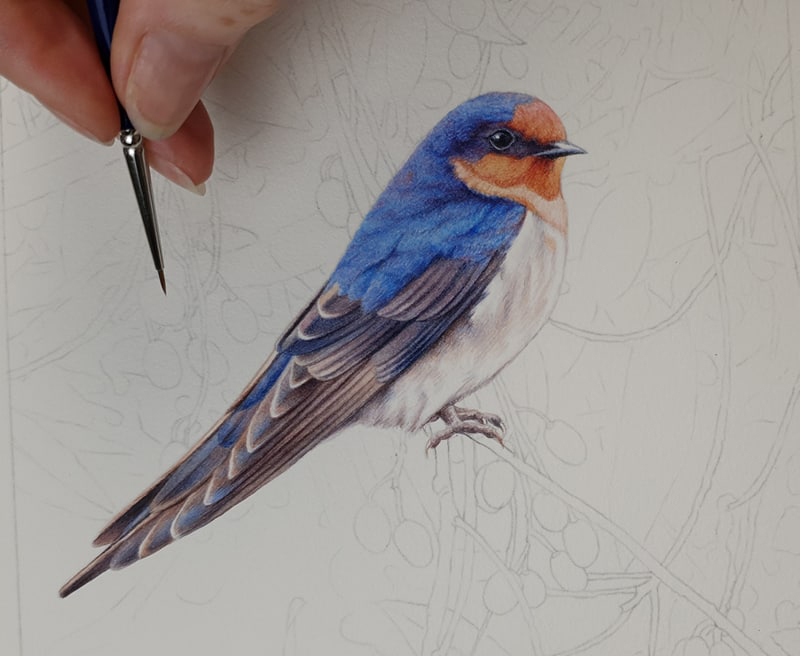 Its a slow and steady pace with a single focus of making my welcome swallow as beautiful as possible. She is complete now with her gorgeous blue and chestnut head and shoulders, her sweeping wing feathers and delicately fluffy belly bringing her to life. Now Ive studied her so intimately, Ive really come to see just how divine they little birds really are.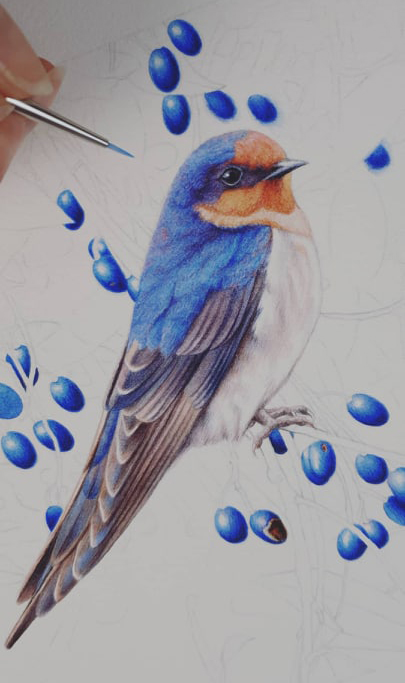 With the Welcome Swallow finished Ive moved on to the wonderful blue berries of the aptly named Blueberry Ash. Ive painted this plant in flower before which is utterly glorious, but this time Im exploring it in a different season, amassed with the berries. I felt the blue features of this tree in fruit made a perfect accompaniment for the swallow to rest amongst and now that they are in, I am very satisfied with the choice.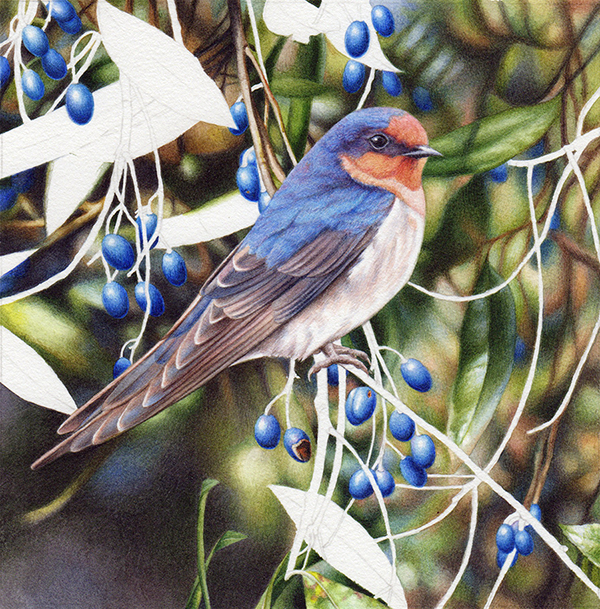 Hardly moving from my studio in recent days, Ive been busily working on the blueberry ash background for this painting, and its slowly coming together. Bright blue berries and fresh, rich green leaves rest in dappled light with a tangle of delicate stems and branches strewn throughout the scene make an especially serene setting for the beautiful swallow. Remaining now are just the branches and leaves to complete this sweet little bird painting. I love how every single painting, large or small, have their own unique story, feeling and mood. I am very happy with this piece in fact and I am looking forward to its completion 🙂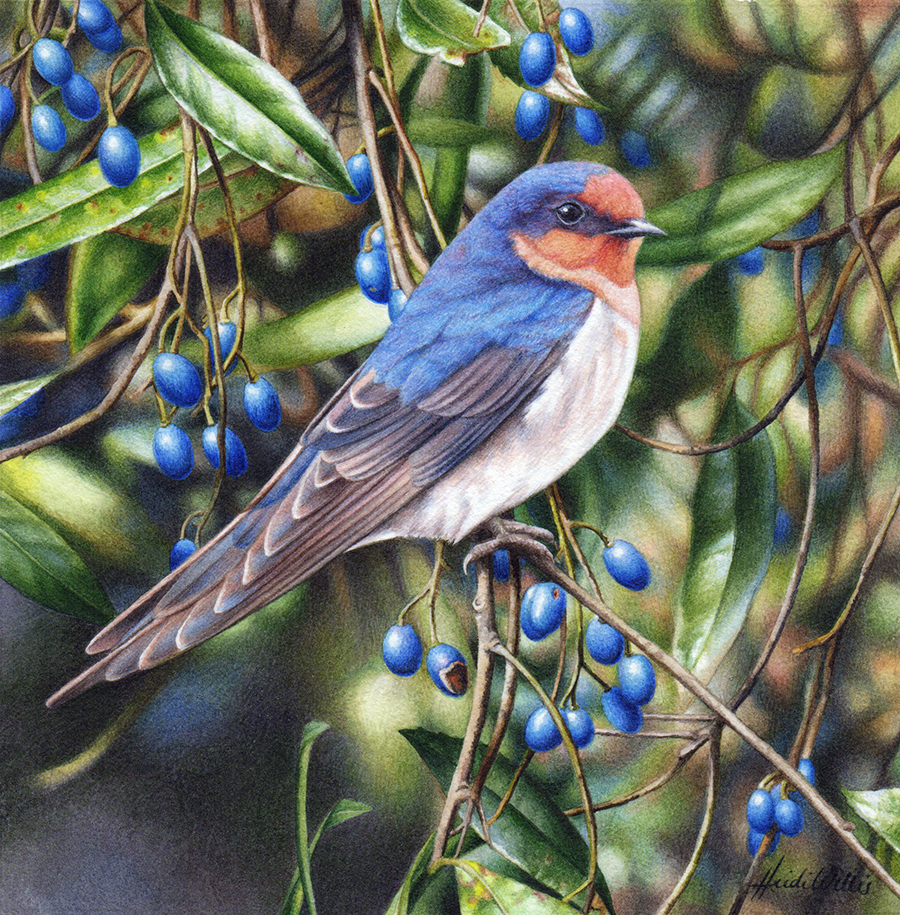 Welcome Swallow and Blueberry Ash is now complete… and as unusual as it is for me to say this about my own work… I love this painting. Its time now for her to go off into her new home where she will be very well loved and enjoyed I know.
Welcome Swallow and Blueberry Ash is sold, but why not consider securing an exquisite, unique original like this for your collection? Send me a message to discuss your ideas, options, and my payment plan arrangements to make it even more manageable for you. Thanks again for following along, Ill see you on the next!
*****************************************