White Waratah Painting –  Acrylic Botanical Studies – 1 of 3

Some of the many incredible Waratah varieties from my huge waratah reference collection
Below are just some of my Waratah (Telopea) painting subjects from the past to present with everything from straight botanical illustrations, to 'full plate' graphite illustrations, natural history bird studies, my usual bird paintings, traditional, contemporary, large and small, rendered in watercolour and in acrylics… the extremely challenging waratah has always been a favourite painting subject of mine to explore as you can see. All sold, clients for each of these pieces have included Australian Geographic, West Hotel/Hilton Group, Margaret Flockton Botanical Illustration Award, private commissions and acquisitions, so theres quite a range of destinations for these works.

Since the commission of the White Waratah painting for the gorgeous West Hotel in Sydney city (White Waratah on black background pictured above), I have been dying to find a moment in my schedule to return to this theme, and at last, the time has come to get started on the first painting! Continuing on this crazy popular work, I now plan to continue this collection further to a series of 3 waratah studies in acrylics – white, pink and red. Whilst its hard to make collections happen in practice, and we can only really commit to the one at hand at any time, I have finally ben able to make a start to seeing this collection through to eventuality. It will take some time, but the first underway.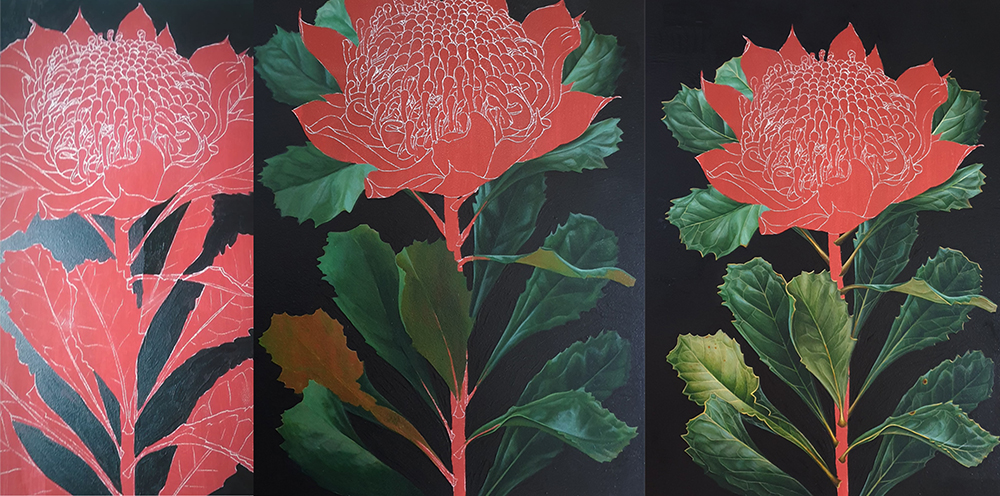 Each a little over A3 in size, each in this series is available for purchase and will make a stunning collection so please let me know if you have an interest in these pieces, or just feel free to join me in the process of the first one unfolding and enjoy! First up comes the roughing in, black on terracotta, followed by the dark green of the leaves of the new White Waratah study before working the leaf details up slowly to completion, ready for the flower to emerge.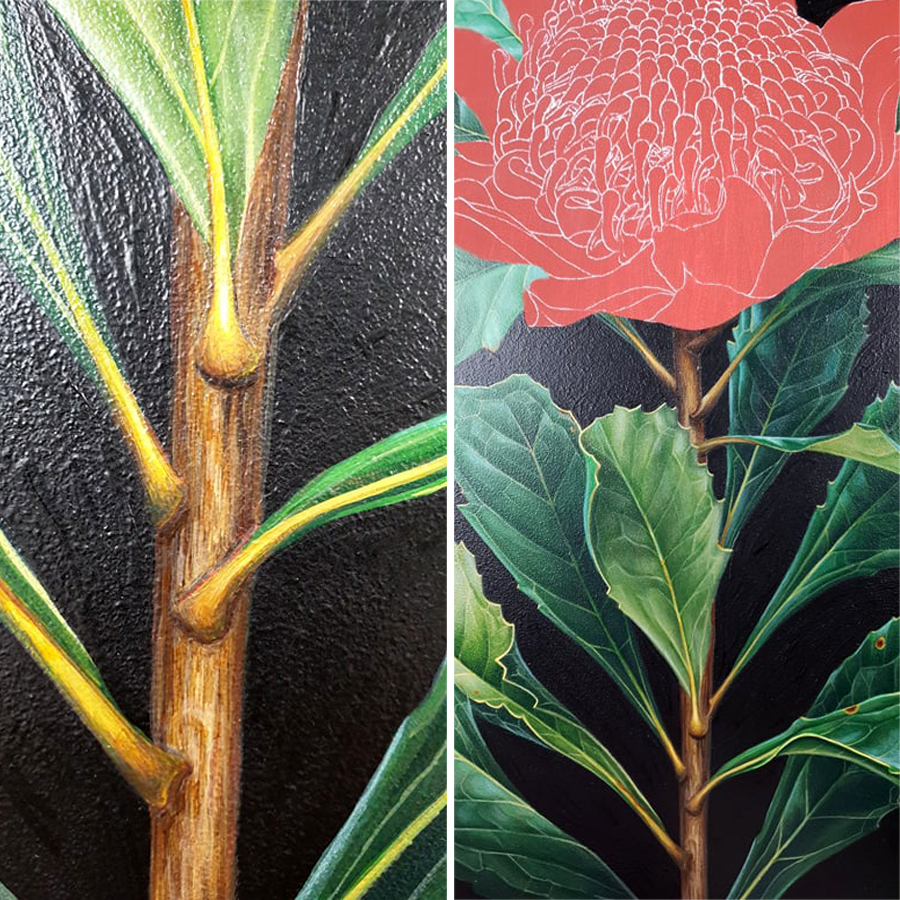 With the leaves in, its time to move onto detailing the stem. Its amazing how the completion of this element always bering cohesion to a botanical study and this painting is no different

A closer look at some of the developmental stages of the White Waratah painting flower head coming together
The past week Ive been working on the Waratah flower head, such an intricate element to paint! Slow and steady wins the race, with subtle incremental shifts to colour and tone to develop this part of the painting in time. Its always an amazing process to watch as a painting emerges from nothing and finally, the flower head is complete.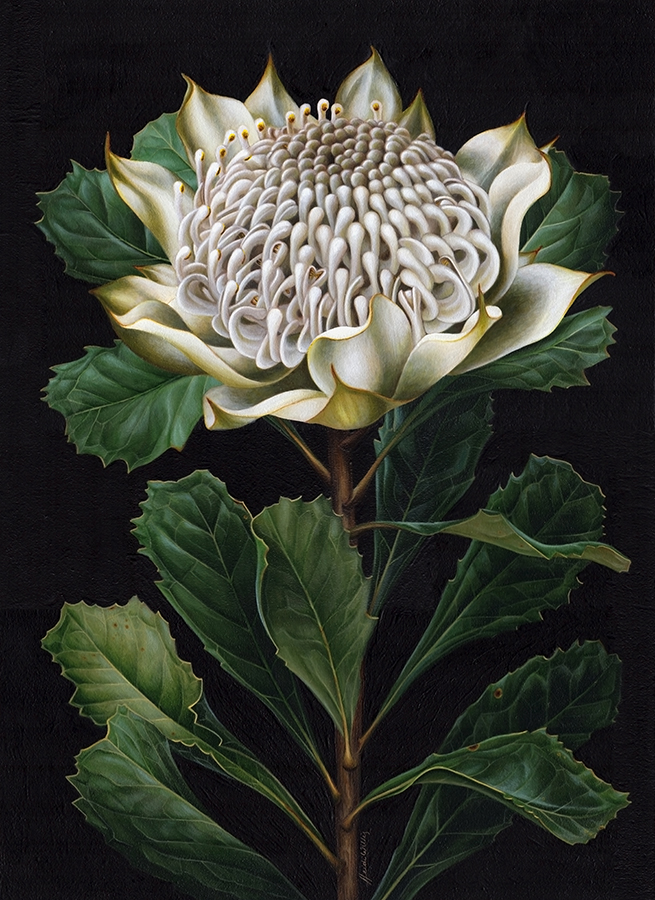 The finished white waratah painting – 44x32cms in size – acrylics
And with the detailing complete on the flower head, complete with its wonderful licks of lime green and rich ginger tips, this stunning piece White Waratah (2) is ready for hanging and my thoughts shift towards the next in this series… Pink Waratah. So its back to the drawing board for me, where Ill be working on the layout and composition for the next few days, so check back soon for the start of the next! Thanks for following.
******************************************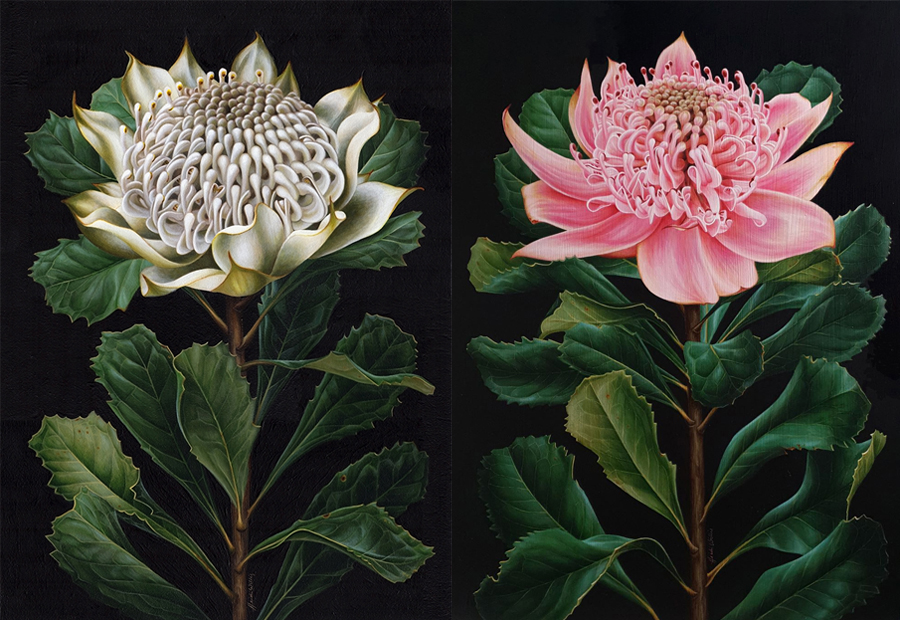 UPDATE – Pink Waratah is now complete, making a beautiful pair to the white waratah painting at last! The red will surely come in time 🙂