Painting Workshops and Events Calendar for 2024

Wow, can you believe were already wrapping up 2023s workshop opportunities and were planning for 2024? I mean, its incredible how time flies but i must say it feels good looking ahead to a year and plans that feel a lot more connected to those more normal times gone by. Year by year, workshop by workshop, balance is being better restored. These years have sure made me think how precious time is and how fast it passes us by more than ever, and there is no time like now to start reaching for those goals you keep putting on the shelf! With this in mind, perhaps 2024 is YOUR time, YOUR year to prioritise your creative pursuits and get those juices flowing! I hope so. If so, why not join me in one of my botanical, bird, natural history, watercolour painting workshops or even join me on a wonderful retreat to get into your creative gear aligned and flowing? Its going to be fun and Im excited to kick off this workshop events blog post for the coming 12 months with you here 😁
so whats on for 2024?
Well its early days in the years planning, but first up comes something very exciting indeed… we are putting the final details together for our first very retreat which is locked in for February. For many months now Gillian at Artable has been working on an incredible new art space, artists hub and retreat/workshop venue, restoring a lovely old pub in the magical north east of Tasmania and its ready to roll. We know everything Gillian does comes with a special kind of energy and attention to detail and I am very confident that the pub will be no different! Actually Ive seen it with my own eyes already and i know its going to be wonderful… Theres no doubt about it.
This venue will bring tutors, students, accommodation, catering and the ridiculous beauty of Tasmania together in one cohesive bliss-bomb for us all to enjoy. I will be one of the first teachers to kick things off with a 5 day retreat, exploring everything from travel adventure to field work, drawing and painting, wine and dine, gorgeous accommodation, learning and growing, social and wilderness… and you simply cant miss out on this! We will be announcing this event very soon so stay tuned, or reach out to Artable and ask to be put on the notifications list for my events. This is definitely one to look forward to! Best still, if were keen for it, we are playing with an even MORE in depth painting experience to follow, enjoying 10 days in this creative paradise with our paint brushes. Cant wait.
So its a simple but exciting start to the years painting workshop events blog post for now but as always, i will add to this in due course, with every opportunity that arises for 2024, news and updates, information, contacts and the links needed to book each event so watch this space! Of yourse you can always reach out to me, Bienarté in Brisbane, or to Artable who I work with every year to find out whats available.
************************************************************************************************
painting workshop opportunities and information
************************************************************************************************
'BIRDS & BUSH IN WATERCOLOUR' – TASMANIA retreat
6 DAYS FEBRUARY 2024 – 

SOLD OUT
This event starts 3:30 pm Sunday 4th, concludes  9:00 am Saturday 10th February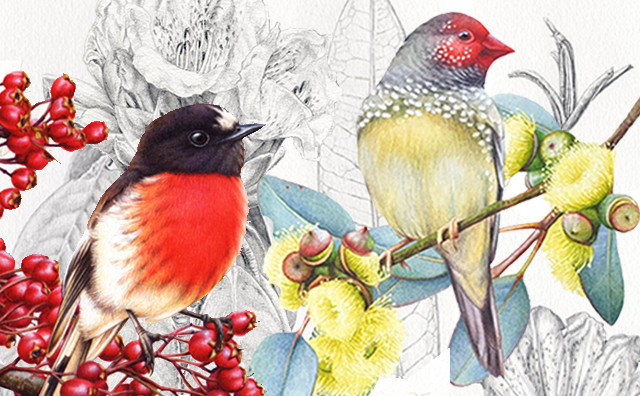 Please note this event is now sold out 🙏🏻
I think the best way to sum this special event up is to use the Artable's description as follows;
'Welcome to Artable's carefully curated Tasmanian space – a quaint 100 year old hotel in the remote north east town of Winnaleah where you enjoy your very own bedroom and bathroom at no extra charge. Everything is included except your flights and art materials and we have made sure that you get a day to travel in and out plus a FULL 5 days in workshop mode with Heidi. Your own beautiful bedroom complete with luxury linens and a plush mattress topper for the best nights sleep. A light filled studio space complete with both table and en plein air easels for your use. Transfers between Launceston (airport or city) and the venue as well as daily excursions to a variety of landscapes.
We have painting days with Heidi Willis to explore the local landscape, collect drawings and to record natural history in this most stunning of regions. Our theme is birds & bush so we will be looking closely at what this incredible region has to discover. At night, we dine by candlelight as our chef prepares Tasmanian fare from locally sourced produce to suit all dietary needs. There are beautiful walks surrounding the hotel to truly experience the beauty of the area before or after class or sink into the Chesterfield couches with a wine or a hot chocolate by the fire instead.
If you are keen to come on your own, don't worry, we have many people that join us on their own. Please note that if you opt for a shared room (twin single beds) you attract a $400 discount. Some rooms are located on the upper level and include stairs, so please contact us if you have mobility issues. To join us make your $200 non refundable or transferrable deposit via the link to the right. We will be in contact in October to collect the balance. Please note that cancellation fees apply to all Artable retreats as outlined below. We look forward to welcoming you to a wonderful creative holiday'
We are really excited to be able to bring this experience to you at long last and feel so confident its going to be something beautifully memorable. The booking link is in the title above but here it is again for you. Hit the link to book directly or reach out to Artable at info@artable.com.au if you have any questions on this exciting painting event. We shall see you there! Please note this event is now sold out 🙏🏻
************************************************************************************************
melbourne
'Gouldian finch illustration – watercolour'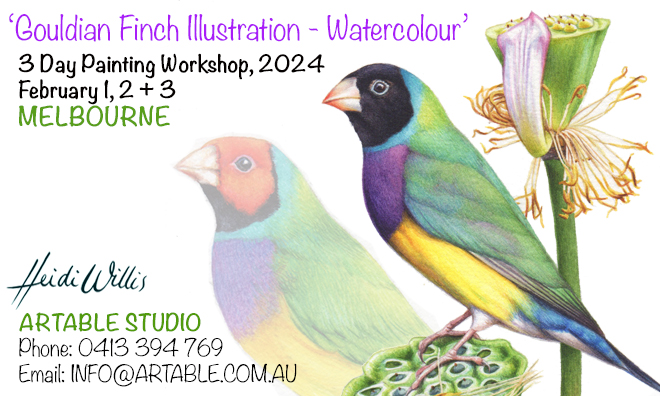 Come along to this beautiful 3 day workshop in Melbourne, exploring the colours, textures and painting techniques to capture this absolutely fabulous subject – the Gouldian Finch with me. This subject has proven to be one of my most popular, and for good reason… so Ive decided to go ahead and offer this to you all in a face to face workshop which is really exciting! Of course, its not just about Gouldian Finches, what we learn in this event will also help you along with all your bird painting challenges. We will discuss materials, work processes and strategies to het you moving forward with bird illustration and the watercolour medium. Hosted by Artable, its set to be a wonderful 3 days together. Places are limited and we expect it will book out quite quickly so jump in, grab your spot, and we look forward to seeing you there! The booking link is in the event heading and image, but you can find out all about this opportunity, and reach out to Artable to secure your place today.  💜
************************************************************************************************
gold coast
'kingfisher illustration – watercolour'
This event starts 3:30 pm Sunday 4th, concludes  9:00 am Saturday 10th February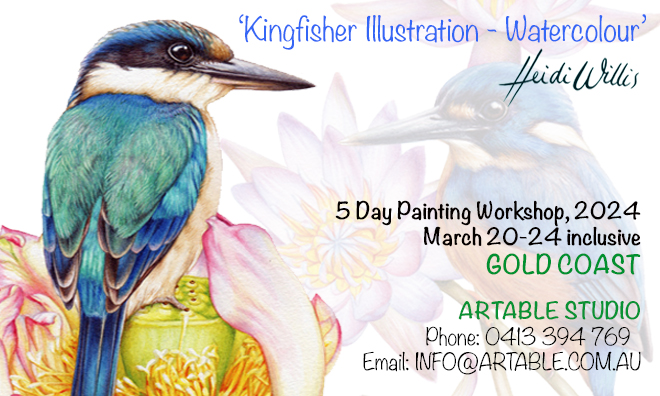 With the Kingfisher Illustration Melbourne workshop booking out in just a day, and the same being requested on the beautiful Gold Coast, I will be running an extended painting workshop in March exploring this remarkable subject for my Queensland students, and I am super excited about this one! This time, we have 5 days to enjoy the magic that is the kingfisher, and the wonderful watercolour medium. Its all about colour, texture, timing, smart work processes, creating helpful strategy and building confidence, not just for this specific subject, but for small bird illustration, and for you your painting in general. Once again, I will be working with Artable for this workshop event. We do expect this to be a popular one so hit the link, read all about it and talk to Artable sooner than later to secure your place. Im looking forward to working with you all there. What a gorgeous subject to explore 💙
************************************************************************************************
So what a lovely way to kick the new year off hey? These are the first Botanical, Bird Illustration and Natural History Illustration workshops to be announced for the calendar for 2024 but Ill post any updates or new events that come up as soon as I can so stay tuned, get in touch (follow the links provided in each event listing) and if one event feels like a good fit for you, come and join us in the fun!
CANT MAKE A FACE TO FACE EVENT? DONT FORGET THESE
ONLINE PAINTING TUTORIALS ARE AVAILABLE