Eastern Spinebill and Passionfruit Illustration – 15x15cms – Watercolour – SOLD

It has been on my mind for a VERY long time to paint a handful of passionfruit subjects, but with more ideas than hours in my lifetime, its a subject that hasnt quite made it to my studio table thus far… BUT NO LONGER! I am suuuuper excited to finally be able to explore this magical subject now, starting with a new miniature painting in my extremely popular 15x15cms series of exquisite studies.
Ive been gathering passionfruit reference for years now so I have many varieties and plenty to choose from… though never enough… but this one really captured my eye to kick things off in this layout. I love its sturdy structure, complexity of course, and its glorious colour. Its to die for. I mean, goodness, Mother Nature really has her magic doesnt she? As far as passionfruit flowers go its not the wildest one but it felt like the right one for me, and for this illustration so I began creating a layout incorporating 2 flowers and some beautiful leaf elements as a base.
PhilShar Photography inspired me with a wonderful capture of this young Eastern Spinebill… as is so often the case with their images. With permission of course (YES, IT MATTERS!) I introduced this gorgeous small Aussie bird into the mix and it felt like a perfect fit once again with its warm colours, bright expression and a lovely gentle diagonal pose to nestle nicely in around the 2 flowers… And so we have the new layout, the new miniature painting ready to go, with all its beauty and magic I feel both challenged and excited to tackle this one. Im looking forward to sharing it with you along the way too. Its going to be a nice one!
Starting with the graphite drawing, I step into the start of the painting, knowing already that this one will require plenty of patience and precision to do it justice. Luckily those are my strong points so in we go to the drawing, carefully capturing the first stage and story of 'Eastern Spinebill and Passionfruit'.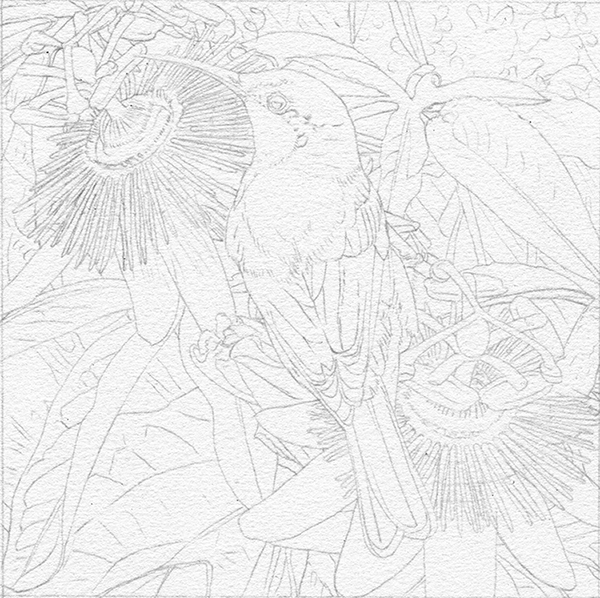 The first step in to this painting, for no particular reason, is the Eastern Spinebill. I am looking forward to painting all of the elements in this study but this beautiful bird really caught my focus as a starting point. The bird, and especially the eye, captures so much of the story, mood and atmosphere of the entire piece so I was keen to jump in. Tiny brushes, a very delicate touch and plenty of patience, the main ingredients for success. Slowly it comes to life on the page before my eyes, a slow process perhaps, but it is just such a satisfying one! As I say, some things should not be measured by time and this is one of those things… so here we have the finished bird illustration.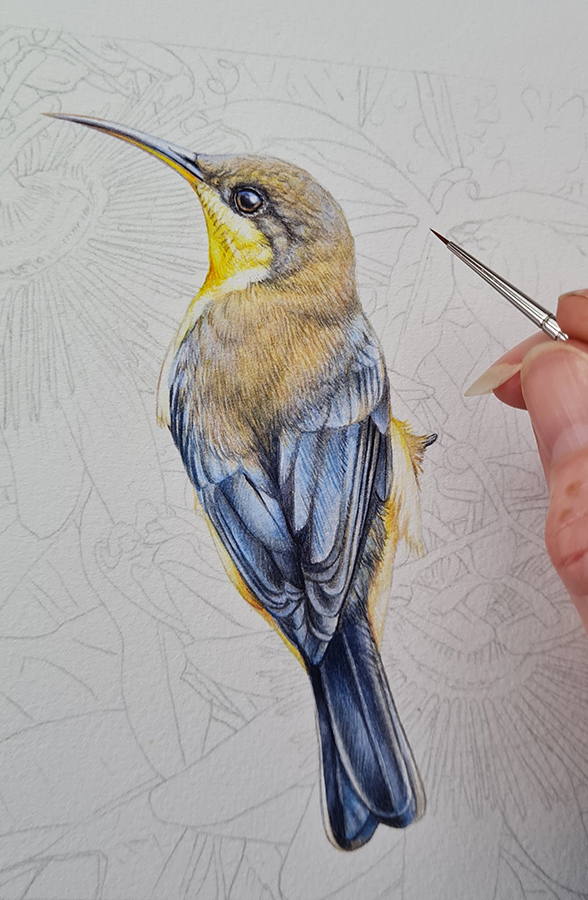 With the Eastern Spinebill complete I move into the background, full of passionfruit. Its definitely a tricky subject but how gorgeous is it? Slowly it begins to come together, the little bird settling into its delicate blue green surroundings nicely.
With the passionfruit surrounds complete, we bring a close to this painting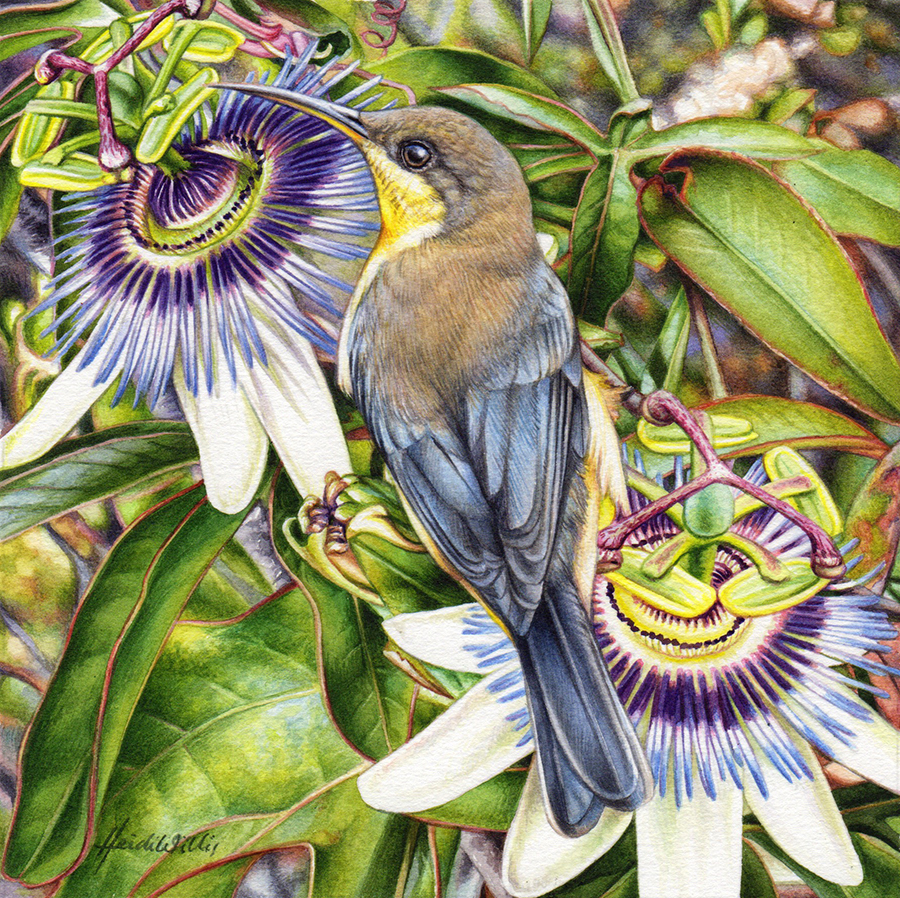 Eastern Spinebill and Passionfruit is SOLD. Let me know if you have any enquiries on my work 🙏🏻