Eastern Spinebill and Honeysuckle Painting – 15x15cms – Watercolour – SOLD

Working on my last piece in this series, I really fell in love AGAIN with the Eastern Spinebill… Not hard to do at all! As I played around with various composition options, this particular image of the bird really gravitated towards me and although I went ahead with the passionfruit piece first, I wanted to return now to this one for my latest addition to the collection.
Photographer by PhilShar Photography once more, I worked to incorporate this stunning bird into a layout of its own. I love the diagonal lines and pose of this bird, just as much as I adore the fall and form of the honeysuckle. I photographed the honeysuckle a few years ago in torrential rain, roaming around NZ and Ive always wanted to return to it. My goodness, isnt it stunning! Working the two elements together, it was quickly clear that it was a gorgeous marriage that had to be painted. I can almost smell this scene as I look over the images, recalling that wonderous day coming upon this scene and despite having a hundred other things that need doing, I cant wait to jump in and get started on it right now.
Eastern Spinebill and Honeysuckle Painting, I believe, is the 40th piece in my ongoing 15x15cm series and I hope youll enjoy following along with me once more. And so, with my bags now packed ready to depart for my Sydney botanical painting workshop, its time to settle in and get started with the little window of time I have open, starting as always with the drawing.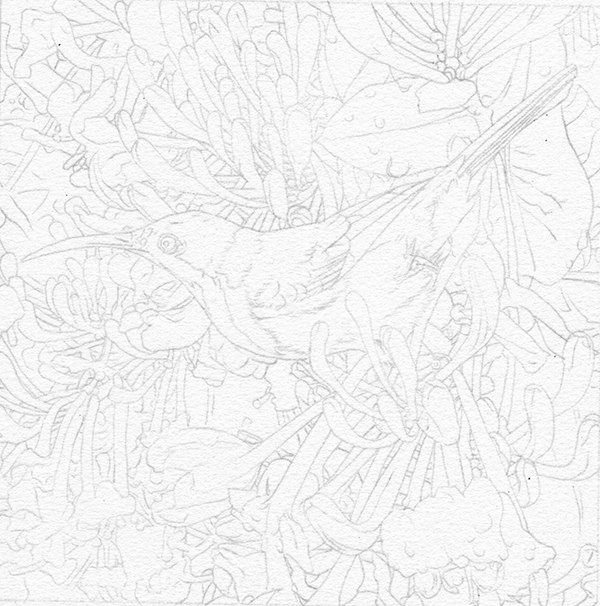 Following the drawing Ive stepped into rendering the bird. Slowly, as with all my work… it begins to take on some life, personality and begins to emerge off the white of the page. Time doesnt matter in this space, gentle colour shifts, subtle textures, every stroke forming to such a delicate, beautiful end. Its not hard to invest yourself in the process. So here we have the little Eastern Spinebill complete, the beautiful diagonal lines of his pose accentuated by the fall of the beautiful beak and tail, a fluffy warm ochre belly and brilliant red eye just so delightful… Its ready now for the significant task of the background.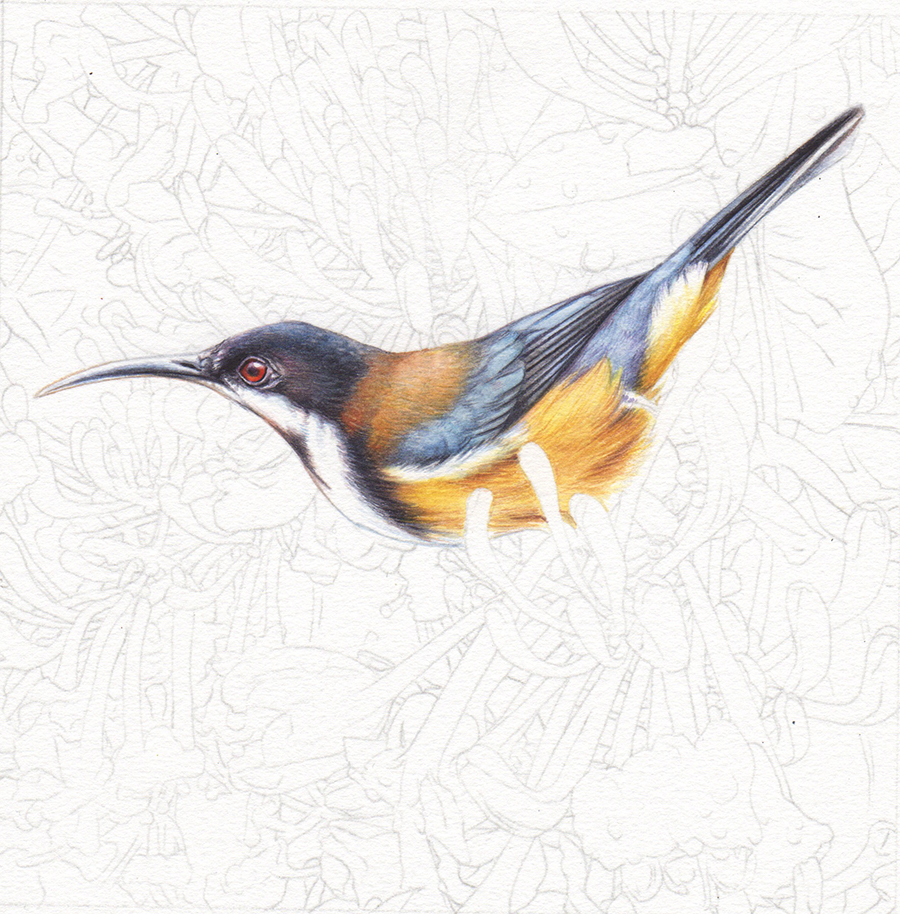 With the complexity of the background in this painting Ive started roughing in the pinks, sticking to a very simple, almost tonal rendition of the honeysuckle. From this point I will start increasing the complexity of the palette and painting developing tone, form, textures and depth in a gradual evolution to completion. Its a detailed piece, full of complexity… but then again, so is nature! For me its my most comfortable place to be, working on tiny details, exploring every subtle balance and interplay of the story and medium. This is exactly why I paint what I paint, to capture the complexity, life and nature of Mother Natures story in some small, simplified way. So here we have the start of the honeysuckle flowers taking shape in pink. Now its time to develop them further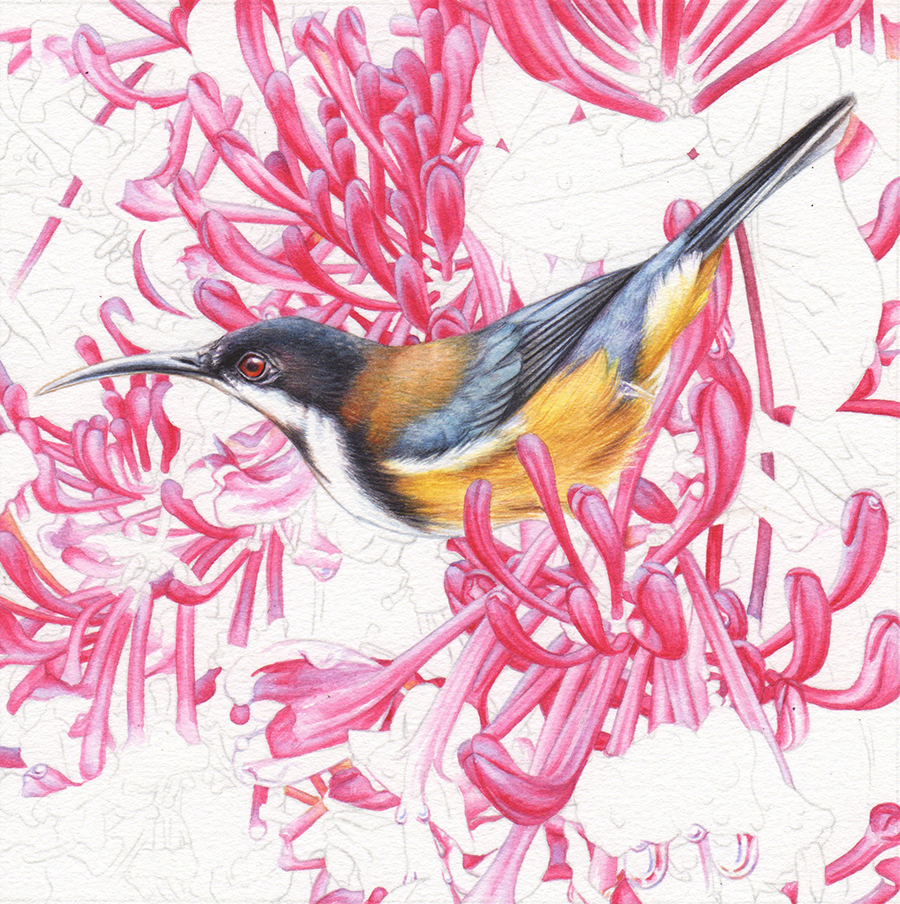 Shifting the balance now, Ive introduces yellow to the mix. We now have something far more complex, oranges in my pinks, earth in my blues and warmth in the overall story. Now Im going to wrap up the remainder of the surrounds, working in a far more involved combination of colour and tone as per my usual style. I adore this plant, its dripping, cascading habit overflowing with beauty, and I am so loving splitting the hairs on its complexity here. The colours make me happy and the overall atmosphere of this piece is really taking shape in such a calming way… So into the remaining elements I go!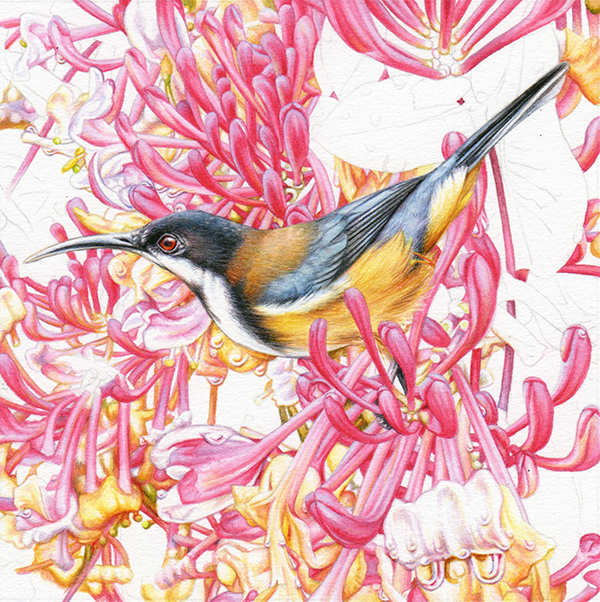 Theres a lot in this one, but Morther Nature wouldnt create things like honeysuckle if she meant to avoid complexity… what am I to do! Here we have the finished painting of Eastern Spinebill and Honeysuckle. What glorious subjects these have been to play with, glory be, glory be. Thanks for following along as always, I appreciate it very much and hope youve enjoyed seeing this one come together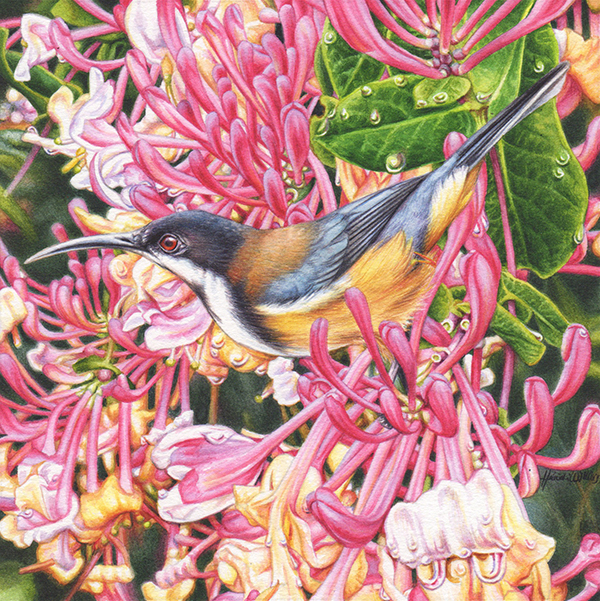 'Eastern Spinebill and Honeysuckle' is now SOLD. Let me know if you have any enquiry on this series