The extended Australian Geographic Magazine Article and Interview ~ Issue 128 ~ Naturewatch ~ Acacias
'What species are you painting here? This piece is a major work measuring 5x3foot in size, illustrates both the male and female Red-Tailed Black Cockatoos nestled into a Stenocarpus sinuous, a plant more commonly known as the Firewheel Tree, draped in delicate clusters of Old Man's Whiskers. Inspired by a love of native plants, the bold tones brilliantly rich colours of these subjects proved to be a truly dynamic and spectacular combination to work with.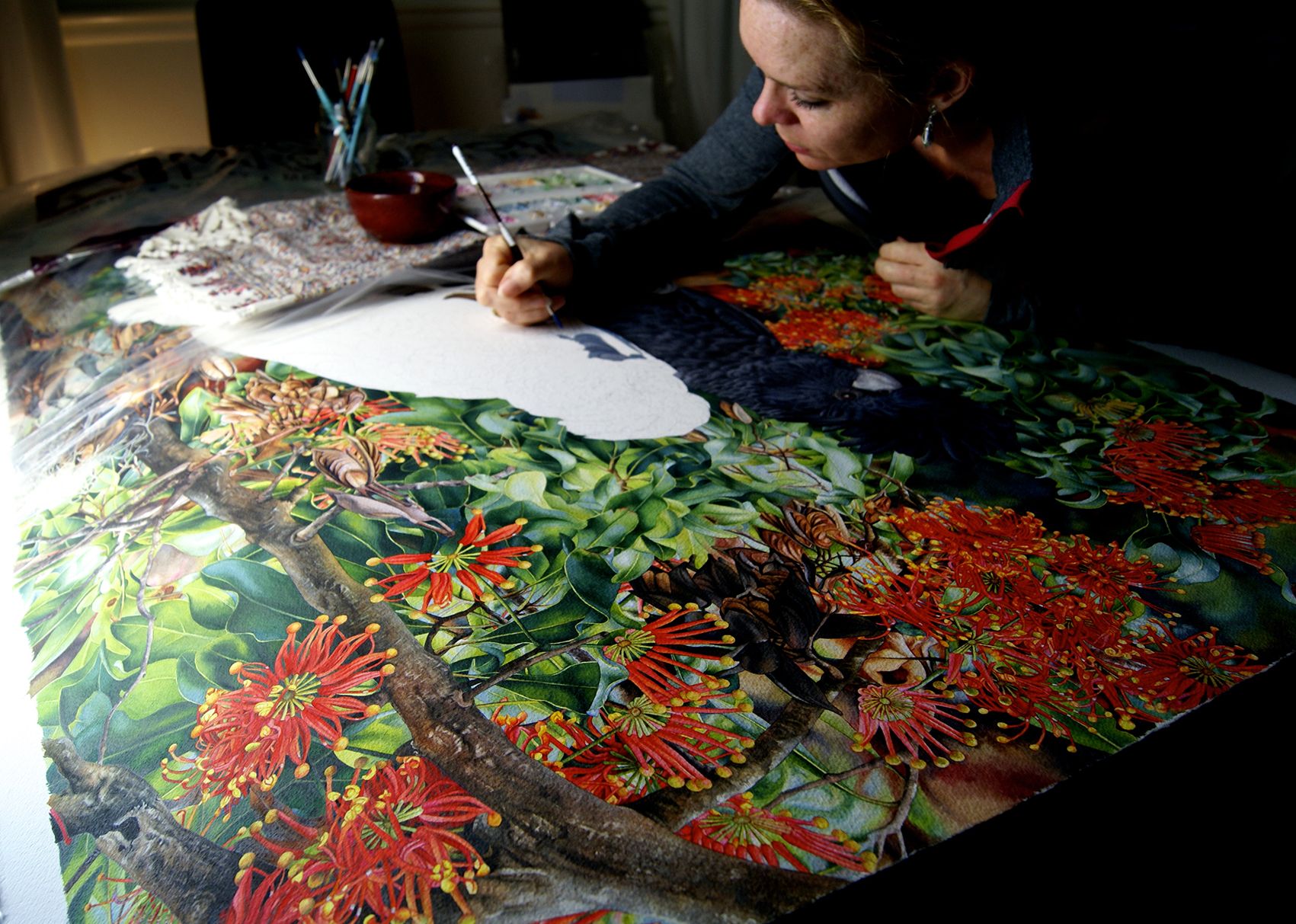 Can you tell me a little about your processes? Talk me through the steps you take to create a commission… Concept, gathering reference and doing your research are always the first step to creating a piece. The bigger the piece, the more involved and extensive this initial process becomes. It is a time consuming element of this work that is often overlooked when considering the final product, but this is an essential stage of observation, familiarization and education. It is here that the mindset is groomed to persevere, and an intense emotional connection to my subject is established, one strong enough to sustain me through the marathon that lies ahead.
As with all major works, it was an extremely involved process from the start, and in this case, I drew on resources far and wide to find the elements that were required. Even the renowned artist Bill Cooper and his wife Wendy were enlisted to help on this one, kindly sourcing trees that were in flower for me to work with wherever possible. Ironically, after some months of waiting eagerly for the trees to flower in my own area, I discovered that I had one flowering in my very own garden! At the same time, work was underway to source the Black Cockatoos to work with, another difficult task. However after traipsing around, being held hostage for over 2 hours by the cockatoo who had fallen in lust with me I was finally rescued, leaving with several bleeding body parts, some bruising and a swag of wonderful images, and I began the real work of putting it all together. Every painting has its story.
Gathering my specimens, taking my photographic references, I began throwing it all around in my head until my layout on paper mirrored the vision I held in my minds eye and the layout was complete. The days of drawing begin, working intricate, immaculate graphite lines upon fresh white paper, drawing until hands cramp and blisters develop on top of well established callus to completion. Exhale, smile, painting can now begin. Palettes aligned, pigments laid out methodically, precisely, the brush can now begin its work. Collecting water, loading the brush up with its paint, it touches the paper delicately and confidently for its first nervous stroke, and the 2000 hour painting marathon begins.
What do you use as reference material? I work from any and all points of reference that I am able to source. My preference is to work from live specimens and photography.
What are some of the more challenging aspects of the work? Working like this is not a small interest; it is a discipline that you live your life by, a dedication, and with it comes many sacrifices. For me, some of the greatest challenges in this work are elements that are in some ways outside of the physical painting process. Skills such as mind and time management are essential to the work that I do. Having the discipline and perseverance to start and see a project as big as this through is one of the real skills required here, and maintaining your body through long hauls of work like this, particularly in the case of large works is a critical area of challenge too.
What do you love about this type of work? There is so much to love about this type of work. Mine is a diverse world of such beauty, a completely absorbing life and vision that revolves around colour, light, form, wander and wonder, sustaining me in every way. One of the greatest things about my work is to be able to share my love of the world around me with others, to be able to create something that moves, inspires and enriches others is a wonderful thing to have in life, I think.
What inspires you? Do you feel any special connections to the Australian landscape/flora? Australia is so abundant in unique natural beauty, it is a place you can't help but feel connected to, and for me it is definitely soul deep. It is a place that fills me with constant awe, inspiration only ever a glance away. Its rich tapestries of colour and texture, of pure light and endless intricate worlds to discover, fill me with enthusiasm and the constant, overwhelming urge to explore it further. It is a place of soul food, a wonderful love affair that I want to share with the world as beautifully as I can'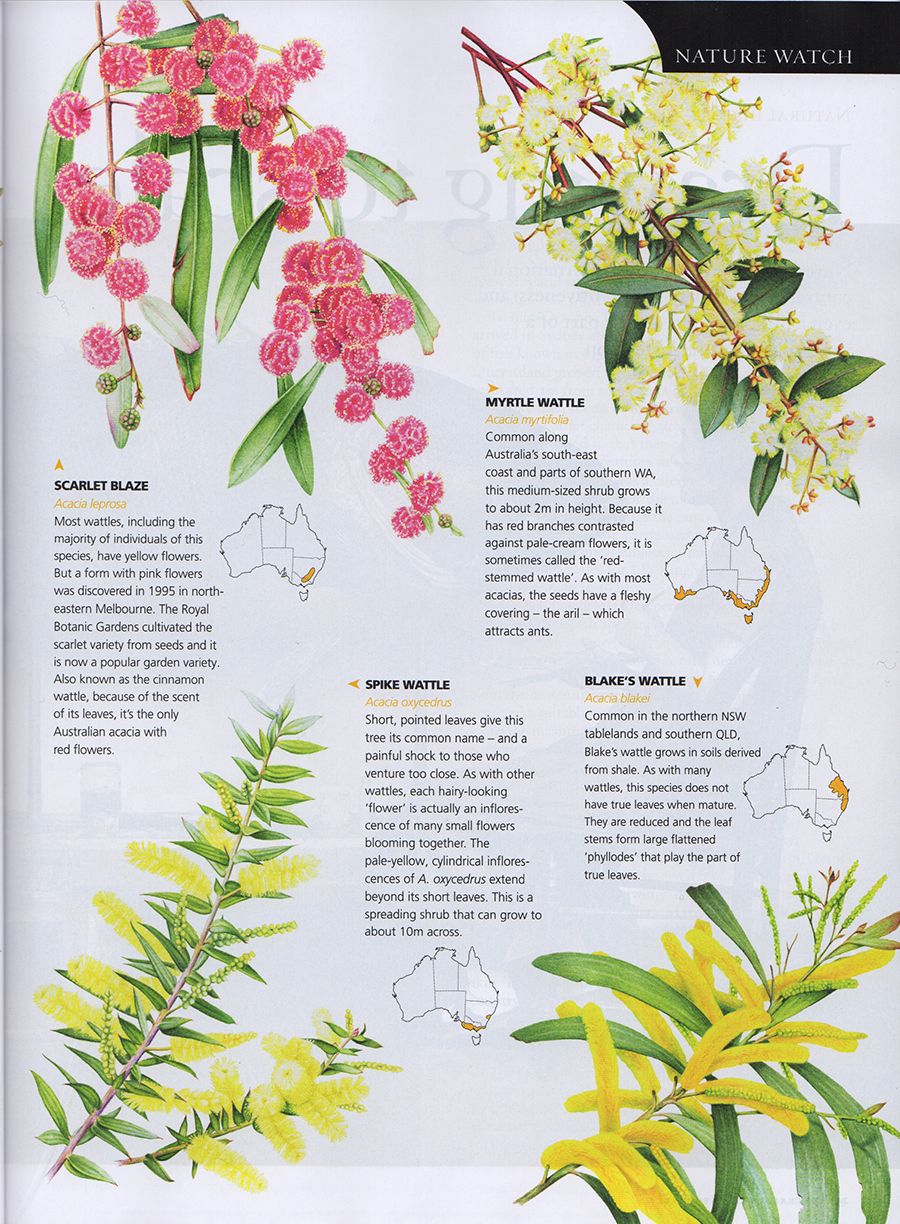 The 8 Acacia (wattle) Illustrations for the September Issue can be more closely viewed on my recent blog post