Australian Botanical Illustrations – Eucalyptus and Grevillea – Watercolour
The latest project to come across my painting table has been quite the challenge, of course! When ISNT botanical illustration a challenge I wonder, but its the stuff thats right up my alley. Botanical painting, Australian natives, complex and intricate, watercolour… my sweetest spot. Whats more, this collection is for a wonderful client of mine (yet to be announced), adding to my collections with them.
Lots goes on behind the scenes of the things we see, love and buy and this project is a journey like all others. It is the culmination of many thoughts, ideas, people, skills, time, effort and the likes. My stage is somewhere at the beginning of this process between idea and production. It is my work that makes the idea come to life and here we see my part come into play.
Australian Botanical Illustrations
The illustrations in this collection include two grevillea paintings and a branch of eucalyptus or red flowering gum. With the Blue Wrens already in their archives, its time to marry them all together as one… the next step in this process. How i love to see my work leave my hands and evolve into new things. With the artwork complete its time for me to pass the baton over, sit back and watch it unfold.
Grevillea illustration – superb
The first illustration captures the beauty and complexity of the Superb Grevillea, its colours graduating so perfectly from red to orange, yellow, mauve and finally into a delicate blue green. The spindly leaves capture a range of delicious greens from blue to fresh greens as well, a fascinating, visually rich addition to the elements were working with for this project.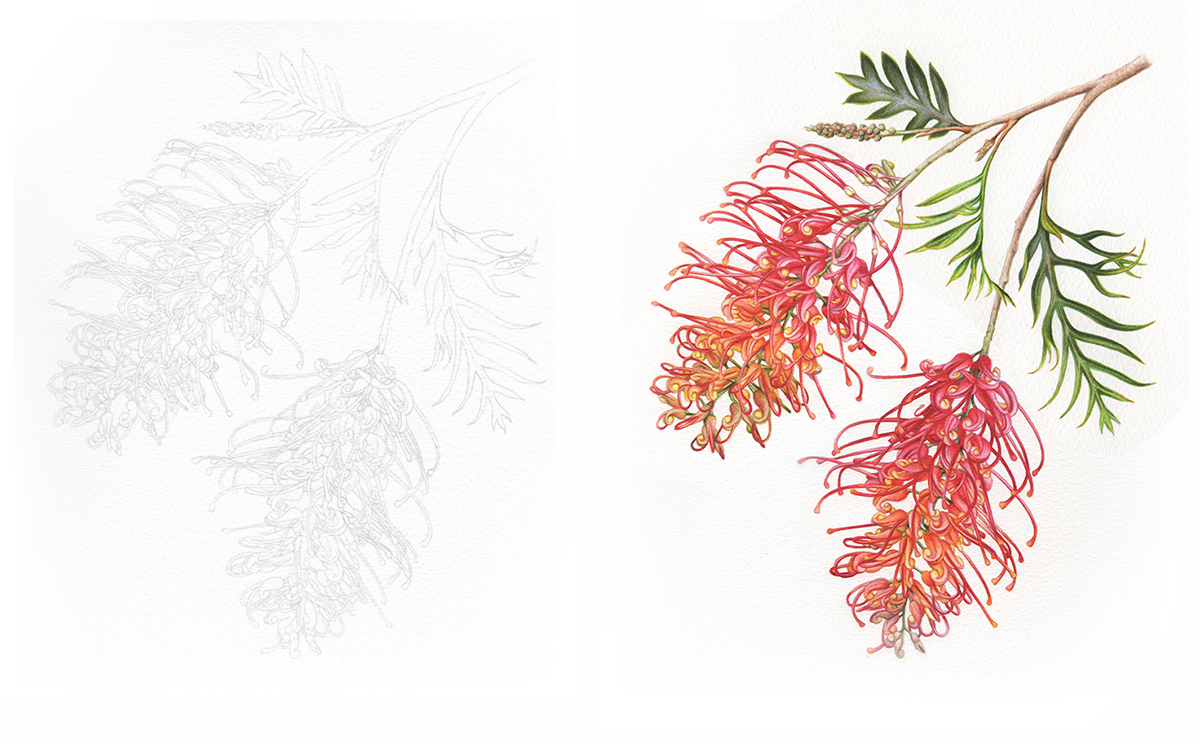 Grevillea illustration – Peaches and cream
The second illustration captures delicate magic of Grevillea Peaches and Cream, a sensational Australian flower with a perfect graduation of colour once again. This time the transition sweeps through my palette from pink to orange, yellow to lime green and finally back to that delicate sage blue on the flower tips. What a creation! Once more, the spindly leaves are captured too, only this time they are far softer to reflect the nature of this variety. This also brings variation to my colour palette, elements and the final products we develop from this artwork too.
The Grevillea is a nightmare to work with, that is true, but oh they are so beautiful! Now they are complete my migraine can ease as they continue on to bring many joy for the years ahead. Its so worth the time and effort! Together, the two varieties in this series will make quite a visual feast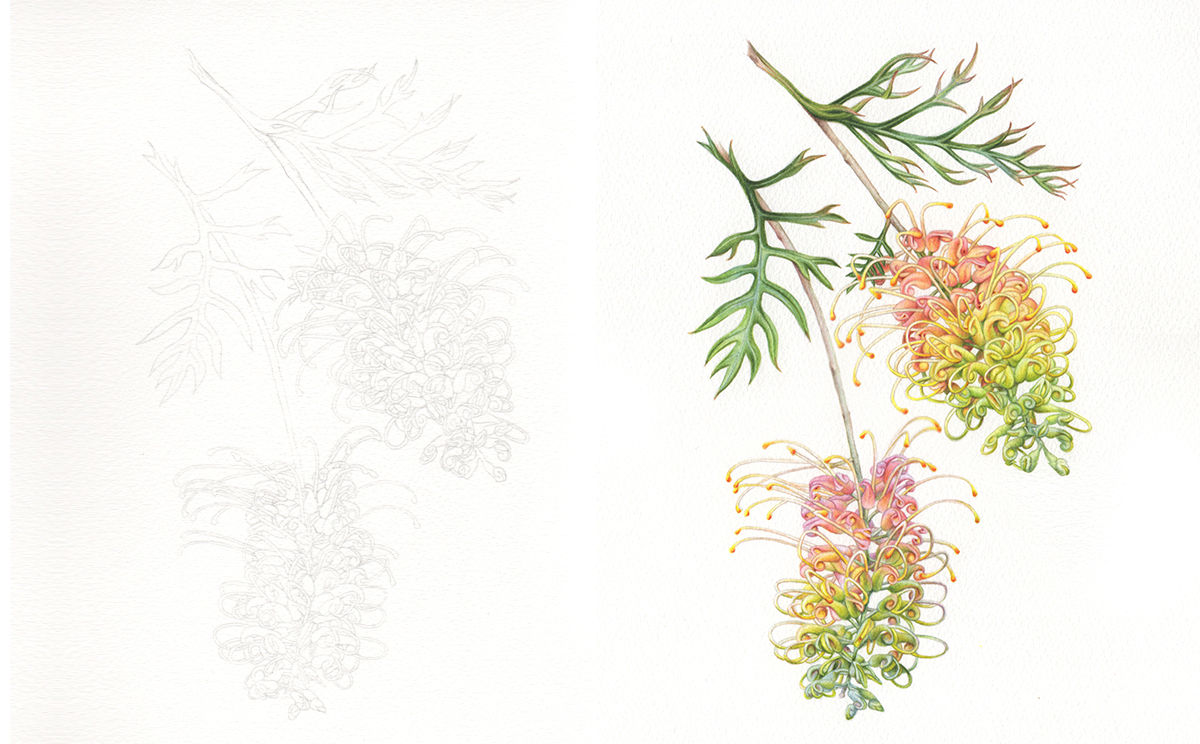 Eucalyptus illustration – red flowering gum
Finally, the third botanical illustration in this series of Australian natives is the Red Flowering Gum. Ive captured a delicate spray of the eucalyptus flowers in this painting, a sweep of beautiful blue green leaves adorning a salmon coloured branch, a stunning cluster of red flowers punctuating the study nicely. A mix of gum blossom buds and flowers capture this subject in the peak of its flowering making a perfect, adaptable addition to this series. Of course I will update you on the development of these artworks into products more in time but I am just as eager to see them unfold as you are!

And with the conclusion of this project we find ourselves at the close of another working year, and what a year 2020 has been for us all. More than ever we have come to consider, see, explore, appreciate and grieve the importance of the arts and its many roles in our lives in so many ways over this crazy time. It is such a part of the richness we enjoy in so many ways, in so many areas of our lives and I hope this project will continue to bring a little bright spot, some more beauty and enjoyment to many from here on.
Thank you to everyone who has followed my work over the year, how much I appreciate you all! 2021 has a lot in store for me and I look forward to continuing my work and interactions with you, sharing as I can along the way. Take care, be happy, stay safe and Merry Christmas to you and yours, Heidi