2020 – Watercolour Botanical Art Class Events and Opportunities

With almost all masterclass openings now filled for the year, believe it or not, its time to start the watercolour and botanical art class events and opportunities post for 2020. This post will keep you up to date and informed on all event openings, new announcements, information, links to various agents and studios Ill be working from in 2020, as well as keeping track of the status of each event as they open, book out (we hope!) and pass us by.
Stay tuned here and check back on this post any time to see whats happening for student opportunities in the coming year as more will be added as they come to light. Of course we love seeing you all in the wash through the year and welcome you into any event no matter what experience you have, so let us know if any openings feel just the fit for you… Lets get the class list started!
2020 – THE YEAR AHEAD IN SUMMARY
JANUARY EVENTS
EVENT COMPLETED – GEELONG VICTORIA – ARTWORX – 5 DAY EVENT – January 20, 21, 22, 23 and 24 – Botanicals and Watercolour
EVENT COMPLETED – MELBOURNE / ELSTERNWICK – CALLIGRAPHY SOCIETY VICTORIA – 5 DAY EVENT – January 27, 28, 29, 30 and 31 – Botanicals and Watercolour
APRIL
CANCELLED DUE TO CORONAVIRUS – GRAFTON – FAY BOYDS ART SCHOOL – 5 DAY EVENT – April 16, 17, 18, 19 and 20 – Bee Study and Botanicals in Watercolour
TBA DUE TO CORONAVIRUS – GOLD COAST (Venue TBC) – ARTABLE STUDIOS – 2 DAY SPECIAL EVENT – April 25+26 – Small Bird Study in Watercolour :O :O :O
MAY
TENTATIVELY RESCHEDULED DUE TO CORONAVIRUS – BRISBANE – BRISBANE PAINTING CLASSES – 3 DAY EVENT – JULY 3, 4 and 5 – Bee Painting in Watercolour Workshop
JULY
BOOKING FAST, PLACES ARE STILL REMAINING – TYALGUM (NORTHERN NSW) – ARTABLE STUDIOS – 5 DAY EVENT – July 8-12 – Botanicals and Watercolour
NOVEMBER
NEW EVENT NOW OPEN – TAMBORINE MOUNTAIN QLD – WISTERIA COTTAGE – 3 DAY EVENT – Nov 7, 8 and 9 – Botanicals in Acrylics Workshop
NEW EVENT NOW OPEN – BRISBANE – BRISBANE PAINTING CLASSES – 3 DAY EVENT – Nov 13, 14 and 15 – Watercolour Natural History and Botanicals Workshop
ALMOST FULLY BOOKED – TASMANIA – ARTABLE STUDIOS – 5 DAY EVENT -5 DAY EVENT – November 25, 26, 27, 28 and 29 – Natural History and Watercolour
**********************************
2021 ADVANCE NOTICES
JANUARY 2021
BOOKING FAST! – GEELONG VICTORIA –ARTWORX– 5 DAY EVENT – Group 2 – January 12, 12, 14, 15 and 16 – Insect Illustration in Watercolour
BOOKED OUT, OR VERY CLOSE TOO – GEELONG VICTORIA – ARTWORX – 5 DAY EVENT – Group 1 – Jan 18, 19, 20, 21 and 22 – Insect Illustration in Watercolour
**********************************
MORE EVENTS WILL BE ADDED IN TIME, AS WELL AS UPDATES ON THOSE LISTED SO CHECK BACK FROM TIME TO TIME FOR NEWS ON WHATS HAPPENING
**********************************

2020 EVENTS AND INFORMATION
COMPLETED – MELBOURNE / ELSTERNWICK – CALLIGRAPHY SOCIETY VICTORIA
5 DAY EVENT – January 27, 28, 29, 30 and 31
Botanicals and Watercolour – Waratah and Botanicals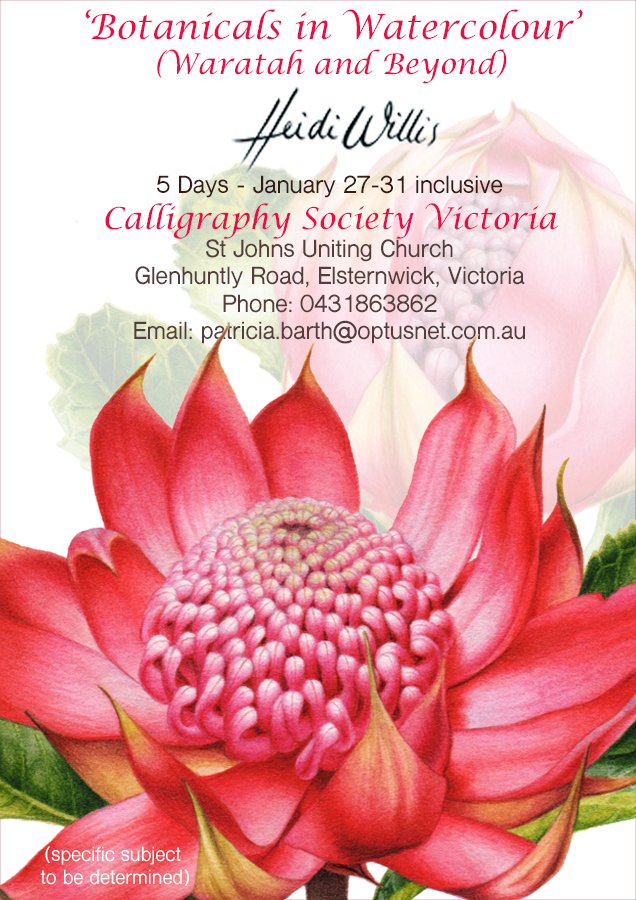 **********************************
COMPLETED – GEELONG VICTORIA – ARTWORX
5 DAY EVENT – January 20, 21, 22, 23 and 24
Botanicals and Watercolour (specific subjects to be determined)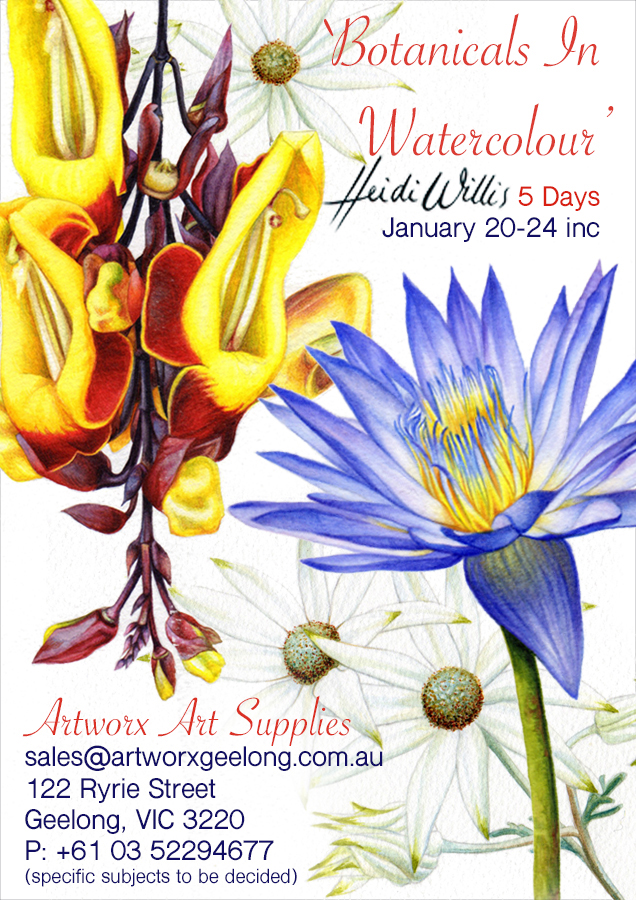 **********************************
CANCELLED DUE TO CORONAVIRUS – GRAFTON – FAY BOYDS ART SCHOOL
5 DAY EVENT – April 16, 17, 18, 19 and 20
Bee Study and Botanicals in Watercolour (specific subjects to be determined)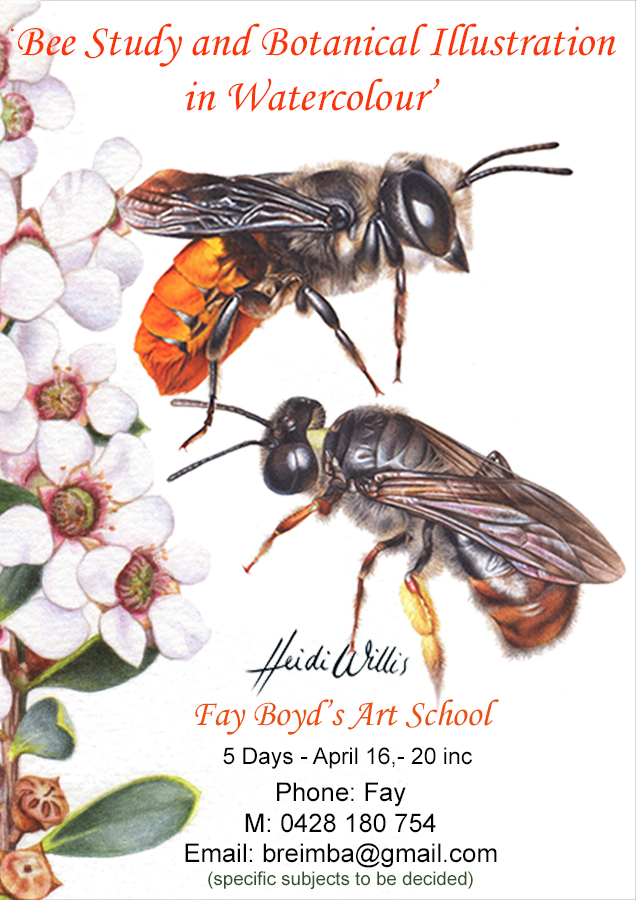 **********************************
TBA DUE TO CORONAVIRUS – GOLD COAST (Venue TBC) – ARTABLE STUDIOS
2 DAY SPECIAL EVENT – April 25+26
Small Bird Study in Watercolour :O :O :O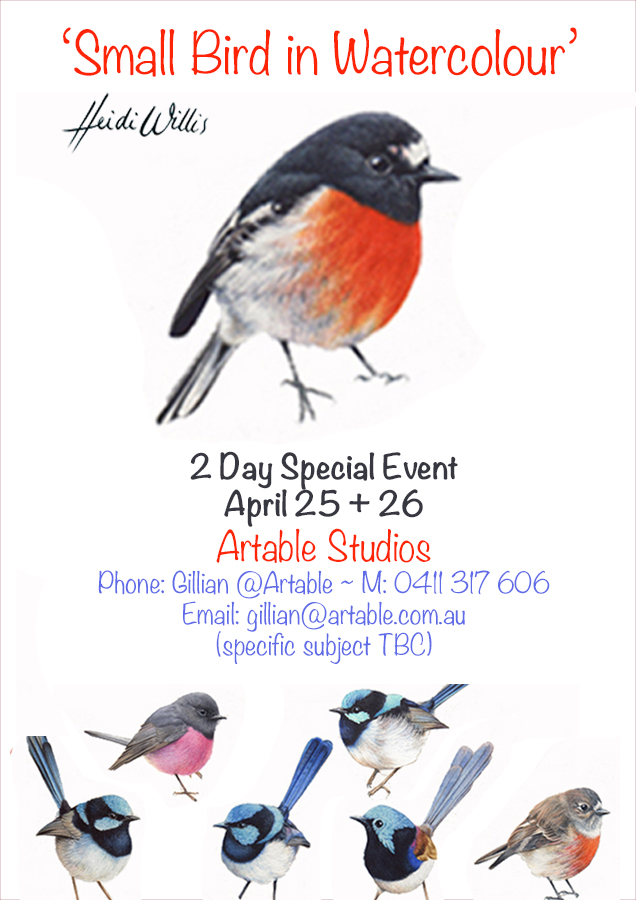 **********************************
TENTATIVELY RESCHEDULED DUE TO CORONAVIRUS – BRISBANE – BRISBANE PAINTING CLASSES
3 DAY EVENT – JULY 3, 4 AND 5
Bee Painting in Watercolour – (specific subjects to be determined)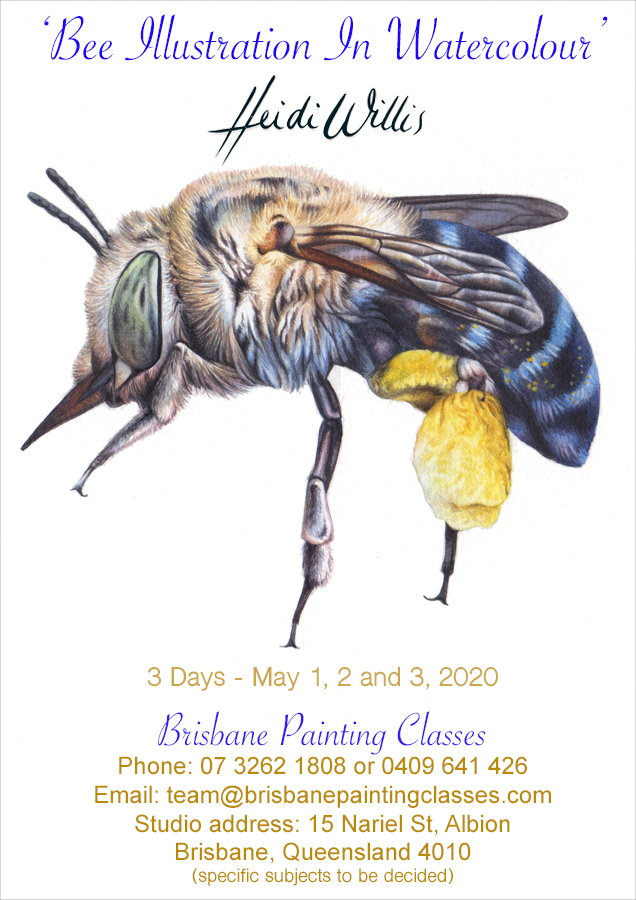 **********************************
BOOKING FAST, PLACES ARE STILL AVAILABLE FOR THIS EVENT – TYALGUM (NORTHERN NSW) – ARTABLE STUDIOS
5 DAY EVENT – July 8, 9, 10, 11 and 12
Botanicals and Watercolour – (specific subjects to be determined)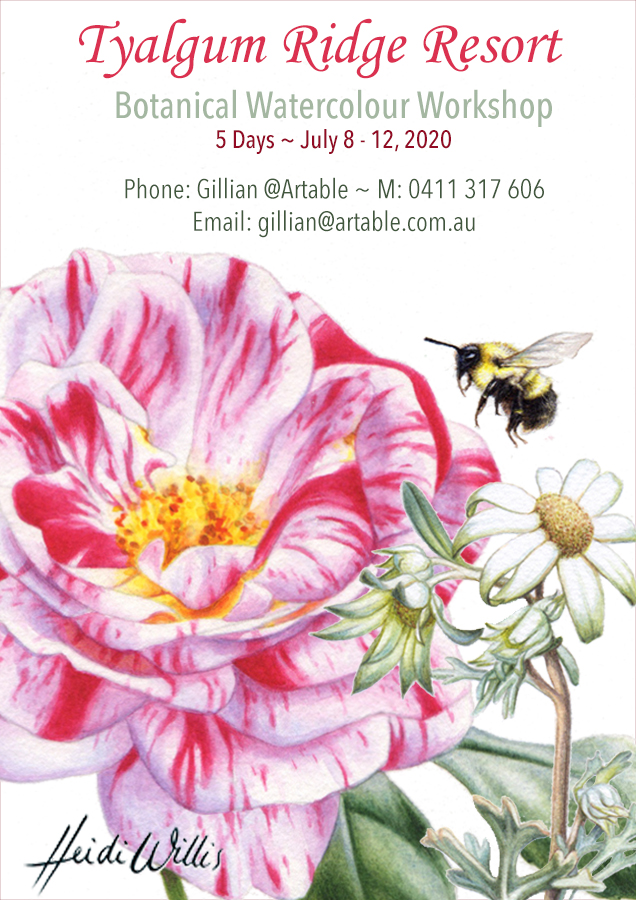 **********************************
NEW EVENT NOW OPEN – TAMBORINE MOUNTAIN QLD – WISTERIA COTTAGE – 3 DAY EVENT – Nov 7, 8 and 9 – Botanicals in Acrylics Workshop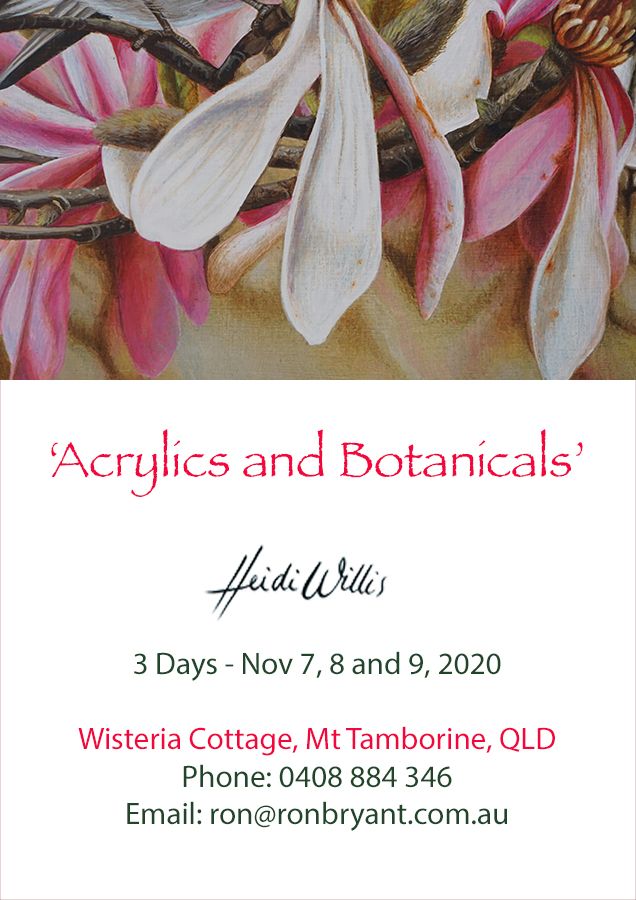 **********************************
NEW EVENT NOW OPEN – BRISBANE – BRISBANE PAINTING CLASSES – 3 DAY EVENT – Nov 13, 14 and 15 – Watercolour Natural History and Botanicals Workshop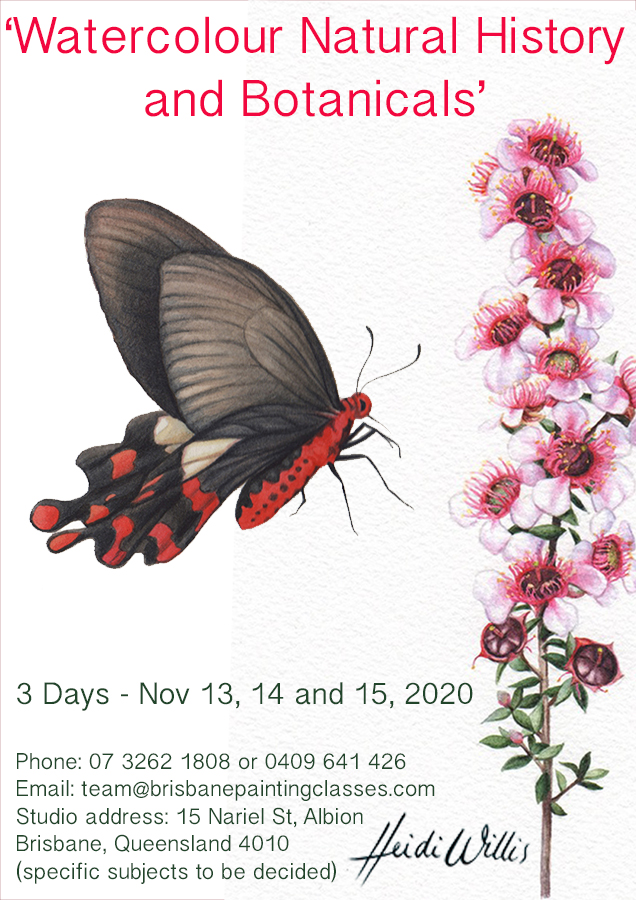 **********************************
LAST PLACE/S BOOKING, BE QUICK! – TASMANIA – ARTABLE STUDIOS
5 DAY EVENT – November 25, 26, 27, 28 and 29
Natural History and Watercolour (specific subjects tbd)
Yep… We're returning to Cradle Mountain in Tassie and anyone who came along last time will know exactly why. I think we are forever changed 🙂 This is our LUXURY event for the year, and it will be such a sensational experience… take a look at our last trip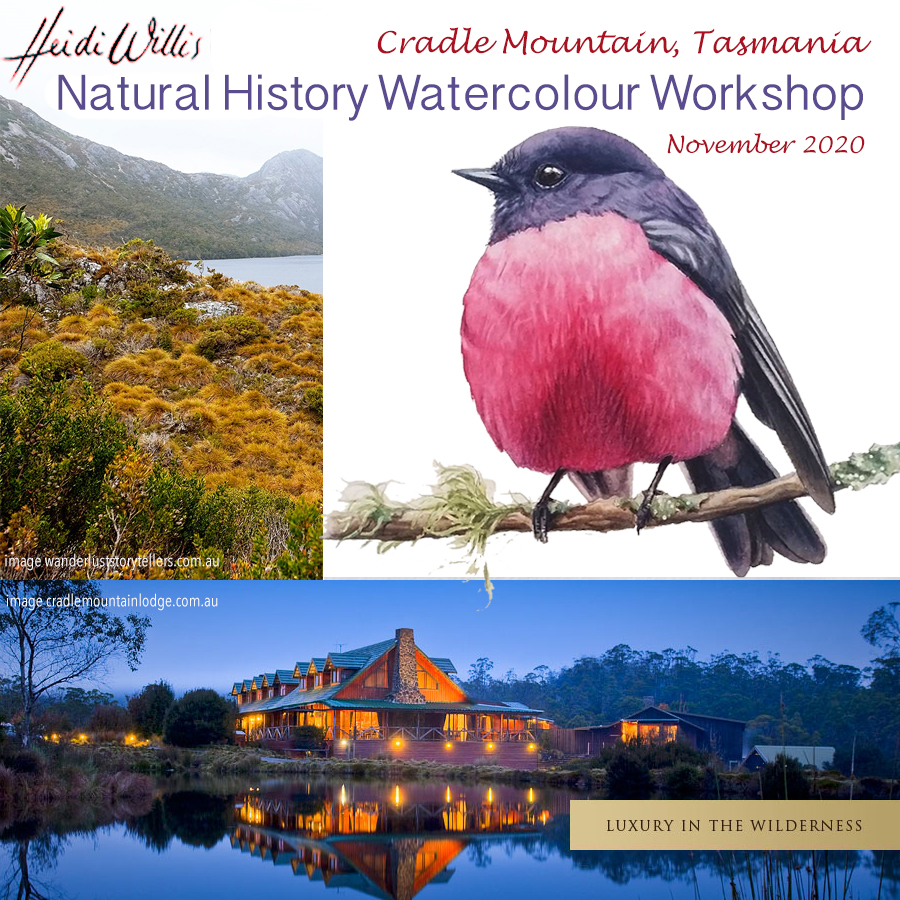 **********************************
2021 ADVANCE NOTICES
**********************************
NEW EVENT BOOKING FAST! – GEELONG VICTORIA – ARTWORX
THIS IS A SECOND EVENT BY POPULAR DEMAND, BOOKING FAST AFTER THE FIRST BOOKED OUT ON THE FIRST DAY
5 DAY EVENT – Group 2 – Jan 12, 13, 14, 15 and 16
Insect Illustration in Watercolour – (specific subjects to be determined)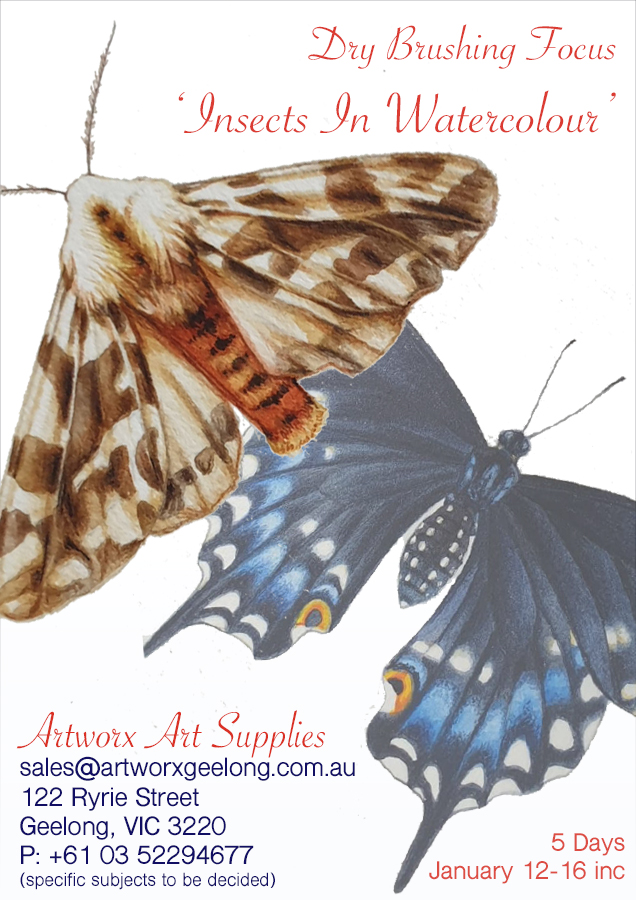 **********************************
NEW EVENT – LAST PLACES BOOKING FAST… POSSIBLY BOOKED OUT NOW – GEELONG VICTORIA – ARTWORX
5 DAY EVENT – Group 1 – Jan 18, 19, 20, 21 and 22
Insect Illustration in Watercolour – (specific subjects to be determined)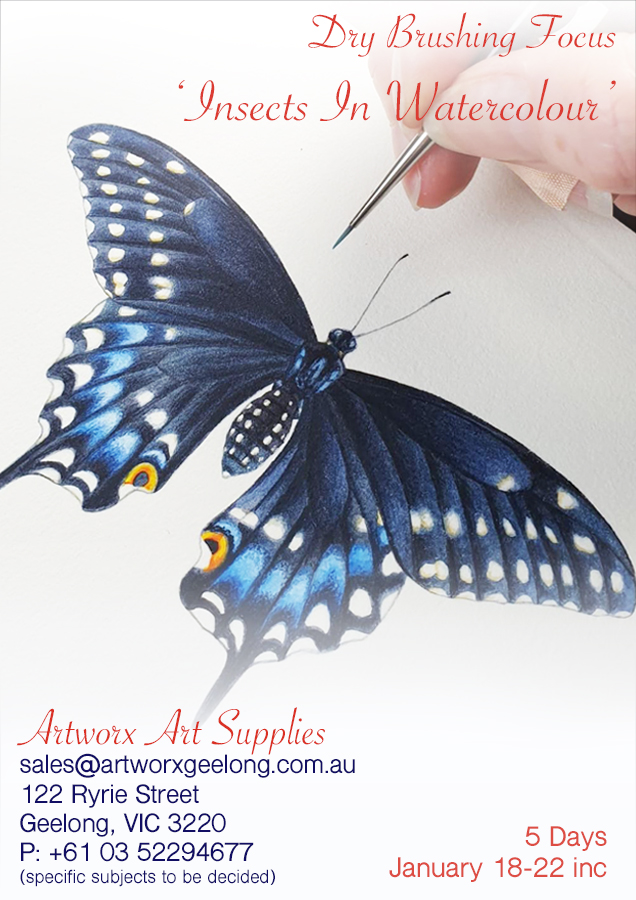 **********************************
CHECK BACK REGULARLY FOR WORKSHOP STATUS UPDATES AND NEW EVENT ANNOUNCEMENTS
**********************************