Australian Artist Magazine Article – Issue 419
What a wonderful birthday surprise to wake up to my work being featured in Australian Artist Magazine again… just one page this time, but its always such a thrill! As a group, the tutors hosting painting workshops with Artable Studios Tyalgum Retreat this year have all been featured in this wonderful 12 page article showcasing a little of our work, and I am thrilled to be a part of it all… Australian Artist has always been such a great publication. Thank you to Gillian who always runs things right!
Tyalgum is a fantastic, budget conscious event held in a gorgeous location on the northern NSW border, hosted by the well oiled machine that is Artable Studios. It is an easy going, soul enriching, mind expanding uplifting experience for all who come along, filled with fabulous people and such vast opportunity to learn from such a broad range of styles, mediums and skilled tutors. It is a place where we come once a year to totally unplug, to meet like minded people and to unleash our creative selves… How could I not be thrilled to be a part of such an event!

2019 is booked out for my watercolour and botanical painting workshop, but get your name down quick sticks if youd like to join us in 2020!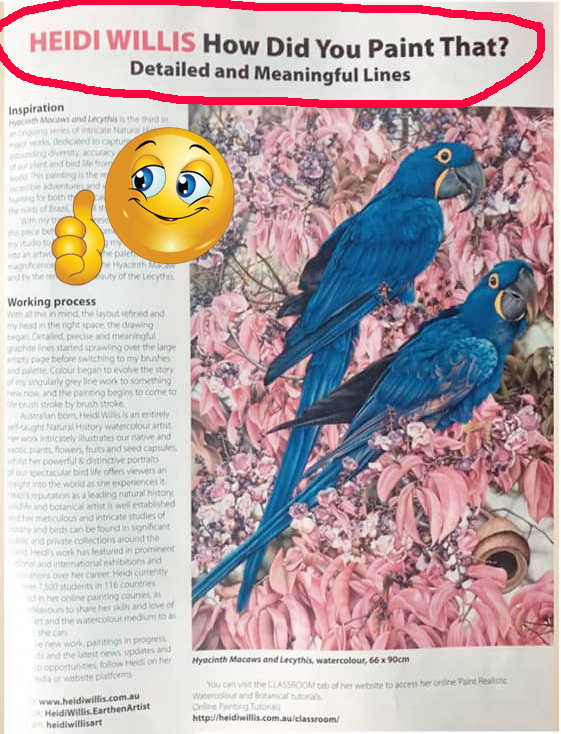 So as I rolled over in the low light of morning this morning, remnants of my huge week away teaching in Grafton, and my week long (so far) birthday celebrations still lingering with me on this long weekend, I opened one eye just enough to see the post about the article hitting the shelves. What a perfect start to a day! I opened two eyes to see my 'Hyacinth Macaws and Lecythis' painting sprawled out over the majority of the Australian Artist Magazines page and the heading 'Heidi Willis How Did You Paint That?' This was soon followed by messages from people actually wanting answers on that… and of course a week at the Tyalgum Retreat is a great place to start finding those answers out!
The article reads something like this;
'Hyacinth Macaws and Lecythis – 66x90cms – Watercolour
'Hyacinth Macaws and Lecythis' is the third in an ongoing series of intricate Natural History major works, dedicated to capturing the astounding diversity, accuracy and beauty of our plant and bird life from around the world. This painting is the result of vast travels, incredible adventures and wonderous treasure hunting for both the macaws and lecythis in the wilds of Brazil, and all that came with it. With many months of work in completing this challenging piece, it is a true labour of love with such a fantastic slice of my extended life captured within its every mark.
Of course the outrageous beauty of South Americas natural face is a wonderland of inspiration for natural history artists, and for me, it is no surprise to find Brazil sitting very closely to my heart as an artist. I have been completely captivated by it since my earliest memories and have been quite literally dreaming of this body of work since my early childhood, and so it comes as no surprise to me that this love affair is now being represented and shared through my work as it is today.
With my travels and research in Brazil for this piece behind me, I returned home to my studio to begin weaving my experiences into an artwork, struck by the palette, magnificence and size of the Hyacinth Macaw and by the remarkable beauty of the Lecythis. As with all good Natural History illustration, careful attention was given to both the science and aesthetics of this piece, marrying the two subjects seamlessly together with the use of subtle interplays of colour and atmosphere to tell its story with the depth and emotion this painting deserves.
With all this in mind, the layout refined and my head in the right space, the drawing began. Detailed, precise and meaningful graphite lines started sprawling over the large empty page before switching to my brushes and palette. Colour began to evolve the story of my singularly grey line work to something new now, and the painting begins to come to life brush stroke by brush stroke.
The challenge and exhaustion of the marathon is quickly lost in the surrender of each moment spent immersed amongst the delicate romance, balancing in the give and take of watercolour, falling into the magical 'microjournies' as I call them, of the medium… it is another love affair. In this space the hours spent become irrelevant, with only the experience and outcome remaining in your focus until the end.
And so after months of solid painting, the last brushstroke signed off with my name and 'Hyacinth Macaws and Lecythis' came to an eventual conclusion. Encapsulating so many incredible stories, times, emotions, memories and experiences of a truly remarkable place, this painting celebrates the outrageous beauty of two favourite South American subjects for all to enjoy.
To see new work, paintings in progress, blog posts and my the latest news, updates and workshop opportunities, follow Heidi on her social media or website platforms
Website www.heidiwillis.com.au/
Facebook www.facebook.com/HeidiWillis.EarthenArtist
Instagram heidiwillisart
CV – Australian born, Heidi Willis is an entirely self-taught Natural History watercolour artist. Her work intricately illustrates our native and exotic plants, flowers, fruits and seed capsules, whilst her powerful & distinctive portraits of our spectacular bird life offers viewers an insight into the world as she experiences it. Heidi's reputation as a leading natural history, wildlife and botanical artist is well established and her meticulous and intricate studies of botany and birds can be found in significant public and private collections around the world. Heidi's work has featured in prominent national and international exhibitions and publications over her career. Heidi freelances as a commercial illustrator for many high profile clients around the world, and is highly sought after because of the outstanding quality, consistency and diversity of her work. Heidi currently has over 7500 students in 116 countries enrolled in her online painting courses, as she endeavours to share her skills and love of nature, art and the watercolour medium to as many as she can.
You can visit the CLASSROOM tab of her website to access her online 'Paint Realistic Watercolour and Botanical' tutorials'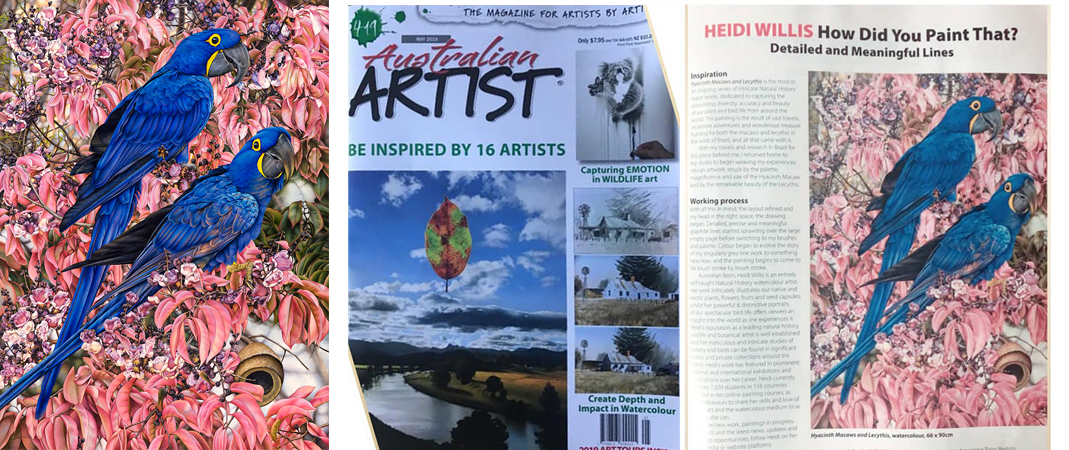 The original artwork ~ Australian Artist Magazine 419 cover ~ My article
If you would like to come along to one of my painting workshops, check out the blog posts for workshop opportunities and announcements. Currently all 2019 events are booked out except for a 3 day Queensland 'Botanicals in Acrylics' event in November – and I have just 2 places remaining for my amaaaaazing New Zealand 'Peonies in Watercolour' painting workshop which is also in November. ITS GOING TO BE AMAZING!!!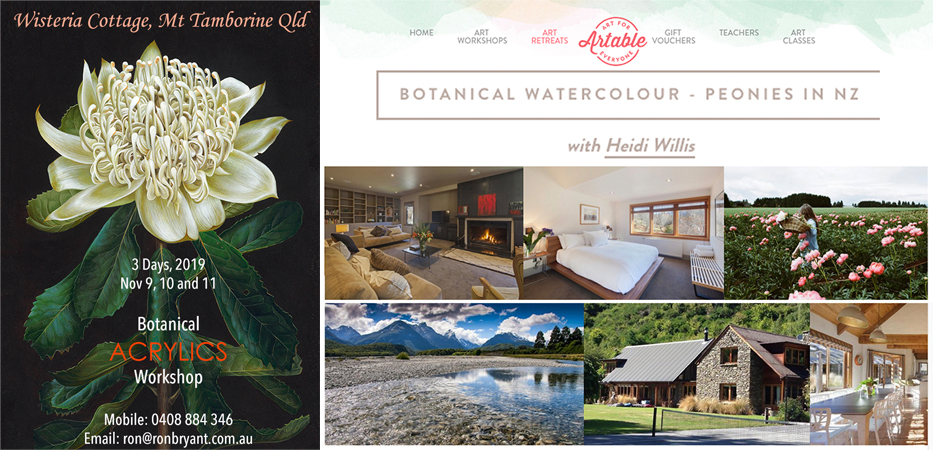 Thank you Artable, thank you Australian Artist Magazine! You've really made my day 🙂