Watercolour Botanical Art Classes – 2018 Opportunities
As a HUGE year rushes to a close, about 12 months before I am anywhere near being ready… it is time to take a moment to consider 2018 and all the wonderful opportunities that the new year will bring. I think its going to be a remarkable year with plenty of exciting projects and events already on the table to look forward to. Some of those opportunities are for students, and with just a few places remaining in each watercolour, botanical and natural history painting workshops already, now is the time to think it over and book your place if youd like to come along to any 2018 Art Classes.
Locations I will be attending are as follows
(images are from workshops but are a guide to expected course content only)

***********************************
ACT – Artists Society of Canberra Inc – January 8-12 inclusive – Birds and Botanical – Watercolour
THIS WORKSHOP IS NOW COMPLETE, THANK YOU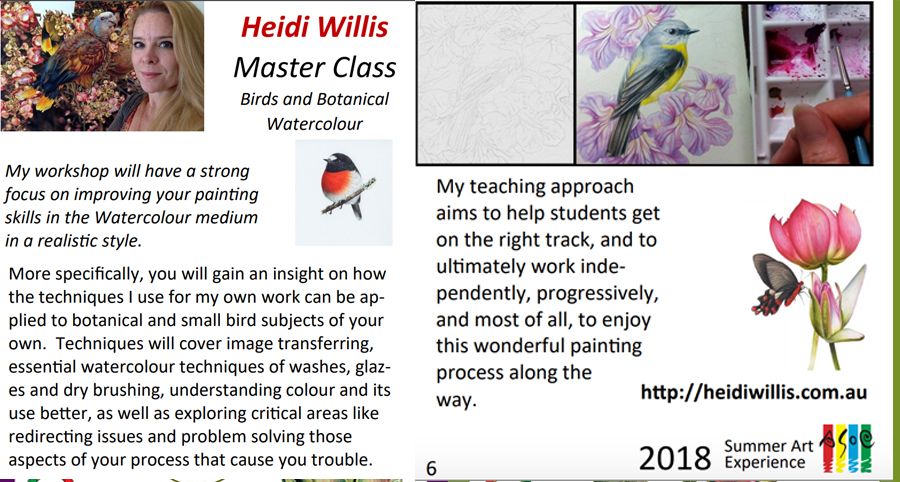 ***********************************
Geelong VICTORIA – Artworx – March 23, 24 and 25 – Botanical – Watercolour
THIS WORKSHOP IS NOW COMPLETE, THANK YOU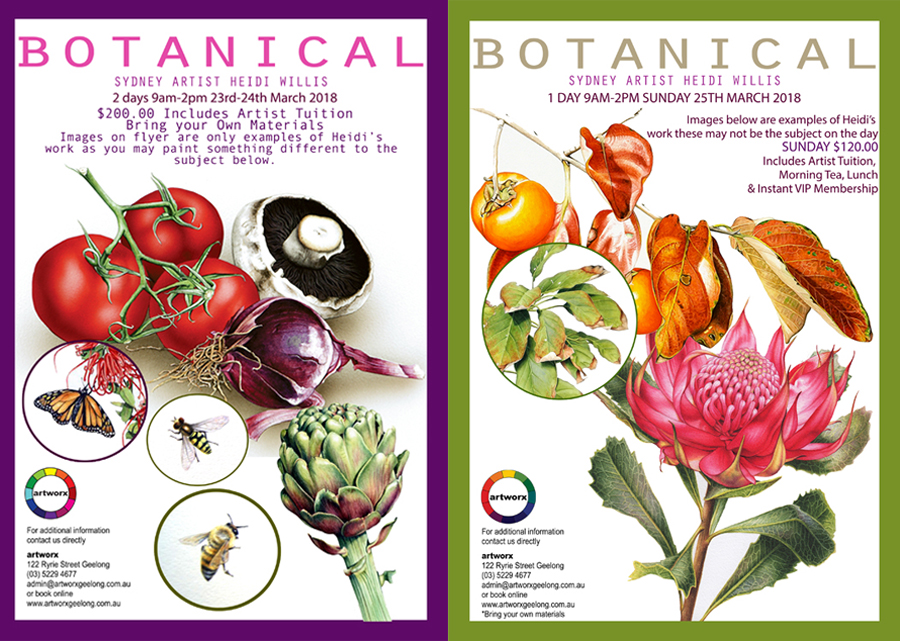 ***********************************
Grafton NSW – Fay Boyd Art School – April 15 to Thursday, April 19 inclusive – Fruits, Vegetables and Bugs – Watercolour
THIS WORKSHOP IS NOW COMPLETE, THANK YOU
Please let Fay know if youd like to join the waiting list for this yearAlternatively, we are now taking bookings for the 2019 workshop… I cant say no to Fay, so 2019 IS confirmed!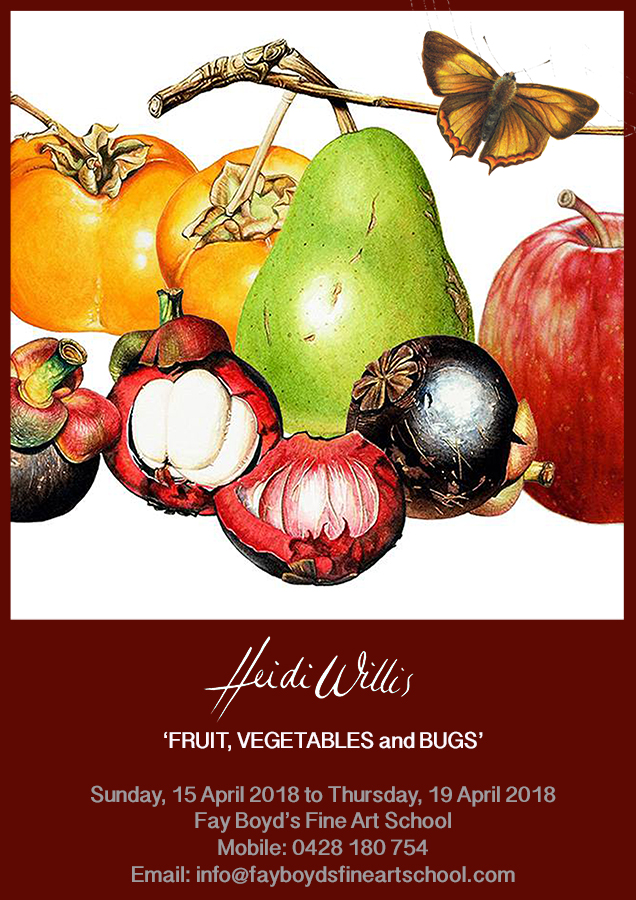 ***********************************
Tyalgum Retreat – Far Northern NSW/Gold Coast – ARTABLE – July 4-8 inclusive – Botanical Watercolour
THIS WORKSHOP IS NOW FULLY BOOKED
THIS WORKSHOP IS NOW COMPLETE, THANK YOU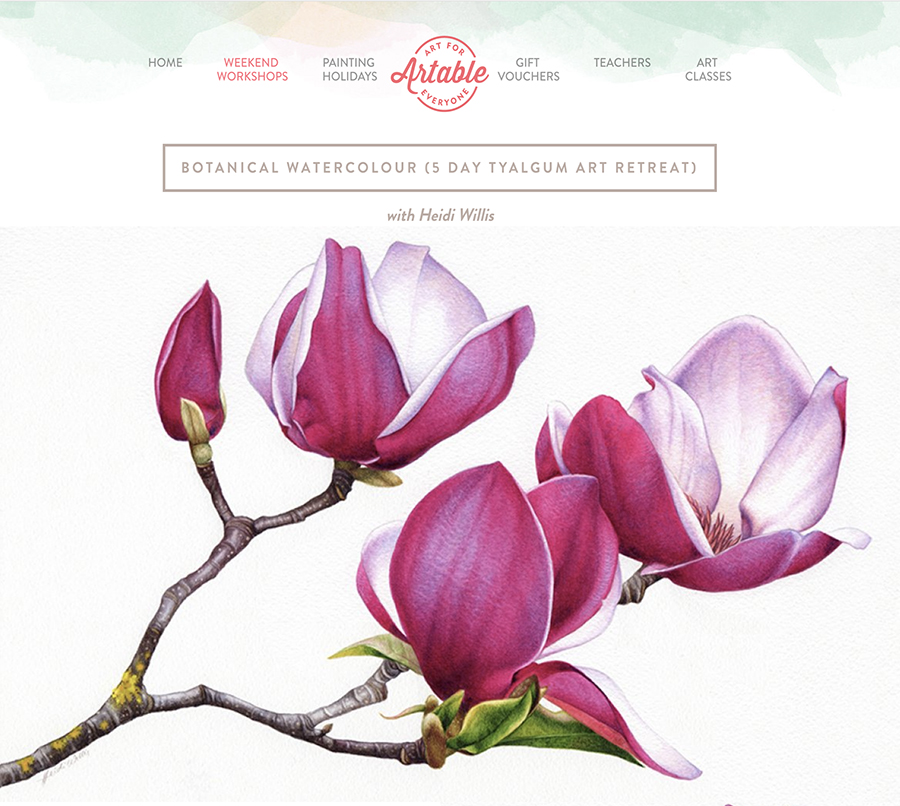 ***********************************
New Zealand Painting Escape – Nov 2018 – Artable – 'Botanical Watercolour Lupines'
THIS EVENT IS NOW FULLY BOOKED
Please let Gillian know if you'd like to be added to our wait list for 2019's international event. Its going to be amaaaazing!!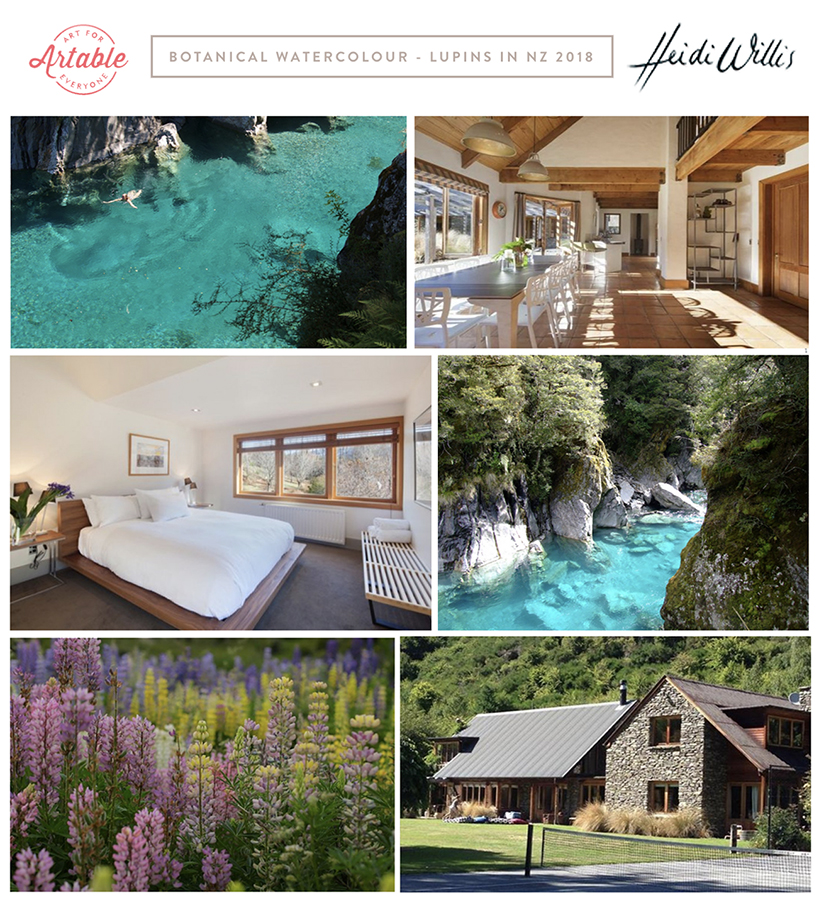 You really dont want to miss this event – This is a 5 day watercolour botanical painting workshop on the South Island of New Zealand in November 2018. In the same thread as my recent and incredibly memorable Cradle Mountain painting experience this unique workshop is much more than just the studio! Join me to will explore the entire process of natural history painting from field work in the great outdoors and the breathtakingly beautiful, mind clearing wilderness of NZ to the studio for a comprehensive insight to this work and its processes. This is set to be an incredible and unique event so dont miss out! Give Gillian from Artable a call and grab your place in these fabulous art classes asap. Wed love to have you along!
***********************************
 BRISBANE – FULLY BOOKED – WAITLIST NOW OPEN FOR 2019
Brisbane Painting Classes – 15 Nariel Street – Albion – Fri 20 Jul – Sun 22 Jul 2018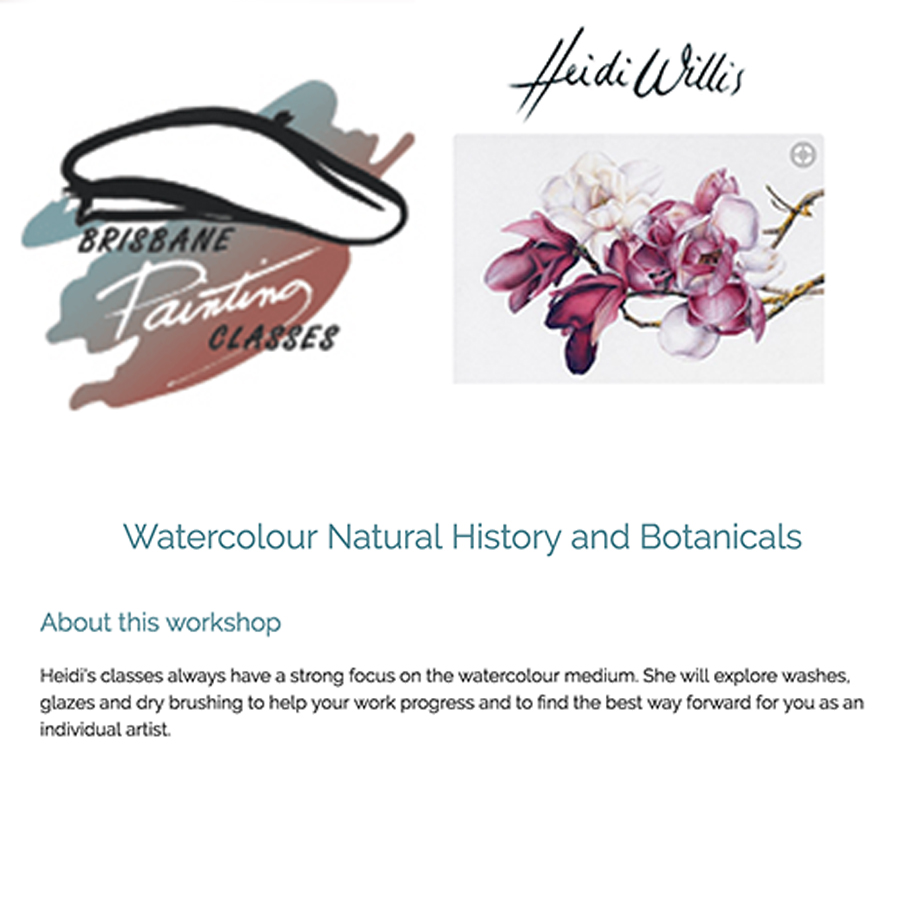 ***********************************
Grafton NSW – Fay Boyd Art School – April 13 to April 17 inclusive – Fruits & Vegetable Habit Studies – Watercolour
TAKING BOOKINGS NOW – LIMITED PLACES REMAINING
With this years Grafton 'Fruits, Vegetables and Bugs' workshop now fully booked out and people asking to book places for 2019 already, I have just confirmed this new event will go ahead next year. Extending on this years theme, we will take a fuller look at various fruit and vegetable subjects to also include the 'habit' or 'plant structure' in out paintings. Places are already booking so dont delay, hop over to Fay and let her know if youd like to come along.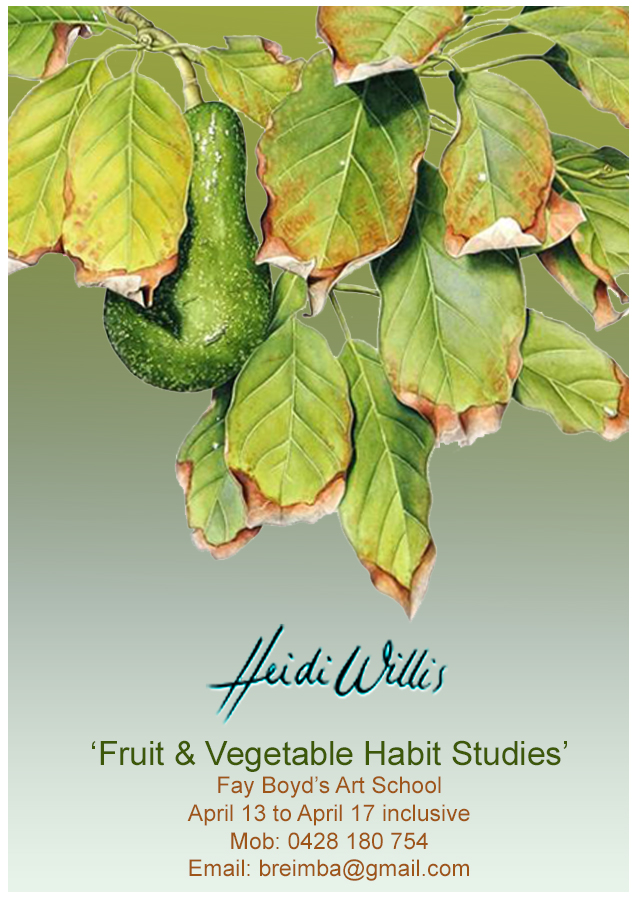 ***********************************
So there you have a list of all art classes currently open and booking for the year ahead, hopefully this will help you to see whats ahead and decide which one suits you best. Dont forget if you cant join me in person, I do have some watercolour painting and botanical art online painting tutorials you might like to explore in your own time and space… but if you do have any questions, please just let us know. Hopefully I shall see you in the wash!
I HAVE NOW CREATED A NEW BLOG POST OUTLINING ALL 2019 MASTERCLASS/WORKSHOP OPPORTUNITIES AS THEY EMERGE FOR THE YEAR AHEAD