NEW ONLINE PAINTING TUTORIAL – 'Paint Realistic Watercolour and Botanicals – LOTUS' is now LIVE!!

'Paint Realistic Watercolour and Botanicals – LOTUS' is the 4th online painting tutorial now available to you
As many of you know, I have been working long and hard on bringing a new online botanical and watercolour painting tutorial for you all, and the day has finally arrived… 'Paint Realistic Watercolour and Botanicals – LOTUS' is now LIVE!! Thats right, just follow the link on the course title to access this tutorial at a discounted price from this announcement post, its time to jump in and explore a whole new world of painting the LOTUS as our new subject and I am EXCITED!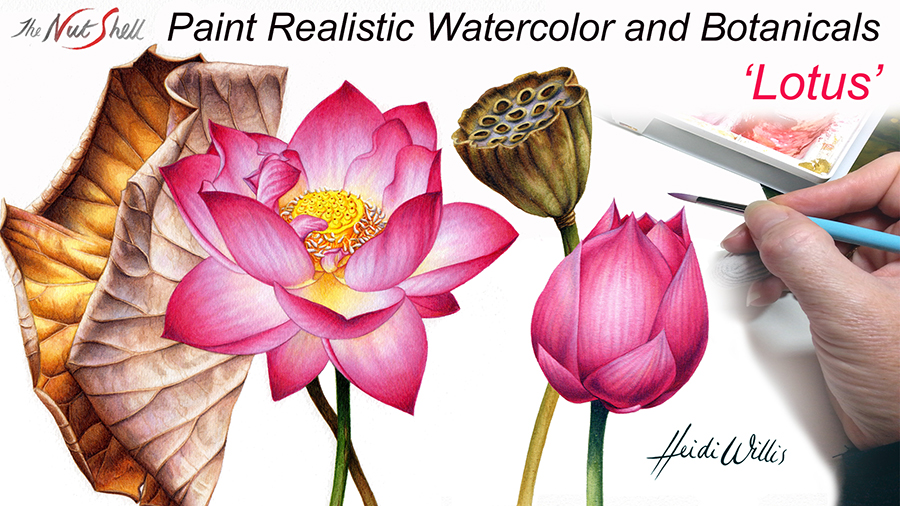 With around 6,000 students from 111 countries now joining me on my online painting courses already and an overwhelming amount of positivity pouring in to my world every day from you all, I know many of you will be very happy to hear the good news, to wet up the brushes and get painting our new topic as soon as possible. For me, your enthusiasm keeps me returning to you all each year, taking critical time out of my own schedule and projects to extend myself to something I really believe in, thank you so much for the love!

I must say I have been blown away at the work youve all been producing so far, not only from the courses directly, but from how youve began applying the techniques and approaches to your own ideas… amaaaazing! My Mum said she couldnt sleep for thinking about this young mans work after she saw it, and rightly so too. Its beautiful <<<—— !! Needless to say, its not the work I look for alone, the enjoyment of the process, of the learning and the improvement in time that is the true measure.
In the southern hemisphere its winter now, and what better way to spend those crispy days than playing happily in the studio?! For those of you in the northern hemisphere, your winter will be upon you soon enough so lets get ready and plan a beautiful snug season of painting together… yessss!
Of course with these painting classes theres no pressure on you at all, its all about some open learning in the comfort of your own home at your own pace… and as one student quite rightly said 'its the most amazing course, and all for about the price of a cheeseburger!' Thats right, it really is that simple, affordable and practical to get on board and start learning this wonderful art form all without leaving your home. Paint an hour, a moment or a month, do it once, revisit a hundred times, paint one subject on offer, or paint them all,  its all up to you, fun! All practice makes a difference, all pleasure needs no further measure than the moment.
And so the fourth course in my collection of 'Paint Realistic Watercolour and Botanicals' tutorials focuses on another favourite subject of mine, the utterly elegant and beautiful 'Lotus' otherwise known as Sacred Lotus, Nelumbo, Indian Lotus and the Rose of India. This is a subject you can never tire of or stop learning new things about, and one I am really excited to explore with you… There is truly is something for everyone in illustrating the Lotus, and of course there is no better medium for it than watercolour!
Following the STUDIO BASICS, CHASING AUTUMN and MAGNOLIAS tutorials, LOTUS continues to concrete what we've learned so far in my online painting tutorials and develop and refine our techniques and skills in watercolour painting and botanical illustration further with the exploration of this wonderful subject. This extensive tutorial includes a watercolor techniques exercise section of a lotus bud, a flower and leaf study as our main focus painting and in the NutShell Extension Tutorial, we take a closer look at the striking Lotus Seed Capsule for anyone wishing to explore this subject further… Yes thats four substantial subjects covered in all!
From flower and bud, to their gorgeous leaves and its stunning seed capsule, we will learn more about the processes and essential watercolour painting techniques involved in painting each of these elements in a realistic style, from start to completion. Through comprehensive step by step tuition we will explore many aspects and elements of the Lotus plant in depth together, forming strategy, confidence and practical approaches to complete some gorgeous paintings of your own.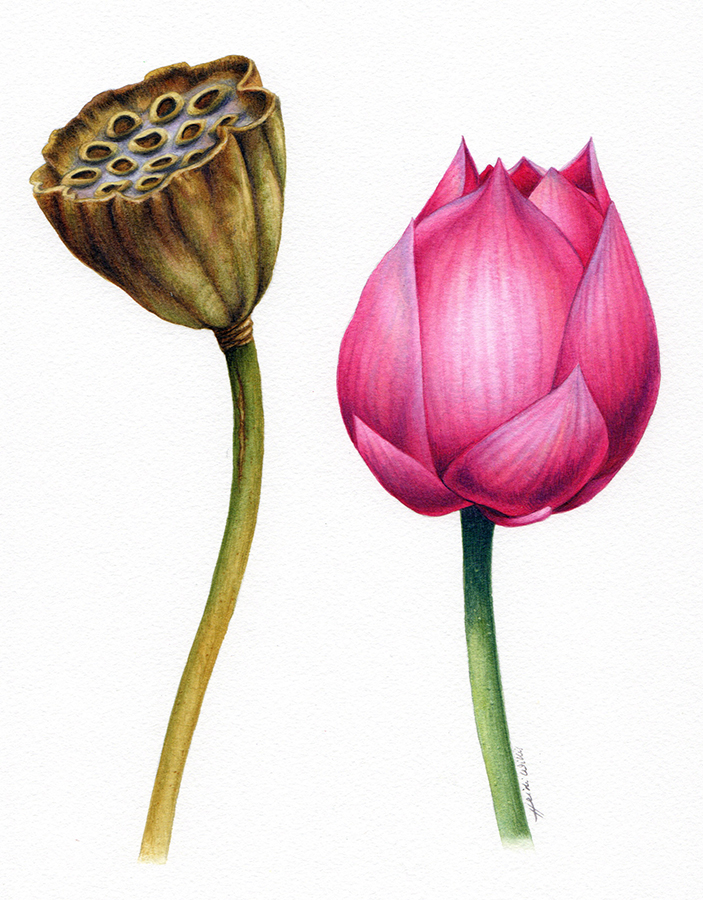 Diverse in its complexity from simple, velvety elegance to a delicious, complex tangle of texture, colour, structure and fantastic detail, you will quickly find yourself falling into the rich beauty of this subject just as I have! With wonderful harmonious colours, manageable shapes and areas for us to work with, gorgeous delicate textures and wonderful diversity in its form to explore, the Lotus is a wonderful topic for any artist in any medium to explore, and is an especially ideal next stop for us on our botanical illustration learning journey together.
Create beautiful single element paintings with our focus subjects, combine the elements to start exploring your own multi element compositions this time, this course is designed to be versatile in and adaptable to your own preferences, level and needs. I invite you to join me here, so come and paint along with some or all of the course topics as you please, all in your own time and at your own pace… Its such a wonderful way to learn!
Dont forget you can always find my online painting tutorials in the Classroom tab of my website, as well as helpful links to materials and supplies, complete student kits (when available) as well as 'whats on the drawing board' for the next painting tutorial. You can also read more on the making of this painting tutorial in the blog section of my website.
I know supplies of materials has been a challenge, thats what happens when you start recommending little known products to 6000 people! BUT, the great news is, I have been working with my team to start producing my very own brand of watercolour materials in a huge effort to alleviate some of the supply issues weve all been experiencing, myself included. I am still testing and refining each of these materials and products now so its juuust right, but I hope to have several items in production for us very very soon, so stay tuned for that amazing update… This is why I dont sleep!! 🙂
So I have been rained on, filmed in 45 degree heat, Ive been sunburned, ive had sleepless nights working for as long as I can remember now, driven for miles, walked as far, and I have been run ragged sourcing everything needed for this course, but its available to you at last and its all worth the effort to make good things happen! I look forward to helping you to learn, grow and keep you moving forwards on your own painting path through this new online watercolour and botanical painting tutorial, and to share my love of this wonderful, joyful world with you all again.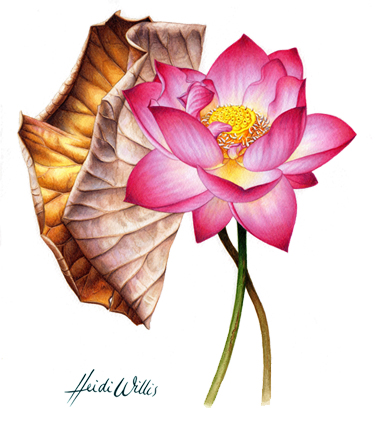 Special thanks to the beautiful people at Wallis Creek Watergardens for letting me be rained on and sunburned in your wonderous lotus garden, I appreciate you!
Thank you everyone, Ill see you in the wash!
*******************************