Natural History Painting Joins National Tour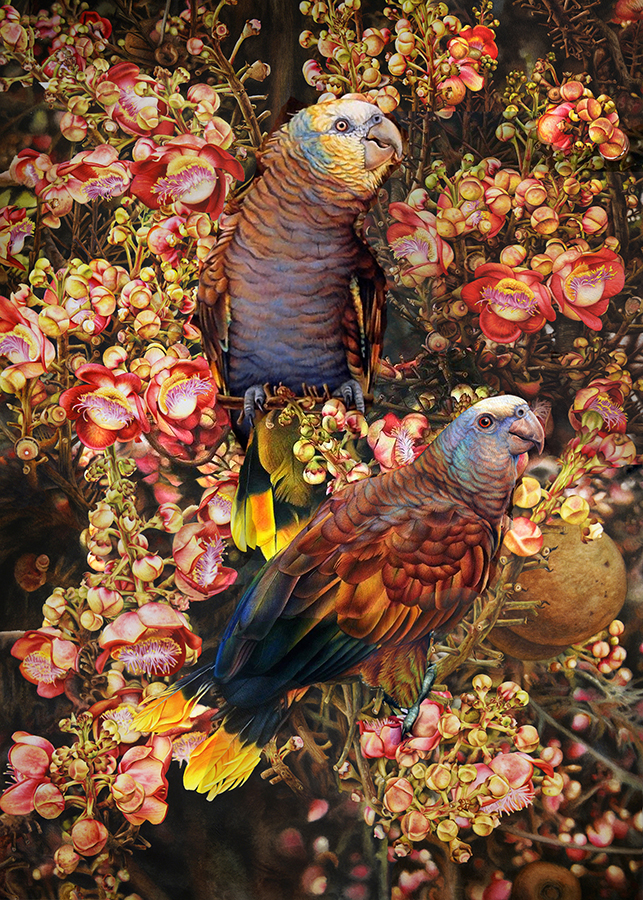 My prize winning bird painting of 'St Vincents Amazons and Cannonball Tree' (Amazona guildingii and Couroupita guianensis) is set to leave for the  Waterhouse Natural Science Art Prize exhibitions national tour, headed for the National Archives from 16 September – 13 November 2016. It is set to be another wonderful event!
Following the close of The Waterhouse exhibition in the South Australian Museum, the prize winning entries, including a perfect example of my own bird and natural history painting will be packed up and shipped carefully off to Canberra for the next leg of the journey held at the National Archives. The new location brings a wonderful opportunity for a completely new audience and area to see and enjoy the cream of the Waterhouse crop. Of course, seeing the work in the flesh is an entirely different experience all together, and I hope that many of you can make it.
Without people to inspire and captivate through my paintings there is really no meaning in what I do, so you are all so much a part of my work and you play such an important role in making my work as a Natural History Artist what it is today. Natural History is such a beautiful and import and genre to acknowledge and embrace as an art form. Every day I see the work I do opening hearts and minds and thats a truly powerful and rewarding thing to be a part of. I appreciate and thank you so much for the floods of amazing, positive emails and messages Ive been receiving about this painting… it has been overwhelming really. Thank you also to everyone who cast their vote my way in the Peoples Choice award. It has been a fantastic event this year again and a great achievement and privilege to be a part of once more!
So as the show goes on now, please make a note of the dates for the National Archives leg of the exhibition and get along to see my watercolour bird painting for yourself!