Highly Commended Award ~ Waterhouse Natural Science Art Prize 2014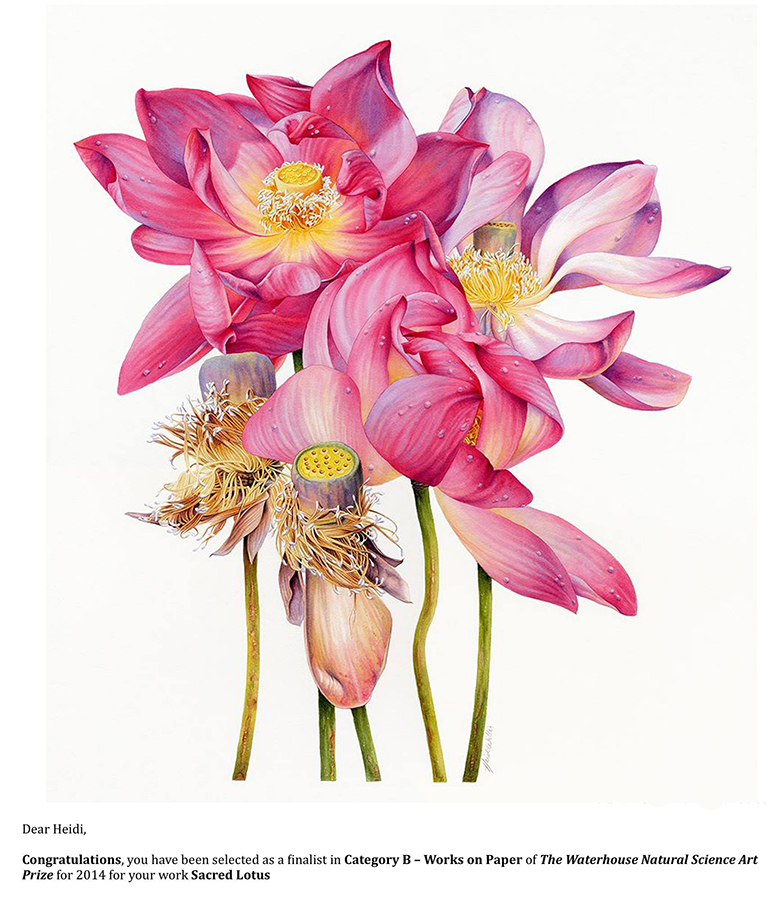 Well I am pretty chuffed to hear that from the finalists in the Works on Paper section in the Waterhouse Natural Science Art Prize, I have won a HIGHLY COMMENDED AWARD this year for my Sacred Lotus… this is such wonderful news!
This highly competitive event is one of Australia's most prestigious art competitions. With a prize pool of $114,500 in total prize money, Waterhouse is regarded as one of the richest arts prizes in the country. The competition serves "to promote and recognise excellence in art that depicts natural history or wildlife," and attracts entries from all around the world. Each year The Waterhouse Natural Science Art Prize draw close to 1000 entries from national and international artists from many different countries working with the medium of paintings, drawings and sculptures to put the spotlight on our incredible natural environment. The selection process of this incredibly competitive exhibition draws this number down to around 100 finalists who will fortunate enough to exhibit in the event. Altogether there are 12 prizes; the overall prize, first, second and third prizewinners in each of the categories: paintings, works on paper, sculpture and objects; and A People's Choice award. From the finalists, a small group of the prize-winning and highly commended artworks then commence on a travelling exhibition which includes being on display at the National Archives of Australia in Canberra.
For any professional or aspiring Natural History artist, being selected as a finalist in this exhibition is one of the highlights of our careers. It offers us an opportunity to be a part of something really significant, and it offers visitors a snapshot of some of the worlds leading wildlife work. Collectors also have an opportunity to invest in artwork in the comfort of knowing they have bought some of the best work there is available.