Grey Fantail and Gum Blossom – Australian Bird Painting – Watercolour – 15x15cms – Available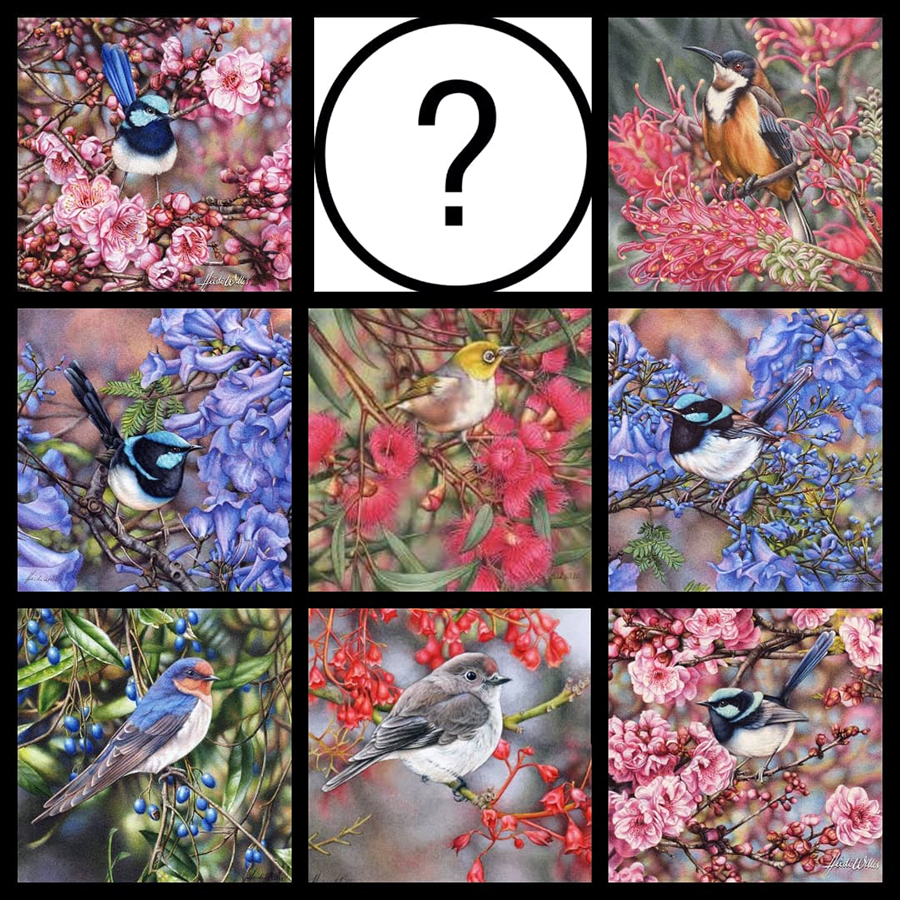 Its always a wonderful thing to be able to put everything aside and clear a little window to create one of my miniature paintings. These are 'exquisite gems' as people have described them many times before that explore small birds, botanical favourites, capturing beautiful moments in time. They are exercises in expressions of love, both of my subjects and of the watercolour medium.
They are also the very best buys you could possibly consider for an original of mine, offering gorgeous works designed to be within reach of pretty much everyone. I offer just a few a year and as a result, they go fast and are often snapped up on the spot, or are secured ahead of time. Today its time to announce the newest in this series of 15x15cms Australian bird painting collection,'Grey Fantail and Gum Blossom' . With only one painting currently remaining from a lifetimes collection of miniature works, i am excited to share this new study with you in the coming days.
I fell in love with the grey fantail (Rhipidura albiscapa) immediately, their sweet nature and bubbly personality drawing you in to these characters with ease every time. I adore their delicate colouring, soft textures and the apparent tenderness of these adorable little bush babies and I am pretty excited to be capturing their story in this piece. Reflecting the softness of this beautiful bird, I have chosen a delicate white gum blossom to accompany this subject for the surroundings. Its soft yet bold, playful yet elegant, so full of personality and so very Australian. I think its a wonderful marriage.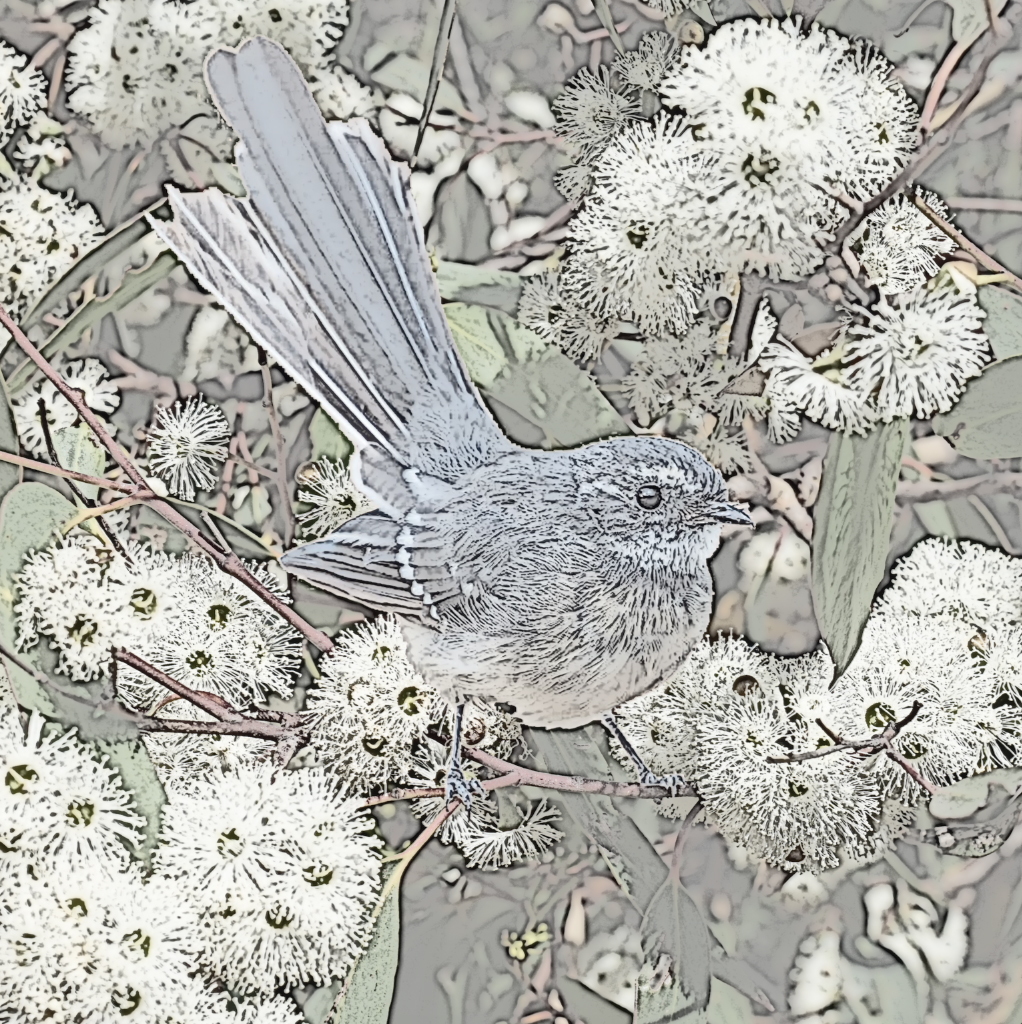 The layout of Grey Fantail and Gum Blossom is determined… this image shows you the direction of my plan.
The grey fantail image comes with thanks to one of my all time favourite bird photographers Peter Caddy, who lets me work with his bird images for reference as I please. He is a beautiful man and photographer and in a lifetime I could not keep up with reflecting the inspiration his images bring me alone, so check out his work when you can too. I am as always, eternally grateful to be so blessed to work with imagery such as this, a shared passion of Australian birds between us.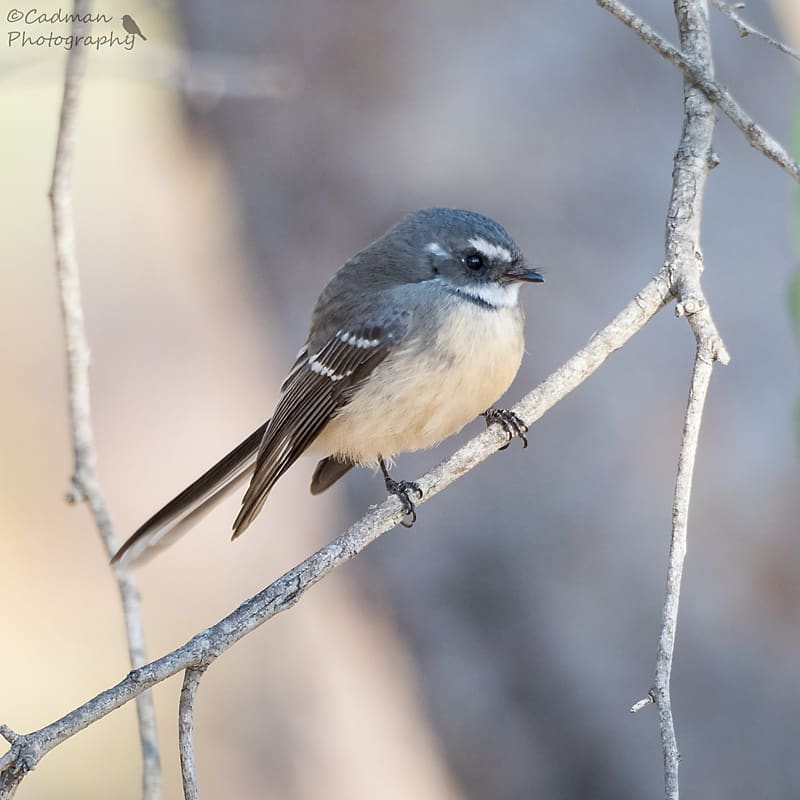 Grey Fantail – Image by photographer Peter Caddy. Such a gorgeous bird!
The flowering gum blossom was captured on one of my road trips south, growing in abundance along the roadsides and coastline on one of my adventures. I love its simplicity, its porcelain white flowers comprised of a million stamens, air honey sweet abuzz with bees galore… of course i need to paint it! This is a painting of understated, simple subtlety, beauty and tenderness… such inspiration. I hope youll join me on this new unfolding, a new story, a new painting in this beautiful Australian bird painting series.
With the layout refined, I will begin the drawing process bright and early tomorrow and set out on this new project between all things that come and go across my studio drawing board with love. For now this painting is available so please let me know if its just right for you and we can tie you into the story of 'Grey Fantail and Gum Blossom' for the years to come. If not, please stay tuned here, on my Facebook Page, or on Instagram for updates of its progress from here on out… thanks for following!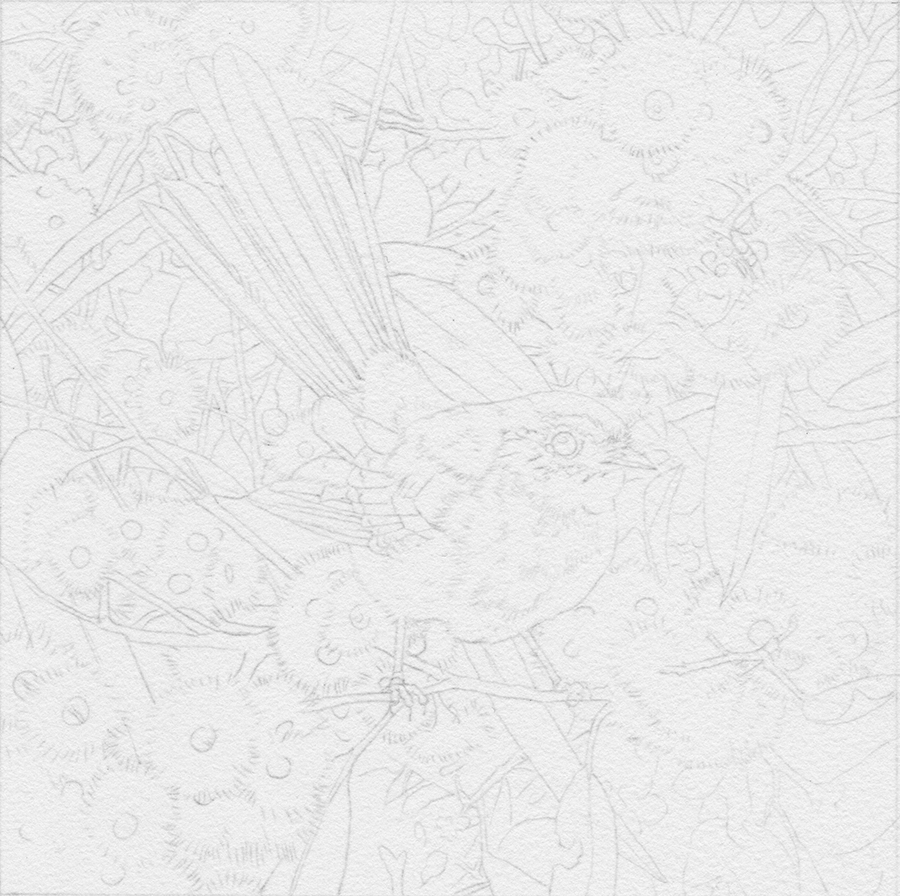 First up I have a carefully rendered drawing in graphite to get this painting underway. My plan was to create a simpler piece this time… but that clearly hasnt happened. Its not me though, nature has its way, its story and its the intricacy that lures me in, so that makes it hard for me to then go ahead and ignore. I mean, its sooooooo delicious! So with the drawing in, its time to get started with some colour.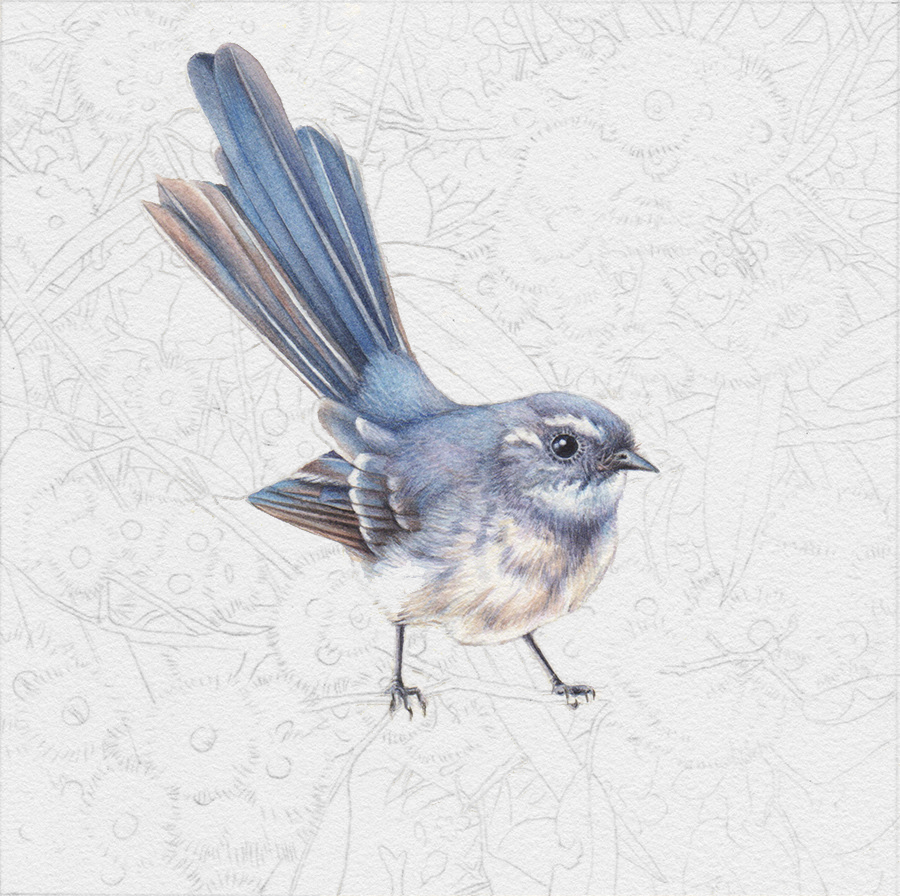 A long day in the studio has resulted in this little baby. no bigger than the palm of my hand, coming to life. Im so in love with her and the way her delicate nature comes through so beautifully from the page. Its an amazing thing, seeing life emerge from the white of the paper before your eyes. And with the emergence of this little cherub, the mood of this painting is already beginning to be determined. Next up – tackling the background!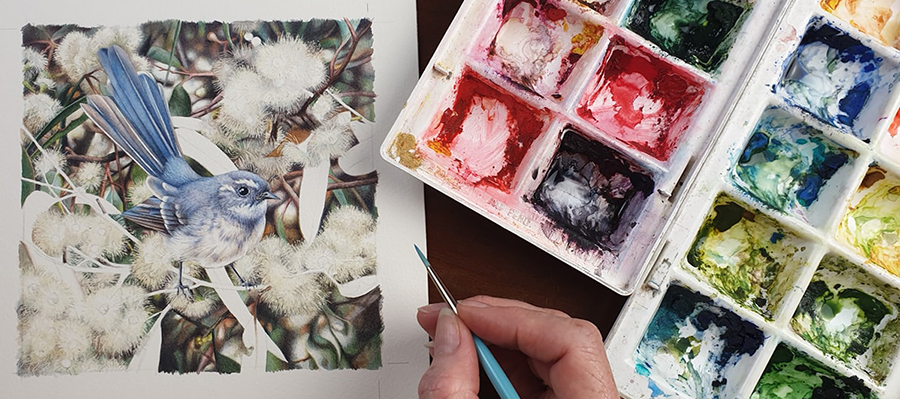 Another weekend slips by me unnoticed in the time warp of my studio. I still have a lot to do on my little Grey Fantail painting, refining the background, developing the darks a little more and completing the detailing of the gum blossoms, but it's coming on beautifully with another studio day ahead for me now. Hopefully Ill pull it all together by the close of the day and sign off on this beautiful small Australian bird painting before i close my eyes tonight.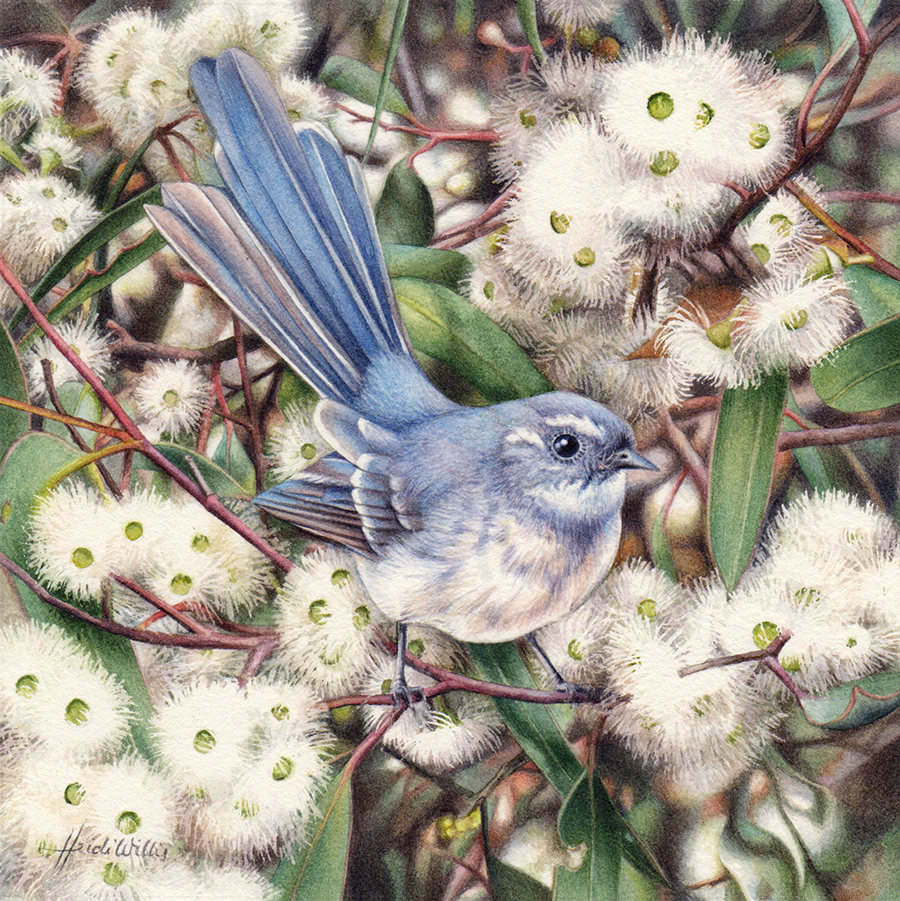 'Grey Fantail and Gum Blossom' is complete. This Australian bird painting is currently available
*******************************************