Blue Wrens and Jacaranda Painting – Miniatures in Watercolour – 15x15cms – SOLD

My current focus shifts away from acrylics, back into my heart territory of watercolour… I know now (I did the poll) that half of you will be happy about this and half will be looking forward to another acrylics adventure. The good news is both journeys are wonderful, both mediums are just phenomenally beautiful to work in, and now you get to see me work in both so dont fear! With the major undertaking of my Flamingos painting now complete it is time for a refreshing change and return to my miniature bird paintings in watercolour though.
These little treasures have been commissioned to adorn the walls of a beautiful new home where they will join other pieces of my work for good company. The brief is for a pair of artworks in purples, blues, sage greens and blue wrens, an eternal favourite for very good reason. This is the wonderful thing about commissions, besides being assured that the artwork is definitely coming into your hands, there is lots of fun to be had in sharing the process with a client and their vision, playing such an integral part in creating beautiful atmospheres and spaces in a clients home, and creating custom paintings for their specific loves.
Apart from the colour scheme the details were left quite open to me which is always ideal. For this bird painting brief, a selection of botany subjects were researched and narrowed down for my client and from there, one focal subject was chosen, without hesitation to work with. In this case we will be working with the breathtaking Jacaranda. This is such a perfect subject to work with right now as the trees around me just begin to come into bud, new flowers swelling by the day in readiness to burst into a swimming ocean of mauve lust for the coming month… and I am poised with Mother Nature (as always) at the ready! It is definitely a serious kind of love, to be surrounded by and experience such wonder and beauty as the jacarandas in flower and I cant wait to get into a little chapter of jacaranda painting!
And so this pair measure 15x15cms in size and bring together two precious subjects in the Blue Wrens and Jacaranda… such a harmonious and beautiful combination to be working with. I welcome you to join me here as I kick off these paintings in progress, I love having your company as always. Of course you can also join me on my Facebook Page or Instagram profile for more regular updates of these paintings coming to fruition in the coming weeks. You can always check out my YouTube channel sometime too if youd like to see time lapse footage of my work evolving, I cover complete paintings in progress here, as well as more specific sections of my work, as well as information on my online botanical and watercolour painting tutorials.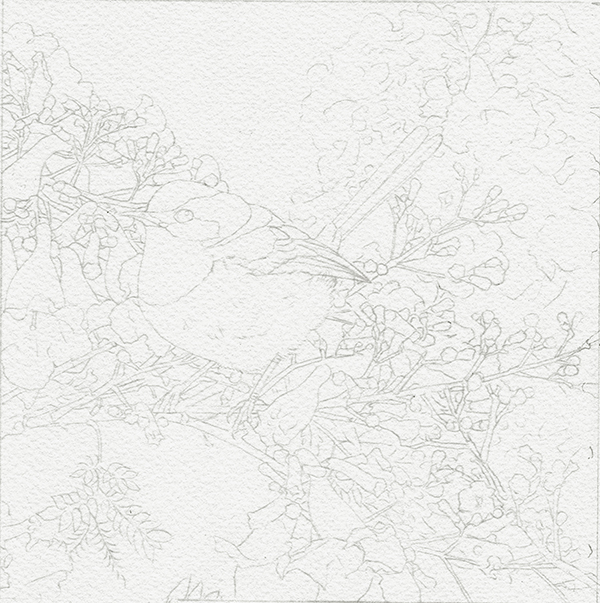 The first step to creating my first Blue Wren and Jacaranda painting is to complete an intricate drawing of this complicated subject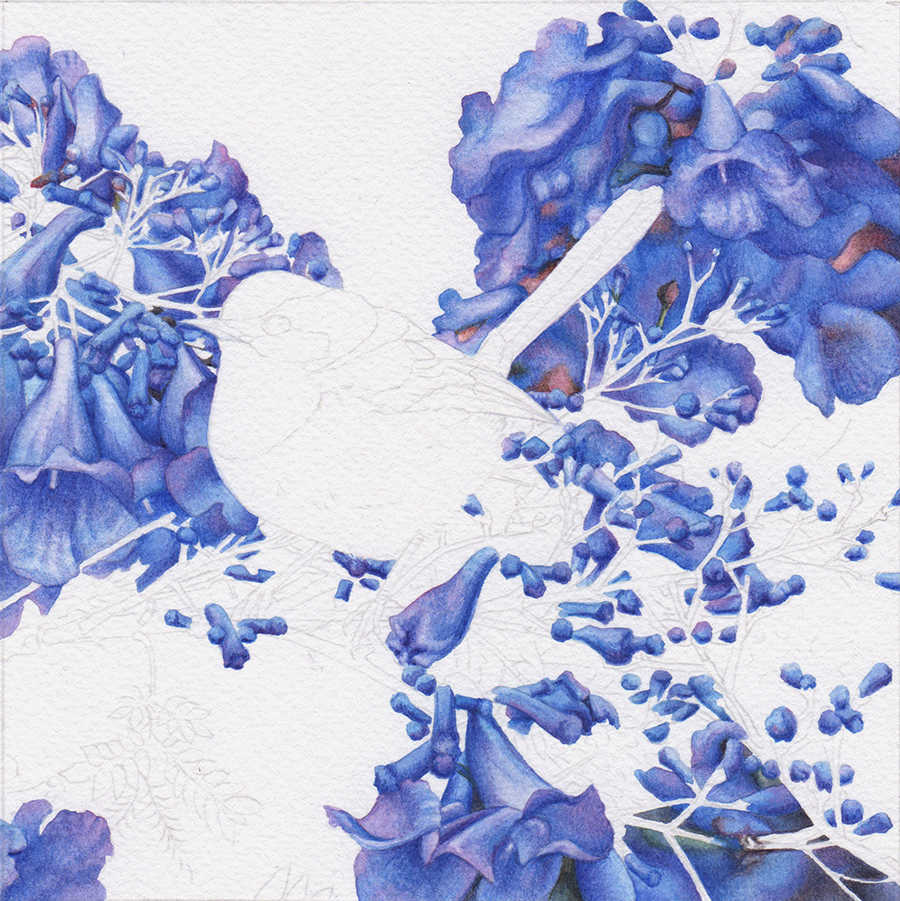 I have a little refining to do on them yet, but i have the bulk of the jacaranda flowers in on my current painting and I am moving on to the branches which make such a huge difference to bringing it all to clarity and sense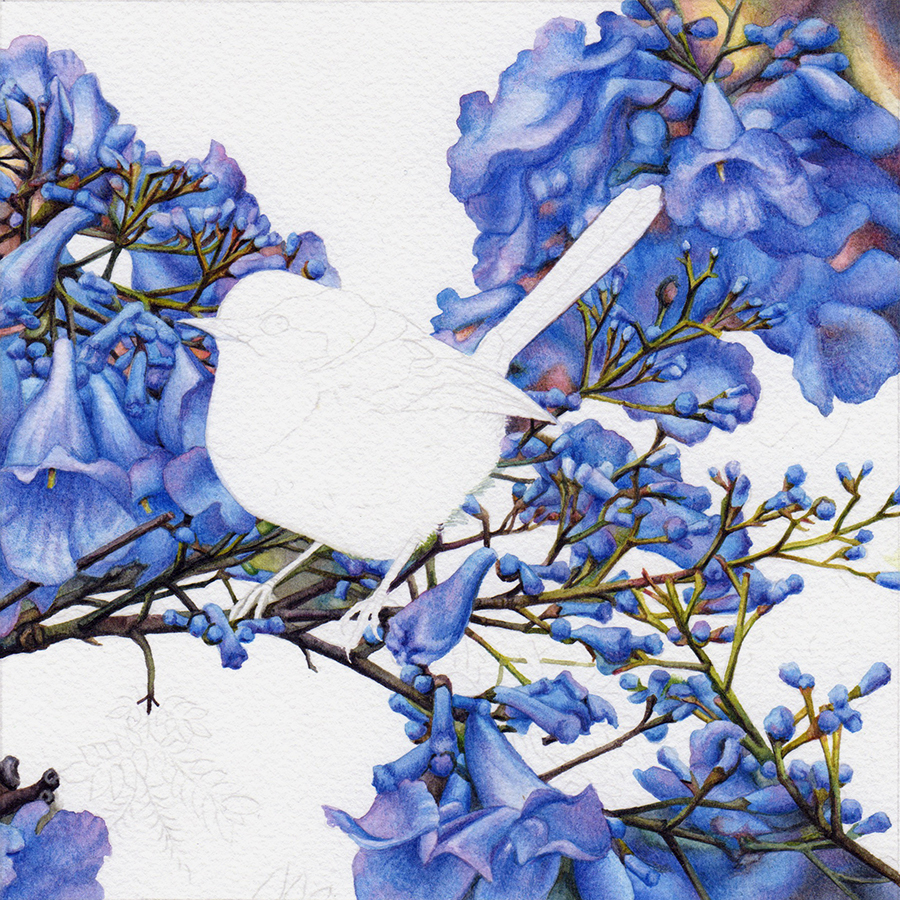 The next stage sees the jacaranda branches pulling the flowers together into a more cohesive image, bringing romance and personality to the painting overall. The next step continues to expand on the colour palette for interest as we move into completing the leaves and background. You can see the blue wren beginning to emerge from the jacaranda surroundings now as well. This will be the final element completed in this study.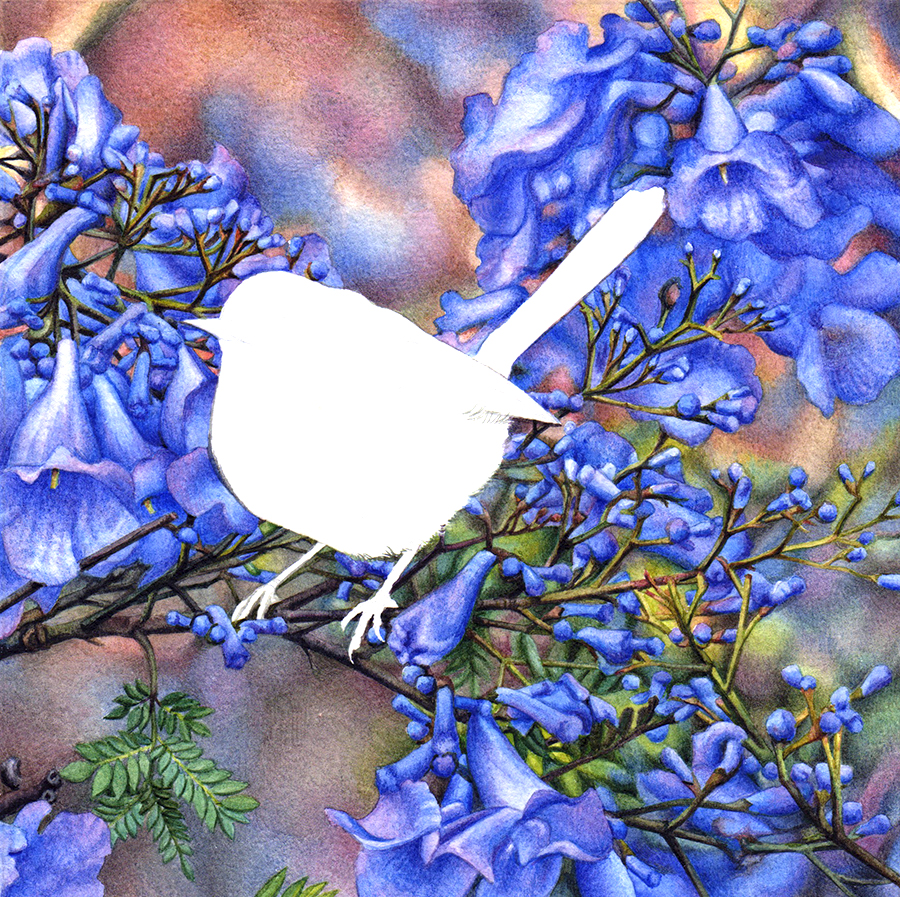 With the background complete, I have just the blue wren to complete for this little painting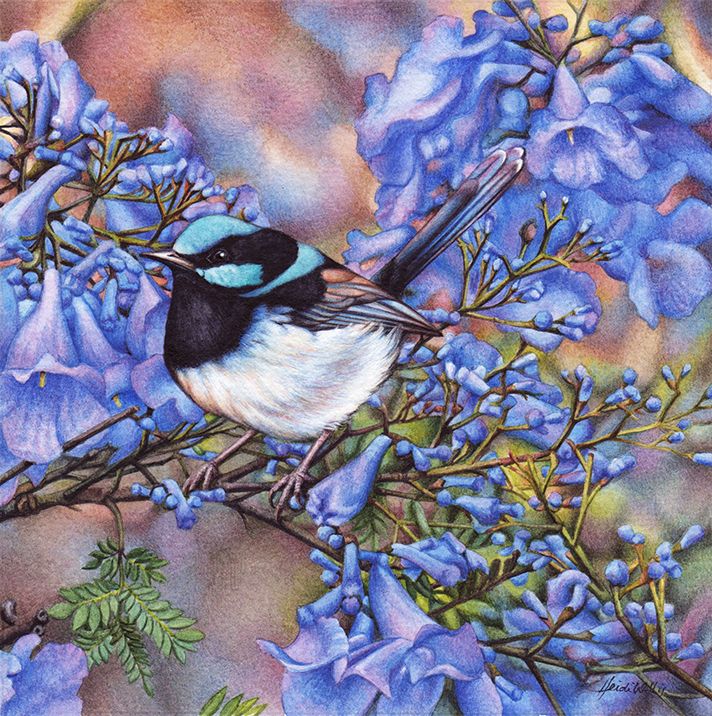 …and finally, the first blue wren is complete, along with the rest of this miniature! Thank you to Nikki Redman for the beautiful wren references, I appreciate you. Its time to start work on the second painting in this pair.
***************************************
The second in this pair has begun…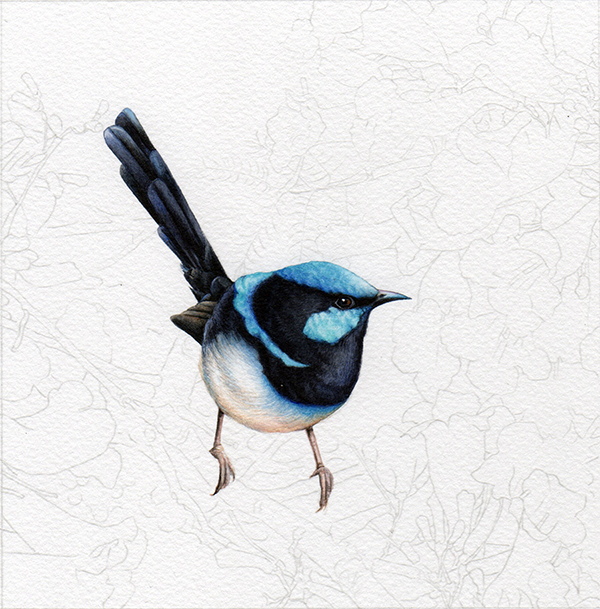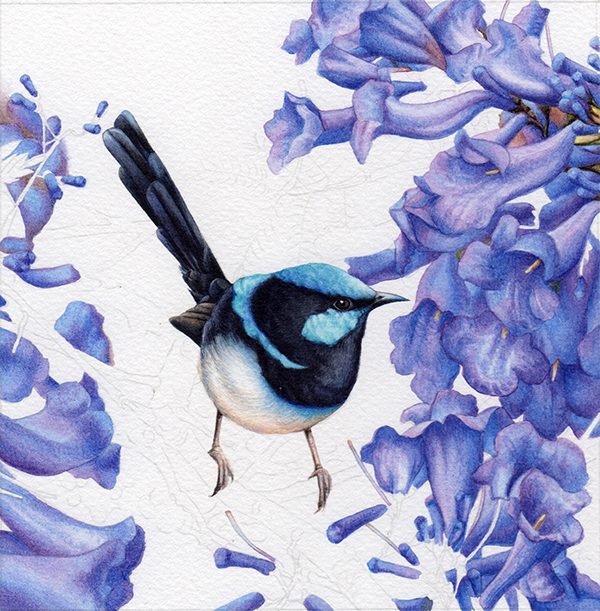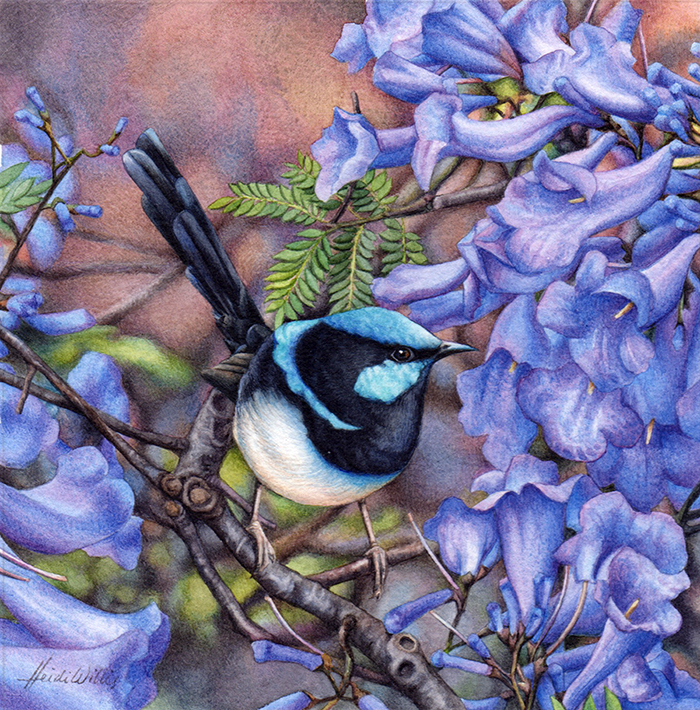 And now the second Blue Wren and Jacaranda painting in this pair is complete and these two are set to go off to their new owner, just in time for Christmas.
***************************************
These paintings are sold but please let me know if youd like to discuss a commission thats just right for you. Anything is possible!