Blue Wrens and Blossom Illustrations – A New Range of Homewares to Come
Whats New On The Drawing Board?
Blue Wrens and Blossom Illustrations – one of my true loves revisited and amplified… Yes its all very exciting! My new project is a return to things I love, clients I love, making more of my Blue Wren and Blossom studies of the past to share with you all. In due course, this new pink blossom and blue wren series of watercolour illustrations will be made available in a gorgeous collection of homewares for all to enjoy, and my client will also be revealed. For now this, the creating stage, is the first step of this project of course but have to say I am VERY excited to see this concept come to life!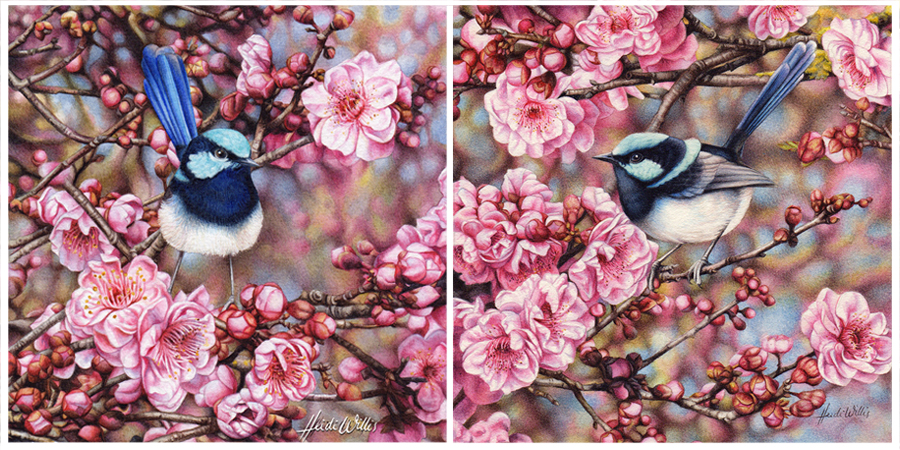 Blue Wrens and Blossom (1 and 2) in watercolour, one of the inspirations behind this range (originals both sold)
My client loved my recent Blue Wrens and Blossom paintings so much that they have approached me to create a new range in this theme. As we sit down to work out the finer points of our vision, I am abuzz with enthusiasm, busting to get started on creating the artwork for this project. The collection this time is a series of 3 blue wren studies and some divine springtime blossom to accompany the wrens across the range of homewares. Little licks of sage and green amongst the composition will prove to be a gorgeous addition to the mix, I have no doubt in my mind at all.  
This range will be a little more lightweight in the botanical element than robust blossom above, with delicate blooms of pink on a white background, the sweet blue wrens resting amongst the springtime surroundings. The Pink Robin painting below is another behind the inspiration for the range, an elegant branch of flowers resting so gently on the open background, in line with the look that we will be creating for this new illustration collection.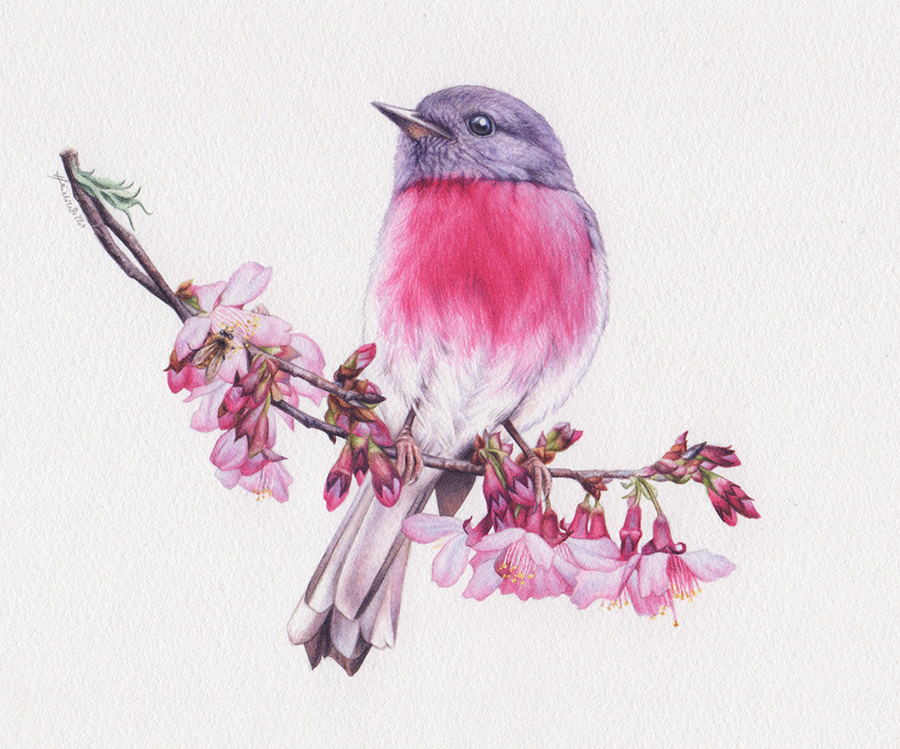 Pink Robin and Blossom, another inspiration for this range (original sold)
I have copious amounts of reference, but never enough. Besides… Spring is upon us! And so I am kicking off this project with a road trip to the rural districts of my hometown as the first signs of Spring find us, camera in hand, to visit all my favourite blossom haunts near and far. My car has heated seats, so now my beautiful Mum likes to come everywhere with me even more, so the two of us will be setting off to treasure hunt bright and early, eager to find just the right reference for this series. Now its an adventure, entwining even more of my greatest loves into this commission. 
**********************************************
Road Tripping for BLOSSOM reference, a big win!

So we start with the reference hunt, off on the search for everything I need to get started on this new project. This is a tree I know well and have worked with many times. It never fails to drop my jaw with its wafting ways of beauty, the petals littering the breeze as they fall to the earth below. The buzz of bees immediately kicks you into the the most industrious mood as your senses align with the surroundings until they are consumed. What heaven.   
Driving down the long straight country road all was bare this morning, but the promise of Spring is so close now I was filled with optimism. Eyes peeled we scanned the horizon and there it was, a thicket of pink, the delight of a mass of blossom in the soft early morning light, another Spring ushering us out of winters chill so delicately. We spent some time, tracking the bees as they scour every blossom, observing the sage and textures of the lichens bedded over branches, the glorious hive of life that is the blossom grove. 
Gathering reference I have the brief in mind, the objective is clear but now the concept refines. I collect what I need, darting in and out of the branches as an Eastern Spinebill does the same. With regard we greet each other, never pausing from our parallel focus amongst the flowers. Eventually I emerge, flowers stuck in my hair once more, somehow renewed and I make my way back home to the studio to start growing visions and emotions into tangible form… a morning beautifully spent indeed. Now its studio time. Stay tuned as I work my way through this project, sharing it here (and on my other social media platforms) with you as I go.   

'Yes absolutely stunning ! love it' was my clients response to my concepts, and with that were away…
And now for the wrens…!
Always a challenge, I rely more and more on my amazing photographers sturdy reflexes and eyesight to capture my small bird reference in time. As my sharp eyes with a camera age with me and my time becomes more and more consumed in the studio, I just cant compete with the magical eye and skill of my much admired photographers. Dedicated to their loves as I am, their skill and input is an element not only of my work, but of my life that I love and appreciate every day.
Working together is always a fun process and I am so blessed to have such support on my path as I do. It makes a world of difference to the quality and quantity of work I am able to respond with in turn. Speaking with my friend and wonderful bird photographer Peter Caddy today, he so kindly said 'I would be honoured if you want to use one of my images'. He has always been generous to me with referencing for my work, and I am so thrilled to be working with his gorgeous shots to illustrate from once again. Thank you Peter!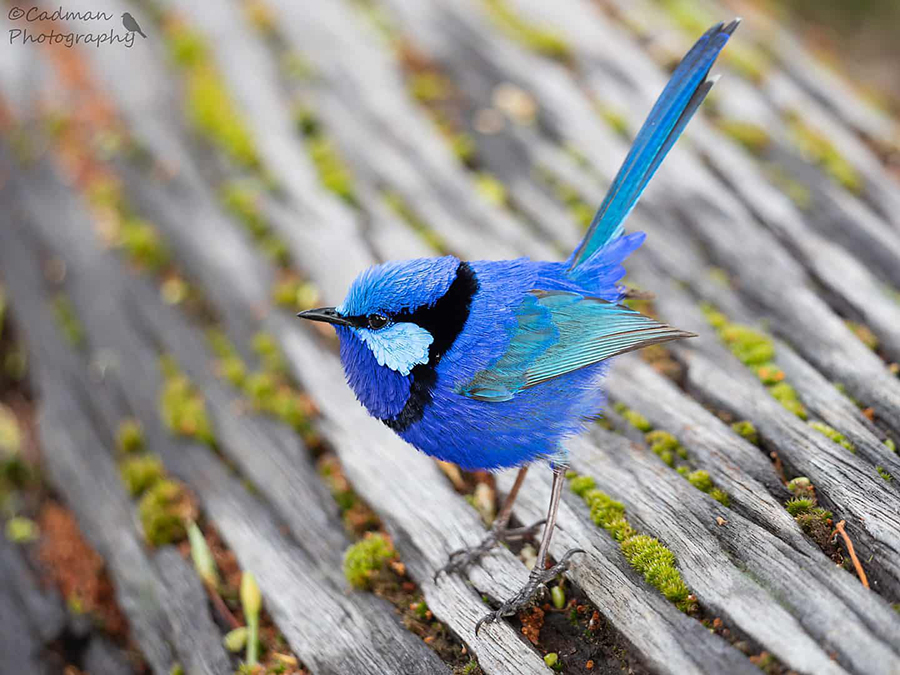 A Splendid fairywren captured by Peter Caddy, what an unimaginably divine creature!
Reaching a decision about the combination and species of wrens we want to work with narrows the field even more and I start to explore even more specific details of each individual element. The final selection consists of 2 x Superb Fairywren and 1 Splendid Wren for the mix. Consideration is given to the pose, colours, overall aesthetics, styling, composition and versatility of each. Single illustrations must work independently and as a collective group for this range in order to work across many different applications and products.

Blue Wrens – A mock up of the selection, ready for the final 👍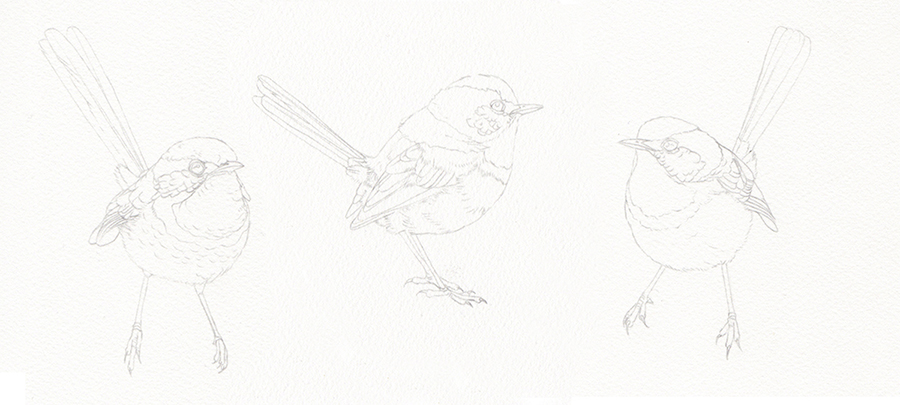 With the thumbs up on the final poses and on the mixture of wren varieties decided, Ive moved on to complete the refined drawings, ready now for painting 
Superb Wren – 1 of 3 wren studies in this series

The first Superb Wren is now complete, such a handsome man!
The first wren illustration is complete, this image showing the progression of the painting from drawing to the completed wren study, all in watercolour of course. Its all about taking your time, falling into the intricacy and character of the subject… a love affair. Small studies allow you to really delve deep into the finest aspects of your painting techniques and skill in an effort to perfect your craft as much as possible. Wrens are such wonderful subjects, full of personality, beauty, texture and subtlety to explore.

The second study is of the stunning Splendid Wren – Original reference image/inspiration thanks to Peter Caddy 🙏🏻
The Splendid Wren illustration beings an intensely beautiful blue splash to the mix, what a divine creature this bird is! Here we see the progression from drawing through to the completed artwork, again, rendered in watercolour. Painting this wren is a genuine opportunity to use all those wonderful blues in your palette at once! Its an exercise of complex colour use, delicate textures, detailing, and capturing a sense of life in your subject.

Finally, the third and final Blue Wren in this series comes to life
The completion of the third wren brings a close to the bird element of this illustration project. A second male Superb Wren in a beautiful side pose is a perfect addition to the mix and will work well to the composition possibilities down the track. Ive enjoyed the wrens so much I may add a 4th to the mix once the blossom is complete, but for now the birds are done and its time to shift my focus to the blossoms. Here we have the final three…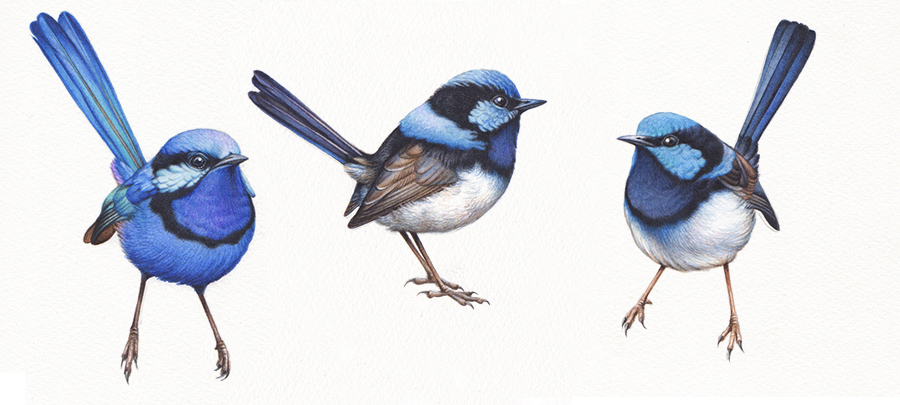 and now, the blossom illustration begins
With the blue wrens complete its time to shift focus to the botanical surrounds, back to the glory of the springtime blossom that kicked this whole creative journey off. I am excited to explore this delicate palette of pink petals, shifting in intensity over their time, earthy branches with a smattering of sage lichen and texture, details of fresh green, magenta, warm sienna and violet features, a final dusting of bright yellow pollen to finish the blossom studies off. They will make a perfect accompaniment to the wrens in their final destination.
I have composed and refined the blossom to a graphite drawing, now ready to be rendered in watercolour. Ill be completing two blossom botanical studies for this collection. Both have been designed to be gorgeous paintings just as they are, but to also give my client as much diversity for applications in the graphic design process beyond my hands. And so the blossom painting begins…

Study one and two of the blossom is complete and this brings a beautiful close to this project, on my part at least. From here they will begin a whole new process in the hands of creative teams beyond me to be rebirthed into so many wonderful new ways, shapes and forms. I am SO looking forward to seeing this range take new shape, thrilled to have played such a part in it coming to be. I must say I am very pleased with the outcome of this collection and I hand it over with great confidence of wonderful things to come. Finally, the original artworks in this collection are available for purchase so please let me know if youre interested in any of these beautiful paintings for your collection.
**********************************************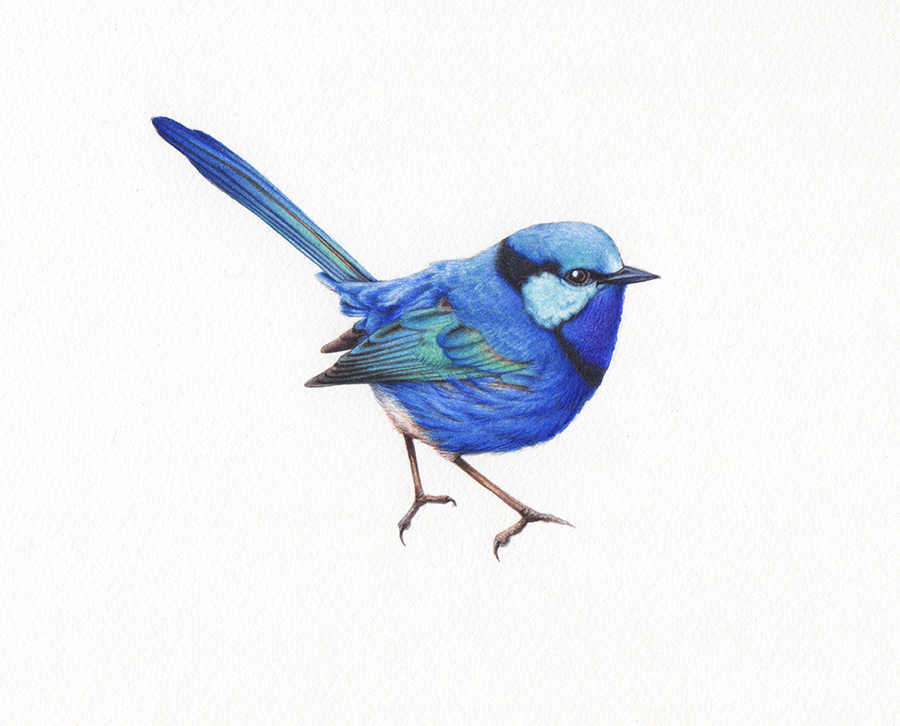 Enjoying this little blue wren illustration series so much, I decided to create a 4th study to complete the set. A beautiful side pose to showcase his incredible colours, this Splendid Wren is a wonderful addition… It also gives my client more choice in the final selection of their range. Thanks to Peter Caddy for the original photography and inspiration for this piece, I am once again captivated but natures magic and perfection.
**********************************************