Sunbird and Passionfruit Illustration – Watercolour – 10x14in – AVAILABLE
'Sunbird and Passionfruit' is my latest Illustration to be added to my 10×14 inch series of Natural History / Natural Science studies in  watercolour. My goal here was not only to capture this bright, joyful moment in time, but to create a bold, elegant painting focussed around these two gorgeous subjects. For me it inspires happy memories of warm places and travel to the tropics, all things colourful, lush and lively. The Sunbird is so gorgeous, tiny and bright, flitting through the outrageous beauty of the passionfruit flowers. Its simple, it makes me feel happy this one and I hope it brings the same sentiment to you also.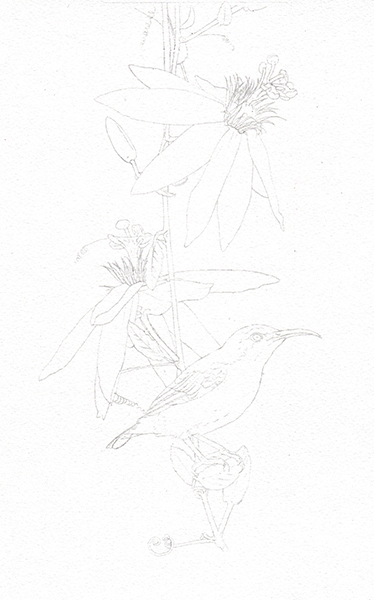 This little sunbird was captured by my friend Alison Nisbett, generously offered to me to create this painting from. The passionfruit flower constantly in my neck of the woods and although I have a gazillion images of this wonderful plant, I can never help myself but to pause and take… another 100 or so shots of it to add to my reference files. After doing this very thing again last month, I figured it really must be time i actually put it into paint! The two subjects make a really energetic combination, full of the good vibes and Im really happy with the outcome.
So this piece sits on a 10×14 inch sheet like all in this series, but with the structure and composition of this one specifically, it is a little smaller within this than some of the others. With the intensity of the subjects, the extra white space seemed like a good balance. I have been so busy this past week or several that I havent got around to posting the progress along the way, but now is the time. I hope youll enjoy this little glimpse into its creation and the final story of my 'Sunbird and Passionfruit' illustration. On the left we have the general composition.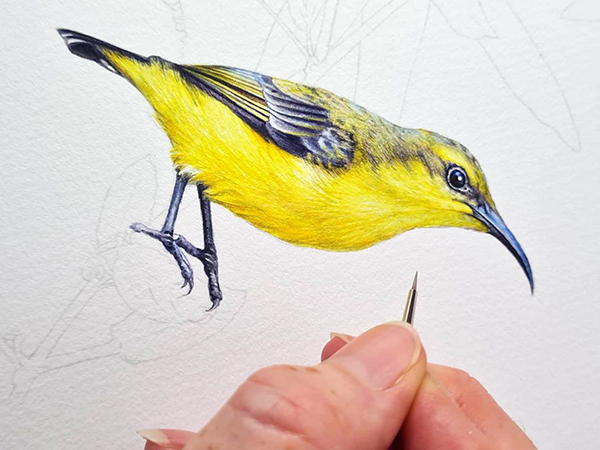 What a sweetie! This little sunbird is so adorable and Im really happy with how it has come together. Sunbright yellows, blue grey punctuations so balanced from top to tail, its just a delightful subject. So with this element completed, its time to turn my focus to the red passionfruit surrounds. I love a beautiful botanical illustration element to every painting I create, and although I illustrate birds for the majority of the time, botanical illustration remains a love from deep in my being.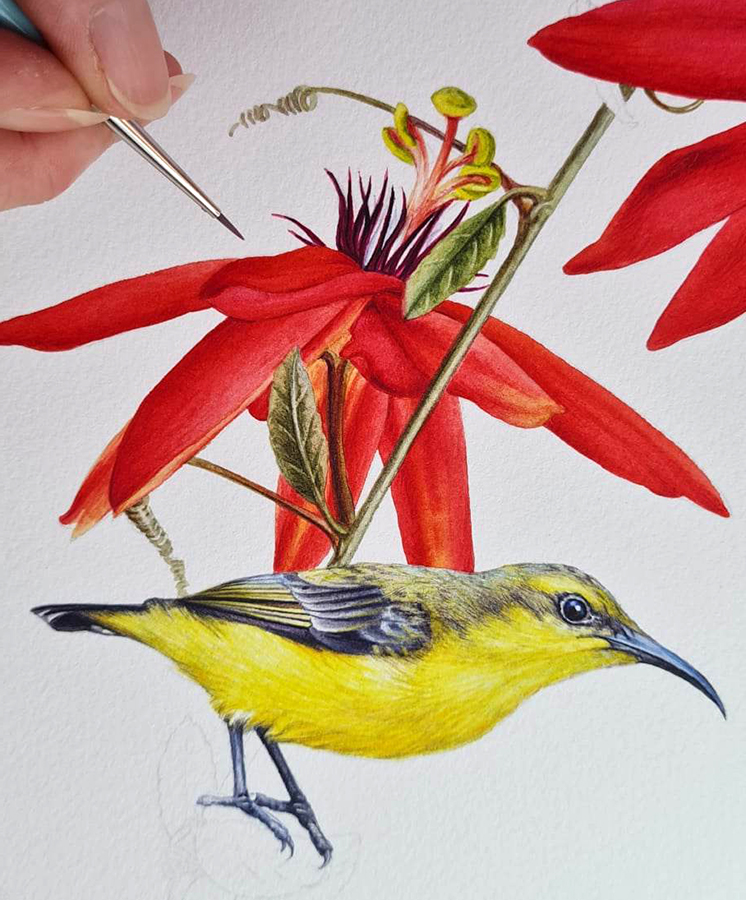 Here we have a little bit of a closer look at the passionfruit flower going in around the sunbird, the brilliant red of the flower almost sheltering the little bird like a glorious umbrella. I love this flower because its a less typical view or perspective. Being a secondary flower, i could afford for it to rest as a point of interest over taking the stage as the top flower does. Its one thing i love about botanical illustration, exploring these secondary levels of utter beauty. Overall i love the way these passionfruit flowers tumble and fall along the vine stem, a show on every angle and perspective.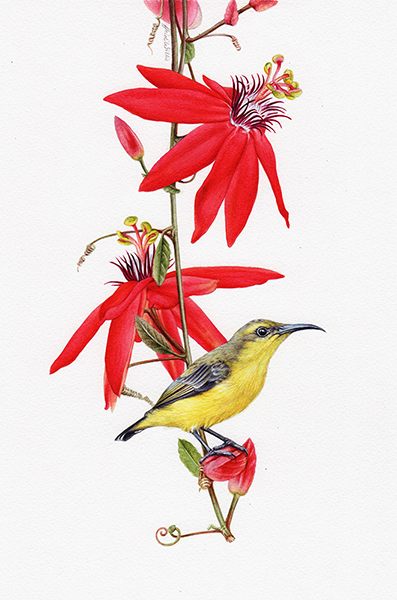 Here we have the final painting, less the subtlety and finesse on every level that the original has! Its such a shame theres so few opportunities to see my work in the flesh these days, but sold work that goes straight out to my beautiful clients to be adored is the best problem an artist can have I know. Its just that so much is missed with the limitations of the internet… for which I am also so grateful for! How wonderful I am able to share my work with you all as I go, its a really remarkable thing. At the start of my career we didnt have digital anythings, no internet, nothing but pencils, brushes, paper and our hands and eyes. How things have changed.
So on that note I share this piece with you all 'Sunbird and Passionfruit' and Ill leave the rest for you to dream between. Thanks to everyone for following along with me here, and on my social media platforms. This painting is the only painting remaining available in my 10×14 inch series currently, so let me know if you have any questions on this painting before its released on my social media in the coming weeks and we can talk about something just right for you… thanks!
***************************************************************************
'Sunbird and Passionfruit' is a 10×14 inch painting, rendered in watercolour and it is currently available
***************************************************************************