Silvereye and Coffee Illustration in Watercolour – 15x15cms – Watercolour – SOLD

Coffee plant in fruit                                                                                                                                                                                   Silvereye image from Phillip Start
Ive kicked off a new small bird study today, making a return to my much loved 15×15 series sooner than I had anticipated. Lately I am just so captured by small birds, snapshots of moments captured on my adventures, and knowing how much ive been enjoying working on these paintings, so 'Silvereye and Coffee' illustration in watercolour is the newest addition to this personal favourite painting collection.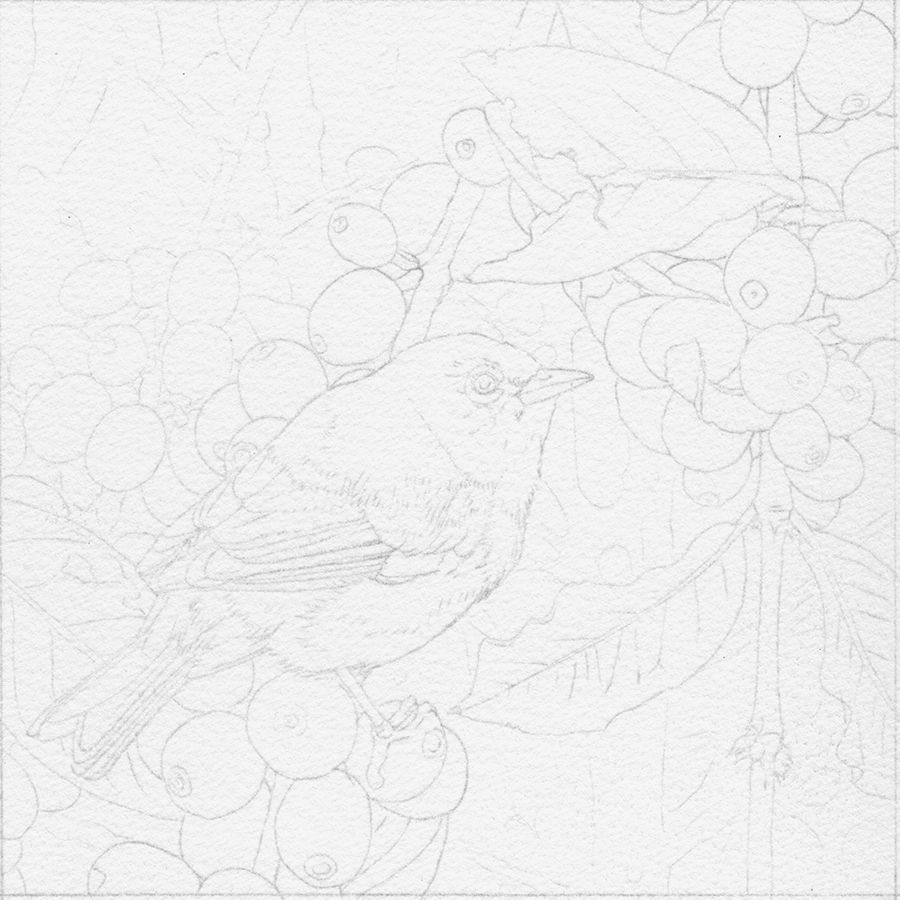 I love this composition, its familiar, sweet and yet somehow theres something so different about this mix that really excites me. Sage greens behind brilliantly coloured coffee beans, a gorgeous, and a simple fading leaf that mirrors natures colour story in the silvereye so beautifully. The silvereye is my little hero in this painting, so sweet and bright with his tiny tiny white feathered eye and splash of mustard yellow as he bounces around, so at home he is almost unnoticed. Another inspiration from my friend Phillip Start, I hope to rebirth his beautiful silvereye capture into a whole new story.
Some pieces take soooo long to compose, others fall into balance almost immediately, and this seems to be a marriage that worked immediately. I spotted the coffee hedge growing not far from my home in full fruit and its beauty quickly inspired me back to this series. I hope to return to the hedge again in bloom later this year to capture this coffee subject in a different light, one of full flower.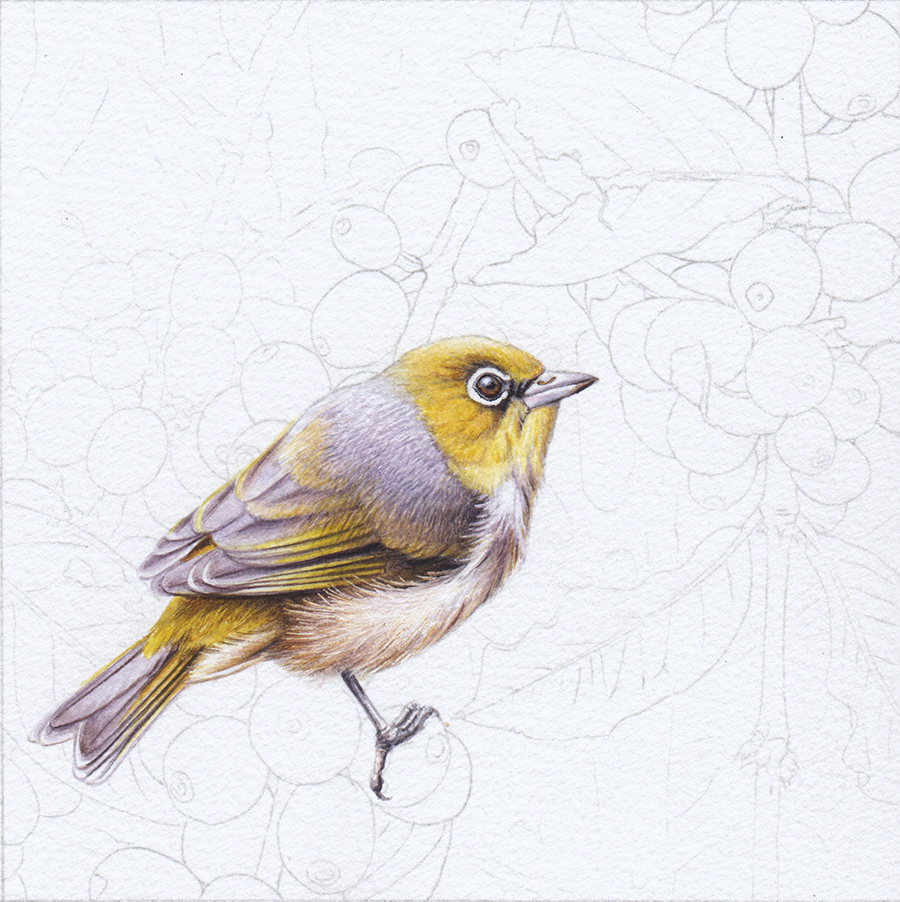 They are so beautiful in bloom so itd be wonderful to revisit it in watercolour again, in a different season. But first I shall tackle this one, the spectacular coffee berries in the height of their colourful beauty and Im starting as always, sharing the drawing with you now. Pop back in time for the development of this silvereye and coffee painting, or be sure to follow me over on my social media pages for far more on my paintings coming together. Thanks for following!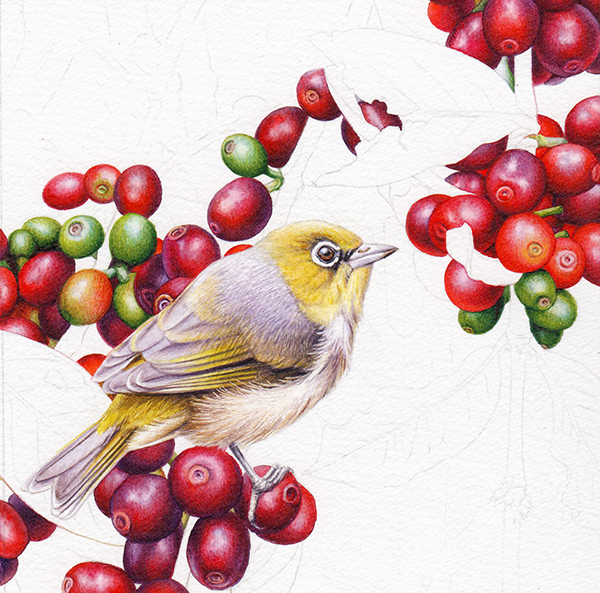 Berries of any kind are not easy to do well, let me just exhale and start there… BUT… how satisfying they are to paint. My goodness, who knew coffee had so many ways to love it? What a spectacular subject it is and yes it takes time to do well, but its time well spent as I always say. Burgundy reds, orange to yellow, pinks and greens, ochre and blues, every colour can be found in these coffee berries and its just such a visual feast for the eyes! I absolutely love them, the way they cluster and flow, the way the colours ribbon through the rainbow as they ripen along the branches. Its a delicious nightmare to paint, but I am already dreaming of a return to this subject soon.
This painting has now found its perfect forever home as the coffee fruit challenge comes to a close, the last orange fruit a perfect punctuation to this element, and they look truly sensational. Its time for a gear change to the equally beautiful, complicated and multicoloured coffee leaves coming up next.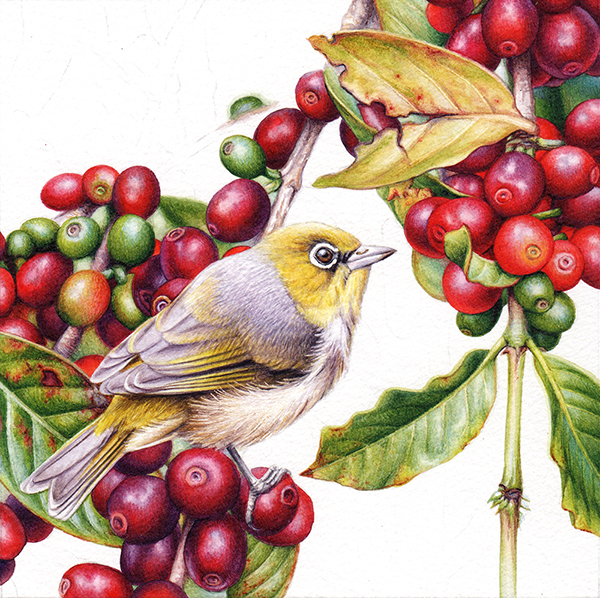 The leaves are completed now, beautifully fading and weathered to bring so much interest, colour and variety to the palette. I always love this stage where everything is complete but the background, birds and botanical subjects resting cleanly on a white background. Its a classic natural history style of illustration for bots botanical illustration and birds… but I will include a background in this one which we also love. Ill be back with the final step next, wrapping up this 'SIlvereye and Coffee' illustration.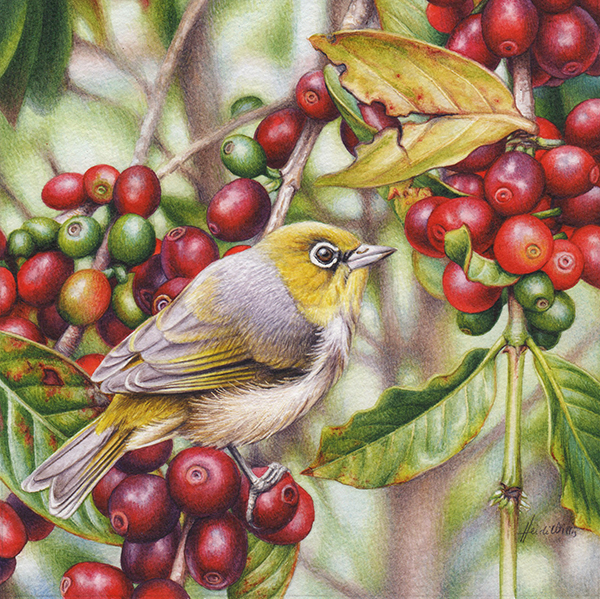 And now the background is complete, bringing this painting to a close
******************************************************
This original 'Silvereye and Coffee' painting is now SOLD. Let me know if you have any interest in this series as there are more planned…  I am excited!
******************************************************