Rose Robin and Brachychiton – Watercolour Bird Artist – 15x15cms – SOLD

New to my drawing board is another painting in my small Australian bird series, this time featuring the utterly divine Rose Robin amongst the equally beautiful Brachychiton. The Pink and Rose Robin are so amazing that such a creature feels like it could only exist in ones fantasy, but no, they are very real and have to be amongst one of the most adorable, magical small birds we have. Of course… of course… as a bird artist they are a favourite of mine and are another essential subject for this collection.
This painting will feature a delicate palette of pinks, blues and sage greens, gently illustrating the beautiful textures of rose robin feathers and the pinkish insides of the Brachychiton populneus. Veils of mystical flowers fall gently around the robin to create an especially gentle atmosphere in this painting and I am really looking forward to bringing this new story to life.
Not being one to waste a window of time and opportunity even if tiny, I have begun working on this piece as I wait for other briefs and layouts to be approved and so we have a beginning in the least. Though it will have to be done around other work and time spent away at the Birds In Art event in the USA soon, it will be worth the wait i promise.
The Rose Robin reference image comes with huge thanks to a wonderful woman and photographer Alison Nisbett, the Brachychiton from my own research and referencing along one of my many field trips. Ive worked on the well known and celebrated red Brachychiton in the past (pictured below) and swore never again, but here we are somehow excited about the challenge of painting this plant once again. Ha! I never learn hey? Next ill be doing it as a major work…you cant stop the crazy bird artist in me!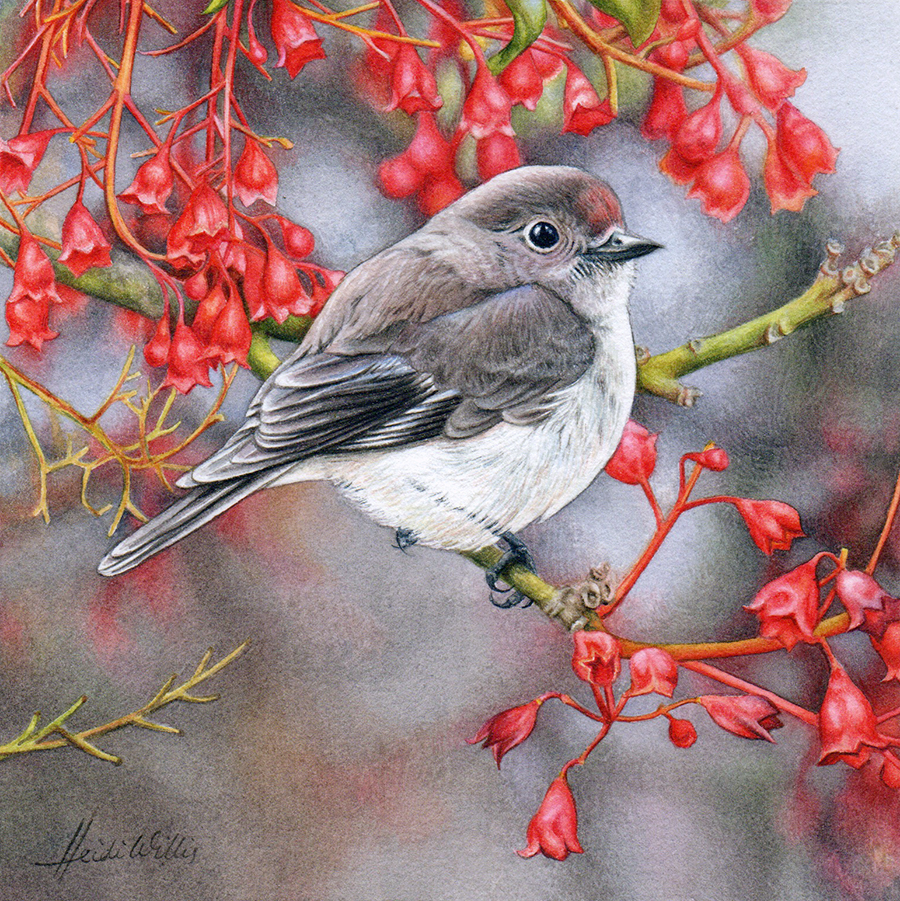 'Red Capped Robin and Brachychiton' – An earlier work of the Red Brachychiton (Brachychiton acerifolius), commonly known as the Illawarra flame tree
This time im focussing on Brachychiton populneus a less showy tree at a glance but every bit as wonderful, and the more you look at this variety, the more you come to appreciate its splendour. Certainly it is a fitting subject for this collection and my attention, but i also love the way it interplays with the Rose Robin. And so it is, Rose Robin and Brachychiton come together to make this new beautiful small Australian bird study in watercolour.
I hope you will join me again as this painting unfolds, you know I love having your company. I do have to race away from this piece for a moment, but it has begun, first up comes the drawing
The graphite drawing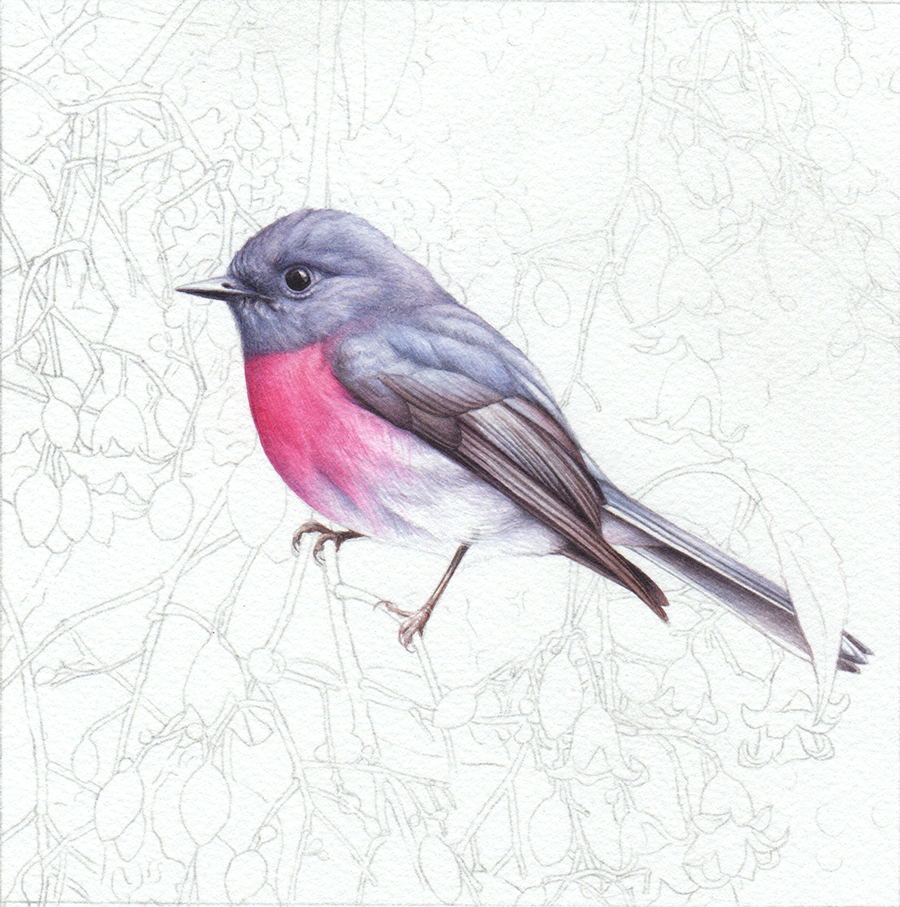 The completion of my beaaaaautiful little pink baby, the Rose Robin. So magical!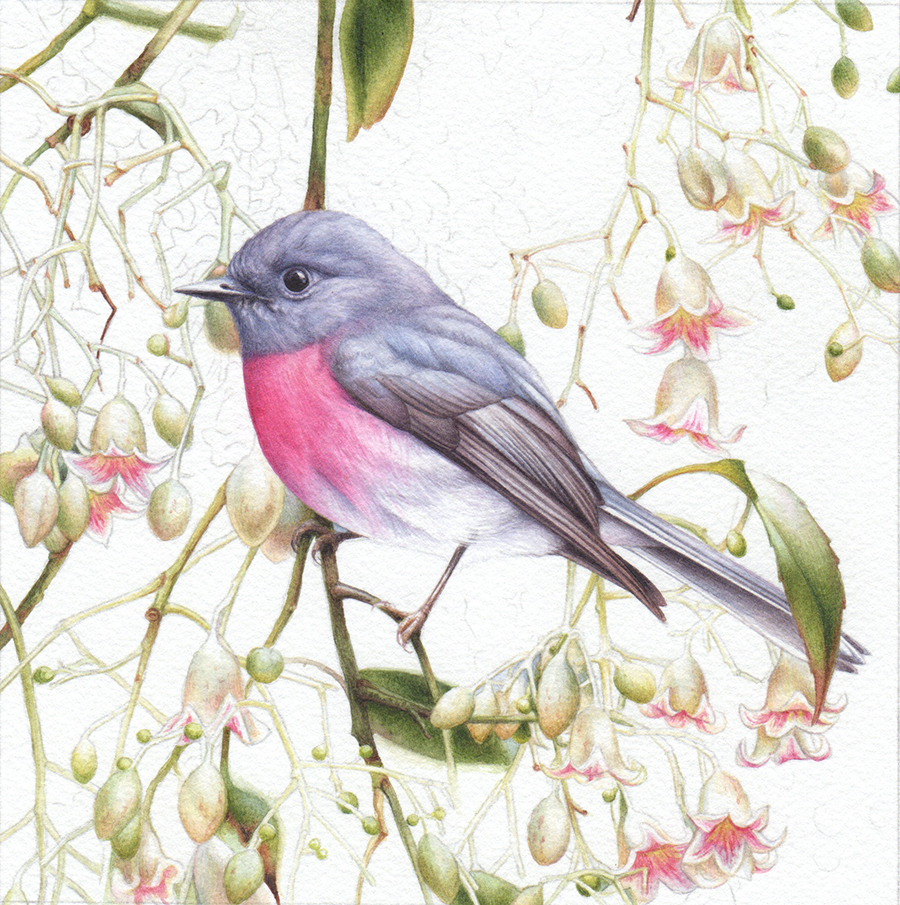 My rose robin now settles into a delicate brachychiton environment with the background to come next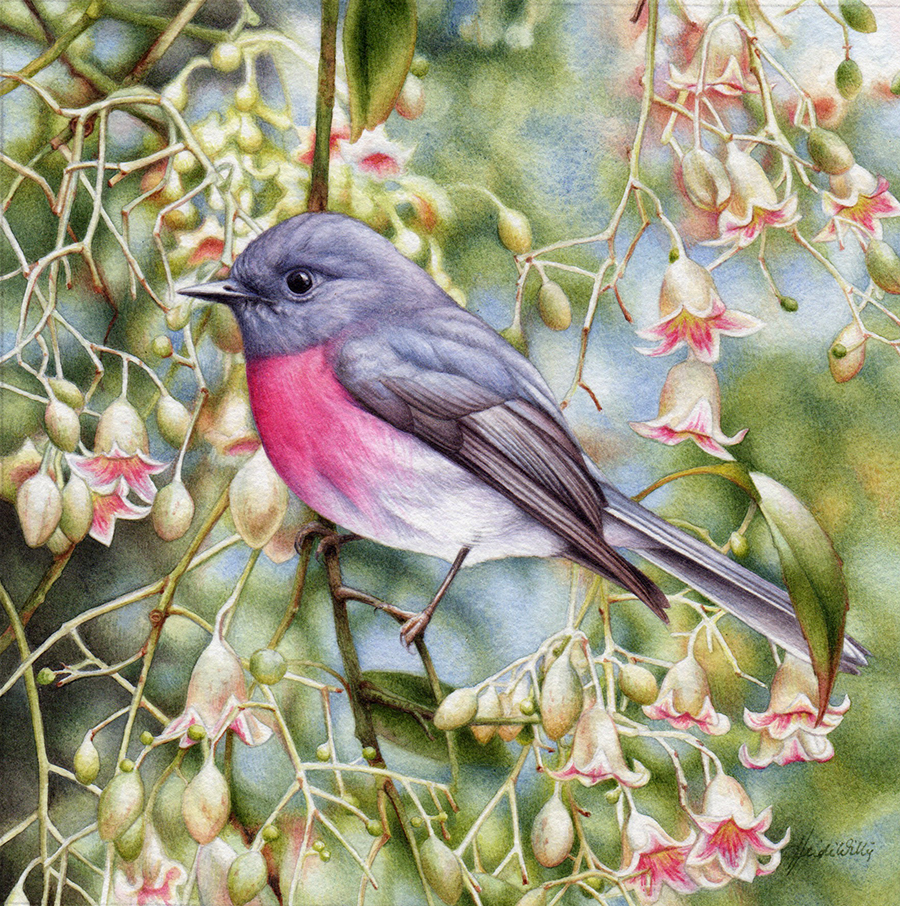 My latest bird painting, 'Rose Robin and Brachychiton' is complete. See more on my YouTube Channel
***************************************
'Rose Robin and Brachychiton' is SOLD