Red-Browed Finch and Tree Waratah – Acrylics – 225x150mm – SOLD

Although I have painted the Tree Waratah on a larger scale with the Black Cockatoo earlier this year, it is time to explore a different variety of this stunningly beautiful tree waratah, the Alloxylon pinnatum in my new bird painting. In a less compact, more free flowing form and a slightly more pink palette from the last study, the is a small painting combining two of my favourite things, red and flowers… not to mention a sweet bird and a whole lot of painting! How can you go wrong? Well you just cant.
The reference was collected on a recent road trip through the Blue Mountains area of NSW and was most obliging with its low slung, spreading branches and boughs of spider like flower clusters. I clambered right in amongst the flowers with my camera and risked life, limb and eyeballs as the nesting Magpies relentlessly dive bombed me from above. This is a risky business, this botanical art thing, but I also am relentless and didnt depart until I had my swag of reference photos tucked safely away… though I must say when I did depart, i was running with my camera well over the top of my head to safety! Any Aussie knows how the politics of nesting time is.
Ive chosen the Red-Browned Finch to compliment this piece for its ideal small size, its sweet and gentle nature and for the way the colours of this gorgeous bird play into the palette of the Tree Waratah so well. Of course you all know by now that my favourite thing in painting is the thorough exploration of the complex dialogue and relationships of colour, particularly in nature.
Id like to thank one of my very favourite bird photographers Peter Humphries for the beautiful bird image.
Of course these subjects offer so much more than that to my spirit, the rich textures and dynamic structure that packs such a punch, yet whispers so delicately. With just days remaining before my flight now, I am certainly working hard and enjoying bringing this study together, a last hooray of this long, amazing, endless work stint in Oz… for now.
On Facebook we are playing a guessing game on what this one could be, so I suppose we shall soon see if anyone reads my blogs! Ive found enthusiasm for the game, joyful engagement (thank you) and a swag of fab suggestions along the way. I have found myself, despite being incorrect so far, placing many of your thoughts on my ever growing 'must paint' list. So, as the clock ticks furiously away this week, Ive barely left the studio and its time to share my progress so far.
Stay tuned for new updates on this creation shortly and thanks for following along. This painting is currently available for purchase, my only remaining bird painting thats available from the year, so please let me know if youd like to call it your own.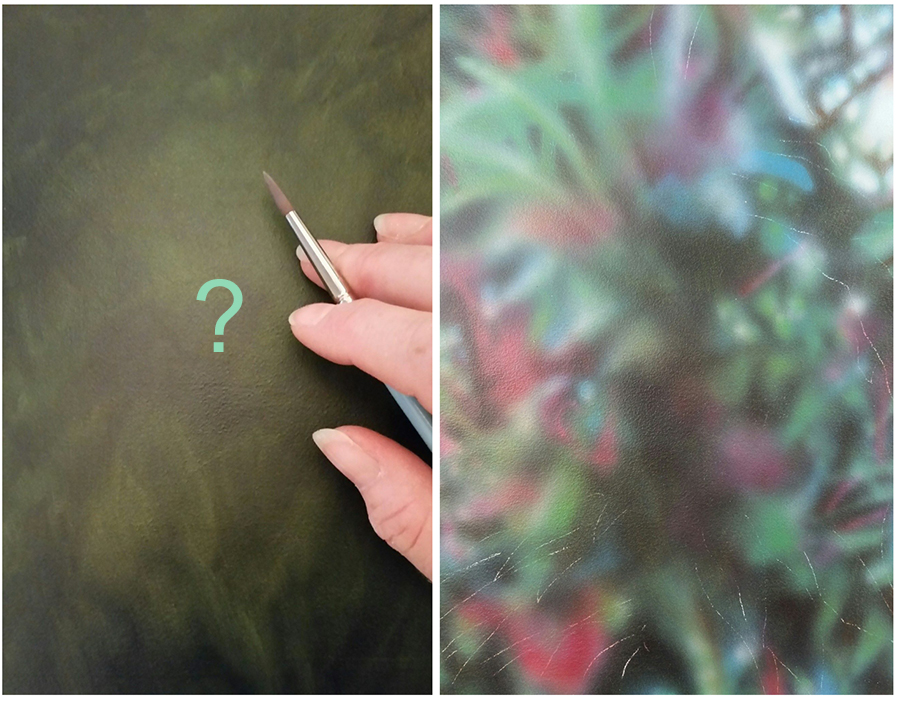 Step 1, what one person rightly suggested was 'moss without your glasses', the mystery began.
Step 2, correctly suggested was 'a plant' 'something beautiful' and 'flowers'. It still makes no sense I know, but I just like it when everyone plays along
Please note this painting is now sold, thank you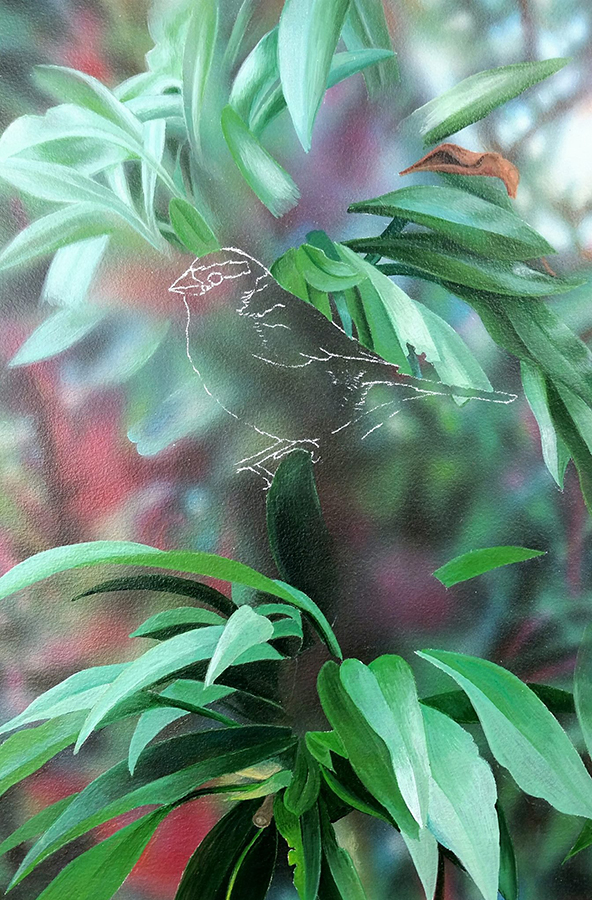 This latest update shows the leaves of the Tree Waratah being mapped out and roughed in over the background. You can also see that the Red-browned Finch has been set into the picture now too.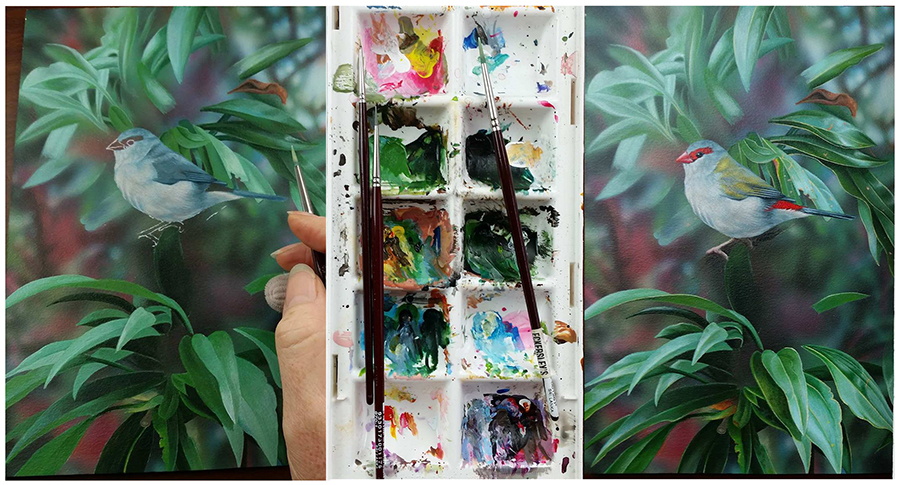 The Finch is developed into the rough in stage and is then slowly refined with its features, subtle colour and textural details progressively evolving to completion, and the leaves follow suit bringing lustre, light and life to the foliage and surrounds.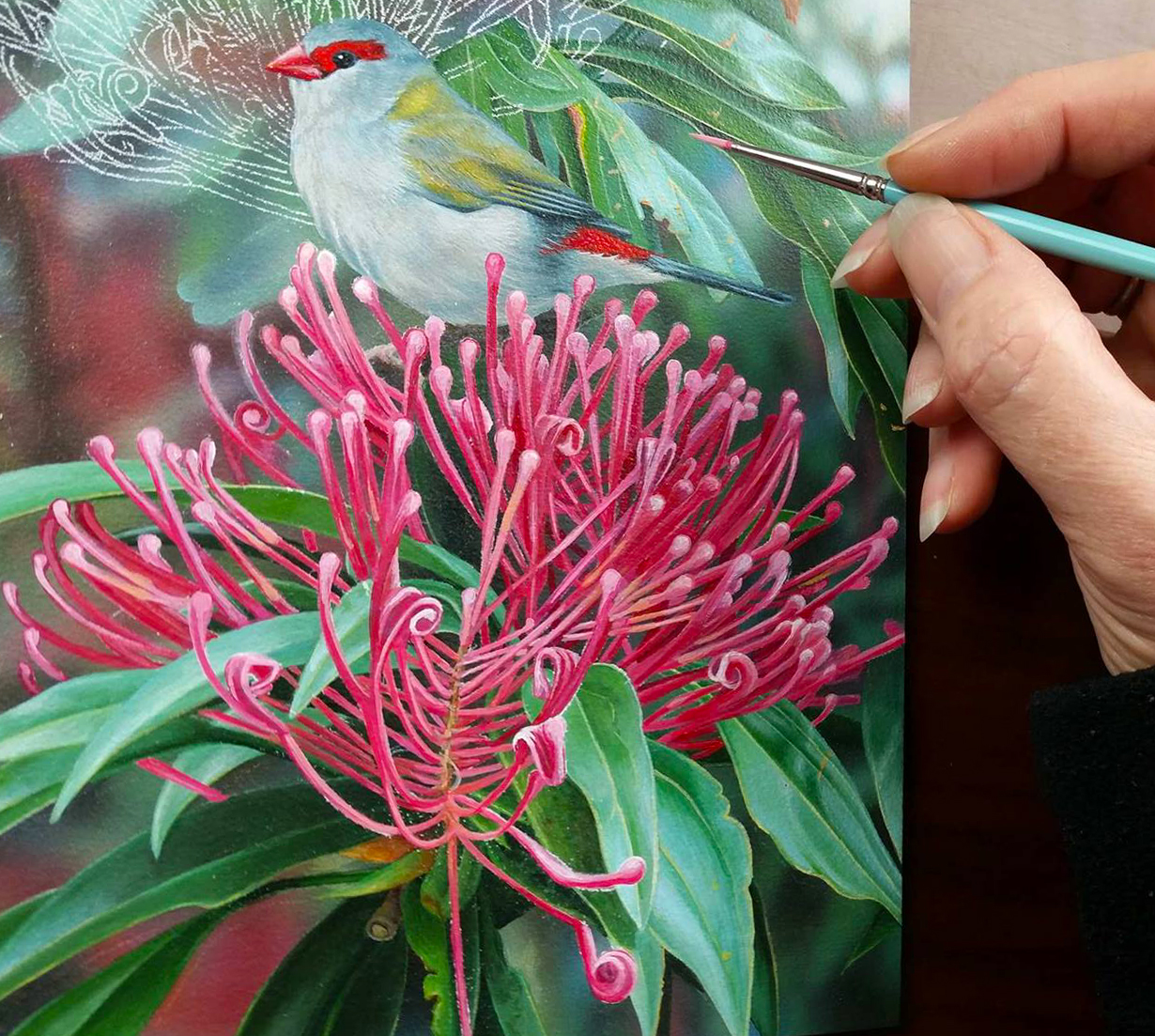 With the bird element of the painting complete and the little Silvereye and Blueberry Ash being delivered to my very happy (and lovely) client today, I reluctantly departed from the warmth of the cosy farmhouse fireside and returned to the studio to start creating the first cluster, or inflorescence, of gorgeous tangled pink and red flowers of the Tree Waratah. The end is in sight, but the flowers are… soooo much work! No surprise there at all, but i so love it.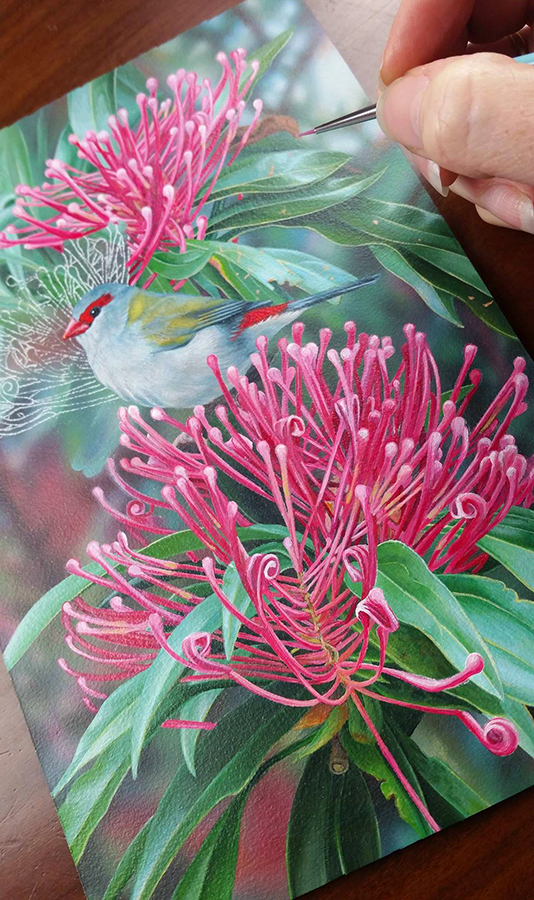 And now as another studio day ticks over to midnight, work has continued on the flowers late into the evening (without any cosy fireplace at all, so sad) spreading into the top half of this painting. I can work no more today but tomorrow should see the end of this sweet Red-Browned Finch and Tree Waratah painting, ready to head to its new home and owner in completely perfect time… I really love this synchronicity 🙂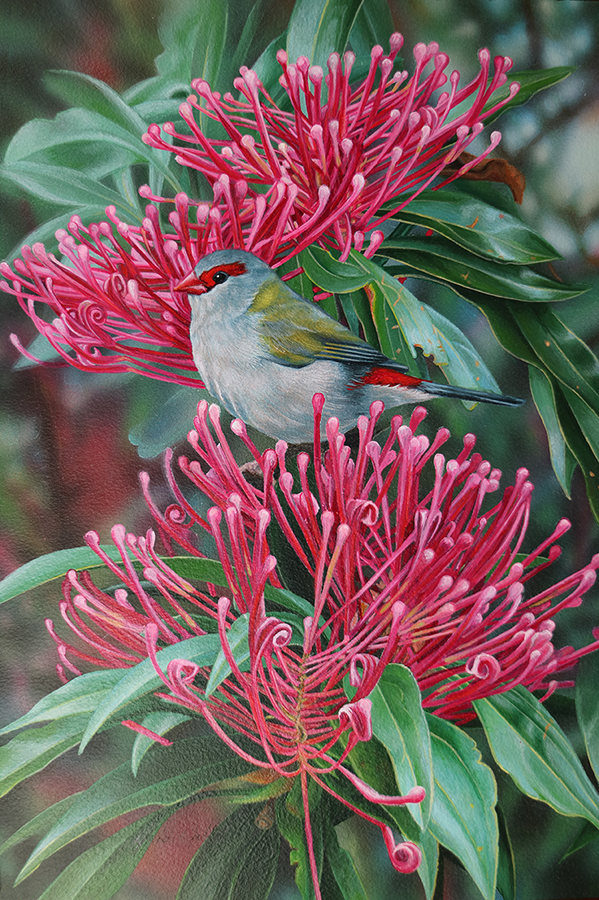 The completed painting, 'Red-browned Finch and Tree Waratah'. Thank you all so much for following… and with that, I have a plane to catch for my next adventure! Obrigado e despedida por enquanto 😀
(This painting is now SOLD)