Lear's Macaw and Tabebuia – Watercolor – 90×66cm / 35x26in
YES its major work time again!
I know I know, so many of you were a little bit sad about the last major work 'Lecythis and Hyacinth Macaws' coming to an end, but I promised there'd be more to come soon enough and true to my word between all things, the next is about to begin. Yes its time to pull up your chairs and buckle up for another long haul as 'Lear's Macaws and Tabebuia' is set to take flight and you know I love having you here to join me.
The fourth in this series of natural history major works measuring 90x66cms in size, 'Lear's Macaws and Tabebuia' (Brazil) will soon join 'St Vincent's Amazons and Cannonball Tree' (South America), 'Sulfur-Crested Cockatoos and Silky Oak' (Australia) and 'Lecythis and Hyacinth Macaws'  (Brazil) in the White Room Collection.

'St Vincent's Amazons and Cannonball Tree'           'Sulfur-Crested Cockatoos and Silky Oak'        'Lecythis and Hyacinth Macaws' 
The Lear's Macaw, or Indigo Macaw, is a large, all blue and extremely rare Brazilian parrot which is very similar to the Hyacinth Macaw. The body, tail, and wings of the Lear's Macaw are dark blue with a slightly paler head and measures between 70-75cms in size. Similar to the Hyacinth Macaw, it has an area of pale yellow skin adjacent to the base of its beak and striking yellow rings around the eyes with large dark coloured beaks and dark grey feet. A simply beautiful bird, it is essential that its beauty is captured in this global natural history series.
Horrifyingly, the numbers of these incredible birds fell to under 100 in the early 1980's, and even more disgracefully, the numbers in the current day are equally as scary to consider… an all too familiar story for our precious wildlife unfortunately. With numbers so low, you can imagine my complete excitement as I passed by the armed security guards and was allowed some very rare access to not only see these parrots for myself, but to spend precious one on one time (or one on five!) with these extremely rare macaws.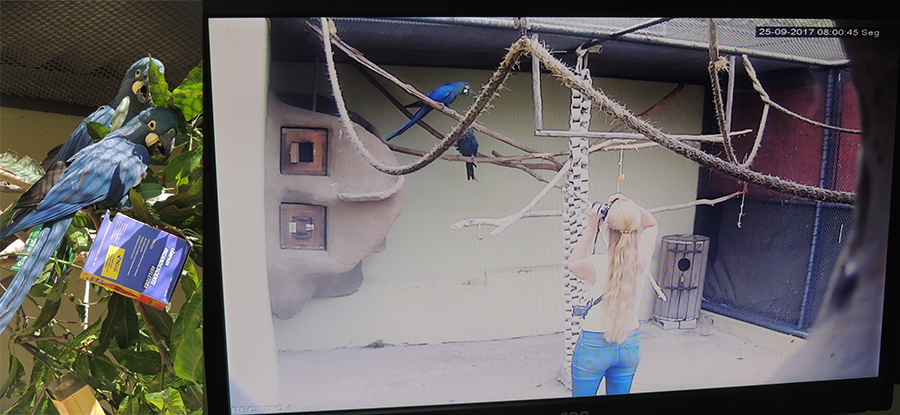 Image taken from those watching over me via the security surveillance system whilst I stepped inside the Lear's Macaw enclosures… amazing moments!
The lear's Macaw nests in a specific variety of yellow tabebuia, a critical host plant to this amazing bird, however as this painting is part is a smaller series of blue macaws surrounded in pinks and whites within this collection, aesthetics also need to be taken into account along with the science. As such, the focus plant I will be working is one of the most beautiful trees I have ever seen, a white Tabebuia with a stunning, delicate pink throat which is also found in the natural habitat of the Lear's Macaw.
Days and weeks were spent hunting them down all over the place on my Brazil travels, with such delight with every find. This is my favourite one found and the specific tree I will be illustrating with the Lear's Macaw painting. Just seeing this image brings so many thoughts, feelings and emotions flooding back to me it seems quite overwhelming. Certainly this is an artwork that comes from some of the most personal, joyful and happiest moments and emotions Ive known, the sentiments of which I hope to capture in some way through this piece.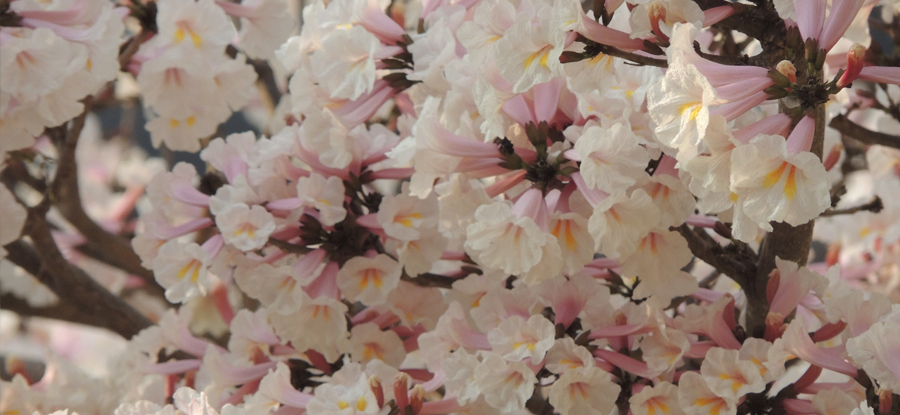 Stunning Tabebuia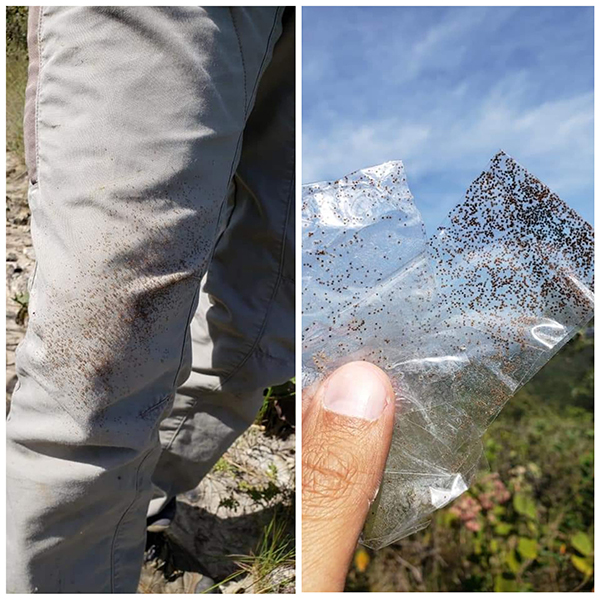 When I said we battled intense tick infestations doing the field work for these macaw major works… I wasnt joking!
I have some particularly special people doing wonderful things in the world to thank once again, for allowing me this opportunity during my travels in Brazil, and for making this work possible… Needless to say it was a particularly incredible experience ill not forget in my lifetime, and one I will do my very best to honour through my work. Your commitment and openness, and the love you shared with me will be in every stroke of my brush thats for sure! With this journey already in my being, lets get started on bringing my new bird painting, "Lear's Macaws and Tabebuia'  to reality at last.
The investment made in these natural history major works can only be described as epic. On my part it requires traveling large distances, jet lag, strange environments, dose upon dose of vaccinations that have literally begun to ruin my body (a lot less than the diseases would however!) infestations of parasites that add to the physical strain, hundreds of ticks covering my body, baking in the blistering sun, long days spent walking in the wilds as I traipse overland in strange and often quite unsafe parts of the world doing field work in search of the required reference, knowledge and information needed to create these pieces. There is a price financially, physically and emotionally, but such a remarkably rich reward in the experience, the vastness of my world, the opportunity to see the incredible things I see, the magical people I come to love along the way, and finally, the chance to express it all to the world though my work in some way. Certainly, these paintings are very large and remarkable slices of my life even before I reach the studio and this painting is no different.
Once I begin each story in my studio, I commit myself to months of unbroken painstaking work, sleepless nights, blistering hands, bruising on my arms, and a collection of mental, physical and emotional exhaustion as I run the marathon to reach the incredibly satisfying end point of each painting. It is all consuming and some of my most important life's work, there is no doubt. And so I am here again, grooming my mental space intensely as I begin the process forward in anticipation for the long haul of bringing the 'Lear's Macaw and Tabebuia' into sight. If only I could tell you all I have come to know and love in telling this story. Hopefully something in my work can express this depth and love to you as a viewer of my work.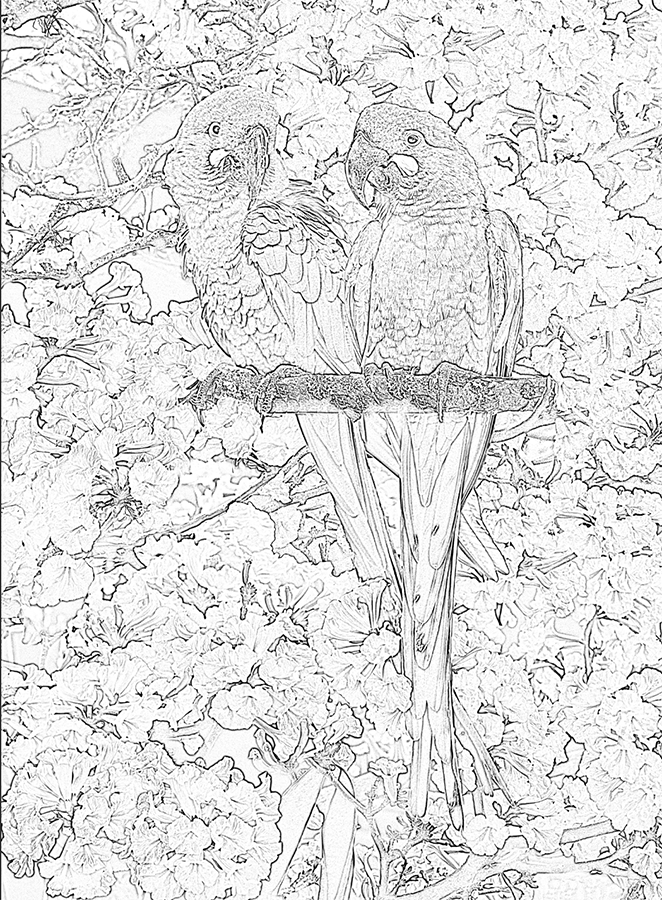 The general layout Ive created of this Macaw painting has been simplified to line work and enhanced in Photoshop to give you a better idea of the overall direction of the piece. From here the graphite drawing begins which is far more intricate, and even more so again in the painting process. You can see, we have a pair of Lear's Macaws amongst the abundance of the pink throated white Tabebuia featured in this study.

With hours and hours… and hours of the drawing complete at last, I move on to wet up my brushes and begin the painting process. It feels good, like stepping into the start of a new, somewhat intrepid adventure… much like my trip to Brazil was in fact, in search of the reference for this painting. Of course the task is daunting, but I am in love with the subject, the colours, each little section of this piece that will make it complete. And so I begin, wetting up my Permanent Rose, a dash of blue and yellow and jump in to the first crinkly textured, delicate white petals of the tabebuia flowers. Its clean, fresh and incredibly romantic. How could it be anything but a love affair!

The flowers are underway, and probably will be for ever more!! Its a drop in the ocean but it all adds up… Its soooooo much nicer in real life, how I wish I could share it with you better, the delicacy and romance of this subject, palette and piece.
*************************************
Weeks into this painting, I am drifting through the tabebuia flowers, branches and background, falling into its delicate light, colour, textures and romance between all things. Teaching away in recent weeks, working on the current series of botanical ink illustrations, and of course the Sydney Parks Project illustrations have all been on the go non stop since the end of 2018, but it is a beautiful balance for me, ducking and weaving my way physically and mentally through each space. There is no love lost on this one, it is nothing but a treat to return to as I am able. As I always say, small steps still cover many miles, as this marathon has to be and this painting is a perfect example of that.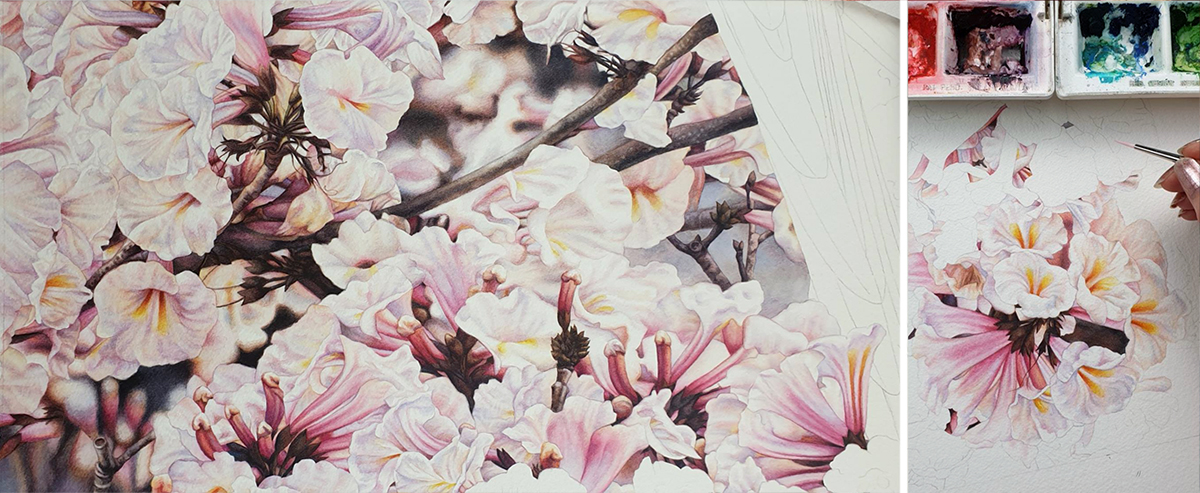 Though it seems like more and more of the same, i never allow my mindset to accept this. Delving into the uniqueness of every section with fresh perspective and mind keeps the painting alive and singing from start to end. It is but the reflection of our inner world on paper, so this headspace is managed more carefully than ever throughout the major works.
Sections of violet brown and sienna branches emerge from the softness of the blurred backgrounds, white tabebuia spilling over the page with pink throated clusters of blooms consume my white page, slowly but surely as i edge my way down the left side, almost connecting with the bottom edge at last. Theres plenty more to do, but it is going very nicely i think. I hope you enjoy todays update on its progress. You can see a short clip on the progress so far on my Youtube Channel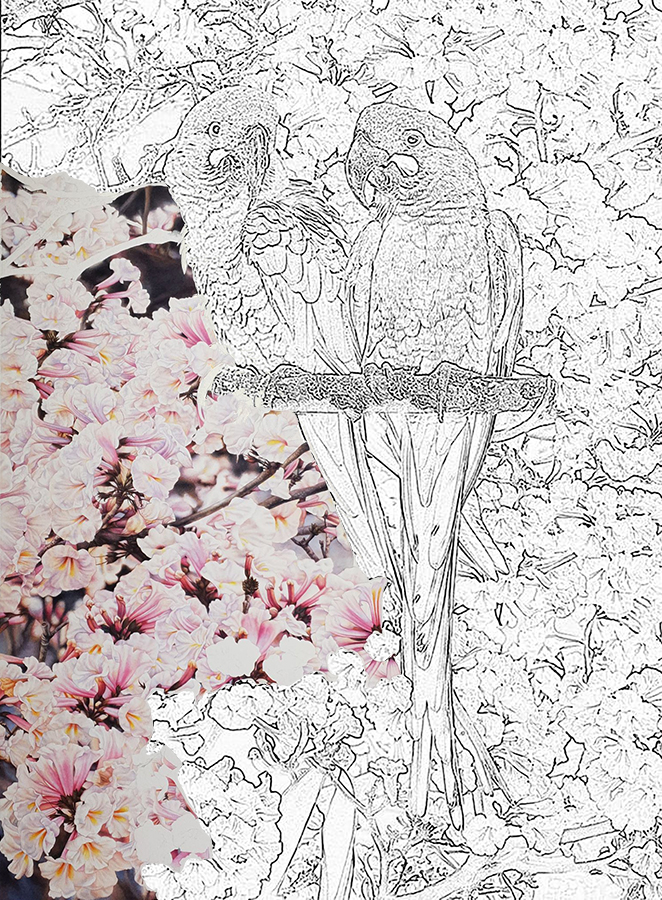 A little update on the overall painting shows you the progress so far. There is still plenty to get through yet, but its coming together nicely, finally making contact with my brush to the bottom edge of this painting. Work will continue on the beautiful clusters of tabebuia flowers now to the right side as i work my way through the background to the starting point again.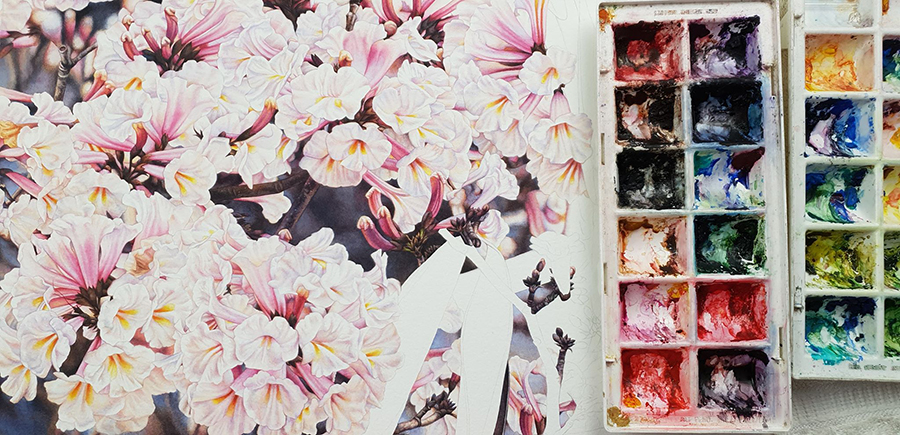 It has been a little while since I have updated you on the progress of my Lear's Macaw and Tabebuia major work, mostly as it has been so well covered as Ive worked on it that it has been hard to get a free shot of it in its large entirety. Today though, it is time to update everyone on where it is sitting.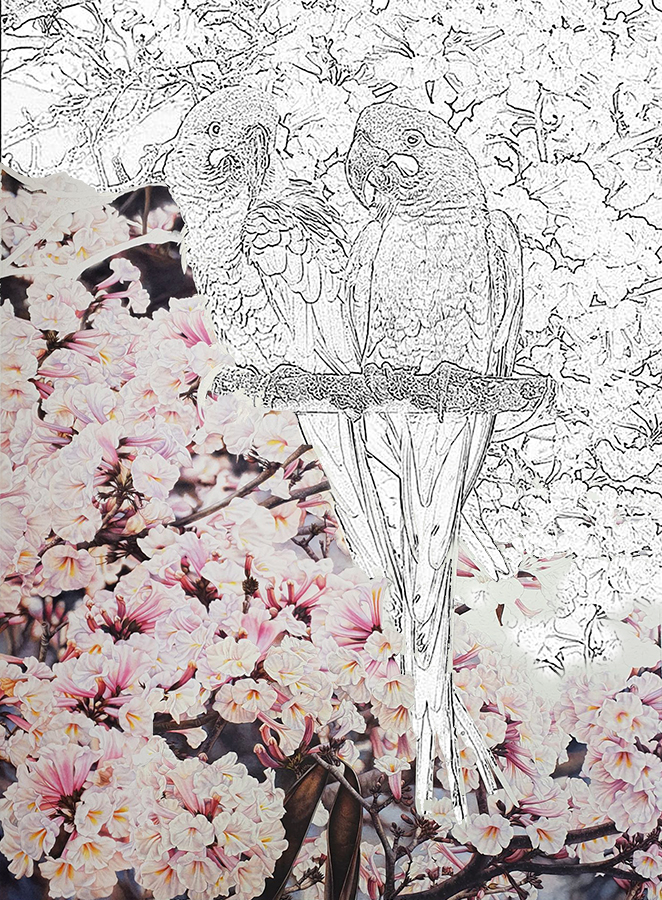 Ive been working away on this quietly over the weeks and months between the various projects I have had on my plate, covering the bottom end of this painting with its abundance of tabebuia flowers, bold branches and delicate blue background popping through the blooms here and there until it finally connected to the far right edge. Its slow going of course, but I am loving this piece and seeing it slowly emerge from white nothing to tell such a story.
Its difficult to capture and reflect these large works in a way that does it any justice at all, but I have a new composite image to give you a sense of its development and direction over the last period of time in the studio. There is a lot to do but I am happy with how its unfolding. I hope you enjoy this next instalment and stay tuned as I continue tackling the right side of the background from here on.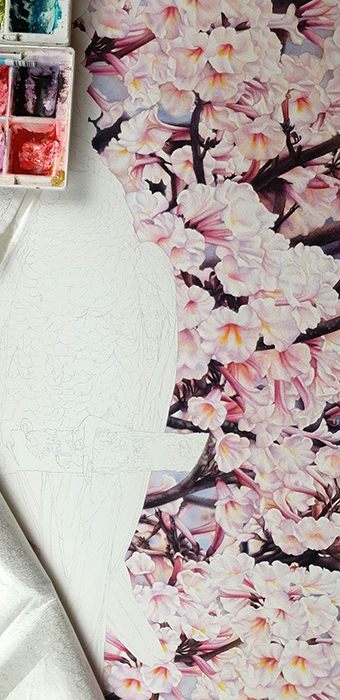 A few more weeks have passed by, chipping away at my major work with the focus continuing on the tabebuia background. I am still in love with it, the subject, the memories of my days in the field studying these subjects, the simple palette and the rich contrast between the abundant, delicate white flowers and the boldness of the branches against the powder blue breaks of sky between.
As you know, i am all about the relationship of colour in nature and painting so i am looking forward to collecting the blue of the background with the blue of these gorgeous macaws in the next chapter of this painting. For now, I have finally reached the top edge of this painting and I am slowly making my way across the top to the original starting point of this epic background challenge. I must not allow my mind to creep beyond the moment, but i know its getting close to a close now and thats very exciting indeed.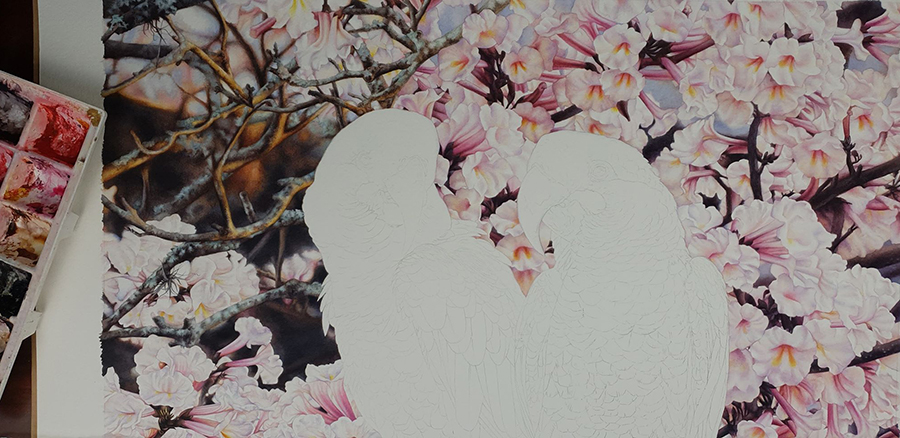 I'm working my way through the last area of Tabebuia background at the minute, strong contrast, soft focus branches covered in smatterings of blue lichens and warm golden light flushing through the tree are the final details to this part of the story… the birds, now clearly defined as they emerge from the background completely, wait patiently for their time to arrive. They will certainly make a bold statement when they do, but first, I must complete the sturdy branch they are perched upon as the next step.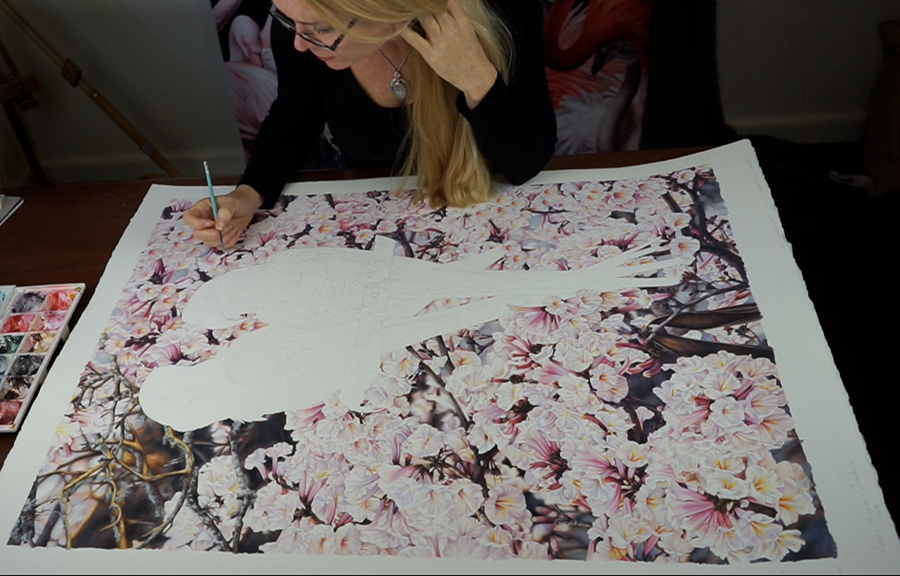 The main branch is underway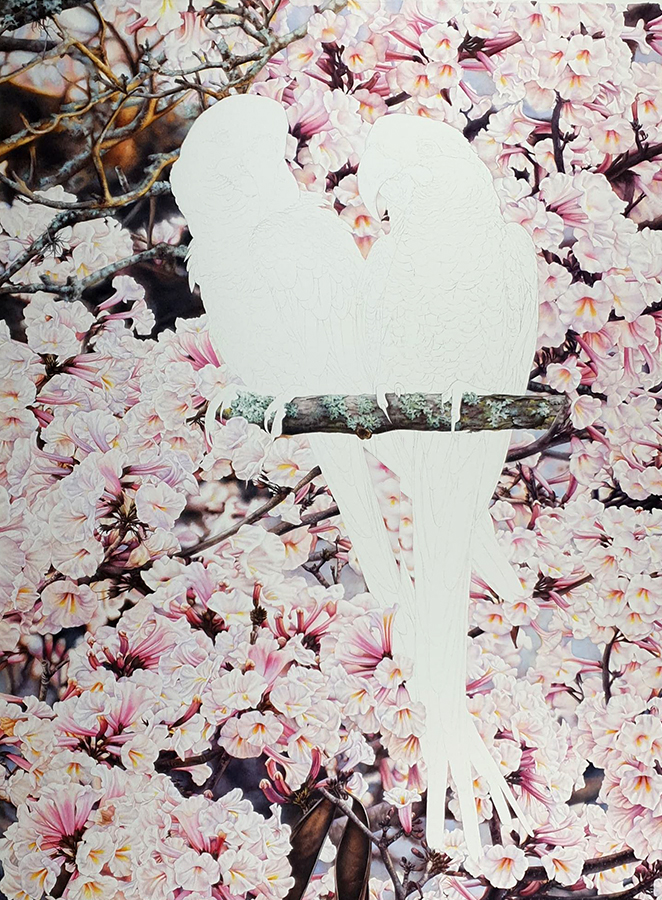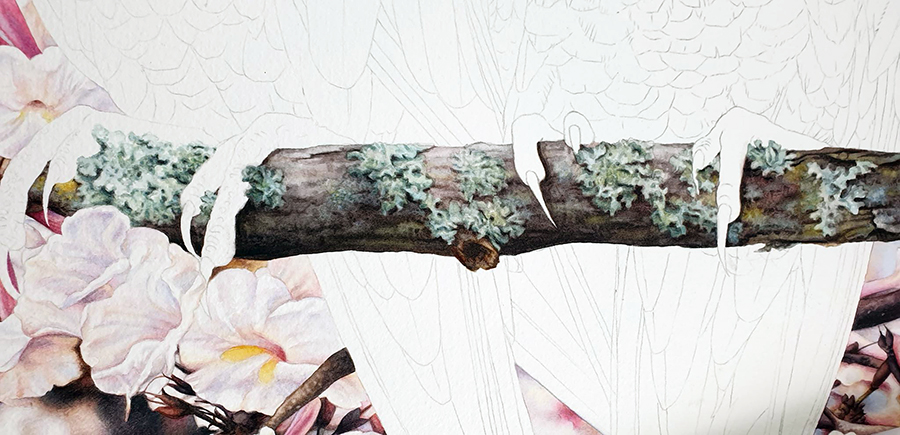 Ill still refine this as the painting comes to an overall close but for now the background is completed, including the lichen covered branch the macaws are sitting on and its time to move on to painting the parrots at last. I know many of you have been waiting for this next stage very patiently!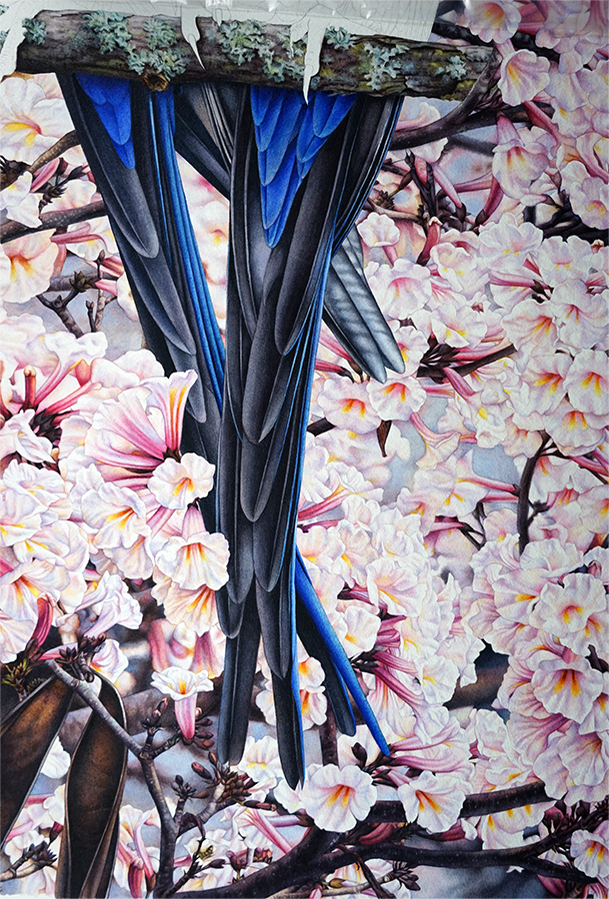 I cant get the colours quite right in this studio shot today, but ive made huge progress over the past few days locked away in my studio, working non stop on painting my Lear's Macaw tails. Switching to a complex and beautiful blue palette, the richness of the tails really start to dance with the tabebuia the rest in, the blue whispering to the cut throughs of delicate sky amongst the flowers beautifully.
Between my studio time with my Lear's Macaw painting, the wonderful news of being selected as a Birds In Art finalist, and all the preparations that requires, it sure has been a hectic week for me. I have barely had time to scratch myself but I am excited about this painting coming closer to the finish line and for all that lies ahead with the Birds In Art exhibition. I have my tickets ready to fly and I am off to the framers with my Flamingo painting this week in readiness for shipping.
Happily, with these tail feathers now in, the bottom half of Lear's Macaw and Tabebuia is now completely finished leaving the bodies and heads of the macaws to finish the piece… piece of cake right! As my friend Alan Woollett (who also has the huge honour of being named Master Artist for 'Birds in Art' 2019) would say – 'Your bonkers Willis, youre bonkers…' but as my Mum says, 'the best kind' and with that i am off to have a hot bath and a moments rest from the studio before making my return bright and early tomorrow for more.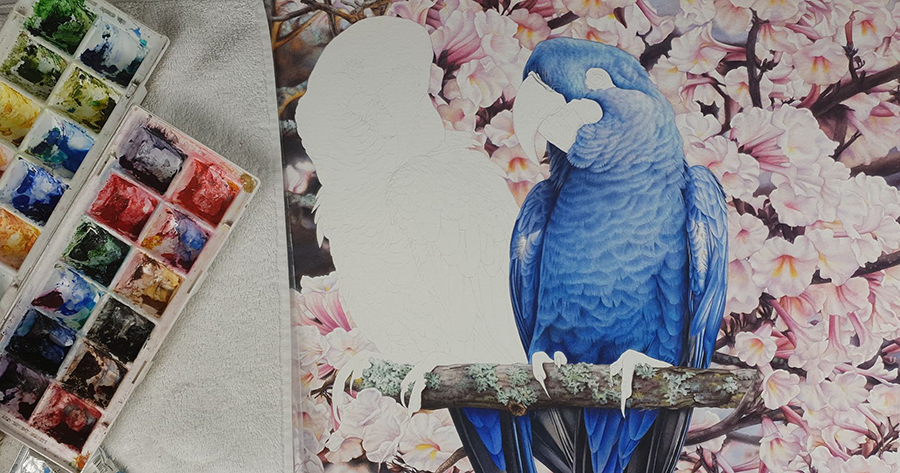 With the tail feathers of my Lear's Macaws in, its time to tackle the beautiful blue heads and bellies of each parrot. Much softer in colour than its pair, the Hyacinths of my last major work, I am using an equally complex but more more delicate mix of blues for the Lear's, with gentle flushes of pick in both the bird naturally, and as absorbed colour from the tabebuia surrounds they perch in. As my body begins to feel the marathon quite intensely now, I have most of the first body and head in on the first parrot and I can move on to the second, closing in on the last of the remaining white paper remaining steadily now.

Blue feathers galore…! Yes, from heads to tail tips, this week has been all about blue, and I love it. Whilst the palette is very similar for the Lear's as the Hyacinths, the Lear's have a little more variation in their blues and are a slightly lighter colour overall, particularly in the heads where it lightens, softens and had some beautifully delicate licks of aqua green and a flush of the pink absorbed from the parrots tabebuia surrounds.
To achieve this Ive used the same palette, but with a richer mix cerulean in the balance as my base, perm rose for the pink flush and a tinge of turquoise to get the hint of iridescent green through the blue. Its fiddly work requiring a lot of focus, perseverance and patience to pull together. On the very last leg of this major work, its a lot of talking to my body and mind to stay focussed, steady and collected within myself to the end… and I am 🙂 With the blue in, I am left only with their eyes, their amazingly powerful beaks and their ridiculously challenging feet to complete.

The final stage sees the intricate detailing of the eyes, beaks and feet go in, bringing life, personality and a close to the Lear's Macaws and Tabebuia major work at long last. My YouTube channel has several videos of this painting coming together over time. Thank you all so much for following the evolution of this painting with me. I know they are long hauls but they are so worth the slice out of my life to create.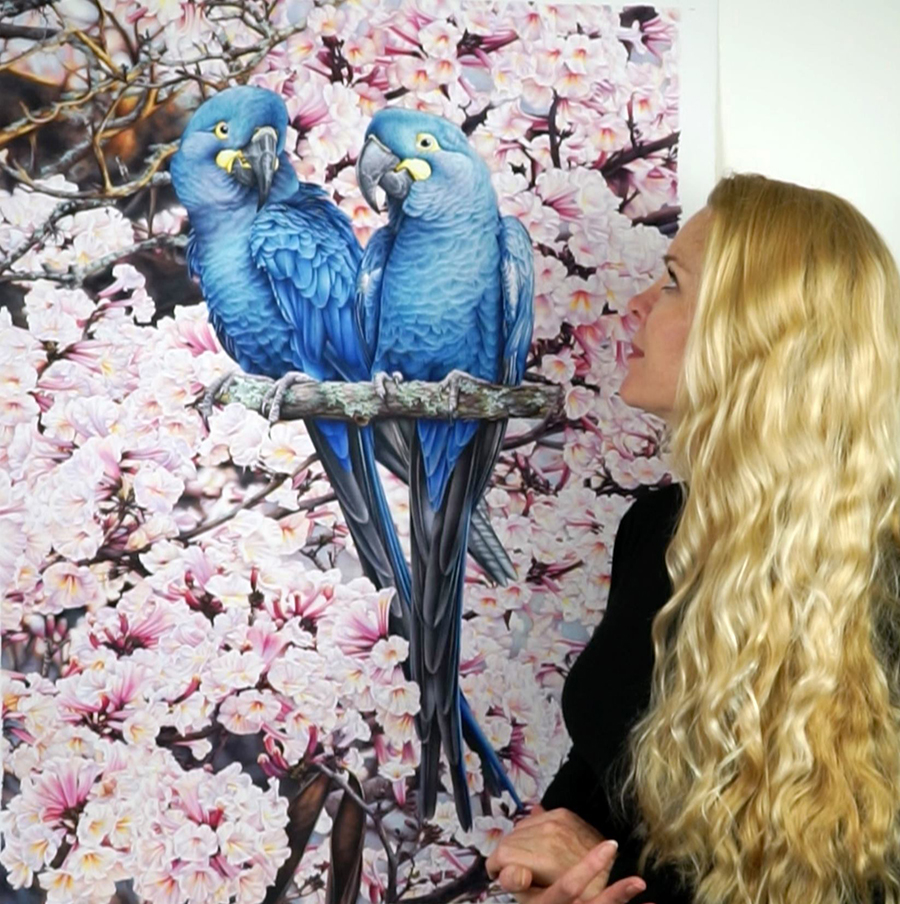 This painting is the 4th in the White Room Collection of watercolour major works, and the pair to Hyacinths and Lecythis study before it, both outcomes of my amazing time and experiences of Brazil.