King Parrots and Poinciana – A Painting in Watercolour (sold) – 31×44 cms
My new King Parrots commission is a little bit special as it came after months of effort from my client looking for the right artist for this painting, and selecting just the right subjects for the content. It really is a beautiful thing when someone researches so extensively and chooses you to create something so close to their heart for them. As so often happens for me, no sooner do I choose a plant subject to work on does a commission comes in of that very thing… like the last few have been, this was another case of amazing synchronicity.
The Poinciana (Delonix regia) is a long time favourite flowering tree of mine, but I have been saving it up for the longest time as I want to create a major work with this dramatic subject but have never quite found the time… until now! With my new reference gathered and laid out over my studio table in anticipation… the call came in for this painting. Though I still plan to paint the Poinciana in a large piece soon, this will be a wonderful exploration of the subject until I have sourced the right bird reference.

With the plant decided upon, my client decided on the King Parrot as the feature for this painting, a truly spectacular Australian bird. A wonderful bird photographer Adam Blyth was kind enough to give me permission to work from one his images, which I especially liked because of the gentle flush of blues these specific birds had through their feathers. The delicate shift of colour amongst the greens of the poinciana will separate the birds from the foliage perfectly.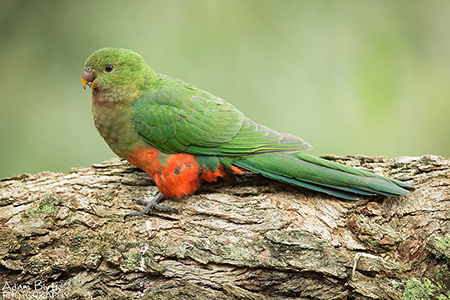 (King Parrot – thanks Adam!)
The painting layout includes two King Parrots nestled in amongst the cascading flowers. This layout image has been produced just to give you a sense of the paintings direction, which will ultimately be rendered in watercolour. After some time waiting patiently for this project to reach the top of my schedule, the layout has now been completed and refined, the client has given it a nod of approval, and although I will be coming and going from this one over the next little while around teaching, travel, and a very full work schedule, this beautiful commission has come onto my studio drawing board at last and is ready to come to life. I hope you will join me once again as this piece begins to unfold… I cant wait!!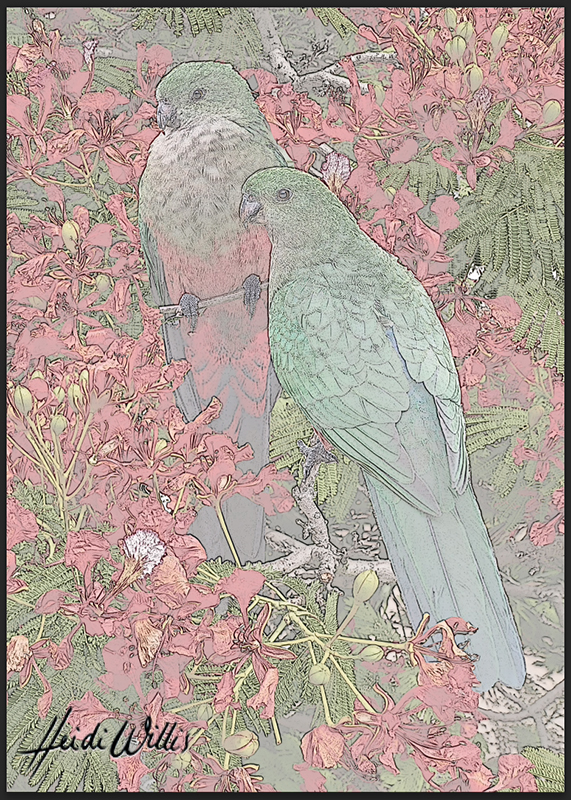 The 'Poinciana and King Parrot' plan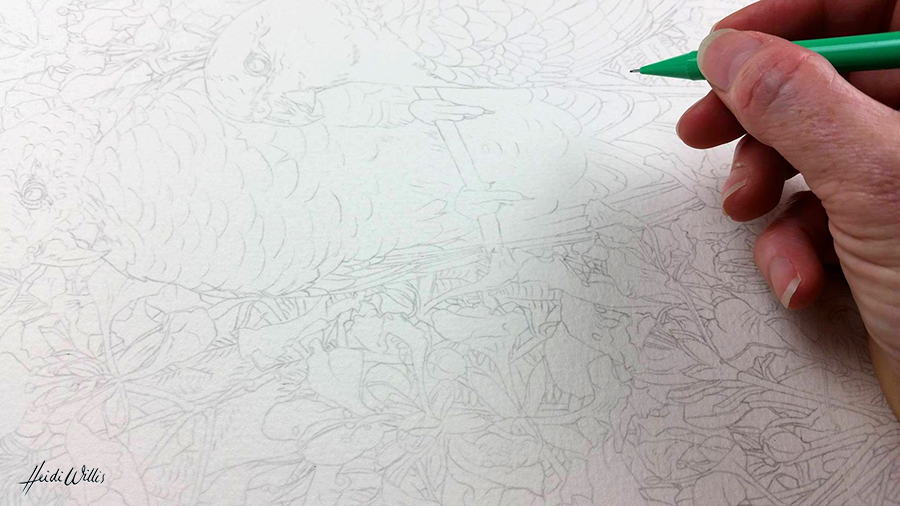 The drawing stage, an art in itself
And we are away!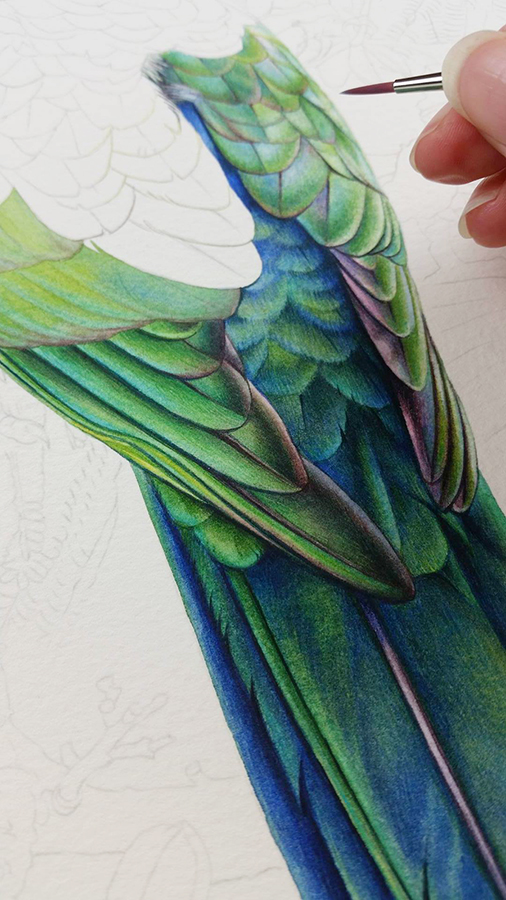 The tail and back feathers have come along today… very challenging work indeed. You can see a little more on this on my Youtube Channel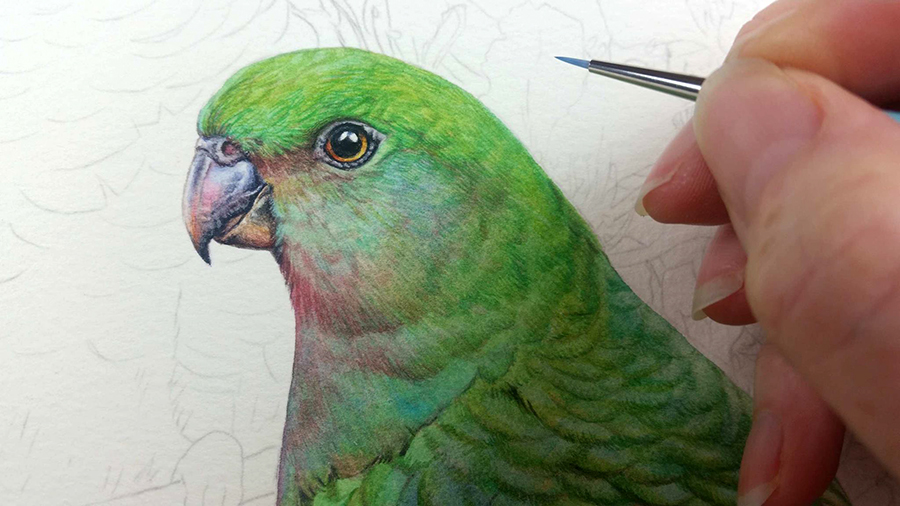 Hours and hours can be spent on one tiny detail, and happily so…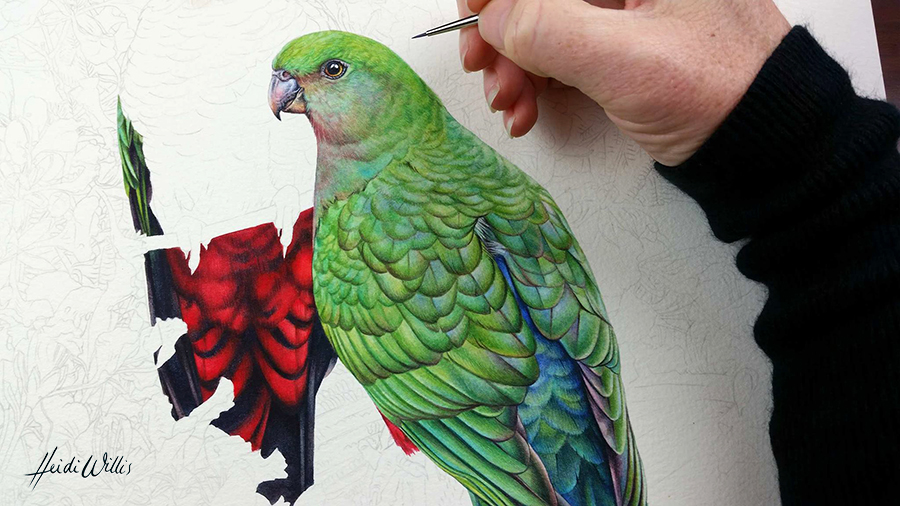 Moving on to the second King Parrot, I have completed the head details and it is time to throw some interest and impact into the mix with the brilliant black and red tail. So delicious! You can follow more on this via my social media Studio and Progress albums for this WIP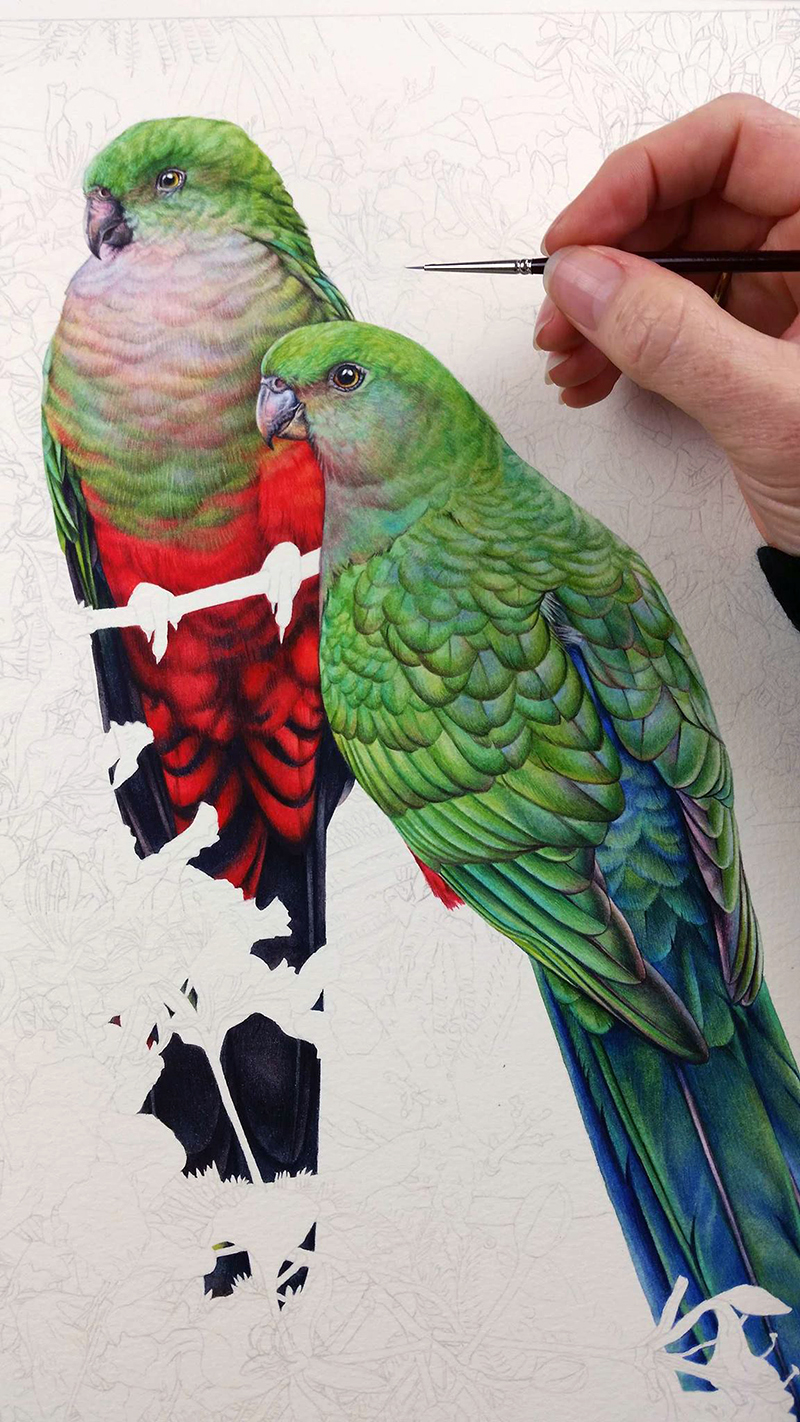 With the two king parrots are complete and I will move on to the Poinciana background next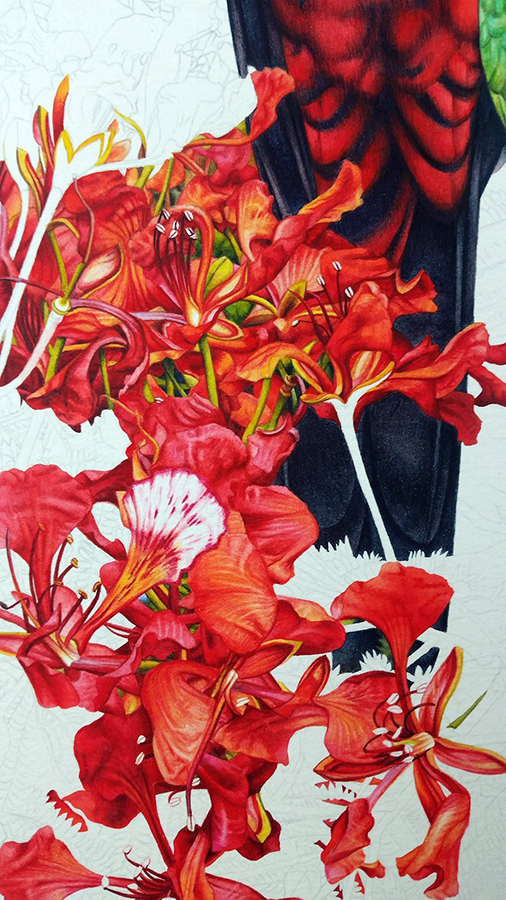 Days of work… and I have completed this little section of tangled, delicious poinciana flowers. What a beautiful journey though, who could even mind the pace? Its all about the thrill of seeing every little bit fall into place, the interplay of pigments, telling the story and loving the process at any given moment. This is meditation, really.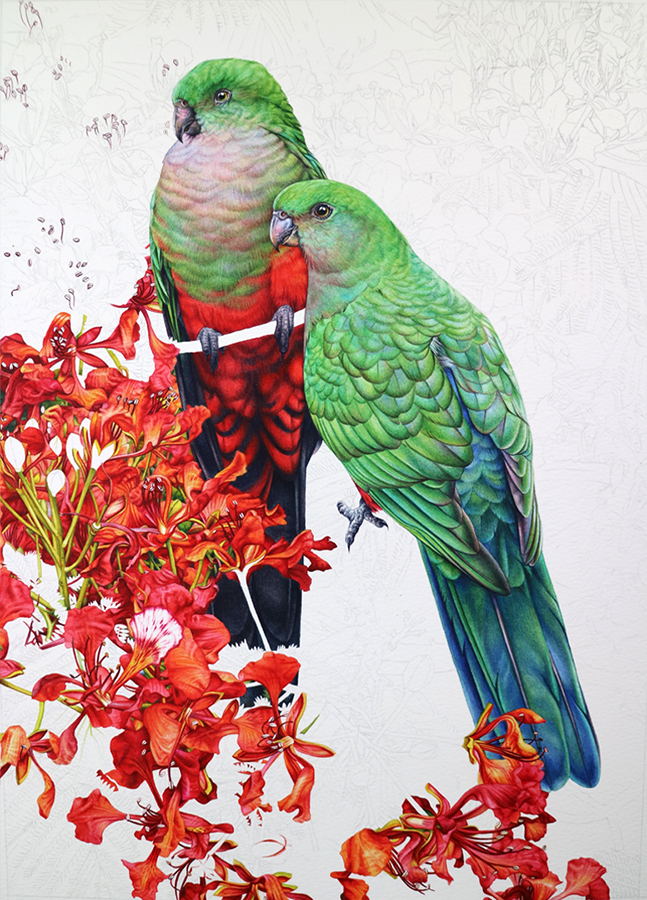 Another loooong studio day sees plenty of progress on the red flowers, unable to tear myself away since waking this morning but for the dire need of sleep, which I shall do with resentment for the wasted time when I could be painting. Tomorrow is a new day, and another uninterrupted studio day at that! This update shows the overall progress of the painting, the flowers of the Poinciana slowly filling the white with colour… How I love this palette.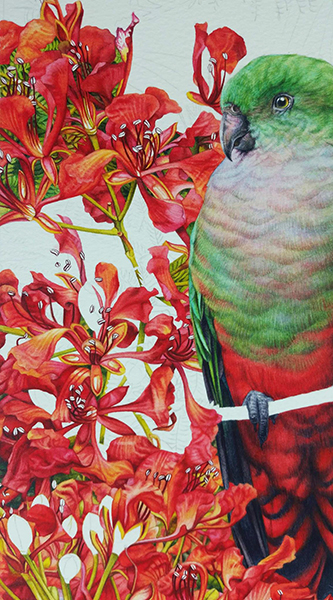 Progress on the poinciana flowers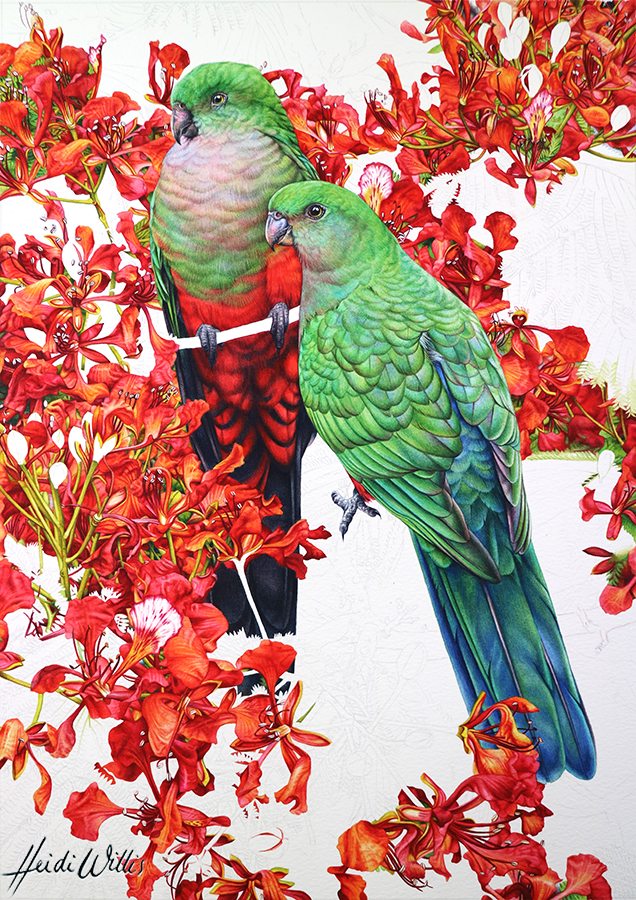 The poinciana flower element of this painting is now complete, and ill move on to fill in the background with its fine leaves and rich moody surrounds that will really make the rest pop.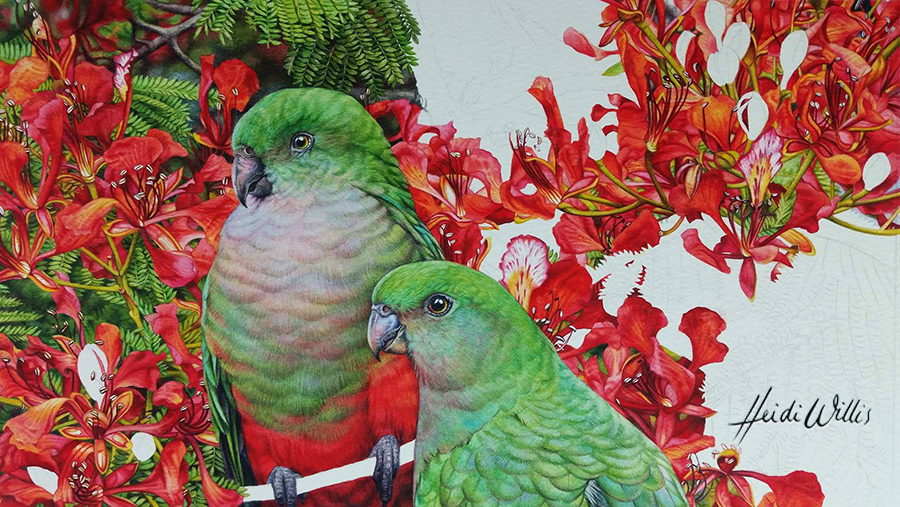 Closing in on the intricate rich background, this painting is fast becoming a personal favourite of mine… Another long studio awaits tomorrow and i cant wait!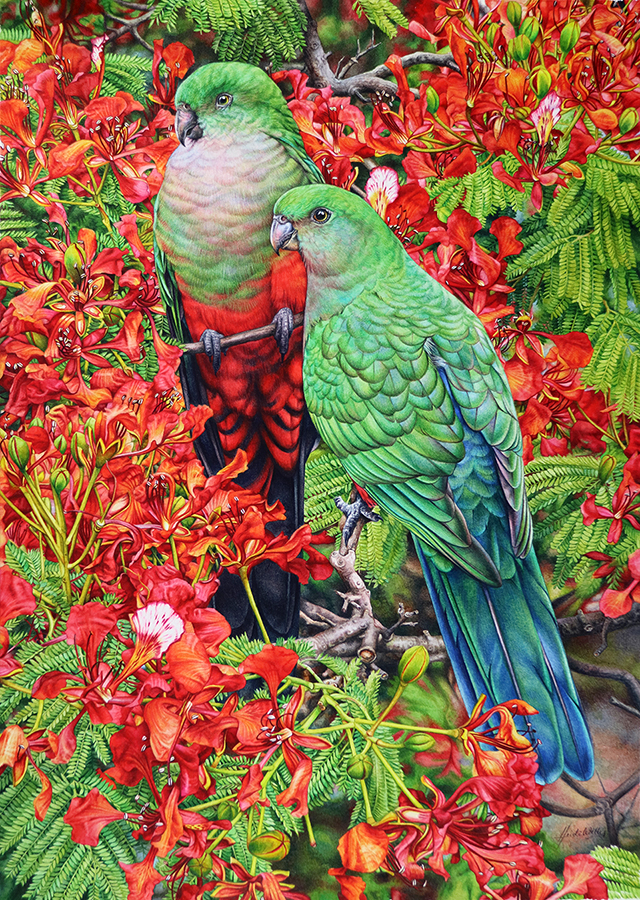 Working through the night last night I finally completed my King Parrots painting which caught me quite by surprise… i was so in my own world flushing through it one detail at a time that I hadnt realised id completed it. I just suddenly ran out of white, and I was done! Ready to head off to their new home at last Ill say goodbye to another part of me. I do really love this piece myself, and in the flesh its just so much nicer too… I wish i could show you all.
You can see more images in the Progress and Studio albums
Thanks for following along!