Finch Illustrations – A Series in Watercolour – All artworks in this series are SOLD

The complete collection of finch illustrations
The newest paintings to drift in and out of my studio is a series of 6 very personal finch illustrations which are set to be rendered in watercolour (and Ive now added an extra 2!) I love this collection and the deeply personal sentiments behind this series for my client too, making this a very special project to work on. Its often overlooked, but so often natural history is like that, beautiful paintings, gorgeous subjects with sentimental and emotional meanings to them that have a way of making us recall, reflect and recount precious moments, people, places and experiences over our lifetime. These are the things we connect with, the language of memories held dear between then and now, making work like this an especially perfect, meaningful and unique gift indeed.
When artworks and owners align the emotional response can be really powerful to experience and see, and I feel very confident this will be one of those instances. Each of these finch illustrations are about A4 in size and will capture a single bird perched amongst a simple plant element, similar to my recent small bird works on white seen below. Each is exquisite in its own way with its own story, look and feel however will also have a cohesion as a set. Of course the consistency in quality is never compromised in my work, so it will take some time to create this collection ready for their new owners, but I am looking forward to jumping in and sharing them with you along the way.
Of course there are many varieties of finch, around 200 in total I believe, which can be found in many parts of the world. These small birds are celebrated for their diversity, beauty and natures with many devoting their lives and time to breeding them with a passion. In this series Ill be exploring just six of these sweet birds all from Australia, the Blue-Faced Parrot Finch, Star Finch, Chestnut Breasted Manikin, Crimson Finch, Zebra Finch and the Black Headed Gouldian Finch, a gorgeous range of challenge!
First I must do my research on each to better understand my subjects, which is no small thing in itself. Then I must consider what foliage to include in each, aligning regions and habitat for plants and birds. This is a challenge as each must work individually but as a series as well, so ill need to create some visual cohesion here, along with a regard for the science behind each, as well as considerations to the specific needs of my client too. Immediately I began to run it through my mind, considering and refining several approaches and combinations.
Between all things on the spinning plates of late, I have spent the past few weeks photographing and referencing suitable plants as Ive gone about my days, along roadsides, meadows, gardens and the likes to find what I need, in case I need it at all, learning more about finches as I go… always a wonderful upside of exploring my subjects. From there we discussed the specific direction we wish to develop for the collection and from there i begun to refine the layouts for each. Once were happy with those the painting can finally begin. There is always so much that goes on behind the scenes… So lets get started with a look at the layout thumbnails.

The first is the Crimson Finch, which has been based around one of my lovely photographers images, thank you Alison Nisbett for the help with this one. Its such a beautiful bird! Though I have seen these guys in the wild myself, photographed them too, I spent some time researching their habitat for this piece. Generally they are found in the pandanas plants, however this subject does not lend itself well to this small painting or the series as a whole. The client wanted something more vibrant, so I settled on a syzygium, another plant noted in my research of the vegetation found near a known and healthy population of these finches. The colour and boldness make both a beautiful and vibrant study.
The second is the Gouldian Finch, often found in grasslands and wetland areas. Ive decided on a gorgeous combination of lotus seed capsules as the accompaniment for this piece, its clean lines, colour, simplicity, boldness and beauty feeling like an ideally elegant visual combination. For this painting I drew on my own reference gathered during my Far North Queensland wetlands residency and other reserch expeditions along the way.
Third we have the Chestnut Breasted Mannikin. The base image comes thanks to my friend and photographer Pete Evans whos work I always love. This little bird was set amongst some basic reeds and grasses which I really loved, so I stripped that all back and reworked this into the new layout, incorporating some scrub acacia into the mix for a splash of colour and botanicals, I love this little composition, it is delicate, interesting, textural and delightful.
Next we have the Blue Faced Parrot Finch for illustration number 4. This subject has an outrageously beautiful, bright blue head and is often found by the waterways. With these features in mind I have developed the blue theme, selecting 2 soft blue waterlily flowers from the region and a small waterlily bud for interest and a lick of fresh green from the bird into the surroundings. It is a gorgeous mix of balance, beauty and simplicity.
The fifth of the finch illustrations is the zebra finch, nestled amongst some magical central Australian wildflowers, both found in the same region. Its a painting of soft earthy colours and delicate textures, warm and delicate in subject and composition. The flowers or botanical element in this painting have been reworked by an image from another friend of mine, photographer Jim Oatley, a native to Central Australia and an absolutely magical photographer to boot. Years ago he sent me images of this plant hoping Id paint it some day and finally it seems that day has arrived. He is right, it is gorgeous and Im looking forward to illustrating it in this zebra finch study.
Finally we have the Star Finch with its soft yellows and earthy colours, spotted features and brilliant red head… what an amazing bird! Keen to include a eucalyptus in one of these illustrations, this mallee gum with its stunning yellow blossoms and divine sage blue green leaves seemed like an obvious choice to complete the piece, and this series. With the layouts completed Ill make any last minute adjustments with fresh eyes tomorrow before starting the drawing up process. Ill be back soon with more updates and progress.
***************************************
Clients response; 'Hi Heidi. Wow! I love the layouts and your descriptions of them are just as lovely, interesting and enthusiastic. I am looking forward to the end product of course, but the process looks like it's going to be a wonderful experience too. Please go ahead with them all just as you've planned. They are exactly what I had in mind, actually they are better than what was in my head!! I'm so glad we are doing this together. Thank you'. I like happy clients… and with that the drawing process begins. Here we have the first of the finch illustrations, the Gouldian Finch and Lotus Seed Capsules as I am drawn to start there the most. The image below takes you through the stages of development from the drawing, to the rendering of the finch and finally into the lotus details to complete the study.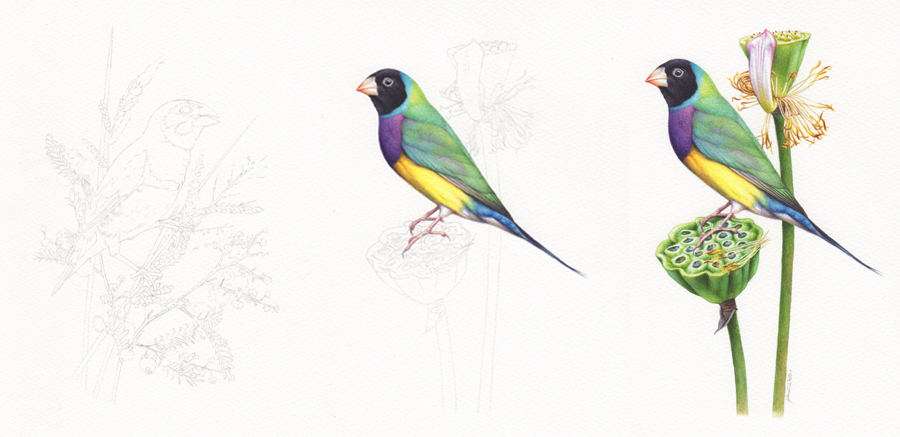 Second Ive decided to work on the Blue Faced Parrot Finch and Waterlilies, a nice follow on wetland theme between the first two. I like the relationship of the blue in the bird to the botanical elements that surround them and the intensity of this vibrant little bird married with the serenity of the waterlilies. I also love the gentle flow of the stems in this painting bringing strength, interest and movement to the story.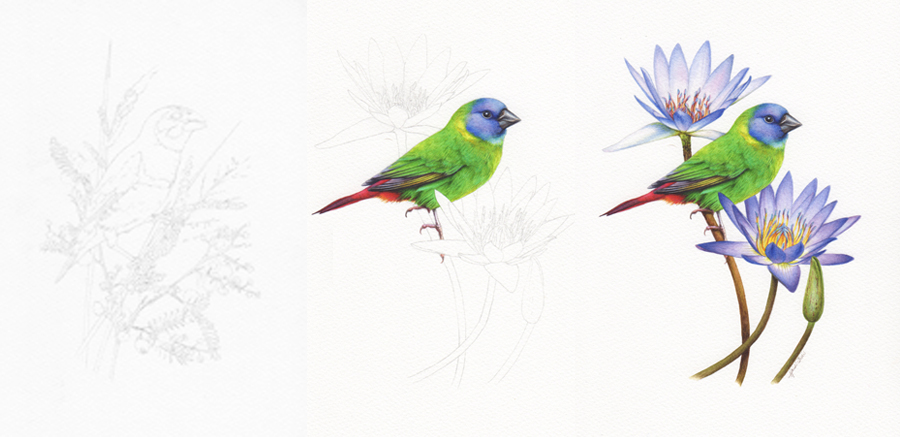 The Chestnut  Breasted mannikin has come together beautifully bringing a new shift to this series with its earthy colour and bright yellow in the acacia elements in this illustration. I like the rich texture of the combination, a sprightly mood for this painting.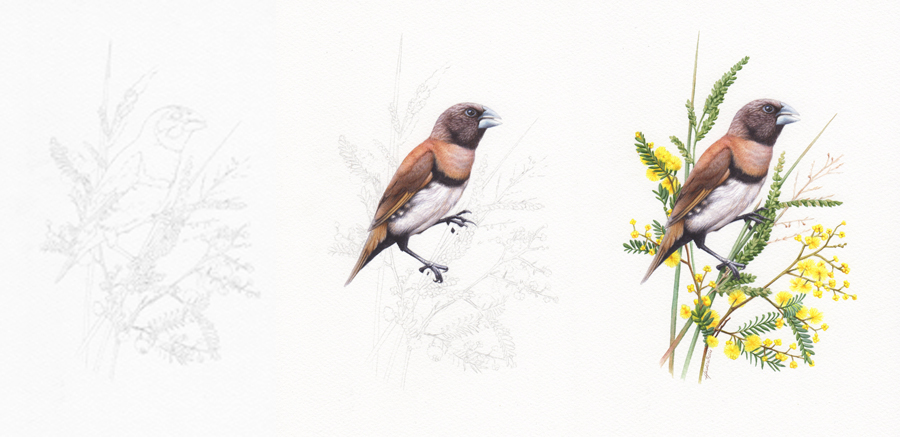 The Star Finch has been such a challenge to create with its fussy spots, intricate detailing and its fascinating combination of simplicity and complexity all in one. I adore the brilliant red head with those gorgeous white speckles, its so unique and sweet. I chose the yellow eucalyptus to compliment this finch, making an interesting and beautiful mix for this painting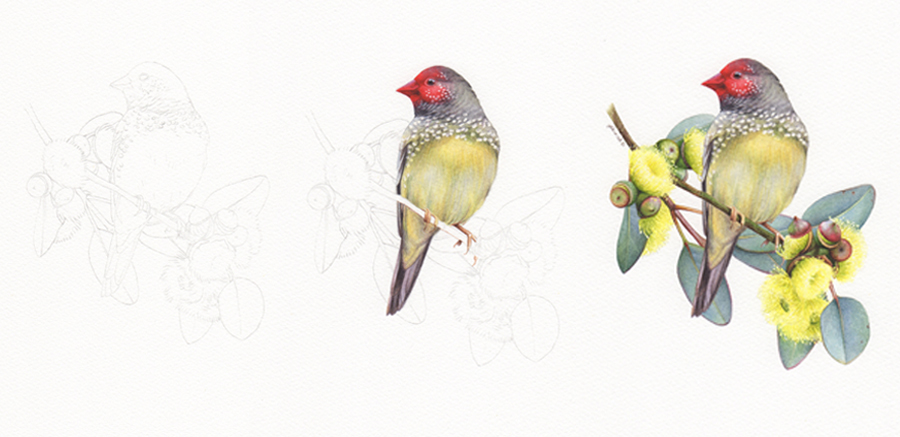 The Zebra Finch illustration shifts mood again, working in a delicate palette of rust, greys and textural pink wildflowers. The flowers in this illustration were originally captured by my friend Jim Oatley, which i used as my inspiration. Dissected, reengineered and refined, these brought the inspiration for the surroundings in this painting.
The Crimson Finch is set amongst some gorgeous lillypilly, a beautiful element to work with for this spectacular finch. Bold yet soft, I thought it was an ideal selection for this piece, bringing a new dimension to the series as a whole too.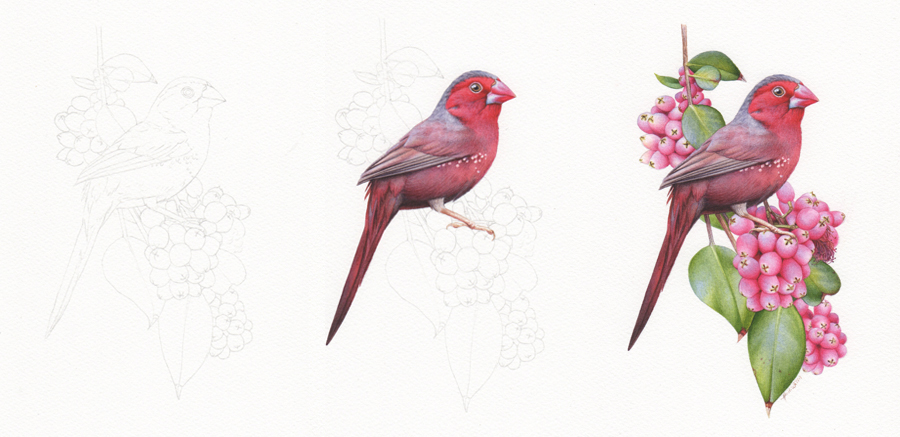 ***************************************
All artworks in this series are SOLD
***************************************
I have loved working on this series so much that I have decided to add an additional two finch illustrations to this series, settling on the Diamond Firetail and the Double Barred Finch amongst some gorgeous Brachychiton. In time I may continue to add to this collection, but for now we have these new pieces, both are currently available.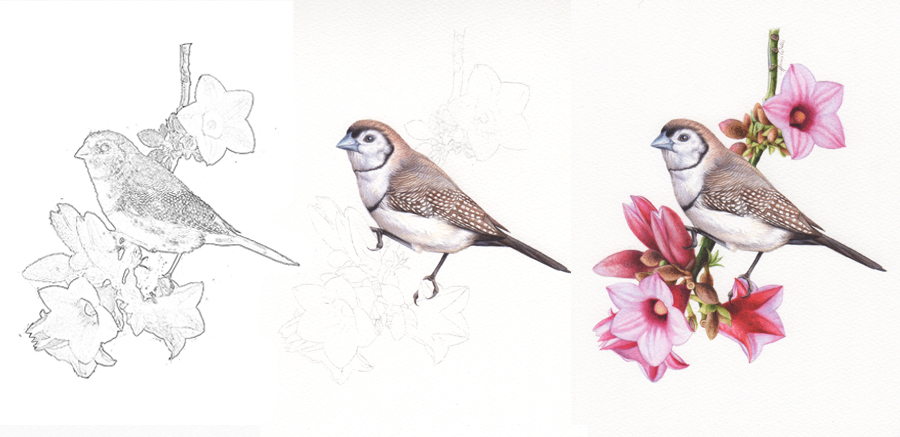 Double Barred Finch and Brachychiton Illustration (Available) – Thank you to Pete Evans for the assistance with the finch reference, much appreciated.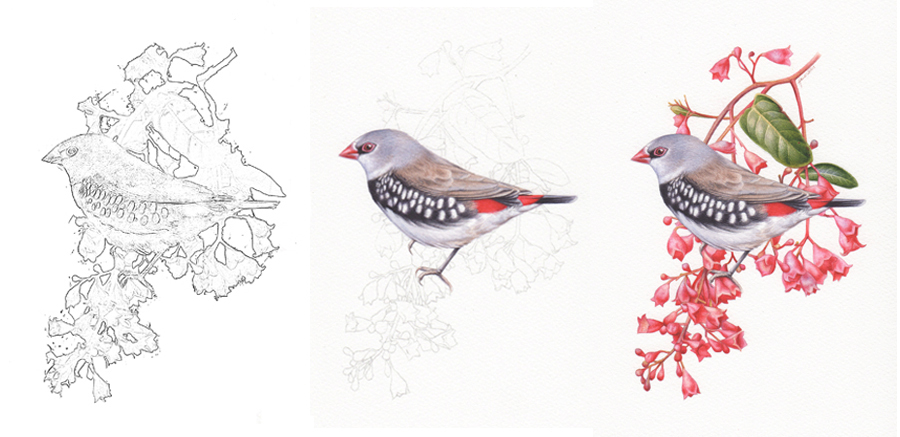 Diamond Firetail Finch and Brachychiton Illustration (Available) – Thank you to Peter Humphries for the assistance with the finch reference, much appreciated.
***************************************