Botanically Inspired Cocktails ~ Watercolour Illustrations for The Grounds of Alexandria
In recent weeks I have been working on the next series of 9 intricate watercolour illustrations for The Grounds of Alexandria, continuing with the redesign of their Potting Shed cocktail menu design. Each of these cocktails feature delicate botanical influences of fruits, cucumber, berries, citrus and floral accents, making for wonderful watercolour illustrations! They are not only a complete taste sensation, but a visual delight to the senses as well. 
The previous series of watercolour illustrations featured highlights of roses, ruby oranges, almond and anise, kiwi, lemon, pomegranate, rosemary, pears, apple and caramelised fig to create a beautiful set of images.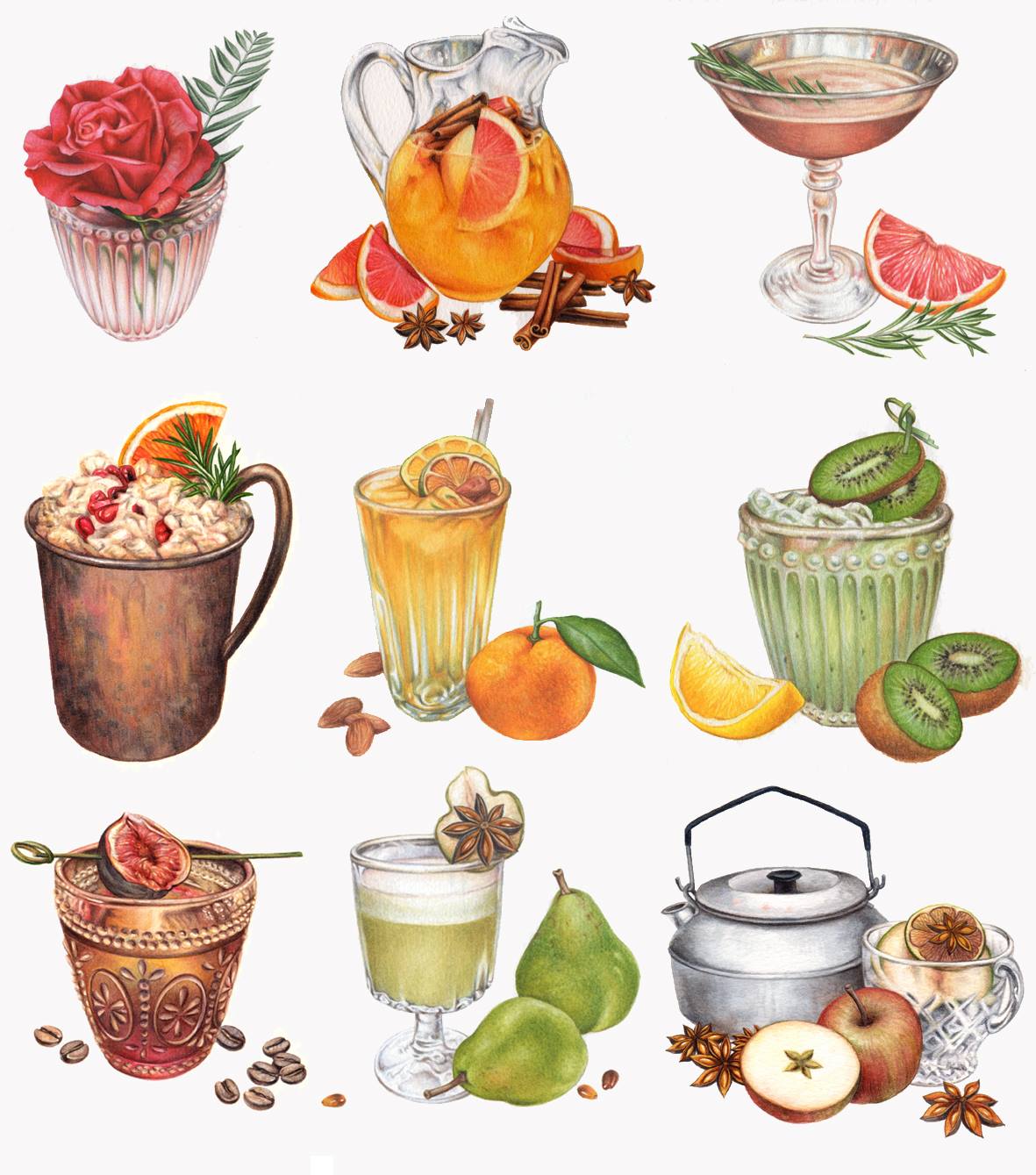 The second series explores our summer fruits, berries, cooling cucumber, orange, fresh mint, melon, vibrant nasturtiums, grapes, cornflowers and cooling crushed ice. Presented in hand blown glasses, organic metals, pitchers and pots, the presentation is once again, spectacular and exciting both as cocktail, and as illustrations.
All of these watercolour illustrations are finely rendered, paying close attention to detail as they deserve. As an artist and illustrator, these briefs have provided a fun side step from my regular work, and have brought with them, a valuable opportunity to explore new technical challenges in watercolour painting with elements such as shiny and organic metal surfaces, and the transparency, translucency, refraction and soft focus of glass and liquid. Of course it never hurts to explore and practice new areas of rendering
Mostly these briefs are just a whole lot of fun, and working with the Grounds is a pleasure as always. If you ever get the chance to visit them, you really must, its an extraordinary place right there in the heart of Sydney and quite a wonderful experience to be there.
All of these watercolour illustrations in these series of beautiful cocktail paintings are available for purchase, so please let me know if you might be interested… In the meantime, enjoy these sweet treats of paintings and take care ~ Heidi