Australian Geographic Magazine ~ Naturewatch ~ Issue 128 ~ Acacias

This month, the September issue of Australian Geographic Magazine sees the long awaited appearance of 8 of my Acacia (wattle) botanical illustrations in the Naturewatch section, my first brief as a botanical artist for this iconic publication. I am of course, completely thrilled with the results and best of all, I am able to share them with you at last!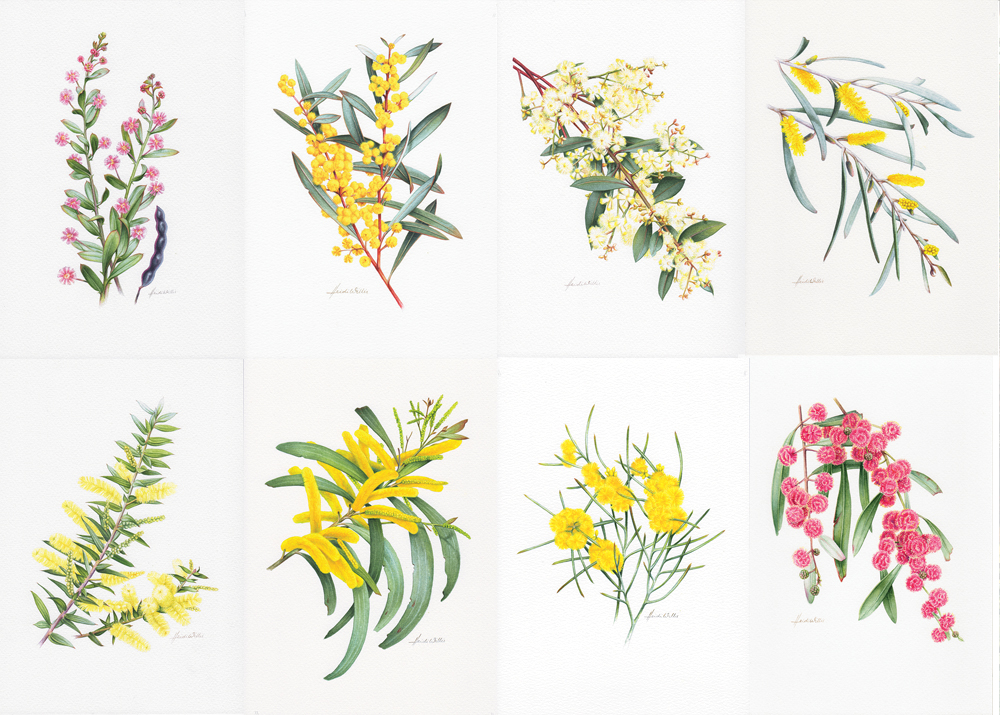 The genus Acacia belongs to the Mimosaceae family which includes 1350 species of Acacia found throughout the world with approximately 1000 of these located in Australia. Most of us know Acacia by its common name 'Wattle', a familiar sight for any Australian! Rightly so too, as it is  our national flower. I am sure that many of you will be surprised by the distribution and diversity of this plant… pink wattle? Who would have thought it hey?! With 'Wattle Day' being celebrated on the 1st of September each year, it seems perfectly fitting that the magazine was released on the very same day.
Page 22 and 23 features a series of illustrations that include 'The Western Wheatbelt Wattle (Acacia brachypoda)', 'Purple-Flowered Wattle (Acacia purpureapetala)', 'Red-Stemmed Wattle (Acacia rubida)', 'Mulga (Acacia aneura)', 'Scarlet Blaze (Acacia leprosa)', 'Spike Wattle (Acacia oxycedrus)', 'Myrtle Wattle (Acacia myrtifolia)', and 'Blake's Wattle (Acacia blakei). Alongside each botanical illustration is a short informative blurb on each and a map of where they are located in Australia.
Page 129 includes a brief but wonderful little article about my work and process to introduce my work to the Australian Geographic readers. You may enjoy taking a look at the extended interview in my recent blog post
The Wattle illustrations in this set are A4 (30x21cms) in size, making a particularly lovely and significant collection of botanical paintings, enhanced by this significant publication. The original works are available, so please contact me if you have any questions regarding these. Stay tuned for NEXT months edition!