Pink Waratah Painting –  Acrylic Botanical Studies – 2 of 3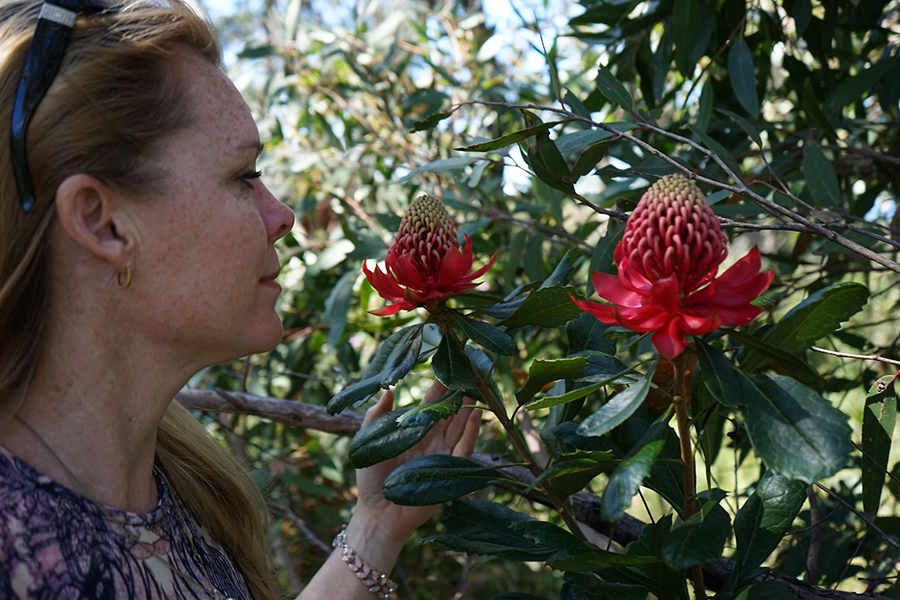 Field working with the classic red Waratah (Telopea speciosissima), one of my all time favourites
With the completion of White Waratah, the first painting in this series of three waratah paintings in white, pink and classic red, I have now begun creating the second. The focus this time is on the gorgeous pink waratah as my subject.
It will take some time to complete as I have so much ahead in the coming weeks and months, starting with my interstate masterclasses in Tyalgum in just 2 weeks time, the wrap up of the Sydney Parks Signage Project after many months efforts on completing this work, and I also have several other high profile projects im not allowed to share with you yet on my plate at the minute as well… but I have begun, snatching some of theses rainy winters days here and there in the studio between all things, and Pink Waratah is well under way. Its amazing how much can be achieved with a little discipline, consistent effort and great time management skills!
Inspired by the West Hotels White Waratah commission I completed a little while back, I am continuing this series of waratah painting studies of bold botanical subjects placed on rich black backgrounds to really capture the drama and beauty each deserve. Rendered in acrylics, each artwork in this series measures 44x32cms in size, packing a powerful punch with unique study. Of course the West Hotels' piece is sold, however these 3 new paintings are available for sale if youre interested, either as individuals or a set.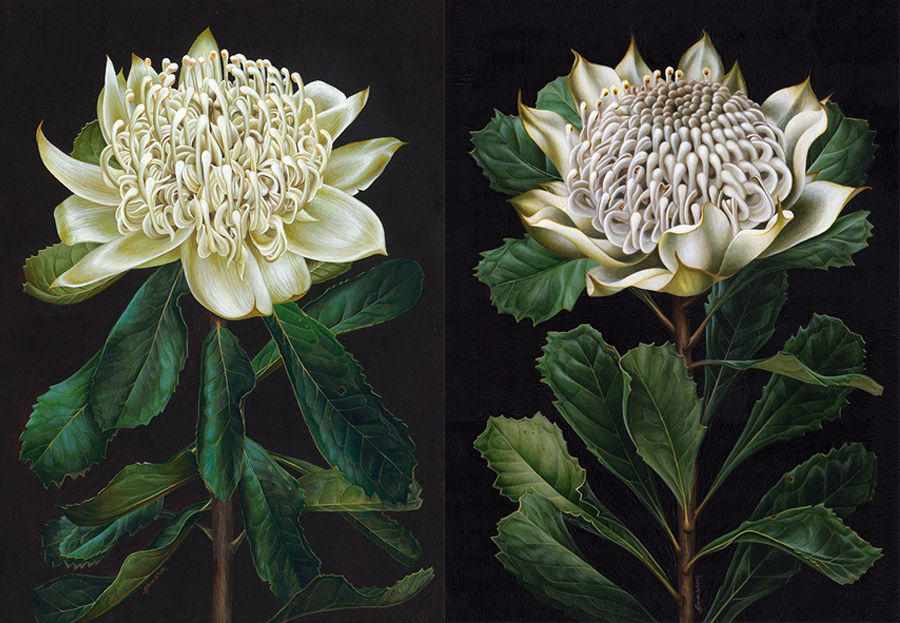 (left) West Hotel's White Waratah  –  (right) new White Waratah painting in this series
Kicking the pink waratah painting painting off, I have created a layout or design from my field work and referencing, prepared my board and completed the drawing ready for rendering. With the drawing mapped in I begin defining the flower from the background by painting the negative space in with my black, instantly revealing the silhouette of my waratah. Lines become areas now and I begin roughing in the green of my leaves bringing colour, tone and form to my painting as I step ever so slowly towards the realistic outcome I will eventually achieve.

From here I will spend a great deal of time refining the leaves to completion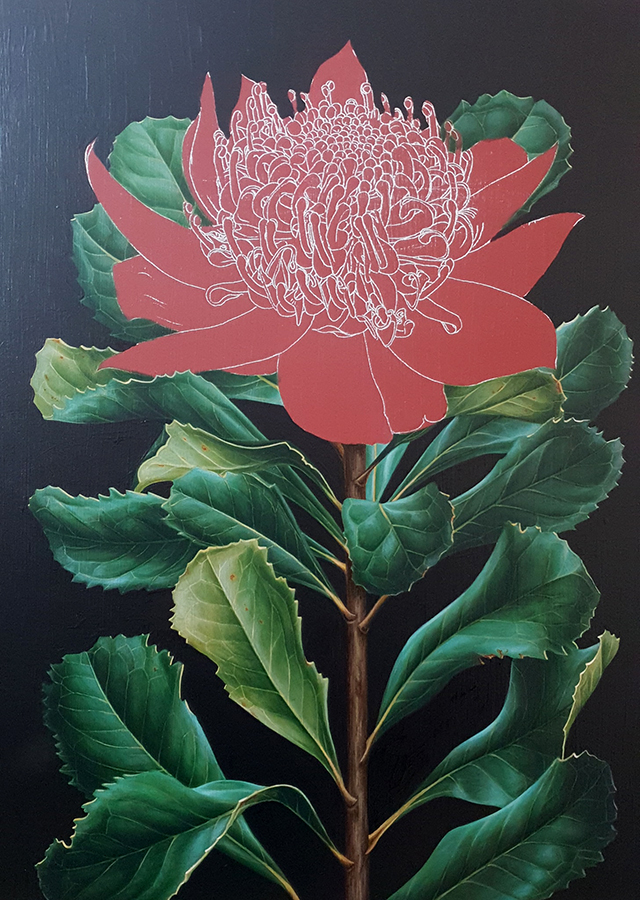 With the fine detailing of the luxurious waratah leaves, veins, stalks, a little weathering for character as well as the main stem finally coming together, the background of my Pink Waratah study is finally complete… soooo much work! So I have packed up my rich green and black palette and switched to red, white and ochre in readiness to tackle the gorgeous pink waratah flower head, and to bring this painting to a close.

And for the last week i feel like Ive been saying 'just one more days work and ill be finished' but today is finally the day Ill say that for this piece at last… sooooo much work! Phew!! Working in pinks i have finally completed the waratah flower head, navigating my way through all of its complexity, intricacy and curiosity to complete my study of this gorgeous subject. And with that, my Pink Waratah painting is done and ready to sit alongside its pair, the White Waratah painting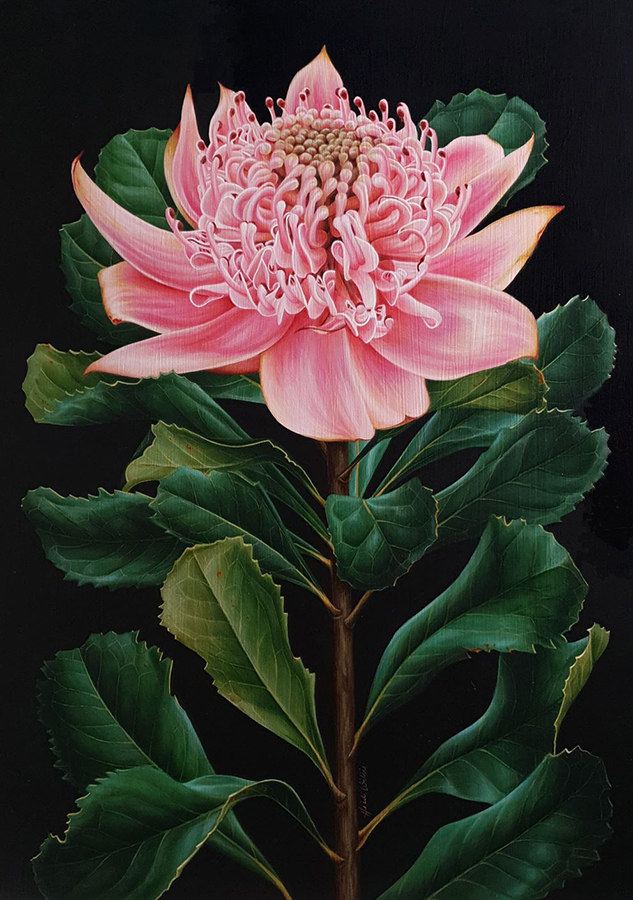 Pink Waratah painting completed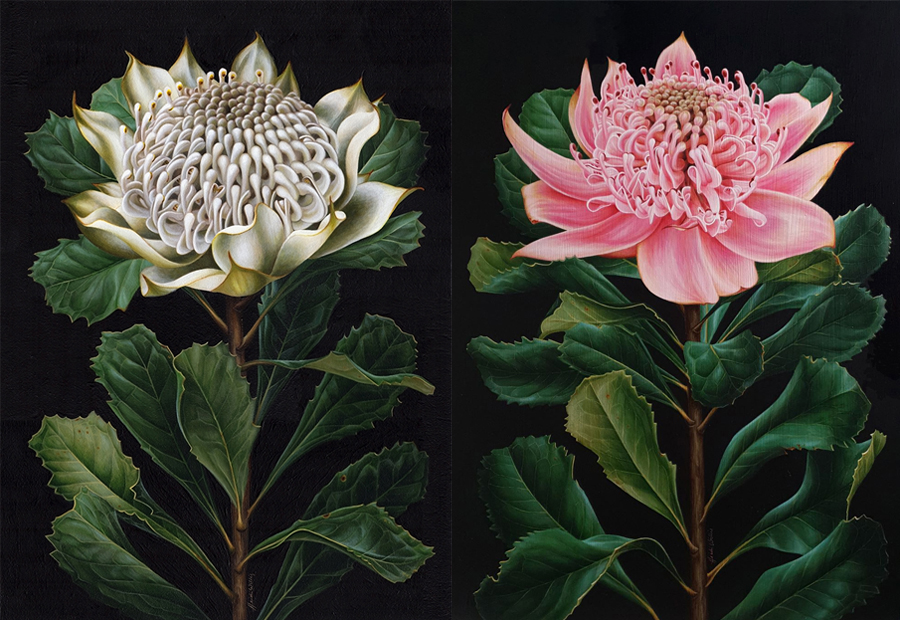 White Waratah and Pink Waratah painting together… Red will come down the track somewhere I promise!
Artworks are available so just let me know if youd like to know more on these true Aussie botanical pieces… Thanks for following