New Australian Floral Emblem Botanical Painting Commissions are on the Drawing Board!
After many months of work, the amazing Sydney Parks Project will draw to a close in the next few weeks, images of the paintings Ive created will be leaving my hands to be passed on to the design teams for the next stage of the project, and I am able to turn my attention to some wonderful new projects on my horizon. Still chipping away tenderly in quiet moments on my 'Lear's Macaw and Tabebuia' major work, I have a mind totally full of ideas and things Ive wanted to work on for so long beyond this focus and its exciting to think of the possibilities.
One thing Ive wanted to revisit badly, is to create a new series of Australian floral emblem paintings. The first collection was created a few years ago for Australian Geographic, consisting of 8 botanical painting studies, one for each Australian state and territories flower. The success of this collection has been quite remarkable and the demand for ownership of both the artworks and the rights has been so constant that the need to return to these subjects again seems happily unavoidable.
This particular series has been promoted and talked about constantly as a collection which has been so wonderful to watch as it grows around me with a life of its own. The bad side has been that my images also reached the extent of worldwide thievery, flooding the market out of China with rip offs of my artworks on shirts to be sold on The Iconic throughout the planet… but I guess you cant blame them for having good taste at least… 🙁
In total I have produced around 28 paintings in this Australian natives series as a whole, some from this set are illustrated below. This botanical painting series is one I have continued to build on since it started with Australian Geographic and will continue to do so for many years to yet to come as its just so lovely to explore the abundance of sensational plants we have here in Australia.
All these paintings are botanical studies of Australian wildflowers and plants measuring A4 in size (21x30cms), are rendered in watercolour, and have been commissioned by commercial and private clients along the way for a range of purposes.

The commercial clients and applications for this series have been wide, including Australian Geographic and the Australian Government. Many private buyers seek to add a new piece to their clutch each year, growing a beautiful, often very personal collection for themselves in time. Its a wonderful, unique and fun thing to do and have!
Of the 28 artworks, only 5 remain, with another 4 leaving me this week for their new home. Adding to the 4 existing, my client has also commissioned 2 new ones to join the group, a Waratah (Telopea speciossisima), the NSW state emblem, and a Heath (Epacris impressa) study, the Victorian state emblem, to create a beautiful gathering of 6 pieces in all. This is a collection chosen to reflect the origins of my client and her partner and the places they've lived and shared in their lives together which I think is soooo perfectly personal and excellent…. It almost makes me wish for a partner too!
For me this commission not only continues to add to this series as a whole, it is an ideal opportunity for me to kick off a new set of Australian native floral emblem illustrations at last, and I am so thrilled to be returning to this goal.
So between all things this week, I have been working tirelessly on the new layouts for the Waratah and the Heath studies and I will start the drawing process next, completing the artworks as Im able in the coming weeks. As always I love having you along for the ride so check my social media platforms, Facebook and Instagram for regular updates as they come to life, or check back to this blog post from time to time to see the progress of each painting to completion.
I have also developed another new Waratah layout, a simpler version of this study, in readiness for my botanical painting workshop on the Waratah in Grafton next month. Here Ill be sharing my time, knowledge and processes on tackling this VERY challenging subject with a handful of fabulous students over the 2019 Easter period. I am sure it will be a fantastic week all round!
To kick this new project off we have the waratah illustration and the heath illustration drawn up in graphite ready to go into the painting process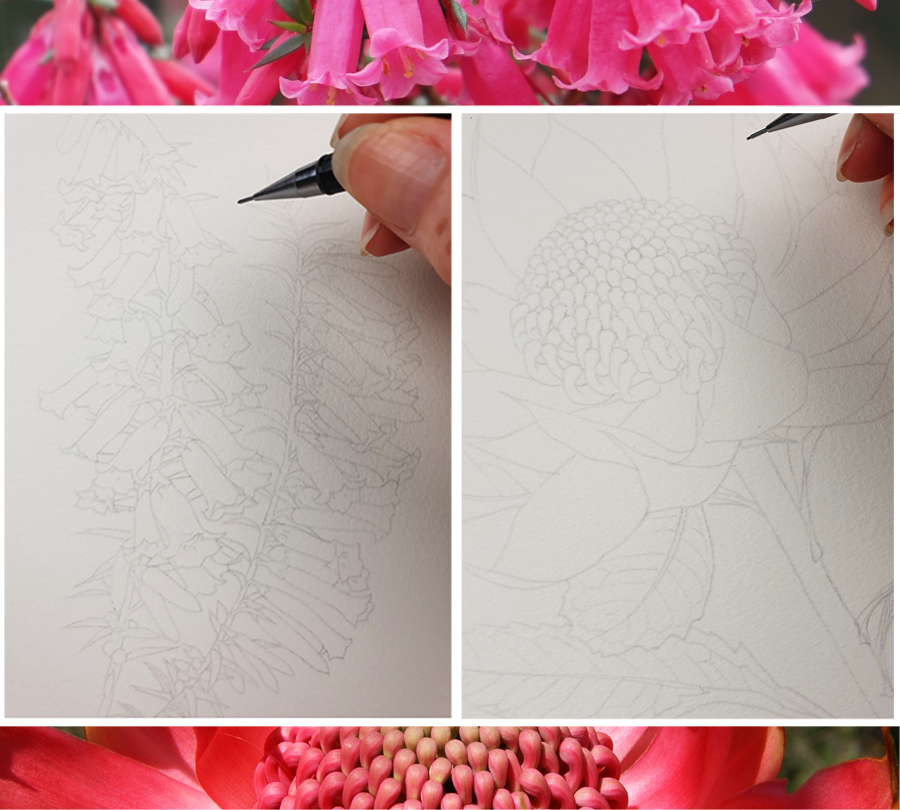 The initial drawing for each botanical painting study is complete,'Common Heath' and Waratah'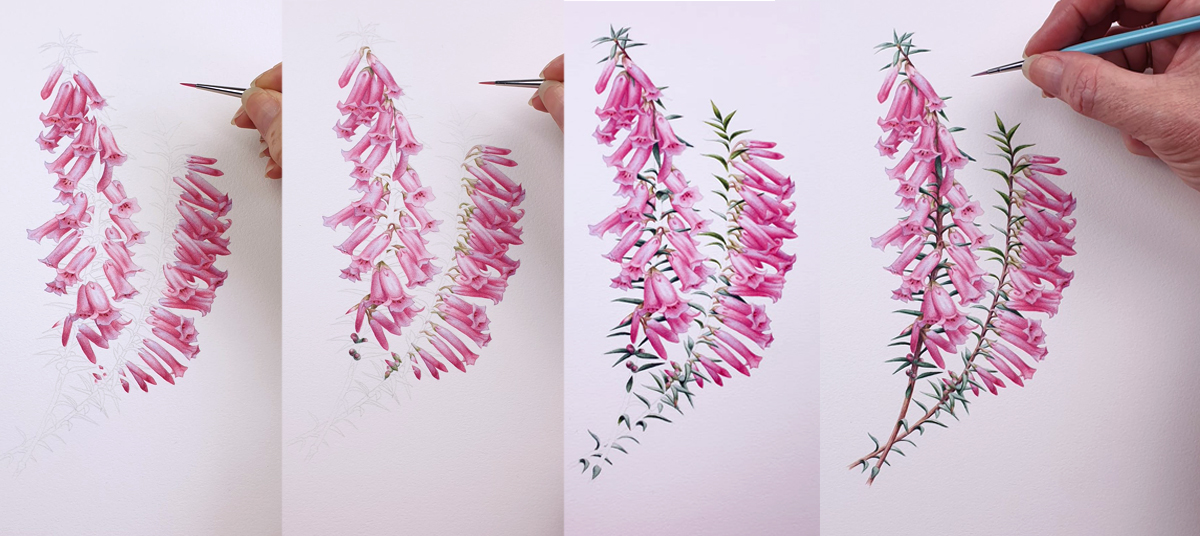 Here we have the heath illustration in progress, from drawing to the pink flowers, flower stalks, leaves and finally the stems to the completed piece. Its an intricate, delicate piece and one of the most beautiful botanical subjects imaginable to work with in my opinion! It wont be the last time I spend time with this gorgeous Australian native i hope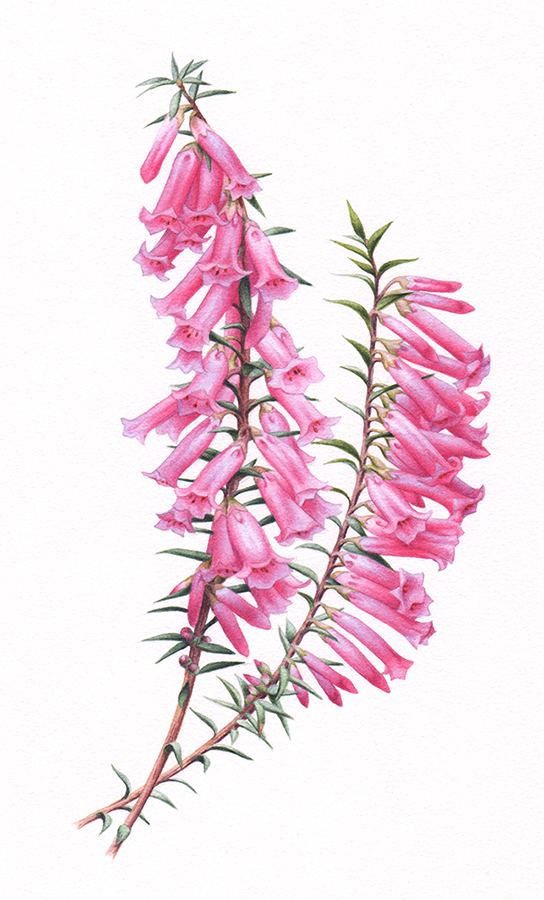 The completed Heath Illustration, the Australian floral emblem for Victoria, Australia… lucky them!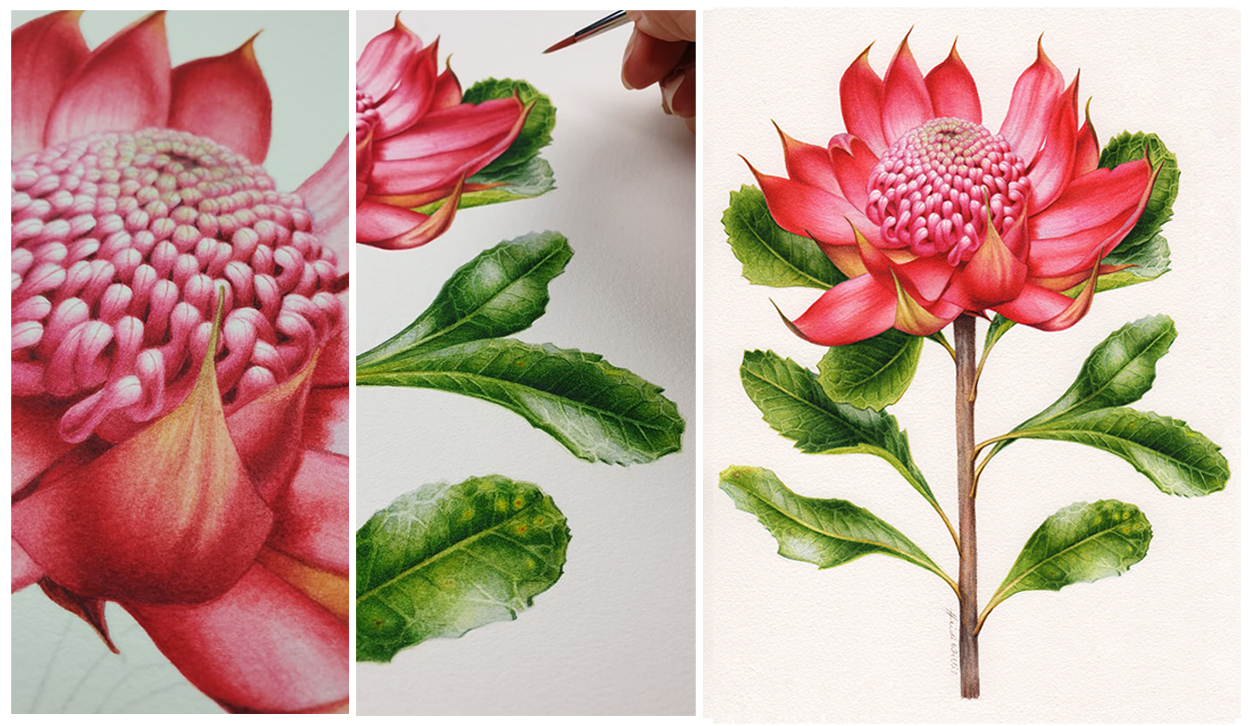 My second study, the ever beautiful 'Waratah', the Australian floral emblem for New South Wales (my home state) is now complete and is set for its new home. Along with the other 5 botanical paintings purchased in this set, its a gorgeous, personal collection that i know will make my client happy for many years to come… its such a wonderful thing to know as they leave my hands!

And now for the complete set
Common Heath (Victorian floral emblem)
Waratah (New South Wales floral emblem)
Desert Rose (Northern Territory floral emblem)
Cooktown Orchid (Queensland floral emblem)
Wahlenbergia (Australian Capital Territory floral emblem)
Wattle (from Australian Geographic's Acacia series)