Large Commercial Illustration ~ A New Painting On The Drawing Board ~ 1580 x 890mm ~ Acrylic on Canvas ~ SOLD
My new illustration project is a fairly large undertaking not only in size, but because its an especially whimsical piece for me… and perhaps most interestingly, because it is to be rendered in acrylics this time. Measuring 1580 x 890mm in size, this original artwork will make a wonderful feature in whats set to be a spectacular new home.
Actually this painting brings a significant change of pace to my usual work on several levels, but its such a fun project to take on for a truly wonderful client, making it impossible to say no to. Working in acrylics is something Ive been wanting to play with for a very long time, so this brief is also a perfect opportunity to put my hand to a new ideas and to a new medium.
Once your career, medium and genre becomes established, the opportunity to diversify from your known specialty can actually become quite rare. We tend to become recognized for a specific specialty as our work evolves and in return, the demand for that work can hold us in quite a tight groove from which we operate. This can be an extremely positive key to success as an illustrator as it creates momentum, recognition and a demand for your 'brand', but we must be careful it doesn't make us rigid or limited in our work. If we really want to excel in our craft, we must continue to expand and explore new boundaries, to think outside our usual boxes, and to embrace new challenges no matter how capable you become.
Whilst our experience in this narrow field allows us to produce quality illustration work more reliably, consistently and with far more slickness, a real professional must also be adaptable. This requires you to turn your hand to new ideas, skills, styles and of course, sometimes mediums. For me, this project is an ideal chance to extend my skills, and to enjoy a perfect, productive reprieve from my usual groove, to discover new things, and to ultimately continue growing as an artist.
Aside from anything else, this project is just so much fun. With its whimsical flavour and quirky character, Im excited that the final layout has just been approved by my client – and I am all set to start. I cant divulge the entire piece or its ultimate location for this just yet, but this rather unique painting is certainly heading off to a fantastic home when its done, and the updates will come! In the meantime I am able to share snippets of the progress and I hope youll enjoy following along with me over the next few weeks… Im looking forward to this new challenge, so lets get started.
The past couple of days have been spent drawing up and roughing in my image to get a sense of how it all works. Being the first time Ive worked in acrylics, I have all the usual battles on my hands, as well as familiarising myself with a new medium… but i am just LOVING the crash course. It didnt take long to get the feel of the acrylic paints, and soon enough it really started to 'click' for me. I worked till the wee hours of the morning last night, clocking up about 14 hours straight yesterday before kicking off at dawn again this morning. I guess thats a mix of determination, persisting and enjoying the new process. I have a looooong way to go of course, but my little chickens face has begun to emerge quite nicely. Back to the drawing board, I am continuing to work on roughing in the surrounds with improvements evident with every step. Could this be my neeeew medium? Ill definitely play with it again!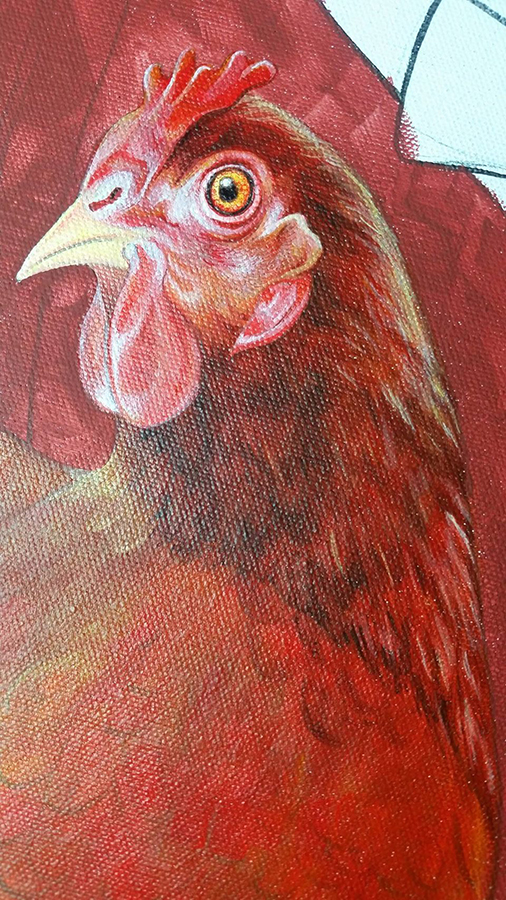 Recent work has been focussed on the internal area of a commercial factory scene, its machinery and general operations… Some areas are just loosely roughed in here, whilst other areas are a more complete. I think its coming together quite nicely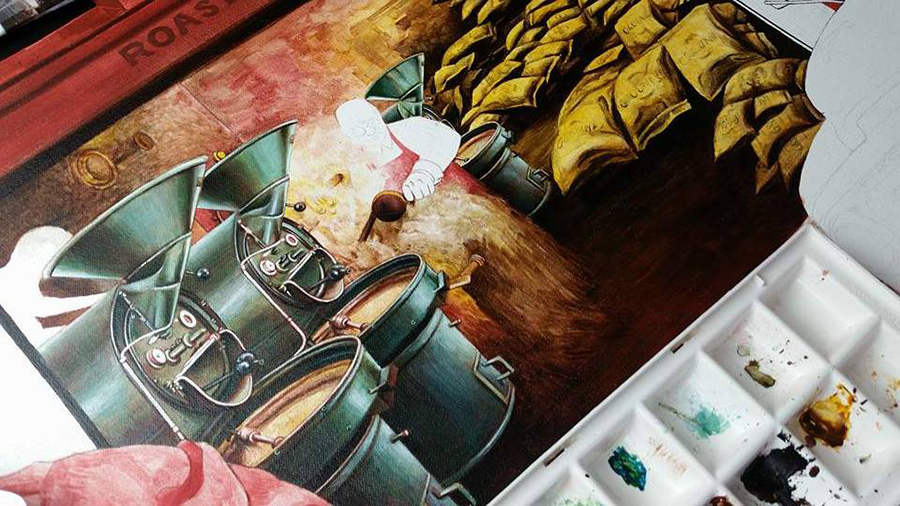 The internal factory scene is complete now, with rich darks, soft lighting and the finer detailing of this section now telling its story. Next stop the car… That'll certainly be something a little new for me!!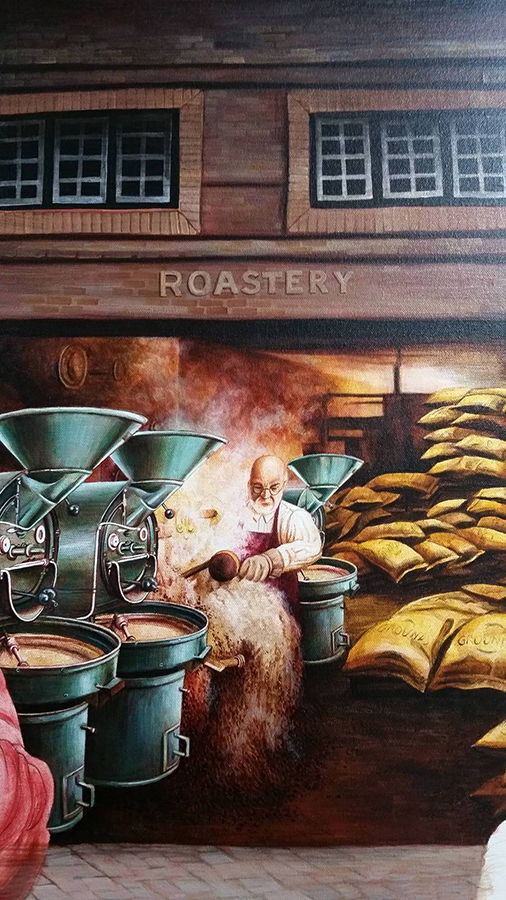 The past few days have been spent working on painting and detailing the truck in this scene, its certainly a first for me not just in medium, but in illustrating this subject too. I love learning something new and as different as this was for me, I really found myself falling into it nicely, dealing with an unusual colour mix in the blue greens metallic/reflective panels, and the generous, rounded, old school bonnet too. I started with a black outline and a little tone to get a sense for its structure, feel and so basic form. Following this I underglazed the base with a beautiful ochre colour to develop the tone and form a little more before moving into the rich greens. Lots of tonal work in this element of course, but with that in and looking like a machine, I blocked in the rest of the body in white to start pulling it all together as one. Again, I moved through delicate tones in the white to finish off the detailing and form of the panels, painted in the details like the car badge, the metallic mirrors, the generous interior of the truck and finally, brought a blue white flush across the front window to create the glassy look. Though Ill probably never be a car artist, I really enjoyed working on this section and I am very happy with the end results.

Next stop…? The buildings behind, beautiful colonial brickwork and plenty of layers of low light glaze to drop it all away into the shadows. Stay tuned, its a long studio week ahead for me 😀
Todays update focusses on bringing the chicken to completion, and I think shes a pretty sweet little lady who brings a whole new personality to the collective painting. On a technical level its quite interesting to come back to her today as she was the very first element in this new medium that I put my hand to, and Ive learned a real lot since then already. My confidence and process was both clear and refined this time round. Painting the blue surrounds of the shirt behind really clarified her outline and brought her into her own space and I love her elegant yellow legs and feet dangling bright and yellow over the black. Tucked snugly under the sturdy arm of her owner, she now joins the rest of the completed elements in this interesting painting leaving me just one final area to tackle on sun up tomorrow. It has been a loooong working week again this week, but I shall see you again very soon for the next update…. zzzzzzzz for now 🙂
The past few days, the final days working on this commission have been spent working on detailing the head of Kevin Bacon, the proud founding father of The Grounds of Alexandria. Kevin's face has been built up in many layers of acrylic paint, working through rich warm, earthy pinks to his fine white, well groomed bristles that fall neatly around his monocle, a small lick of smoke creeping out of his pipe. Capturing his alpha male confidence, his sense of pride and unique character is key to the success of this painting, and to telling the wonderful story of this business's foundations as it so deserves.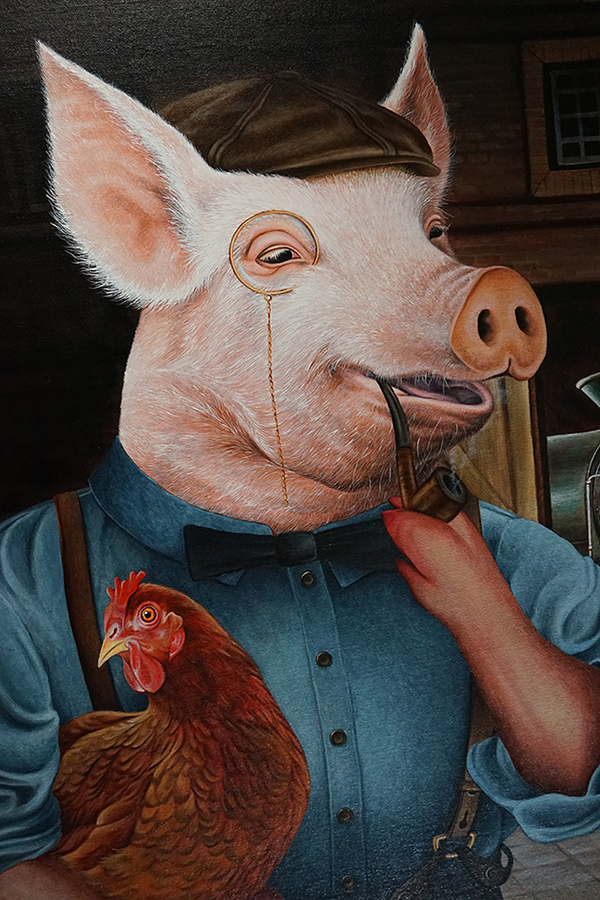 And so its complete, every element coming together nicely now to tell its fabulous tale of the early days of life at The Grounds. The opening is coming up very fast now and Ill be able to reveal more about its location and the painting in its entirety, but for now it is packed, strapped and ready to be shipped off to its new owners at last… As fun as this has been, tomorrow is a new day and new projects will begin!
I have really enjoyed this challenge though, and Ive absolutely loved working in acrylics! Ill definitely be working in them again and I am so keen to see how they feel putting them to Natural History paintings in the near future. For now I am really busting to see this unique painting hung in the next couple of weeks and I am honoured to be a part of such a magical vision this client continues to unfold for us all. Onwards!