Hunt Institute of Botanical Documentation ~ Two Works in Permanent Collection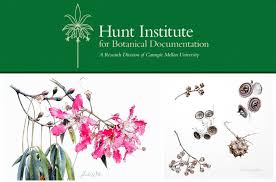 From the Hunt Institute of Botanical Documentation website – 'Hunt Institute specialises in the history of botany and all aspects of plant science and serves the international scientific community through research and documentation. To this end, the Institute acquires and maintains authoritative collections of books, plant images, manuscripts, portraits and data files, and provides publications and other modes of information service. The Institute meets the reference needs of botanists, biologists, historians, conservationists, librarians, bibliographers and the public at large, especially those concerned with any aspect of the North American flora.
The Institute was dedicated in 1961 as the Rachel McMasters Miller Hunt Botanical Library, an international center for bibliographical research and service in the interests of botany and horticulture, as well as a center for the study of all aspects of the history of the plant sciences. By 1971 the Library's activities had so diversified that the name was changed to Hunt Institute for Botanical Documentation. Growth in collections and research projects led to the establishment of four programmatic departments: Archives, Art, Bibliography and the Library. The current collections include approximately 24,000+ portraits; 200+ archival collections; 29,504 watercolors, drawings and prints; 243,000+ data files; and 30,429 book and serial titles'
The Hunt Institute features botanical paintings from their permanent collection in a wonderful exhibition throughout the year. This year, the 15th International Exhibition of Botanical Art & Illustration exhibition includes 43 artworks from 15 countries which will be on display on the 5th floor of the Hunt Library building at Carnegie Mellon University and will be open to the public free of charge and will be well worth a visit if you get a chance.
To share their collection even further, The Hunt Institute also has a wonderful traveling exhibition program. This program gives museums, universities, botanic gardens, arboreta and other interested organizations the opportunity to display work from their collection at their own facilities, opening the collection up to a far wider audience.
It is a great honour to have my work in the impressive, prestigious permanent collection at the Hunt Institute of Botanical Documentation. Both my Chorisia and Eucalyptus Seed Capsules paintings in watercolour were acquired by the Institute very early in my career… in fact these are some of my earliest botanical works. Over the years, both these pieces have been included in the exhibitions the Institute has held. As a permanent past of the collection, its amazing to think that my work has played, and will continue to play such a wonderful role in the long term history of botanical documentation.