Fine Art Prints – Botanical and Bird Paintings – Now available
Good news everyone…
I know it has taken me a little while to get my prints store up and running (yep, im just one little lady eeeep) but I have finally made time to get this side of my work underway and I have a number of my paintings ready to go in fine art prints. I know a lot of you have been waiting patiently for so long, buying prints from me directly, working around my time and availability with me so beautifully thank you, so I know you will be happy to hear this news.
In fact many of my new works will now be available in fine art prints through my Etsy Store going forward, and the process and range will only improve in time from here on out. Its a great step forward to making my work easily affordable and accessible to pretty much everyone which is really wonderful. You can access my store via the link above, or by simply hitting the 'Shop Tab' of my website. This will take you directly to my fine art prints store where you can browse whats available, order directly and pay securely through the Etsy platform.
Whilst I have a range of paintings available now, my recent focus has rested strongly on building my latest series of 15x15cm small Australian bird pieces into a collection for you. I now have 8 artworks available in this set so you can mix and match and even continue to grow your collection over time. These botanical and bird miniatures are so beautiful, each of them a unique little treasure to enjoy in so many different spaces and ways, for your own home, as gorgeous affordable gifts for that special person or occasion, or just because… And of course, I will continue to add new pieces to this series in time so there will always be something fresh and beautiful to add to your collection.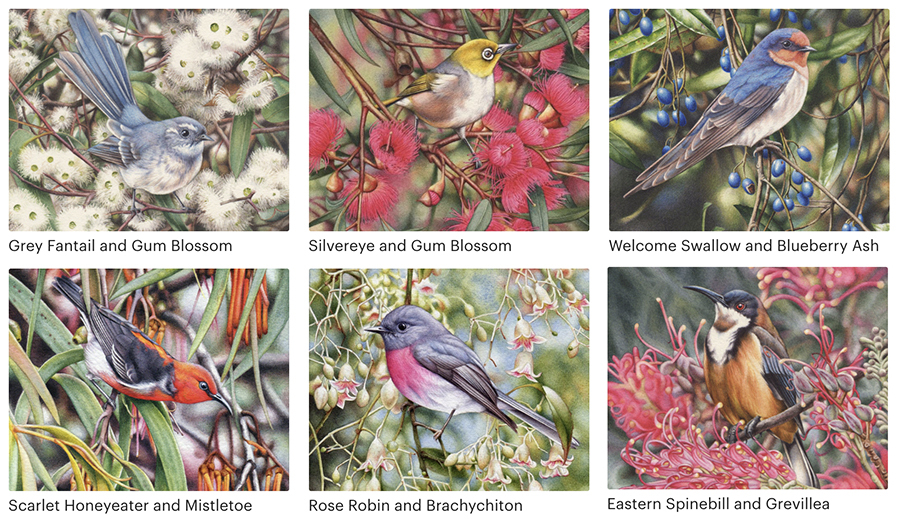 Six of my most recent 15x15cm bird paintings are now available in fine art prints
Larger prints such as 'The Great Romance' (Flamingos) can be ordered in several sizes. If youre interested in a larger piece and its not listed with size options, please let me know and we can do our best to meet your needs. Ordering is easy, just look for the dropdown options for sizes, select what your preference is and add it to your cart.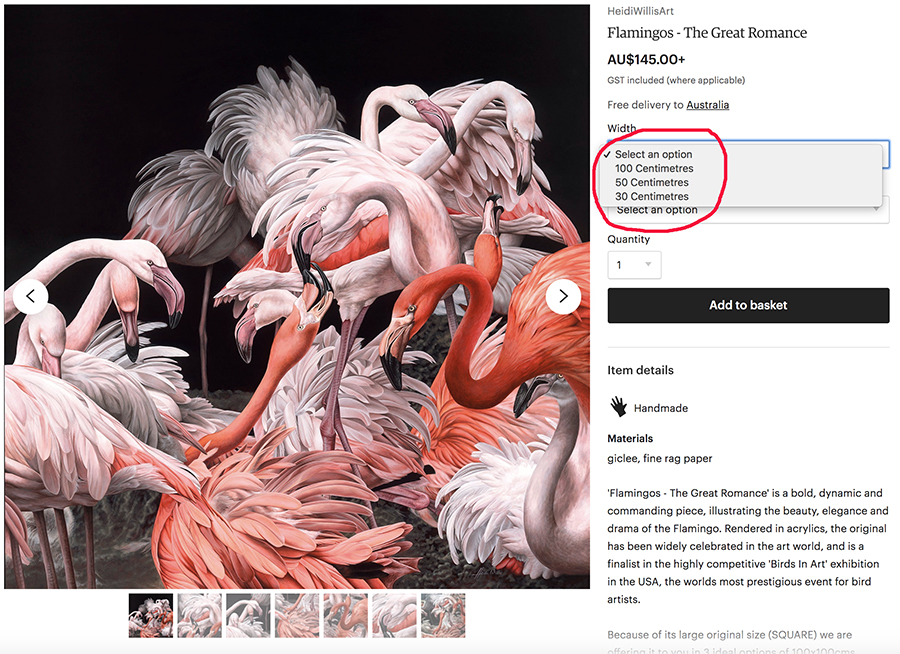 My fine art prints are not hand signed or limited in order to keep the costs down and the delivery time fast, generally taking 1-2 weeks to arrive within Australia. Though there is a fair bit of hands on time required in each order, we certainly do our best to get them out to you in the quickest time possible. Make sure you check back to the store from time to time to see whats new… there will certainly be more to come! Enjoy