Eastern Spinebill and Grevillea – Miniature Watercolour Painting – 15x15cms – SOLD
The focus for my new miniature is a gorgeous Eastern Spinebill amongst a beautiful pink grevillea, a scene so commonly seen and loved here in my hometown on the NSW coastline. Its a small piece but im excited to be capturing this beautiful little bird, and an equally beautiful plant at last. I know these miniatures are very popular so I think youll be very pleased about this surprise small piece coming onto my studio table this week. Usually these littlies are sold well ahead of time with absolutely none in this series remaining at all, so its a great opportunity for one lucky person to grab it while they can too.
I spotted this grevillea a little while ago now. It was growing on the roadside near my home with an abundant cloud of flowering pink blooms bursting to life amidst a frenzied squawking of a flock of lorikeets laying claim to all it desired… as usual. It was the usual bird battle, full of vibrato, humour and beauty, and although its a common sight, it was none the less a truly stunning vision. We are soooo lucky with our wildlife here, I know!
Of course I promptly found myself by the roadside with my camera in hand being wildly abused by the marauding Lorikeets in my face, eyes dilating to a raging red to no avail. I took my time, working my way around the lorries collecting some beautiful images of the grevillea flowers for this piece. Every painting has its behind the scenes story!
The Eastern Spinebill is a favourite for many, and how could the not be? So tiny, polite, delicate and sweet, they pop in and out of the flowers all day long, like little jewels of the garden, uplifting your spirits on sight without fail. Too fast for me to capture, I am really blessed to have the use of this little guy with thanks to my wonderful photography friends Phillip and Sharon Start who do fabulous wildlife photography work. Just look at this stunning Eastern Spinebill image Phillip took! So clever…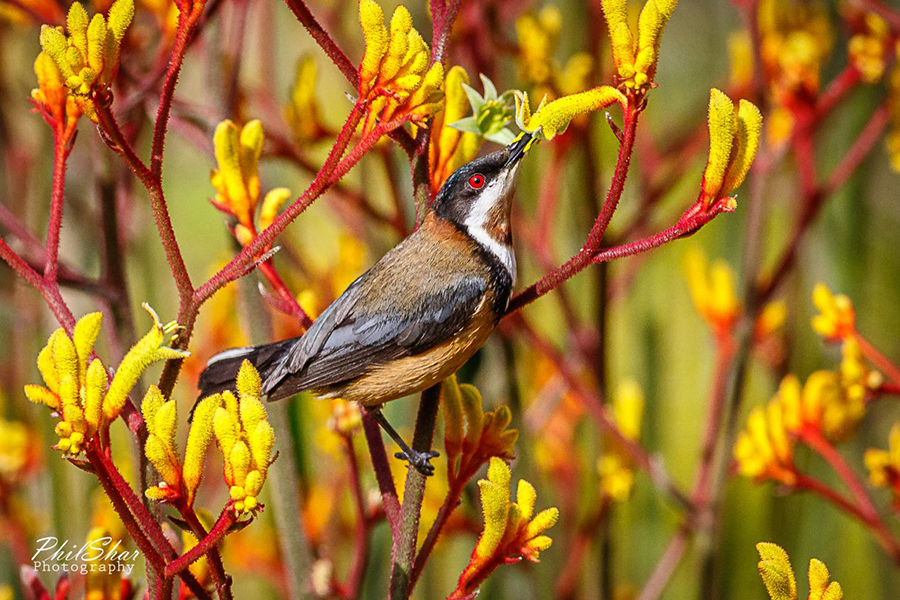 And so, with the referencing, research and layout stage complete, a new watercolour painting is set to begin! Thank you for joining me here, more will be posted on my social media pages so feel free to join me there too, and if you feel this piece is just the right fit for you, please let me know before it goes… now lets get into the drawing and get started!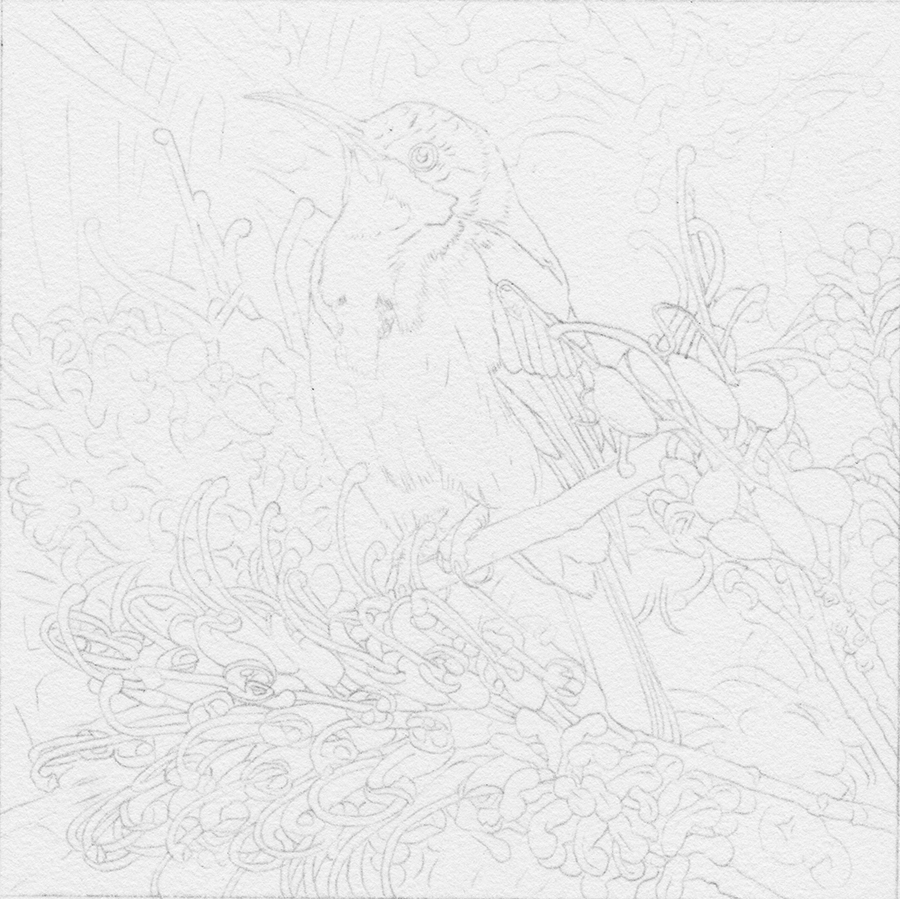 Grevillea… what am i thinking… again! Ohhhh, its super pretty, thats what I was thinking.

Ive begun working on the main grevillea flower, pinks, reds and yellows, and have drifted into some small areas of the background too. Painstaking work!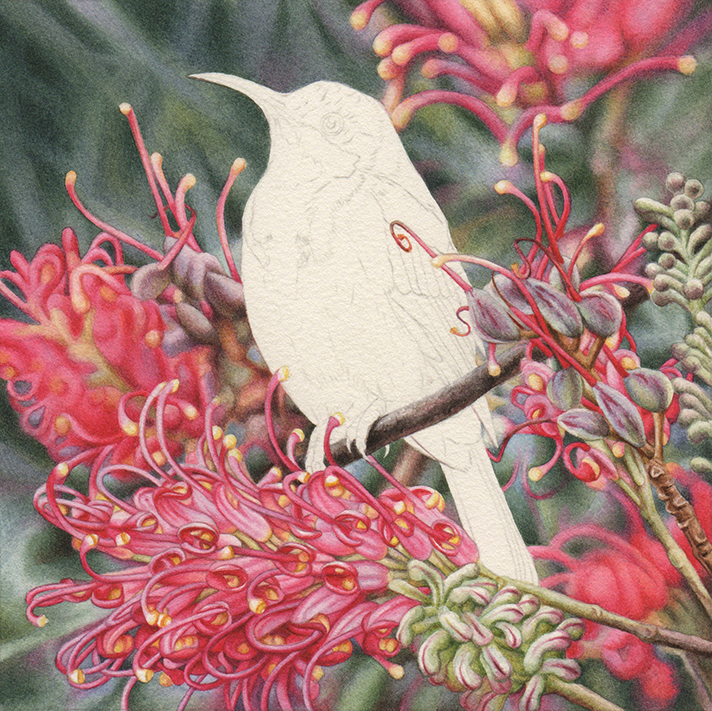 With the background complete, I am left with the eastern spinebill for this sweet little painting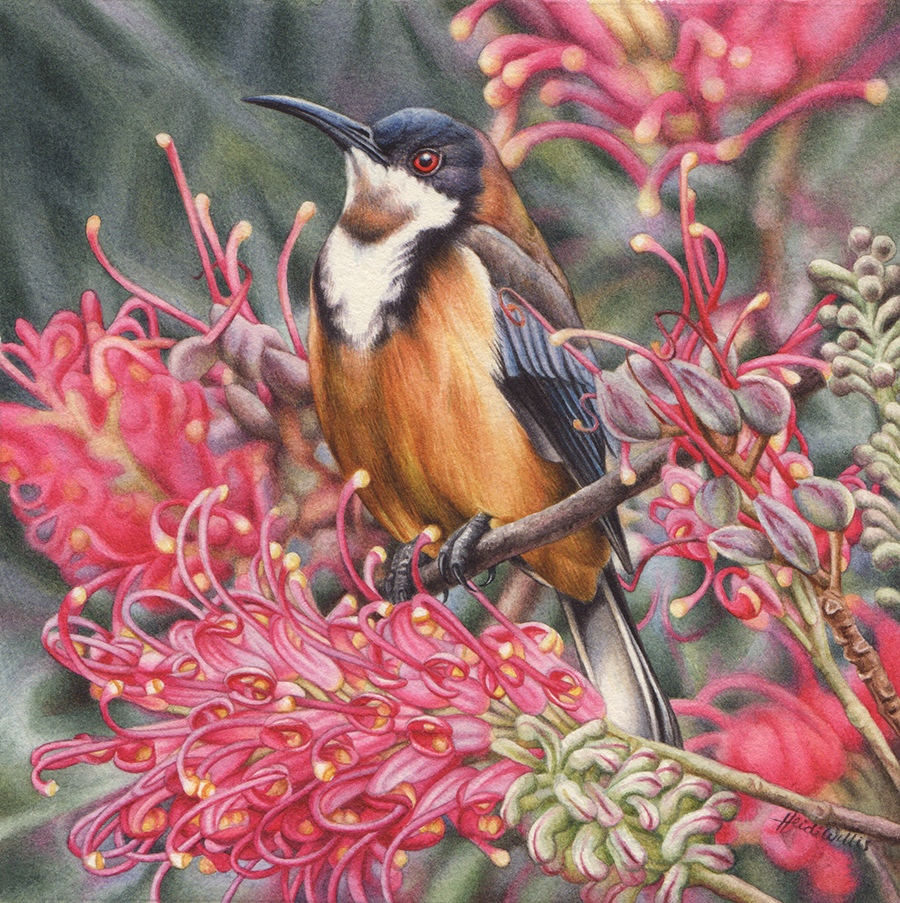 The finished painting 'Eastern Spinebill and Grevillea'
Check out my YouTube channel to watch the detailing of the eye going in on this piece, the final step to wrap it up. This painting is now SOLD however it is available in print if youd like to enjoy it more.