Coffee Botanical Illustration ~ Watercolour ~ 21x30cm ~ Original artwork is available for sale
My recent commission was an interesting one, and a painting I thoroughly enjoyed creating. The brief was very specific, a stylised coffee botanical illustration with commercial application for The Grounds of Alexandria's beautiful new menu. Client work such as this one often bring us wonderful opportunities to explore our techniques and abilities beyond the usual, as well as getting our minds off the default setting for what we do. We should be wary, even of the nicest ruts, so this was perfect refresher for me to explore amongst the busyness of everything else Im working on at the minute.
As artists we often dont like this, especially once an area of expertise and slickness in our work is achieved. We tend to love predictable, well honed practices and to keep within our safe boxes, and its a bit of a human thing… but I love to jump on these projects whenever possible to really keep pushing the boundaries of my experience and ability. Also, its a lot of fun! I love working with my clients to create something just right for their needs, and they love working with an artist they can have every confidence in too.
In this case we were seeking an old world litho print look with lineal texture and simplified washes (that part was hard for me) and stylised line work, so I set about designing the layout, a stem of beautiful lush coffee leaves falling either side of a stem covered in coffee beans and the gorgeous white flowers of this plant. Its a wonderful subject to illustrate, and so beautiful it seems hard to go wrong.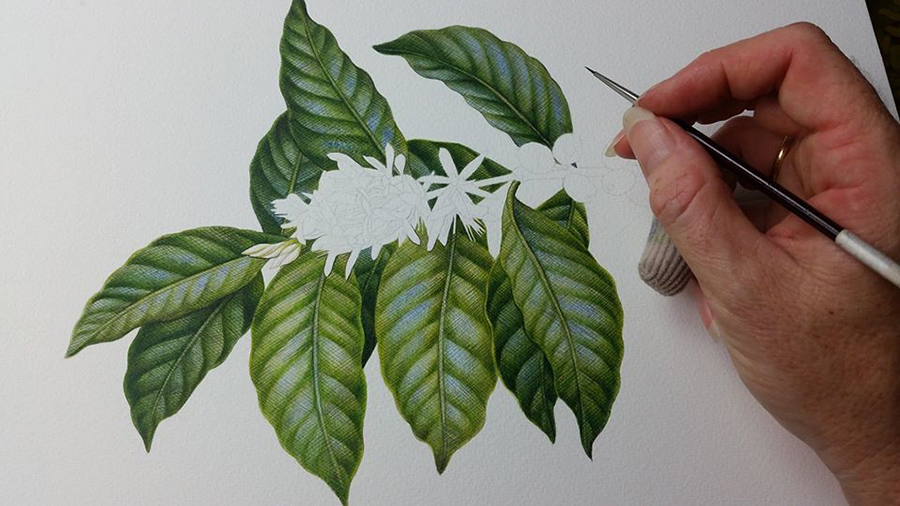 In this instance though, we had clear needs on how the image needed to work in its application, so I played with the elements until everything worked just right for us, and away I went laying down clean, simple graphite lines followed by clean simple washes of watercolour, finally overlaying the intricate line work over the top to complete the textural look and feel we were after.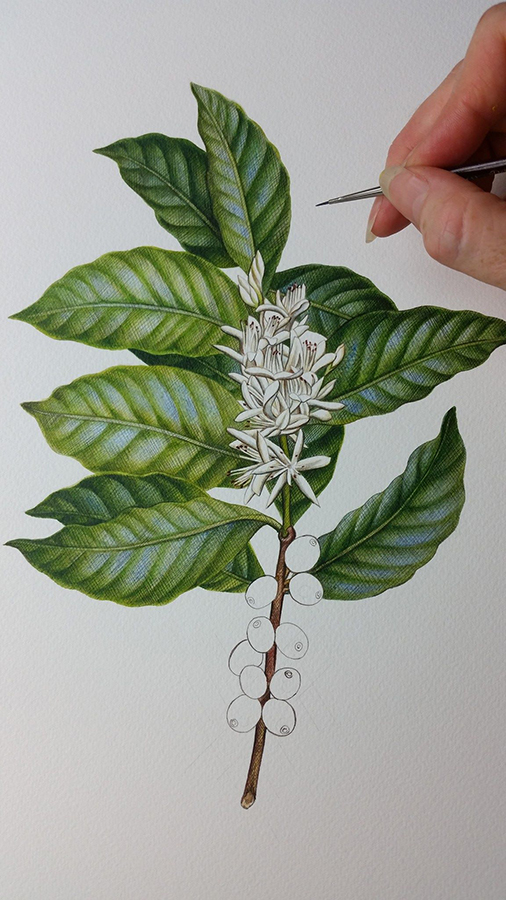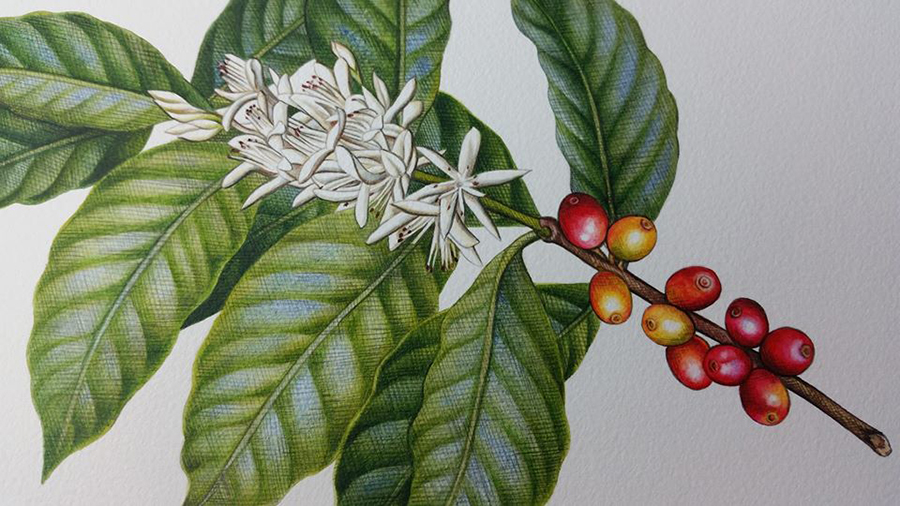 The result is quite wonderful i think, like a vintage image over linen – yet with the freshness of new work. Its ideal for the final application and Im really looking forward to seeing it put to such lovely use… What a wonderful refreshing sidestep for my mind this has been.
_____________________________________________________________________________________________________________________________________
UPDATE: I finally managed to get my hands on a copy of The Grounds of the City store menu yesterday – and it looks so fantastic! With an hour and a half wait on coffee and the swarming crowds, I simply grabbed a copy and left… without a coffee. The tremendous success of the new store is no surprise, but it was even still, overwhelming and thrilling to see it in motion. It is even more thrilling to have played a tiny role in making this vision come to life.
As work begins on the revamp of the Grounds of Alexandria Potting Shed now, the finished product of the last project can finally be shared with you… my coffee illustration featuring beautifully on the front cover.