'Blue Wren and Blossom' – A Pair of Watercolour Miniature Paintings – Both artworks are SOLD
'Blue Wren and Blossom' is the stunning focus subject for my current watercolour paintings to come out of my studio, both have been snapped up before completion, or even before commencement as these beautiful small works always are! I call them my little gems as they are all about trying to achieve exquisite perfection in a tiny space, and I find myself falling ridiculously and deeply into each of them for houuuuurs on end.
The first little blue wren and blossom painting is newly complete. Its pair soon to start, but I wanted to share the progress of the first with you now… Beyond the intense emotions and instant love most of us feel for wrens as a subject, I found myself instantly lust bound upon discovering this glorious pink spring blossom by the roadside on a recent roadtrip, the freshness of the light, the delicate colour, the warmth in the hints of yellow found in the lichen and pollen features was completely irresistible to me… and so this painting was born! Special thanks to Nikki Redman for the use of her beautiful blue wren image used in this piece too.
The initial stage of the first was capturing the blue wren itself, perched upon a simple sprig of blossom. Working in rich and diverse blues, I worked on its tiiiny body, rendering the soft feathers and flushes of colour through to the darkest blacks, the fine brilliant blue tail feathers and of course, the most minute of eyes possible for a bird. Once the blue wren was in, work began on the flowers then ultimately the background the bird is nestled within for the final completion.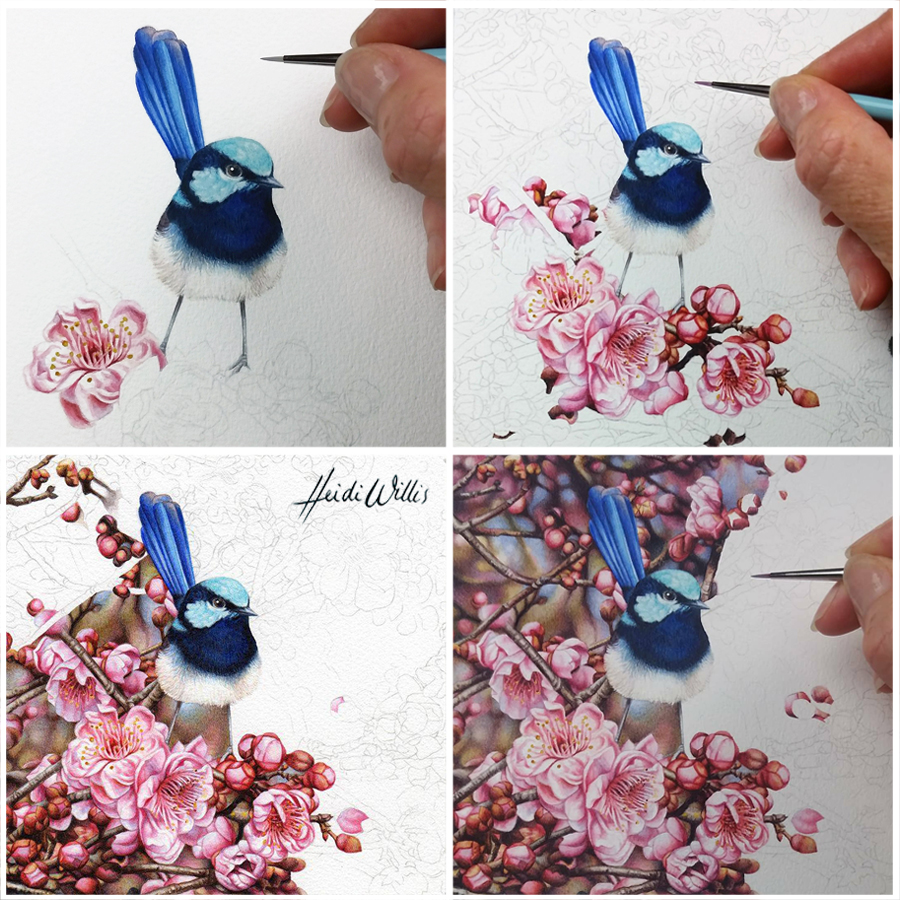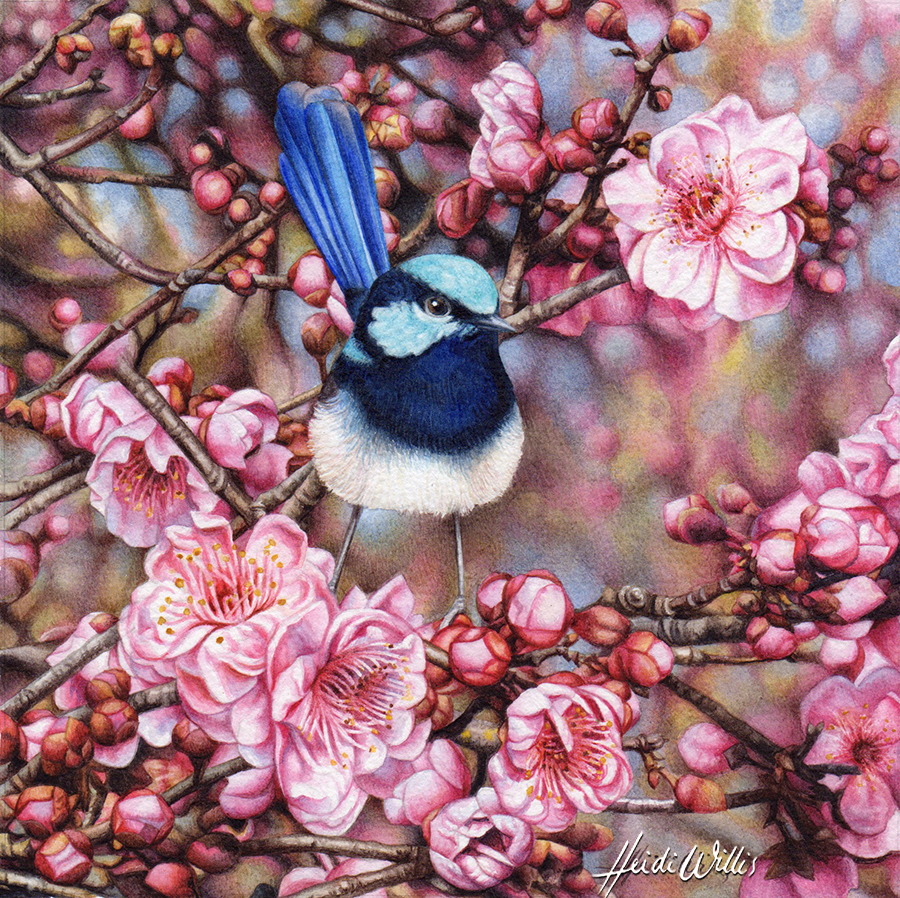 The completion of the first Blue Wren and Blossom painting
******************************
As the second Blue Wren and Blossom miniature gets underway, consideration has been given to the continuation on the background and blossom aligning from one to the next, the combination and position of the two blue wrens in relation to each other, and how the composition works individually from painting to painting. With all this in mind, rendering has begun. The blue wren is complete and I have completed the lower half of the blossom flower features.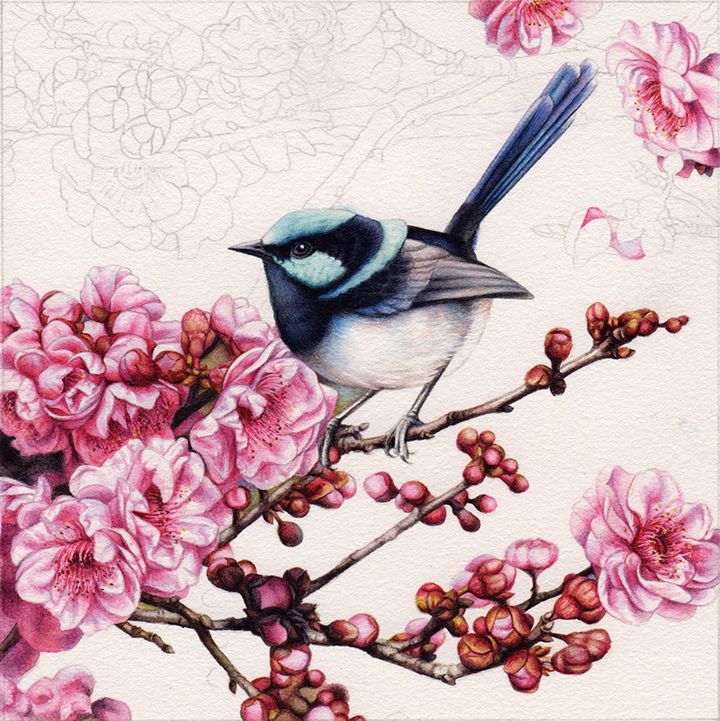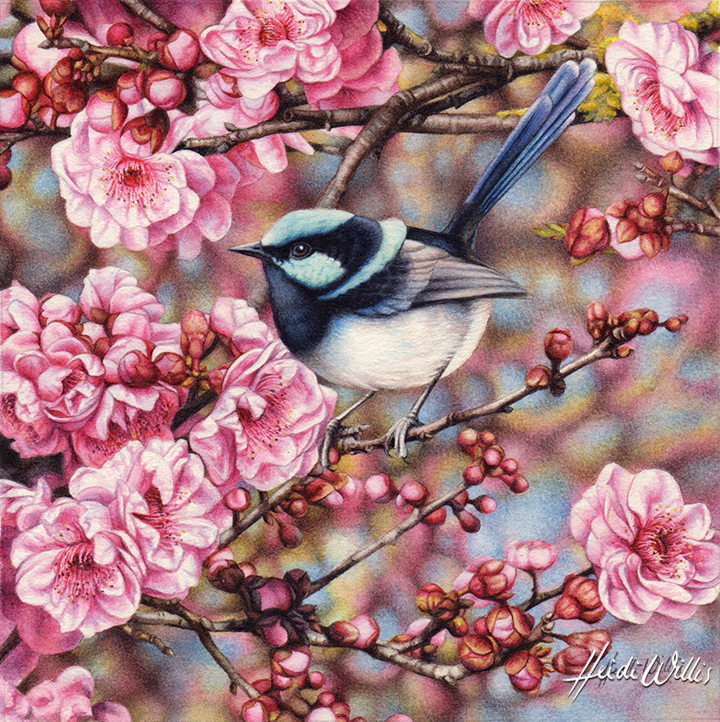 The completion of the second Blue Wren and Blossom painting
With the second Blue Wren painting complete, these two miniatures are off to their new owners with prints soon to be available to you all. Stay tuned for the release of those as they will be beautiful, affordable and perfect for your home.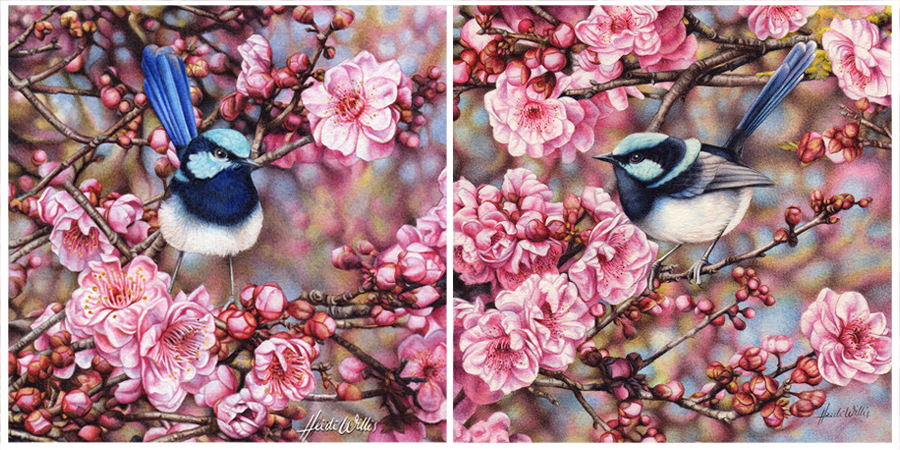 ******************************