Australian Geographic ~ Australian Floral Emblems ~ Botanical Illustrations

In a constantly busy schedule, I dont always manage to keep track of everything that unfolds around me when it comes to my work. Its sometimes the case that my wonderful followers are the ones who keep me informed of new developments and exposures, and I love that people around me feel excited about my paintings and my career enough to not only follow my work, but to keep me up to date too.
Seeing my series of botanical illustrations of our beautiful Australian Floral Emblems on the Australian Geographic website this week has been such a highlight. I am thrilled, not only to see my work being used and promoted so widely as this, but to see that they have done such a fabulous job showcasing my work is simply fantastic. Every high profile exposure we can achieve like this is a big plug for the spectacular work we do as botanical artists everywhere! So thank you to all those who brought the wonderful news.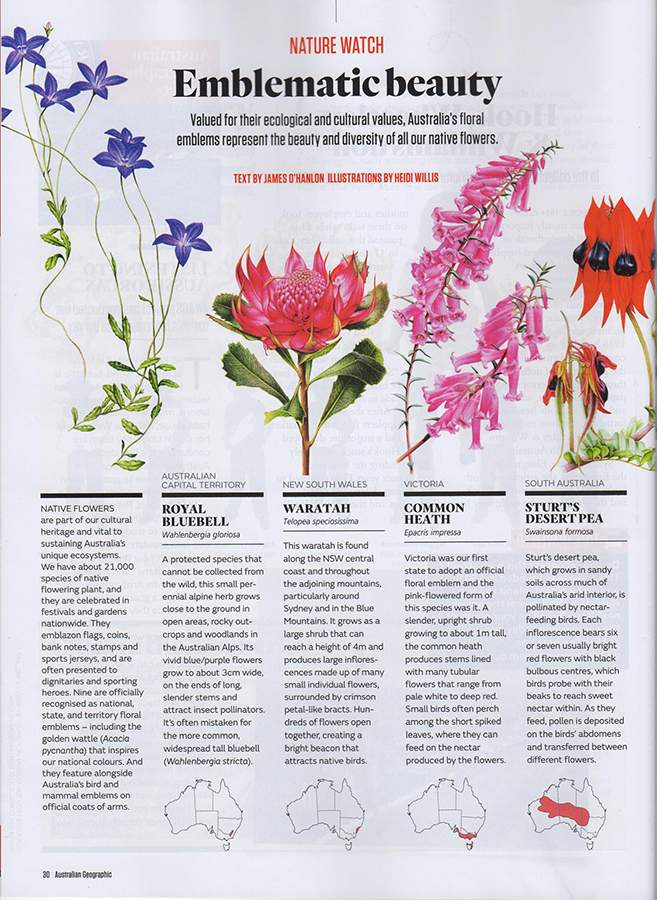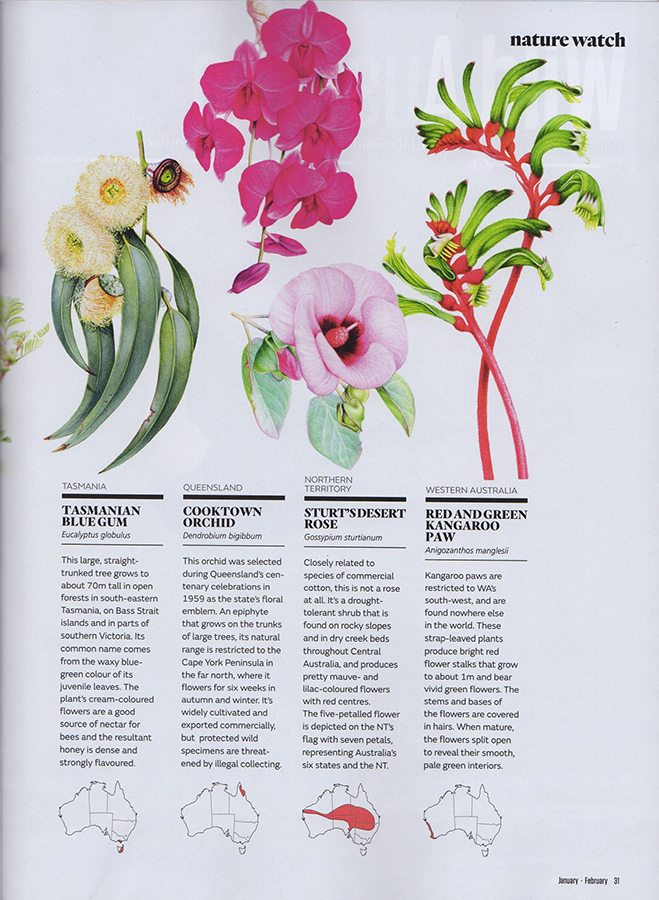 Original artworks in my series of Australian Floral Emblems have been finely rendered in watercolour, and illustrate each State and Territories flower. This series of intricate botanical illustrations were featured beautifully in Australian Geographic Magazine, Issue 130, but can now be seen in this new dimension as featured on the Australian Geographic website.
A list of the Australian Floral Emblem plants and the botanical illustrations I created are featured are below;
NSW – Waratah (Telopea speciosissima)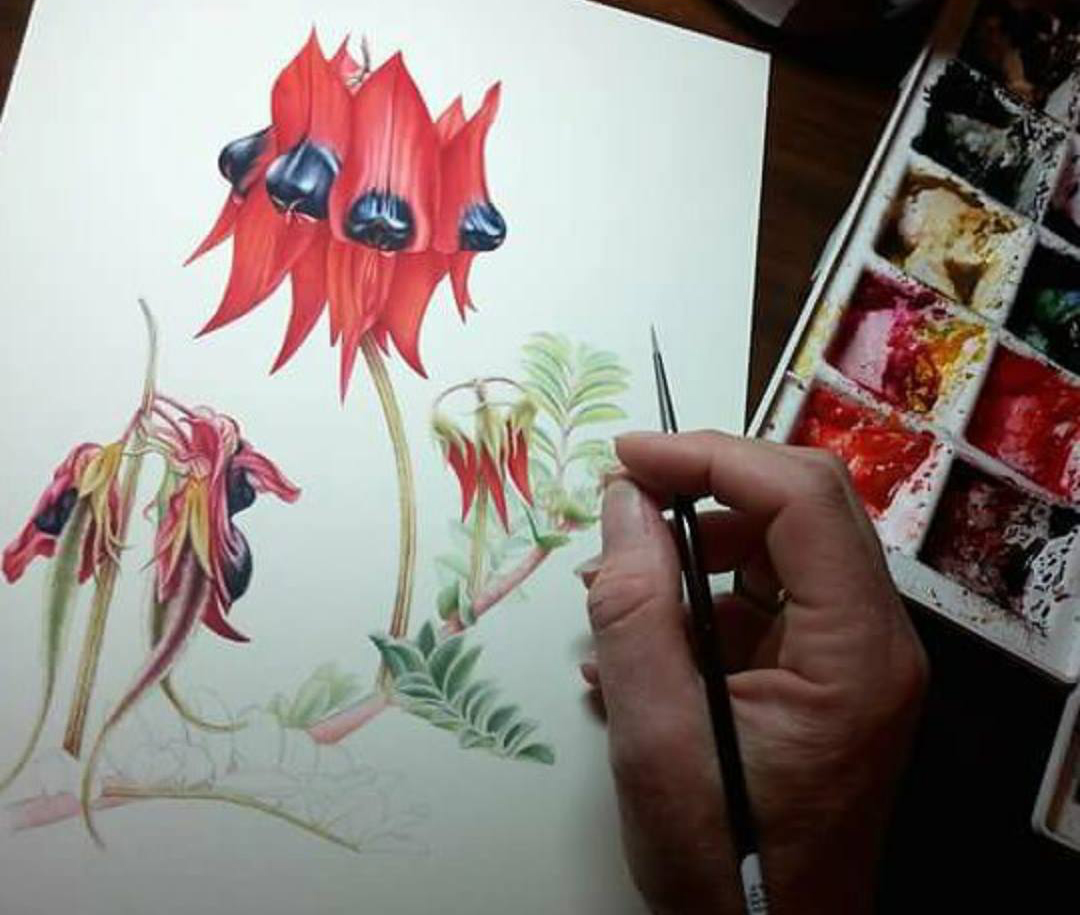 South Australia – Sturt's Desert Pea – (Swainsona formosa)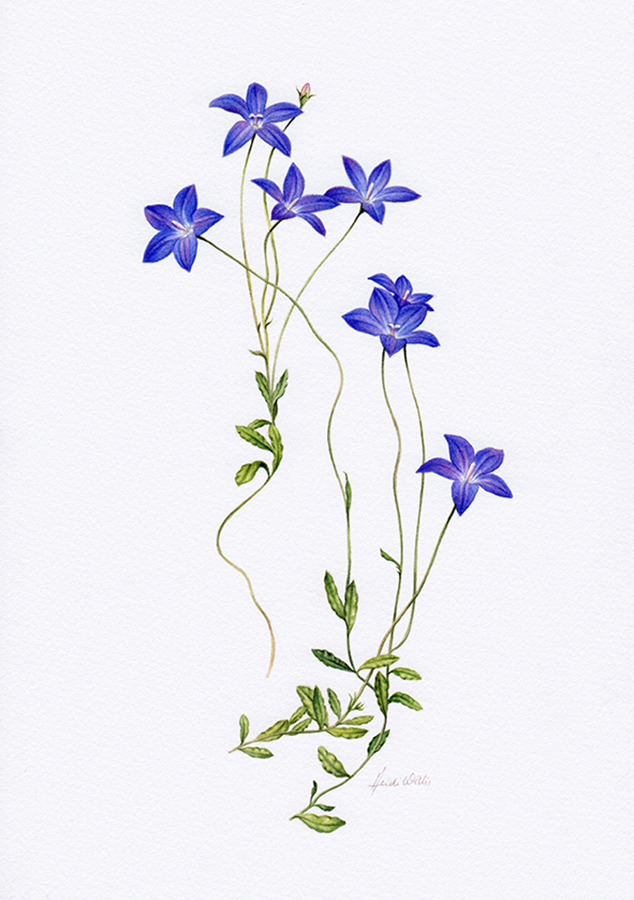 ACT – Royal Bluebell (Wahlenbergia gloriosa)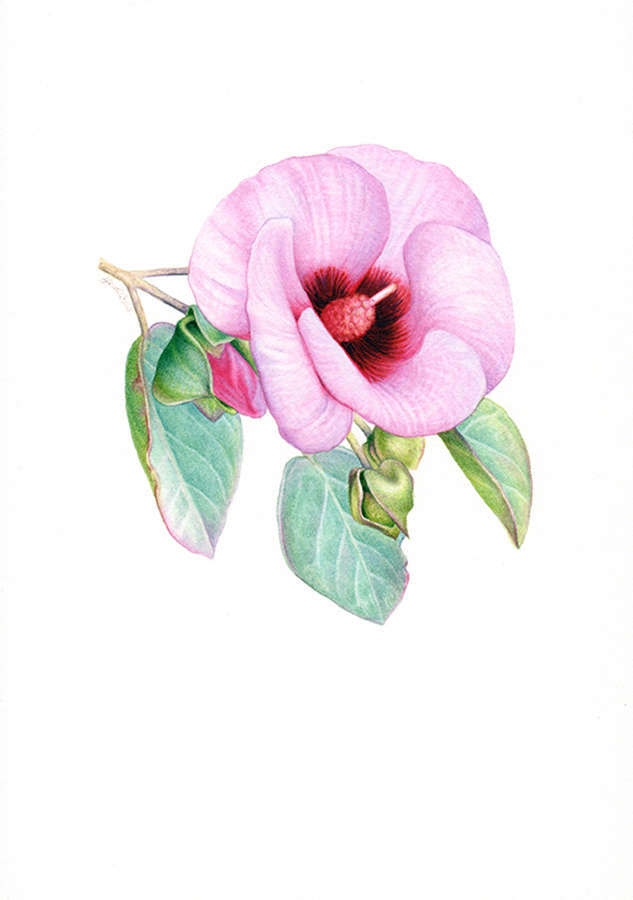 Northern Territory – Sturt's Desert Rose (Gossypium sturtianum)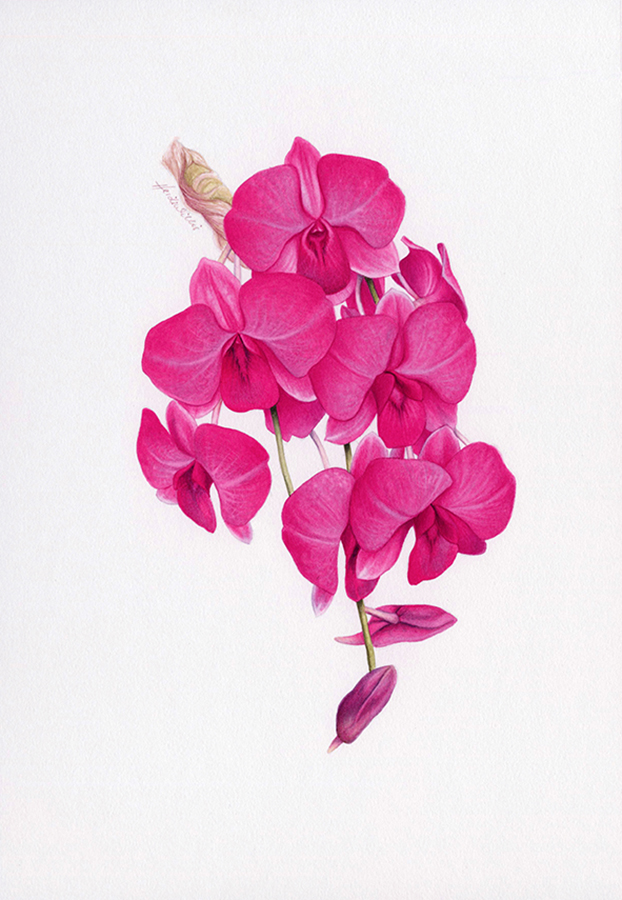 Queensland – Cooktown Orchid – (Dendrobium phalaenopsis)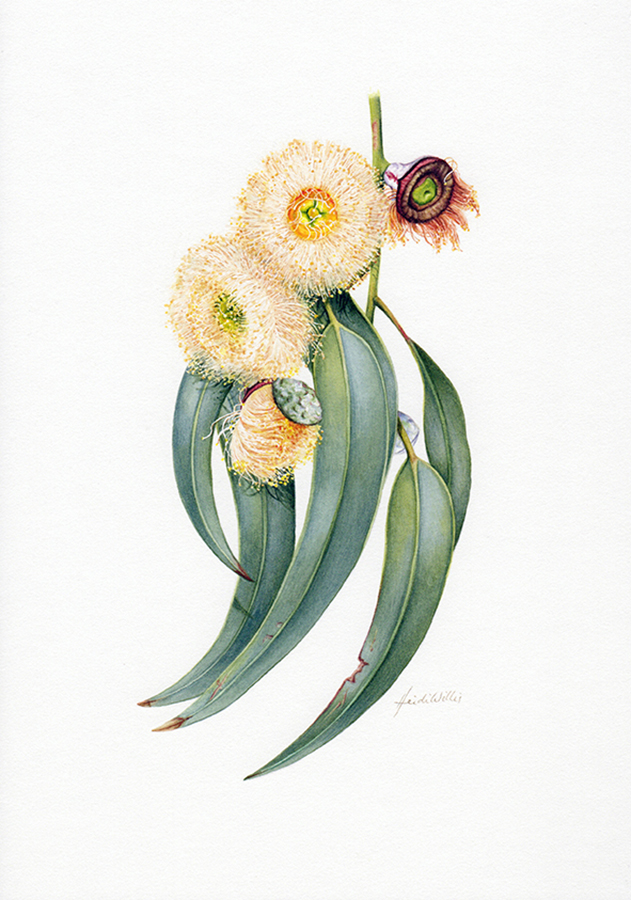 Tasmania – Tasmanian Blue Gum – (Eucalyptus globulus)
Victoria – Common Heath – (Epacris impressa)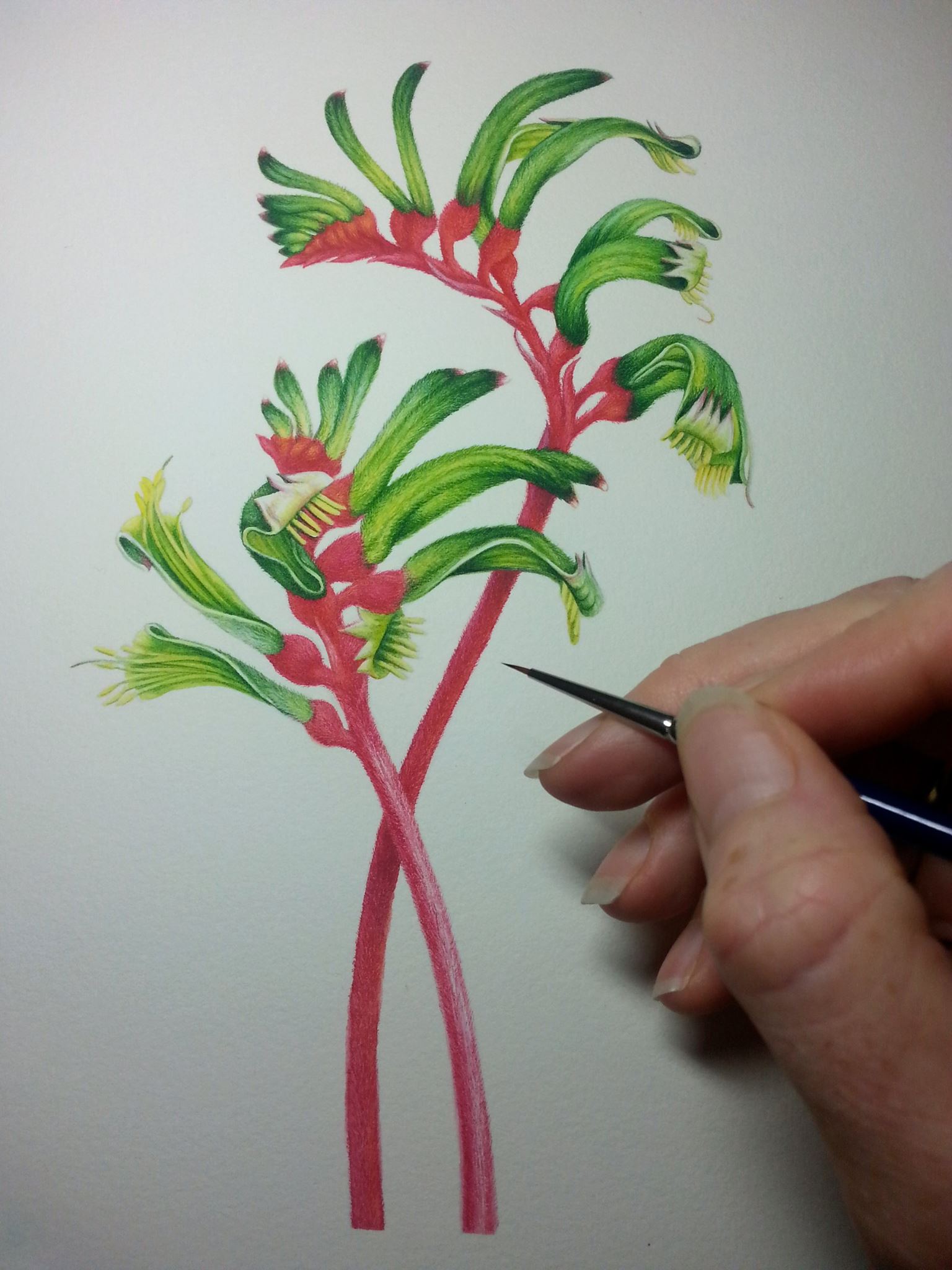 Western Australia – Red and Green Kangaroo Paw – (Anigozanthos manglesii)
Some original artworks in these series of botanical illustrations are still available for purchase, so please let me know if you have any enquiries on these published works… In the meantime, take some time to look at the Australian Floral Emblems botanical illustration series on the AG site too, its well worth the exploration… Enjoy!