Watercolour Rose Robin Study – 'The Bird and The Bee' – Approx 18x18cm – SOLD
My new painting is another small watercolour Rose Robin study, inspired by a combination of a gorgeous image my friend Alison Nisbett captured of the robin and a wonderful gathering of blossoms I stumbled across in the early spring, a spectacular sight indeed. The two together seem such a delightful mix of both colour and energy that really excites me to explore further. Even though its a small painting, these littlies are just as beautiful as the others. In fact many describe the small paintings as exquisite, a statement I would agree with entirely, or at least it is my intention to create them as exquisitely as I can.
In the same style as the last 'Splendid Wren and Grevillea' painting, this new piece will be created a study too, an elegant illustration of my subjects on a white background. With the layout refined I have begun with the drawing, clean, precise line work in graphite to map out my way forward. With this in place its time to wet up my brushes and bring this watercolour rose robin painting to life.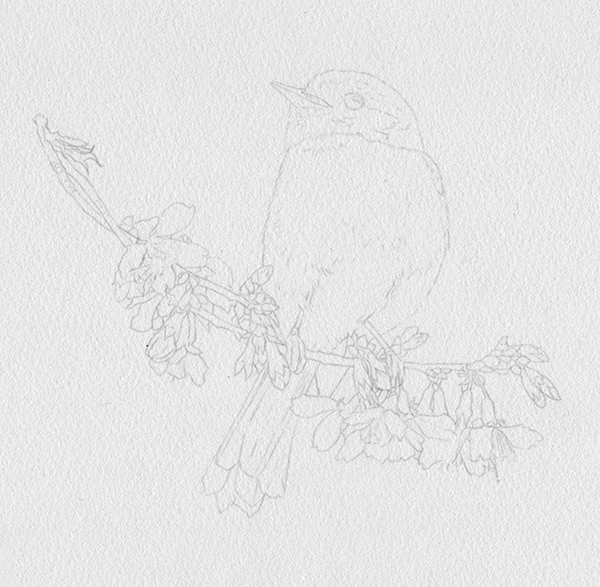 Graphite drawing of my Rose Robin illustration is complete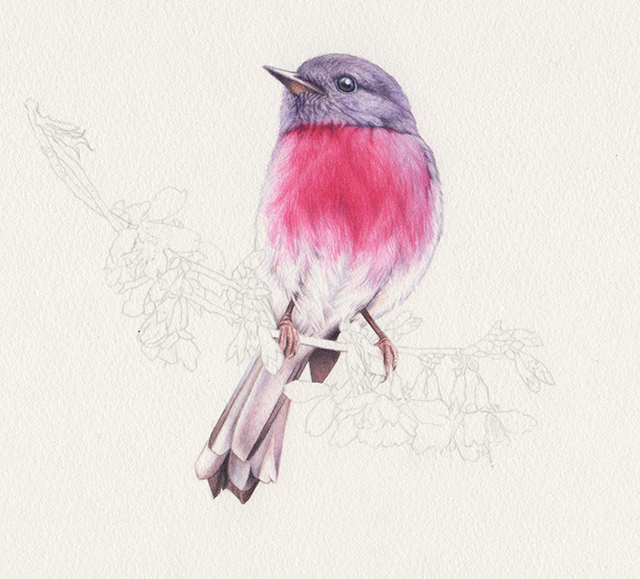 Tiny brushes and endless minute strokes of pink and grey brings the colours, textures and personality of my rose robin painting ever so slowly and satisfyingly to life. The eye, so small and critical brings a real spark of reality to the study as he watches back at you so sweetly from the page. The blossom surrounds are the next step, such delicate, intricate work in every millimetre of the painting.
A closer look at the detailing of the bee hidden amongst the blossom flowers… a fun little addition to this study. His wings have a flush of metallic silver to give then a beautiful translucent shimmer, another little fun element of this painting. The blossom is complete now, bringing a sweet close to 'The Bird And The Bee'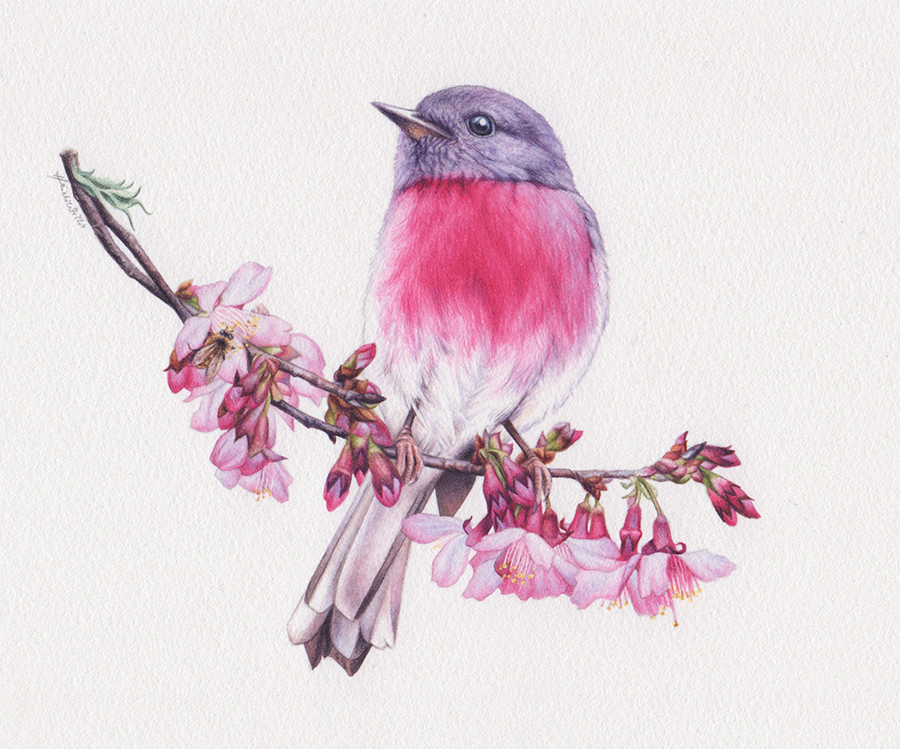 This piece is now SOLD but please let me know if you have any enquiry on other originals, or if youre interested in discussing a commission just for you. Check out the time lapse of this painting coming together on my YouTube Channel, be sure to follow me on my social media pages for more and thanks for following!
********************************