Tyalgum Art Retreat Event – Botanical Watercolour Workshop
Well it is that time of year again, that blissful week we all look forward to so much where we make time to completely unplug from the great big hectic world we all know so well and head out to the serenity of Tyalgum, nestled into the Far North NSW hinterland for a week enjoying my botanical watercolour workshop, painting without a worry in the world. Its a place where nothing but art, heart, inspiration, amazing company, guitars by open fires, a good bottle (or two) of wine awaits, surrounded by bucketloads of creativity and positivity. What better way to spend a week, I ask you?

Artables annual Tyalgum Art Retreat week is reliably amazing, attracting students and tutors from far and wide, offering a fully catered stay, on sight accommodation and an array of truly amazing, diverse and dedicated tutors offering their time, attention and knowledge intensively to our students throughout the week. With Artables eternal thoroughness, professionalism, attention to detail and immense sense of fun, its no wonder this event is so much anticipated and so fully booked out each year! My botanical watercolour workshop there is always an event I know I can rest easy in the knowledge everything is taken care of, and it is a pleasure to be a part of each year.
Flying in to the Gold Coast on sunset, I touched QLD soil under a blazing red sky, taking to the country roads under the fading night sky. Reception soon behind us, the brief pangs of anxiety amongst the disconnection were soon replaced by an even more intense desire to remain unplugged. Memories of life 20 years ago resurface, of childhoods unbothered by the constant intrusion of technology, so immediately transformed to the stillness and realness of time spent totally absorbed in creating and in connecting with people in its place. Its a week of feeding hearts and souls, including my own, and so ironically a week of disconnecting in order to reconnect.
My class were so amazing. As a tutor its so much about the attitude of a student that allows them to learn and grow the most. With these people you can progress so very far… and we did. What a fabulous group it was to work with, thank you! 'I have to admit' one student said to me on the last day 'when we started the rose i thought, piece of cake! Then I realised it wasnt so easy at all!' But! With a willingness to learn and a little perseverance on the right track, we sure can make one hell of a difference, and every one of my students proved that well and truly this week! I am not only proud of their work, but of the kind of people they are too… and the same can be said for each of the 100 or so students we hosted this week. Besides the art, we had so much fun, I saw so much learning, and saw so many new friendships formed along the way too.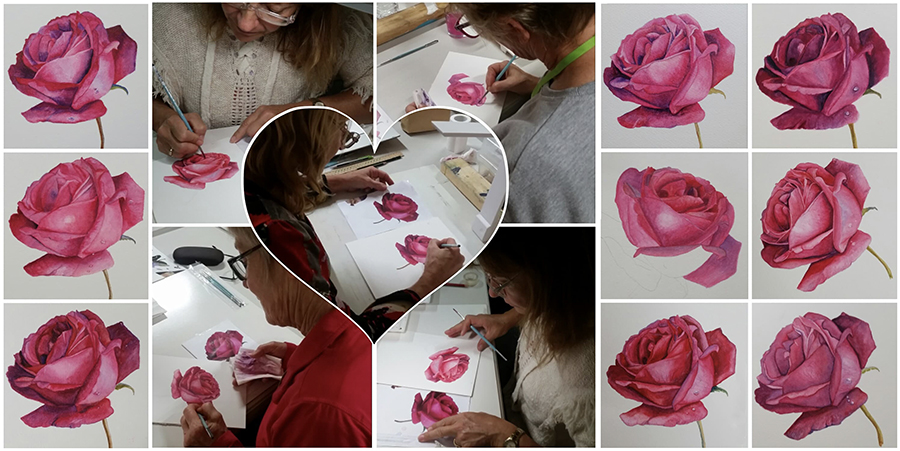 Being a botanical watercolour workshop, we worked on two botanical subjects throughout the week, a rose and a thunbergia study. Choosing to drill down into the process, techniques and the study rather than skip over many pieces lightly, they both proved to be perfect subjects to explore. As you can see below, every student rose to the challenge, or should I say challenges beautifully and overcame so many uncertainties over the days, creating new confidence, perspectives, strategy, understanding of techniques, our subjects and process related to this work, and of course, some really beautiful work was created as a result.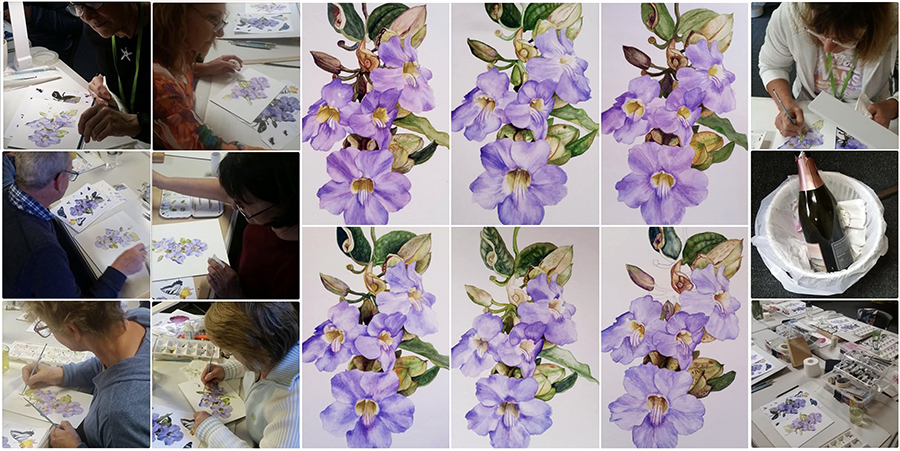 Leaving the retreat, the dread of the influx of a week offlines messages became a reality all too soon, the acclimatisation back to the rush of the world softened by time beside the ocean with my girl, our paths crossing all too briefly beneath apricot skies, indigo oceans falling to night, last light slicing its way over the sand and the stunning silhouette of the Gold Coast on the far horizon for just a moment before parting ways once more. It seems everything I do in my life utterly depletes me and yet so completely restores and sustains me too, all at the same time…! I think its in always giving whats before you your full effort and attention, and I cant imagine a life any other way. This, another wonderful week chasing dreams, my own and others, a week well spent.
Thank you Gillian and to everybody who came together to make this such a special event… Ill see you all again in 2019! I guess its time to add that to the botanical watercolour workshop opportunities list for next year hey! We already have bookings so let Gillian know if youd like to be a part of the Tyalgum event for 2019 before the sell out finds us again. Of course wed love to see you there.