Red-Fan Parrot and Cannonball Tree – 33 x 45cms –  Watercolor
This painting is currently available. Please let me know if you have any enquiry on this piece
Artwork is now available in print
Red-Fan Parrot and Cannonball Tree is my new painting, stemming once again from my time exploring the incredible natural history in Brazil. It is no surprise that this place remains resting firmly in my heart. It is of course, a love affair with the remarkable, abundant natural beauty of this place that is now being reflected in some of my work, and I hope to share my experiences with you as well as I am able through my paintings.
As many of you know, I traveled to Brazil late last year in order to continue building my current series of paintings in the White Room Collection. This collection stems from a series of significant dreams or visions that Ive experienced over my lifetime, and consists of a series of large natural history studies from around the world, each measuring 66x90cms in size.
The first, St Vincents Amazons and Cannonball Tree, the second 'Sulfur-Crested Cockatoos and Silky Oak and most recently 'Lecythis and Hyacinth Macaws' mark the beginnings of this significant body of work. Complimentary to these large works comes a series of smaller paintings measuring 33x45cms in size (quarter size), exploring smaller birds of the same regions… The first being 'Red-Fan Parrot and Cannonball Tree' .

The Red-Fan Parrot (or hawk-headed parrot) is a difficult bird to overlook with its striking and unusual appearance, intense colours and showy head feathers of brilliant red and blue which fan up in a spectacular show… This is one bird that remains a truly memorable site from my travels and one I certainly had to include in this collection. The real challenge for me with this painting is to convey the strangeness, intensity, character and beauty of this bird… without the study seeming too strange or intense! Its a fine balance between intensity and beauty and a story that must be told perfectly.
To compliment the Red-Fan Parrot I have chosen to return to the Cannonball Tree. For me it is a fascinating favourite that I am far from finished exploring, it is a tree I enjoyed so much in Brazil, the colours and boldness of both subjects are so harmonious and dynamic together, and beyond the aesthetics of the combination, the science of this mix is sound.
The layout indication is below in black and white and the humble beginnings of the painting process has kicked off nicely now on the right, starting with a gorgeous cluster of Cannonball Tree flower buds… The perfect botanical illustration subject, I am so in love. I hope it shows!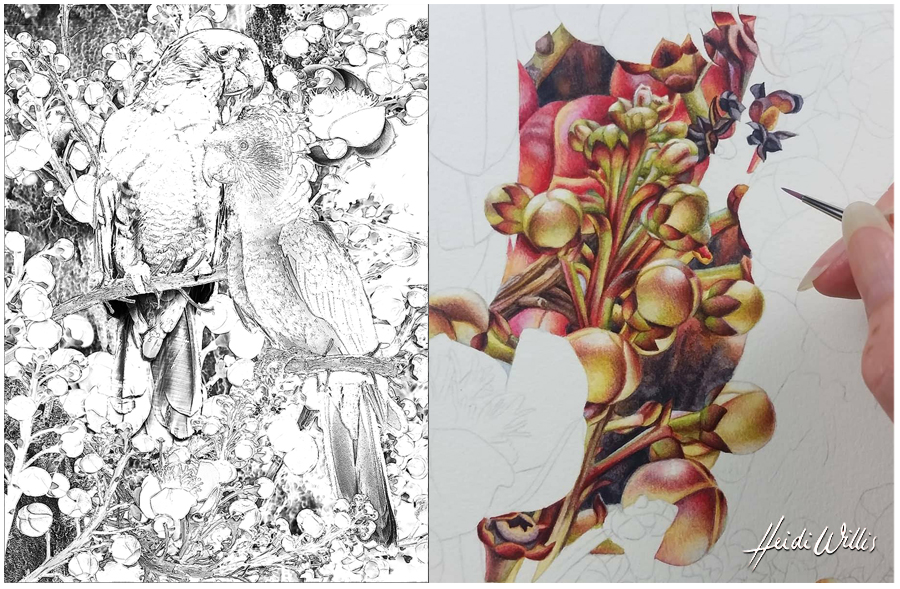 I hope youll join me here for this new unfolding, thanks everyone!
******************************
Todays update shows the completed portion of this painting overlaid on top of the layout guide in order to gauge the overall progress so far. Here you can see the work continuing in the background, revealing the birds as each section surrounding them is rendered. This especially complex palette omits few colours from my range to produce this wonderfully rich, interesting and beautiful result. The gorgeous Cannonball Tree demands nothing less of course!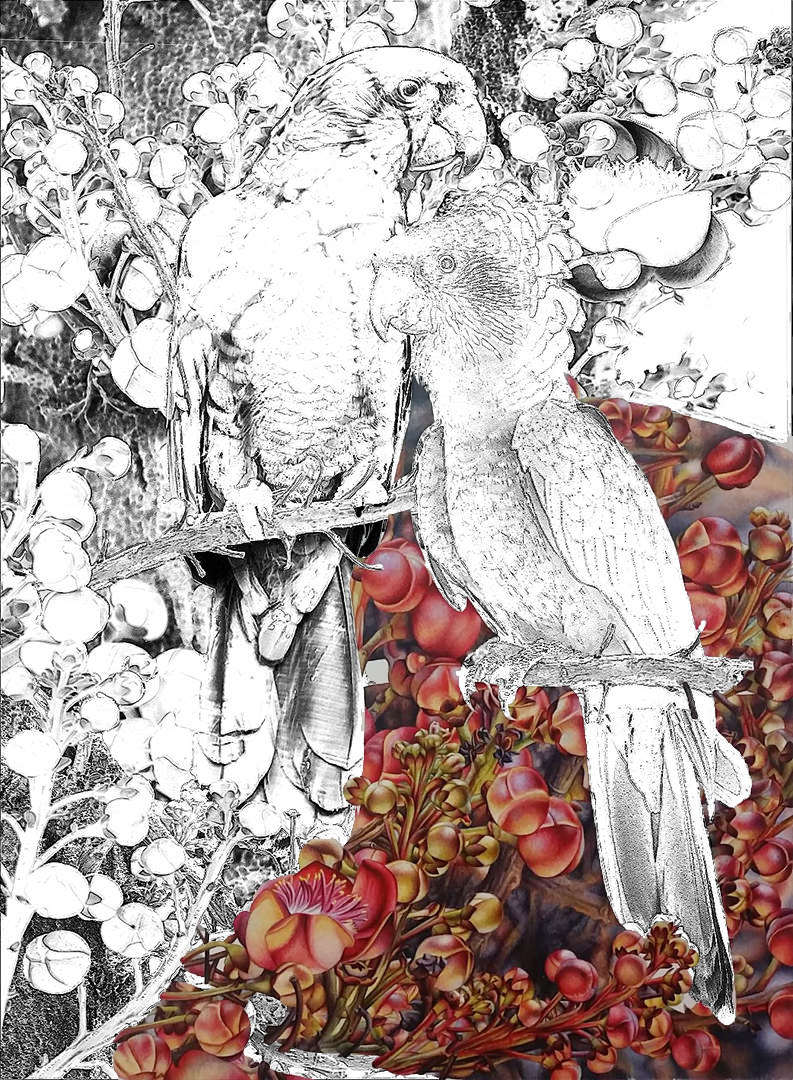 These last studio days sees the background continue of course, leading me to the half way point completion point of the background this evening. I am familiar with the palette and subject now, and I am well into the groove and flow of this piece. Crossing the mid point branches, I step into the top half of the background now, every section revealing more of the birds, leading me closer to to completion by the day. In the image below you can see the gorgeous tails of the Red-Fan Parrot emerging from the Cannonball Tree surrounds.
With my Everest Base Camp trek fast approaching now, its time for a brief break on this Sunday evening to train before the dark and a return tonight to the brushes again.

The last studio sessions have been long, firmly planted at my desk, empty tea cups gathering around me as i work non stop through the days and late into the nights, until my backside is sore from sitting, until my bandaid covered hands are too sore to work and my eyes refuse to cooperate any longer… but I have the background of striking, abundant Cannonball Tree beauty and I am happy. I am ready to explore the birds next and the enthusiasm to get into their curious challenge has seen me back in my studio until midnight again, playing with all shades of green and tail feathers. Tomorrow I will continue working on these wonderous Red-Fan Parrots.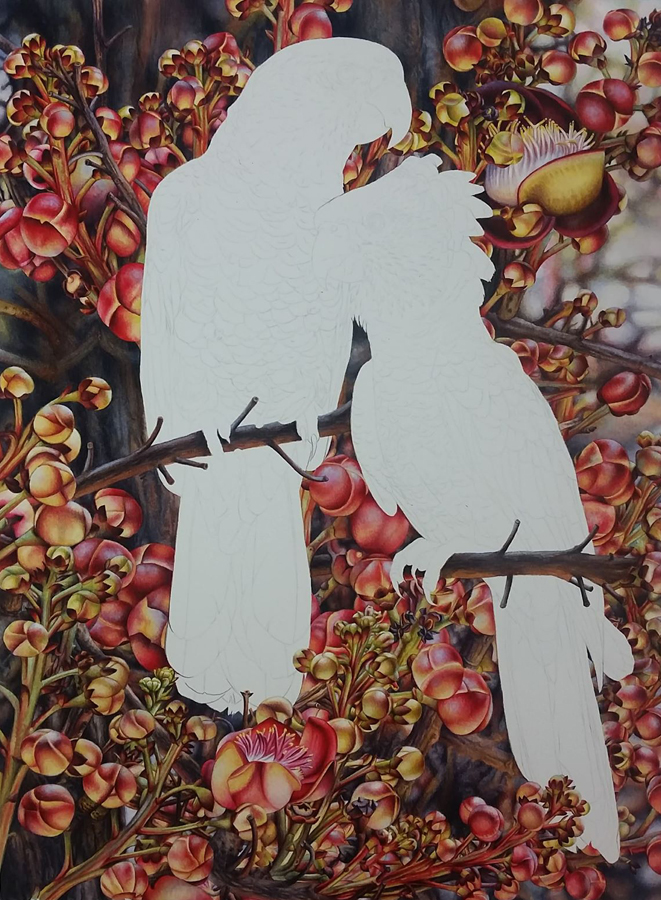 Recent painting sessions have been focussed on the beautiful tails of these two parrots, charcoal blacks, reich deep blues, red tinges and electric green as I make my way through these elements and into the bodies. With the tails done, the technical challenge steps up to a sky high level in order to tackle whats coming next on these extremely unique and complex parrots. Nothing about these two is remotely easy to render, watercolour making a tough challenge even more so.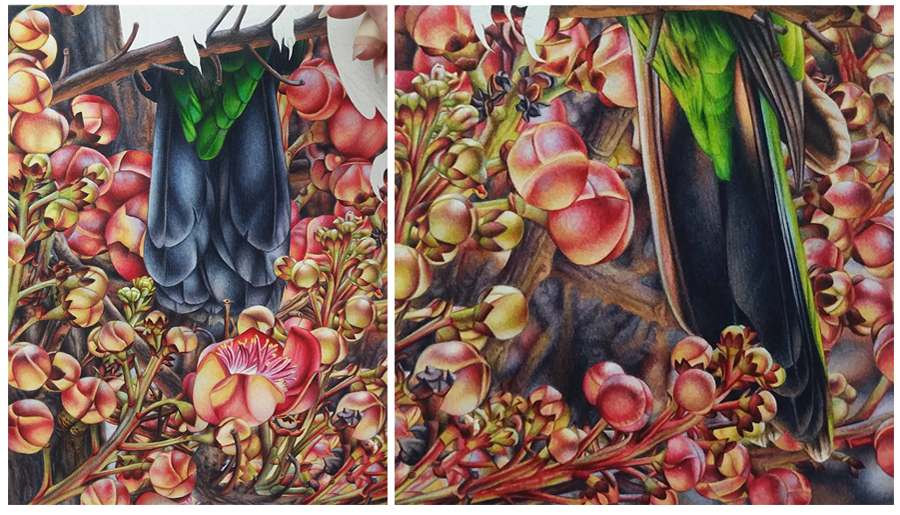 Work continues on these challenging birds. Between my intense workload and training for Everest in just s few weeks time from now, I have had little time to film or create video clips of this piece but I have put together a short piece of the this Red-Fan Parrot painting so far.
With the vivid greens of the back and shoulders in, my attention has shifted to rendering the impossible belly feathers. Incompatible colours, transparency, complexity, detail and the medium make this an unbelievably difficult element to complete successfully. Its time to slow the pace right down and concentrate on the micro stories in order to make this work, one step, one section at a time…. its certainly labour intensive. There was definitely some anxiety and sweating over it, but I pulled the blue and red feathers of the first red-fan parrot belly together beautifully in the end. Exhale… Its champagne time! Oh wait…. theres another one to do!! Dont you LOVE the intensity and uniqueness of this parrot? Incredible.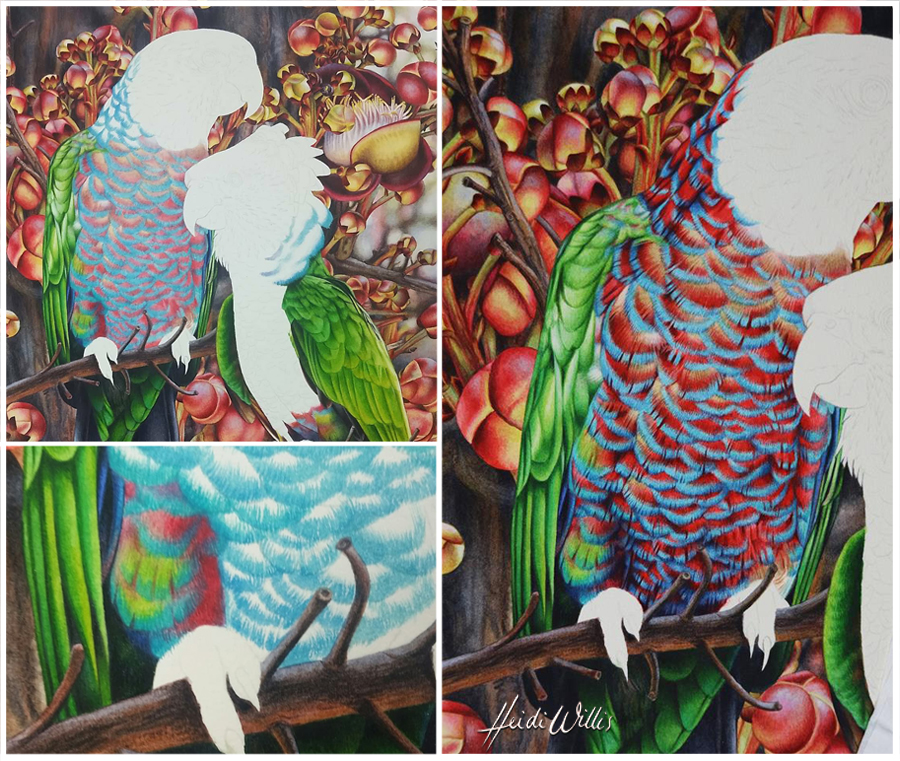 The body of the second Red-Fan Parrot has been the next focus for my attention, but it came together beautifully for me, the trials and familiarity of the first parrot making the task far more certain for me this time around. A side view now, there is far more detail to be explored in the distinctive crest feathers of the neck and head this time… and how beautiful they are too! With this incredibly challenging area of this painting complete, its time to move forwards to the next epic challenge in the heads. Its not at all easier, but I am ready, excited even!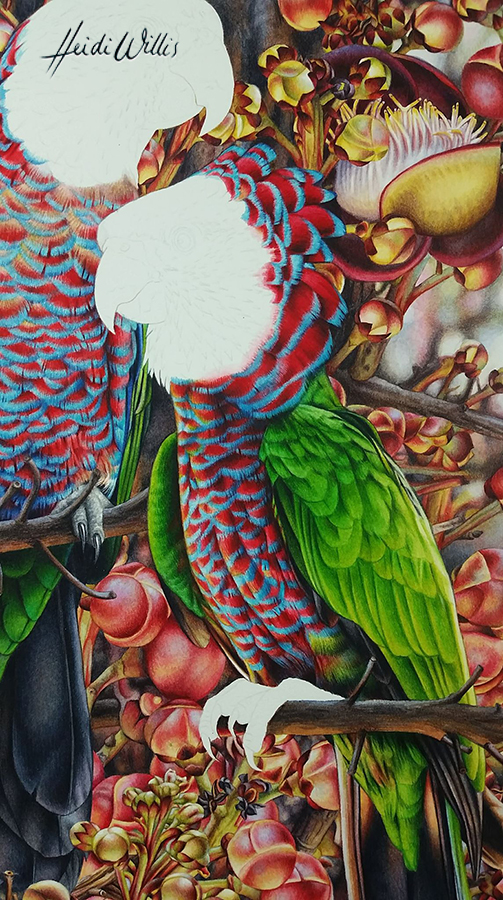 Finally, the faces of these two Red-Fan Parrots have gone in, details like the feet and eyes have been rendered, as well as the finishing touches needed to pull everything together on this striking piece. I am thrilled to see this new painting come to life and to see another beautiful species recorded and captured from my Brazil travels.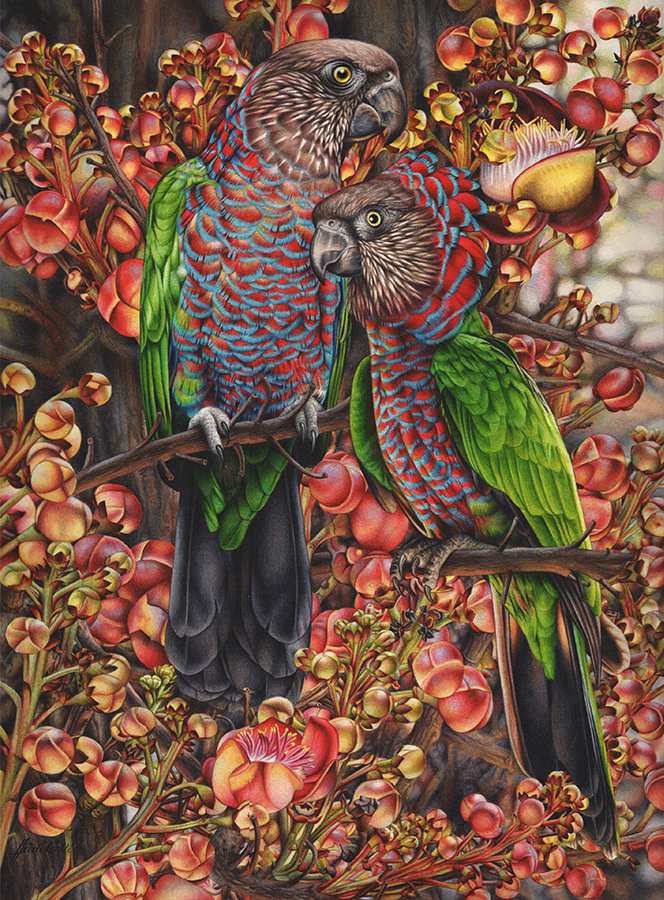 ********************************************************
Original Artwork Available
Please let me know if you have any enquiries on this artwork